Valentine's Day Cupcakes
Collection of quick and easy Valentine's Day cupcakes with many simple recipes and decorating ideas. Only simple ingredients and supplies are required.
February 14 is not too far away and I hope these Valentine's Day cupcakes that I am sharing with you today will inspire you to make something beautiful for your partner.
Now, I don't have any healthy Valentine's Day cupcakes recipes below because I feel like you should INDULGE on this romantic day and eat whatever your heart desires…hehe.
Some of these cute Valentine's Day cupcakes can be made with kids, using simple ingredients and supplies, perhaps for their class parties.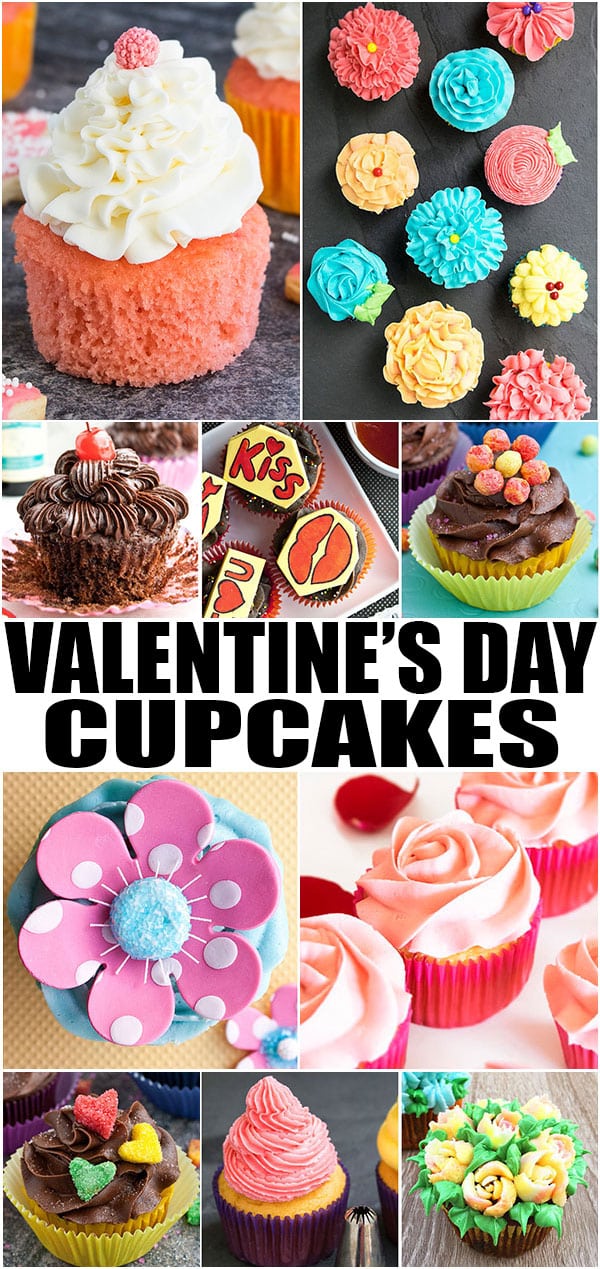 How do decorate Valentine's Day cupcakes? How to make Valentine's Day cupcakes?
They can be decorated with:
Fondant
Buttercream frosting
Various decorating tips
Various fillings
Strawberries and Raspberries
Fresh flowers (that are edible and safe)
Candy
Printable toppers
Hearts inside as a  fun surprise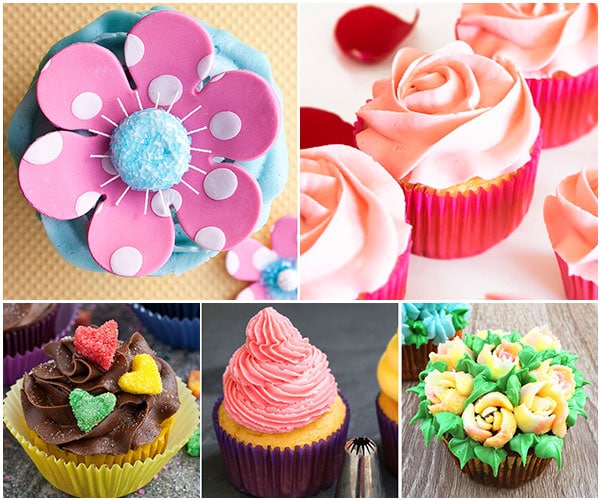 All your need is fondant and basic cutters to make this cute polka dot flower. Use this tutorial on how to make fondant flower cake and use that fondant flower topper on cupcakes.
Use a combination of pink and white American buttercream frosting to make buttercream roses on top of cupcakes, using TIP 1M. Check out this video tutorial on how to decorate cupcakes.
Use only sugar, water and food coloring to make little  sugar hearts and use them as cupcake toppers.
Use pink buttercream frosting to pipe a simple swirl on your cupcakes, using TIP 4B. Check out this video tutorial on how to decorate cupcakes.
Grab those Russian piping tips and frosting to make buttercream flowers. Use this Russian piping tips tutorial.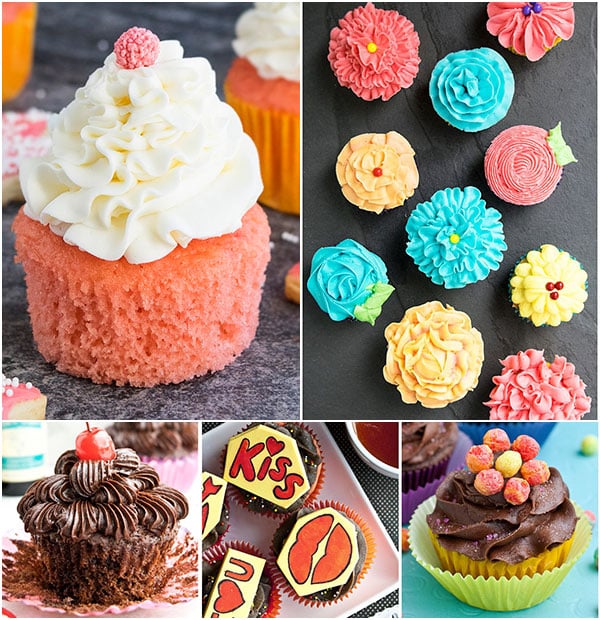 Move over red velvet valentine's day cupcakes! These Champagne Cupcakes with Champagne Buttercream Frosting are so pink and so much more romantic.
Decorate cupcakes with buttercream flowers using leaf tip – TIP 104, using this video tutorial on how to decorate cupcakes.
The flavor combination of these chocolate cherry cupcakes phenomenal and it's just so pretty.
Use Valentine's Day stencils and edible sprays to make these easy edible Valentine's Day toppers. Check out this tutorial on how to use cake stencils and edible sprays.
Use colorful cereal and melted chocolate to make little flowers and use them as Valentine's Day cupcake toppers.  Check out these Trix cereal flower cupcakes.
Well, that's all for today.
I hope you enjoyed these Valentine's Day cupcakes ideas and Valentine's day cupcakes decorating ideas.
Until next time, tata my lovelies.