Chocolate Chip Cupcakes (With Mint Frosting)
The best quick and easy chocolate chip cupcakes recipe with creamy mint frosting, homemade from scratch. Soft, moist and tender vanilla cupcakes. Loaded with mini chocolate chips.
These mint cupcakes are perfect for Christmas holidays and their wonderful green color makes them ideal for St.Patrick's day parties too. They are even more delicious than my Chocolate Mint Brownies and these Chocolate Mint Truffles.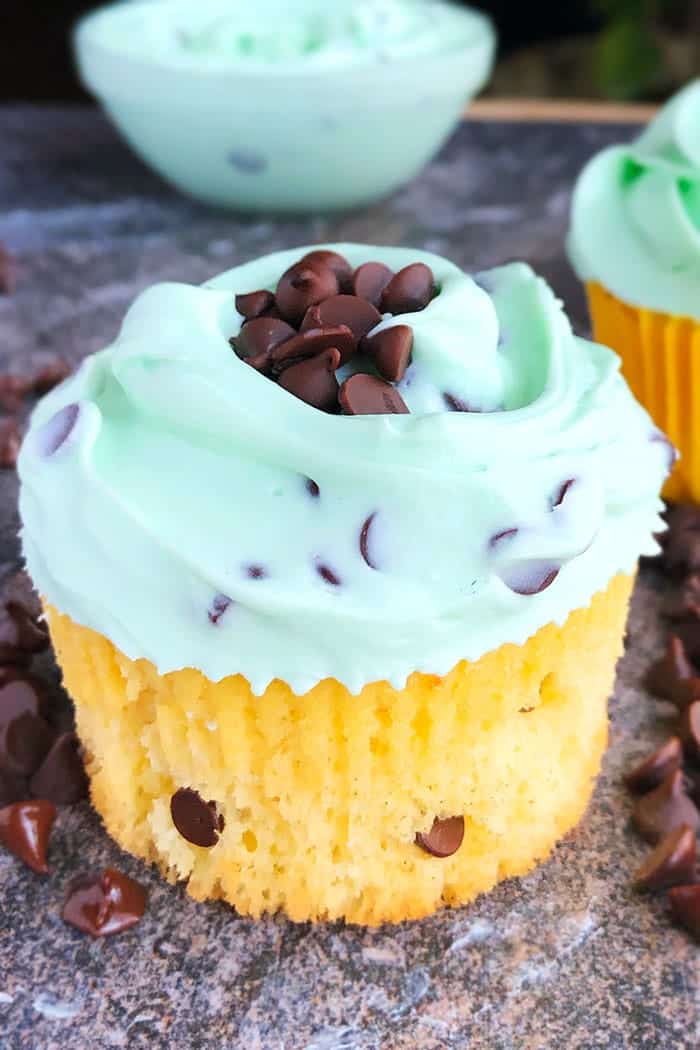 How to make chocolate chip cupcakes?
Cream butter and sugar- Until mixture becomes light and fluffy.
Mix in wet ingredients– This includes eggs, milk, vanilla extract.
Mix in dry ingredients– This includes cake flour and baking powder.
Coat chocolate chips– Separately, coat chocolate chips with some flour and gently stir them in the batter.
Bake– Pour batter in a cupcake pan and bake at 350 degrees F for 15-16 minutes.
Make frosting– While cupcakes are cooling, prepare mint frosting.
Enjoy– Top off each cupcake with frosting and dig in!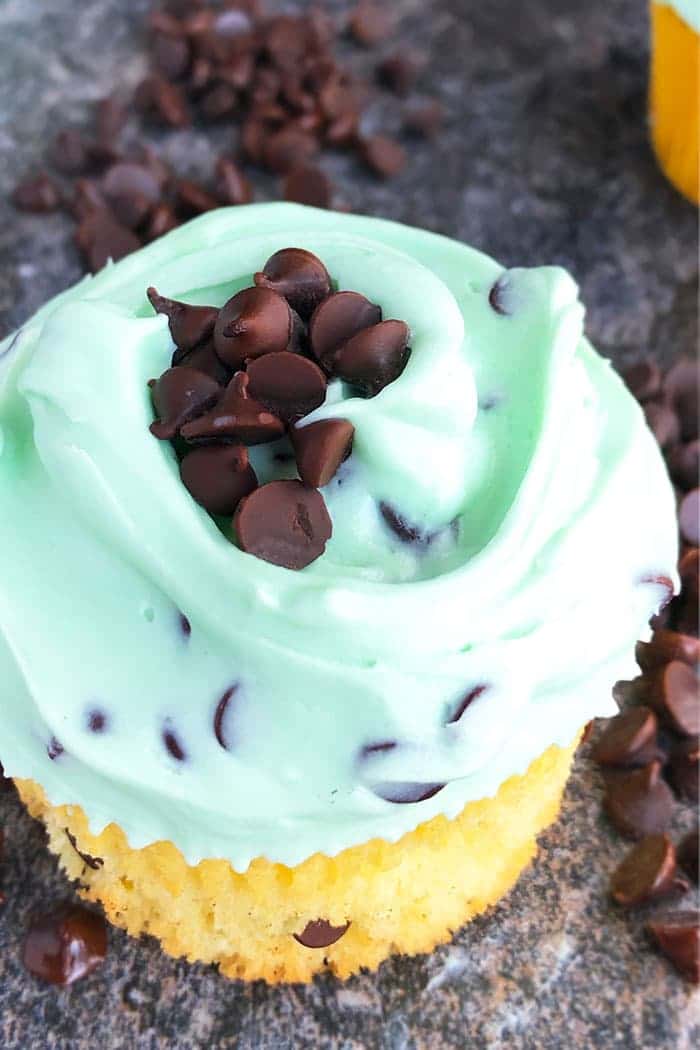 What frosting to pair with white vanilla chocolate chip cupcake recipe?
I paired it with mint chocolate chip frosting but here are some other suggestions too:
Chocolate Cream Cheese Frosting or Chocolate Ganache Frosting– Great for chocoholics!
American Buttercream Frosting– A classic choice that pipes beautifully and can also be used for cupcake decorating.
White Chocolate Buttercream– Sweet, rich and creamy and great for people who love white chocolate.
Caramel Frosting– Smooth and fluffy and balances the chocolate chip flavor perfectly.
How to add chocolate chips to cupcakes?
Prevent chocolate chips from sinking to the bottom with this nifty tip: Coat them lightly with all-purpose flour and then gently, stir them into the batter. The flour makes the chocolate chips stay in place once they are incorporated into the batter. Without coating them, they will sink because they are heavy. For more information, check out this post about my tip to prevent chocolate chips from sinking in detail.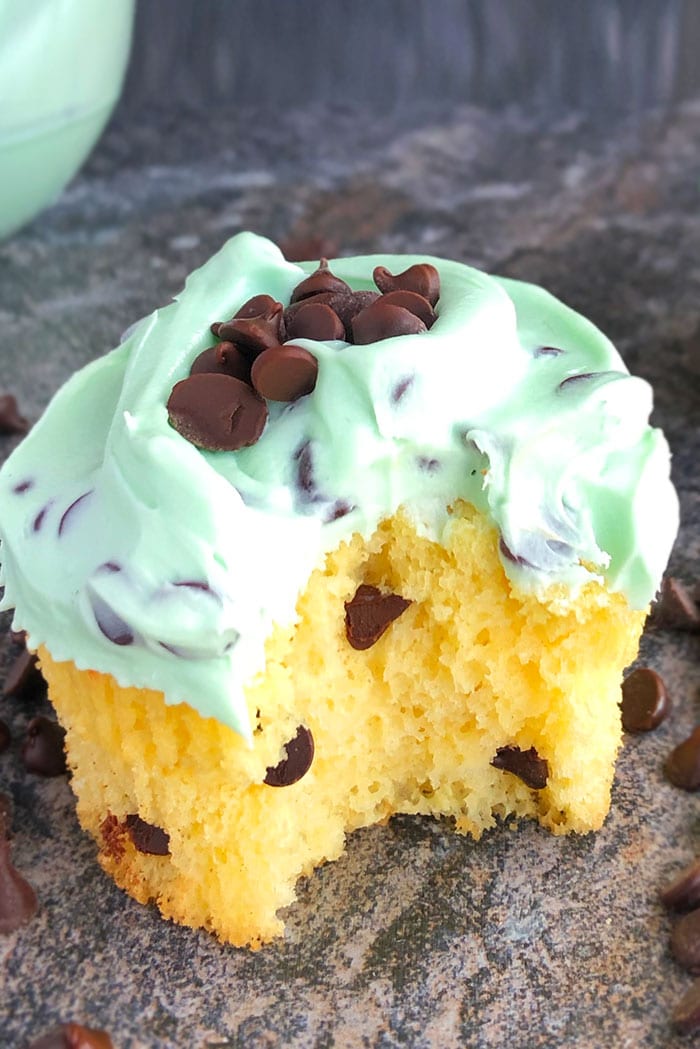 Variations
Chocolate chip cookie dough cupcakes– After cupcakes are done baking and cooling, scoop out the center and discard. Stuff center of these cupcakes with edible Chocolate Chip Cookie Dough Truffles and then top with frosting.
Chocolate chocolate chip cupcakes– Pair it with Chocolate Buttercream Frosting.
Mint chocolate chip cupcakes– Add mint extract in the cupcake batter and then pair it with mint frosting for a double dose of mint.
Drizzle chocolate– Melt some semisweet chocolate in the microwave and drizzle it on top of the frosting for an additional boost of chocolate flavor.
Make mini cupcakes– Use a mini cupcake pan. The baking time will be shorter.
Tips and Techniques
You must use cake flour– Because it creates a delicate lighter crumb texture.
Cake flour substitute- Make it at home by mixing in some cornstarch to regular all-purpose flour. Instructions for this can be found below in the recipe card.
Can you freeze these cupcakes? Unfrosted cupcakes can be stored in a sealed container in the freezer for up to 1 months. Thaw them overnight in the fridge and then, frost them.
Why is my frosting too soft? Chill the frosting for 20-30 minutes before topping the cupcakes.
Do not over-mix– Because this make tough cupcakes and can also cause the batter to collapse while baking.
Use unsalted butter- Because this prevents the dessert from becoming too salty.
Use mini chocolate chips– Because you can taste them in each bite. They also look better in cupcakes. Also, since they are lighter in weight than regular chocolate chips, they are less likely to sink to the bottom of the liners.
Use baking powder– No baking soda is used in this recipe. Don't replace one with the other since it would alter the texture.
All ingredients must be at room temperature- Because they blend together smoothly and evenly.
Use a large round piping tip for piping– Such as Tip # 1A because chocolate chips would get stick in a smaller tip.
Use full fat milk or buttermilk– Because they have a high fat content and makes these cupcakes rich.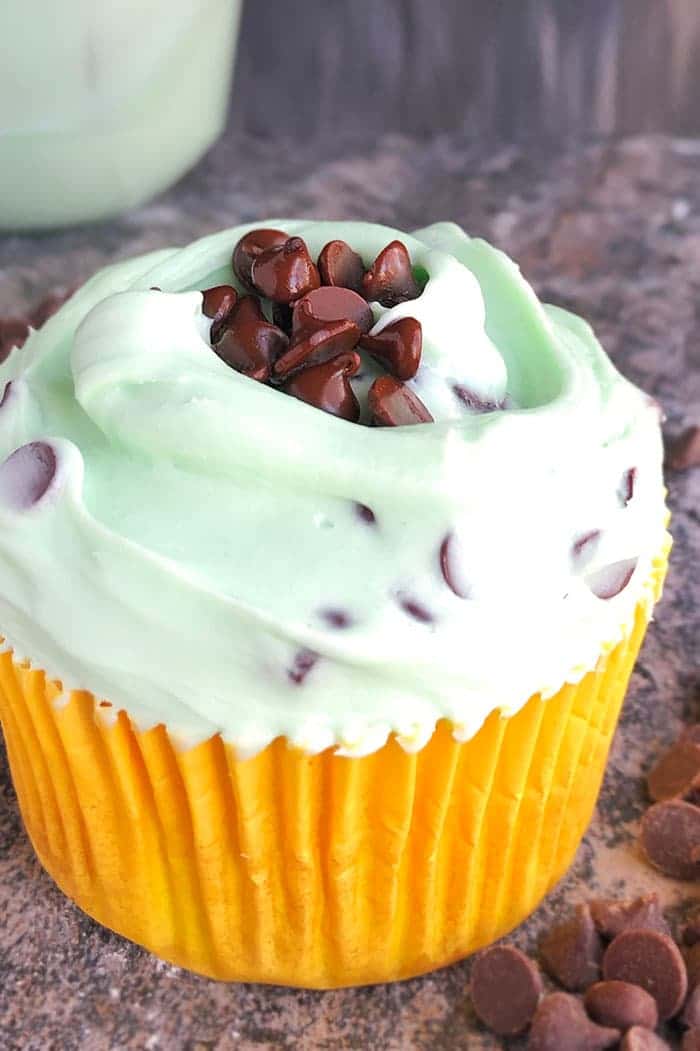 More Cupcake Recipes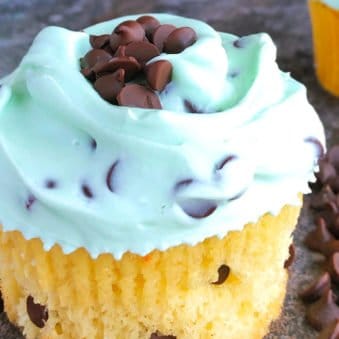 Chocolate Chip Cupcakes with Mint Frosting
Homemade, quick and easy chocolate chip cupcakes recipe with mint frosting. Soft, moist, tender white vanilla cupcakes are loaded with mini chocolate chips.
Yield: Cupcakes
Instructions
Add cake flour, baking powder and mix until just combined.

Coat chocolate chips in 2 tsp flour and gently, stir in chocolate chips into the batter.

Pour batter in cupcake liners.

Bake at 350 degrees F for 15-16 minutes or until an inserted toothpick in the center comes out clean.

While the cupcakes are baking, prepare the mint chocolate chip frosting.

Allow cupcakes to cool down completely.

Then, frost the top of each cupcake with frosting. Enjoy!
Notes
Read all my tips above.
Leftovers can be stored in a sealed container in the fridge for up to 3 days. 
Nutrition
Calories: 227kcal, Carbohydrates: 30g, Protein: 3g, Fat: 10g, Saturated Fat: 6g, Cholesterol: 49mg, Sodium: 87mg, Potassium: 94mg, Sugar: 18g, Vitamin A: 305IU, Calcium: 49mg, Iron: 0.4mg
Until next time, tata my lovelies!