How to Make Rice Krispie Treats
The best classic, Easy rice krispie treats recipe, homemade with 4 simple ingredients. Ooey gooey, fluffy, airy, loaded with marshmallows, butter, vanilla and rice cereal.
They are also known as "rice krispie bars" or "rice krispy treats." You can enjoy them as a dessert or snack. I also like to pack a small square in kiddo's school lunch box, for a sweet surprise.
They are no bake and one of the most old-fashioned retro desserts out there. The recipe is very similar to my Rainbow Fruit Loops Marshmallow Bars.
You can also easily modify them for Holidays like Easter, Valentine, Halloween and Christmas. Add a little bit of food coloring that corresponds with the relevant holiday. E.g. Orange for Halloween, Pastel colors for Easter, Red and green for Christmas, Pink for Valentine's Day. Go a step further and use seasonal cutters to cut out holiday-inspired shapes instead of cutting slices. Just have fun with them!
How to make rice krispie treats?
Prepare marshmallow mixture– Melt butter and marshmallows until smooth.
Add remaining ingredients– Mix in vanilla and cereal and some more marshmallows.
Spread mixture– Use a greased spatula to pat down the mixture in the tray.
Let it cool– Lightly cover tray with foil and let the treats come to room temperature. Do not refrigerate to speed up the cooling process!
Enjoy! Cut square pieces and dig in!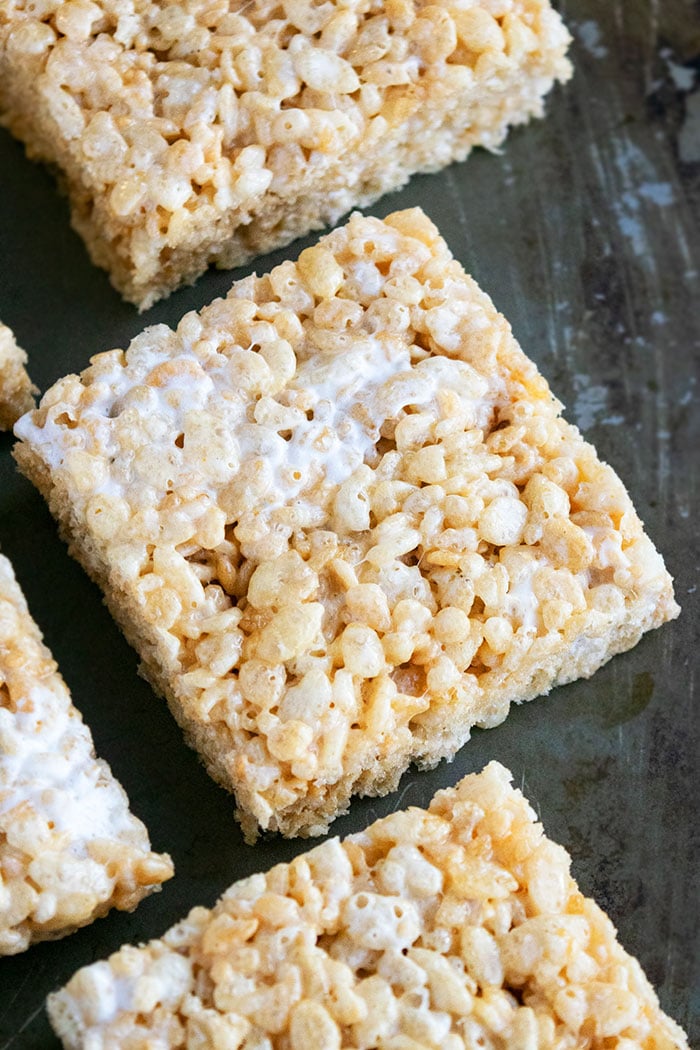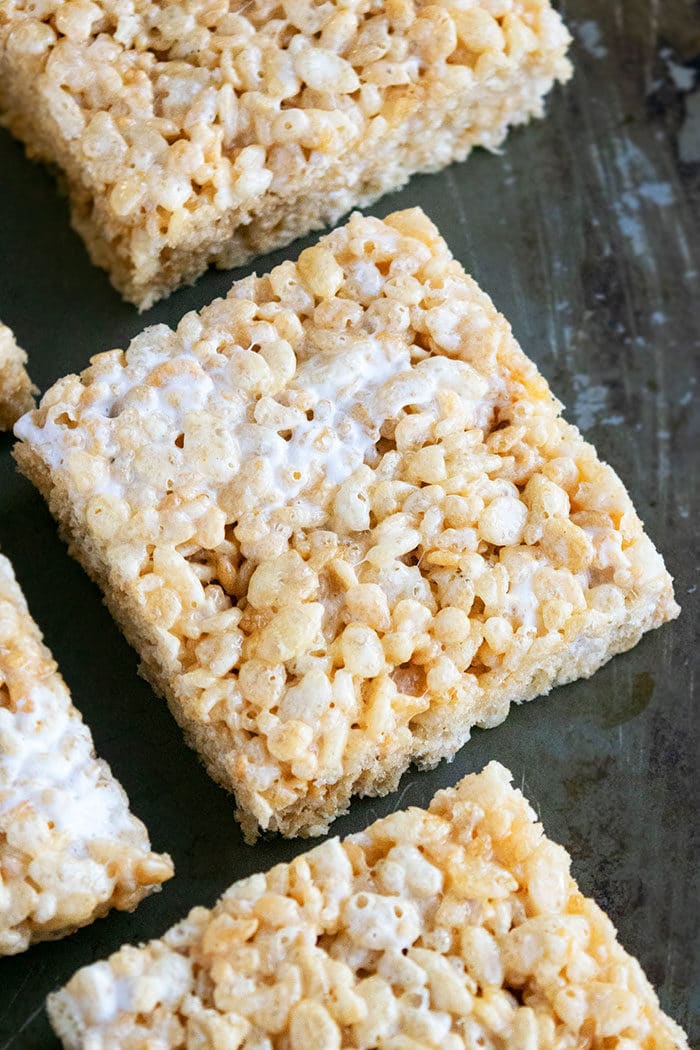 Why are my rice krispie treats hard?
There could be a few reasons:
Perhaps your marshmallows were old and stale, to begin with. Use fresh and fluffy marshmallows.
The marshmallows may have overheated, when you were melting them.
You may have packed down the mixture too tightly in the tray.
How do you keep rice krispies from sticking together?
Make sure they are separated from each other with a sheet of wax paper. Since these dessert bars are made with marshmallows, they have a tendency to be sticky.
Can you make rice crispy treats ahead of time?
Yes, you can make them 1 day before you are planning on enjoying them.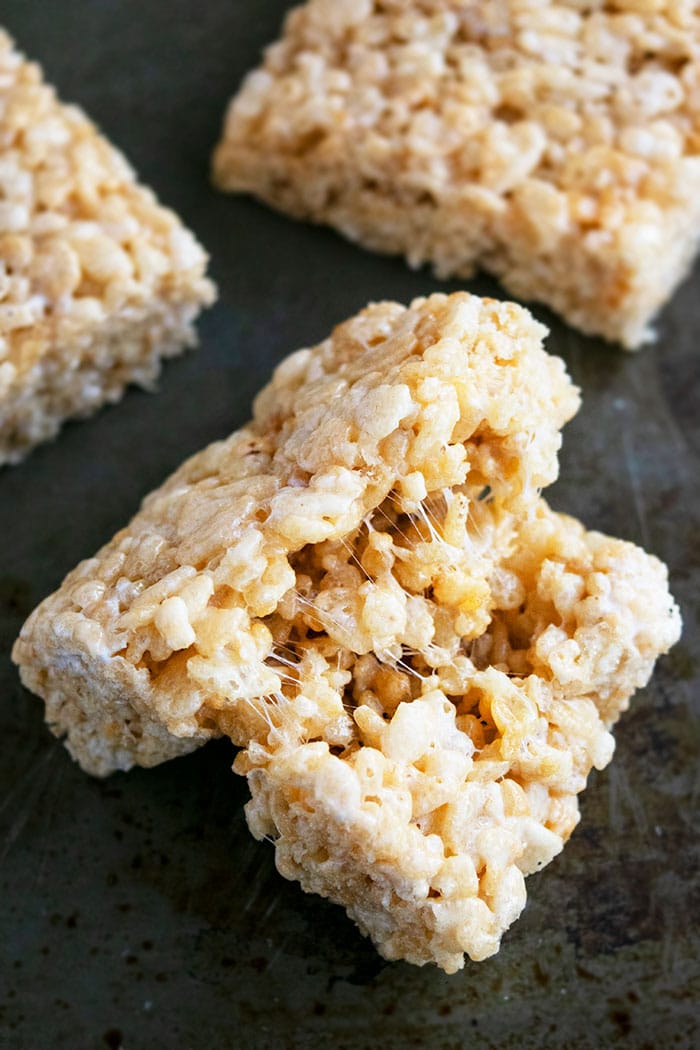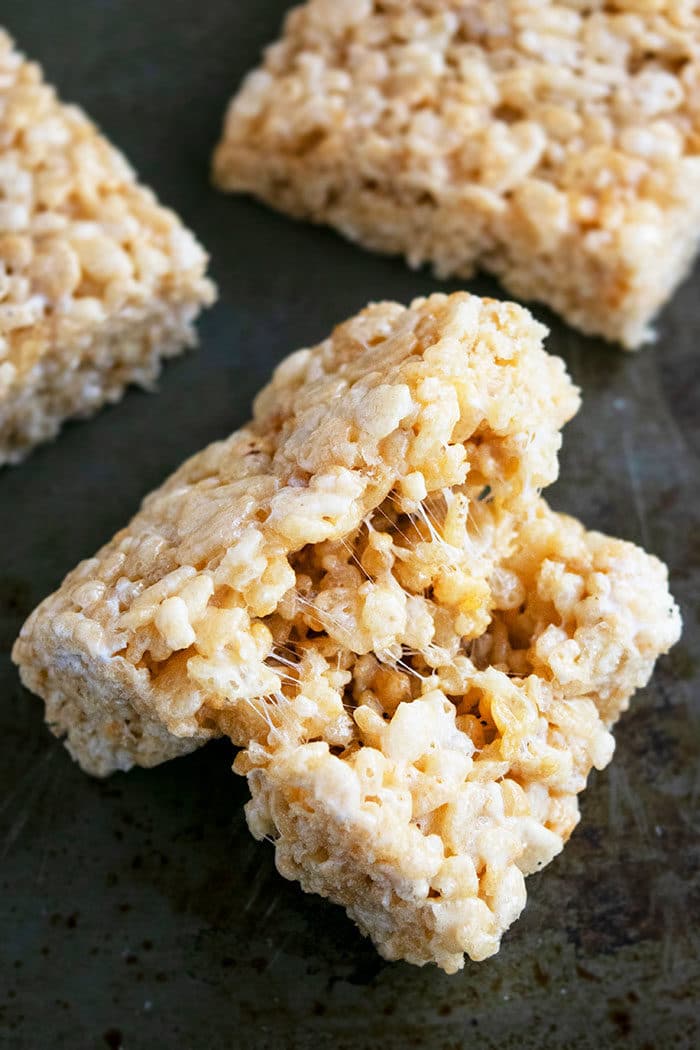 How to store them? Can you freeze them? Can they be refrigerated?
Yes, they can be frozen for up to 1 month! Once they cool down completely, cut slices are place them in a sealed airtight container, making sure layers are separated by wax paper. When you are ready to enjoy them, let them thaw at room temperature for 20-30 minutes.
That being said, I don't like to freeze them. They just don't taste as fresh or as ooey gooey as they did when they were made fresh.
As for refrigerating, they will become hard as they chill and I don't recommend it.
The best way to store them is, covered, at room temperature for up to 3 days. They retain their perfect soft, airy, ooey gooey texture at room temperature than compared to refrigerating or freezing.
Rice krispie treats cereal
Typically, crispy rice cereal is used but you can easily replace that with your favorite cereal. Cocoa Krispies, Cocoa Puffs, Froot Loops, Fruity Pebbles, Cheerios, Frosted Flakes are all good options.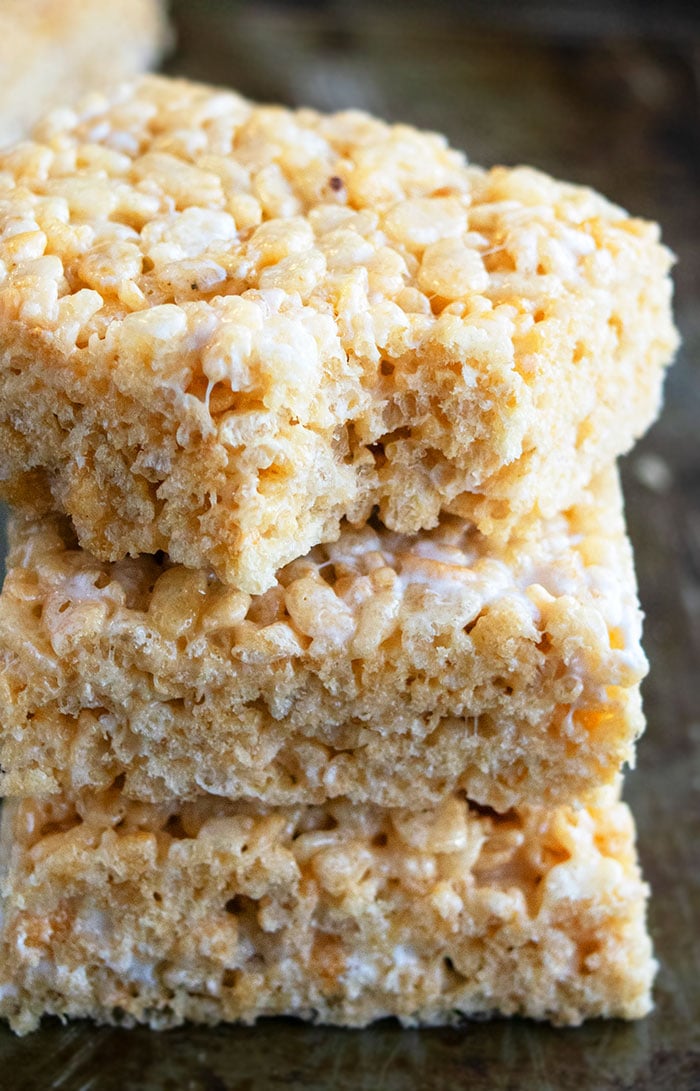 Rice krispie treats recipe variations
Peanut butter rice krispie treats– Use half peanut butter and half unsalted butter in the recipe below.
Chocolate rice krispie treats- You can mix in some cocoa powder or melted chocolate in the cereal mixture or use cocoa Rice Krispie cereal instead of the classic flavorless one.
Add oreos– Stir in some roughly chopped Oreos in the cereal mixture.
Add sprinkles– Toss some sprinkles on top of the cereal mixture when you are patting it down in the tray.
Add nuts and dried fruits– Stir in your favorite chopped nuts (almonds, peanuts, walnuts, pecans e.t.c.) in the cereal mixture. They add a wonderful chewy and crunchy texture.
Add chocolate chips– Toss them on top of the cereal mixture and quickly pat them down with a spatula before they start to melt
Add candies– Or chopped up candy bars and even m&m candies. I recommend topping them on top of the bars rather than mixing into the batter.
Dip them in chocolate– Cover them entirely in melted chocolate or you can just add a light chocolate drizzle.
Try other extracts and zests– I used only vanilla extract but you can there are so many extracts to choose from. You can also add some fresh orange, lemon or lime zest for a Summer dessert.
Add food coloring– To make them fun for kids.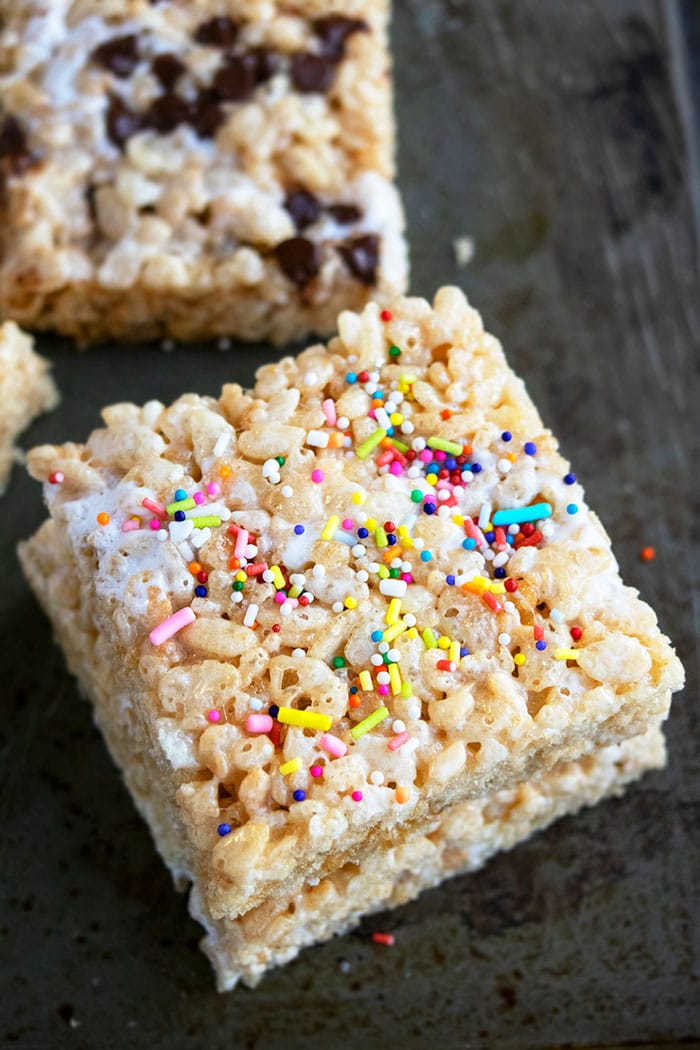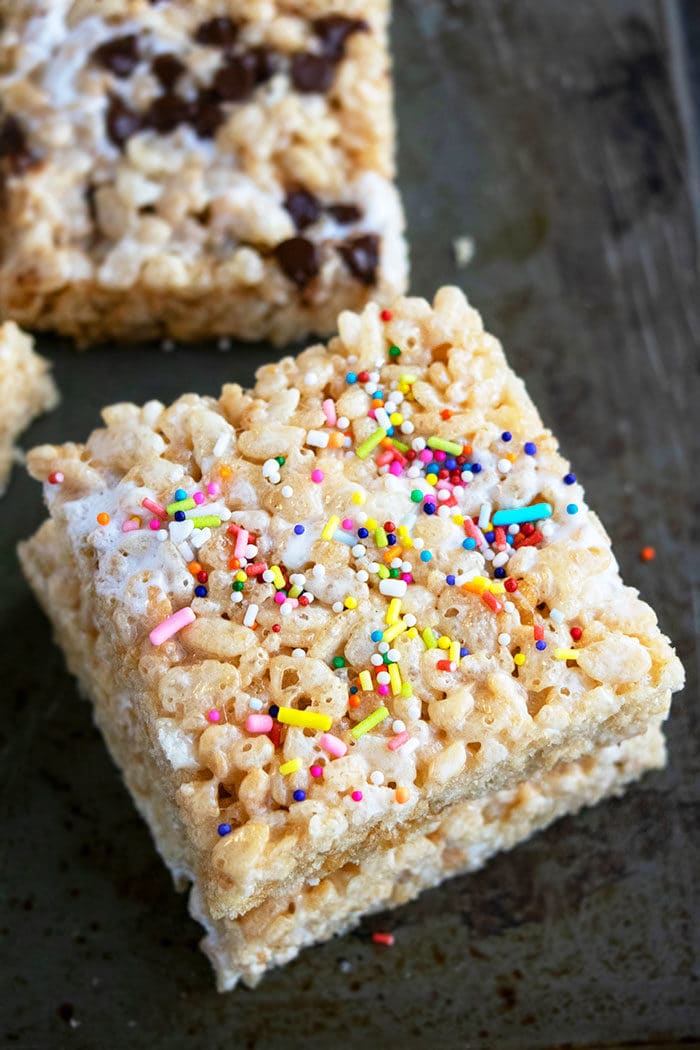 Tips and Techniques
Don't overheat marshmallows– Because that yields tough krispie treats. The key to making truly perfect treats is to melt marshmallows until just about melted and then take it off the heat and let the residual heat melt the rest completely.
Grease the spatula– With some butter or oil because this will prevent it from sticking to the cereal mixture when you are patting it down.
Line and grease the baking tray– Line it with wax paper and give it a light misting of oil spray to prevent the mixture from sticking to the pan.
Don't pack down the cereal mixture too tightly– That will make them thinner and harder and they will loose their airy texture. Be gentle!
Microwave rice krispie treats– Instead of the stovetop, these can be made in the microwave too. Melt butter and marshmallows in a large microwave-safe mixing bowl. Then, add vanilla and cereal. Spread mixture in tray, let it cool, cut slices, enjoy!
Use fresh marshmallows– Because they yield the best fluffy results. Stale marshmallows make harder bars.
Use unsalted butter– Because this prevents these bars from becoming too salty.
Remove 1 cup marshmallows for later– Adding them near the end adds some more chewiness to these delicious treats.
More No Bake Desserts with Cereal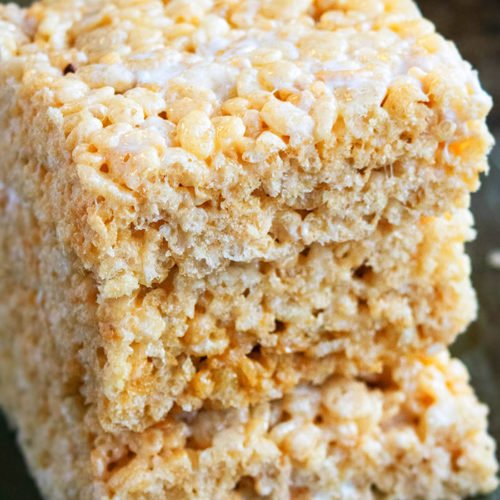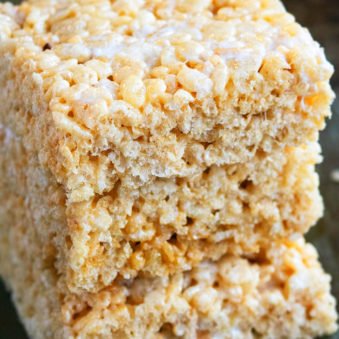 Best Rice Krispie Treats
Easy rice krispie treats recipe, homemade with simple ingredients. Ooey gooey, fluffy, airy, loaded with marshmallows, butter, vanilla and rice cereal.
Yield: Pieces
Ingredients
3/4 cup Butter, Unsalted
2 bags Mini marshmallows, 10 oz. bags
1 tsp Vanilla extract
8.5-9 cups Rice Krispie cereal, Or any other brand of crispy rice cereal
Instructions
Add butter and let it melt.

Once it has fully melted, add marshmallows. Keep 1 cup marshmallows aside!

Keep stirring gently until marshmallows are melted.

Then, add cereal and remaining marshmallows and mix gently until fully coated. You will have little chunks of partially melted marshmallows. That's perfectly normal!

Dump this mixture on a baking tray (Dimensions: 9×13), lined with wax paper that's been lightly sprayed with oil.

Spread the mixture evenly in the tray with a spatula. Gently press it down with the back of a spatula but don't use too much force. Also, be sure to grease the spatula so that it doesn't stick to the ooey gooey cereal mixture.

Let it cool at room temperature for 45 minutes- 1 hour.

Then, use a sharp knife to cut square pieces. Enjoy!
Notes
Read all my tips above.
Leftovers can be stored in a sealed container at room temperature for up to 3 days. Make sure the square pieces are layered between sheets of wax paper so they don't stick together. 
Nutrition
Calories: 109kcal, Carbohydrates: 10g, Fat: 7g, Saturated Fat: 4g, Cholesterol: 18mg, Sodium: 127mg, Potassium: 17mg, Sugar: 1g, Vitamin A: 1050IU, Vitamin C: 8mg, Calcium: 3mg, Iron: 3.8mg
Until next time, tata my lovelies!