How To Use Cake Stencils & Edible Sprays
Learn how to use cake stencils and edible sprays on fondant and buttercream. It's a quick and easy cake decorating technique for beginners.
I have recently learnt how to use cake stencils with edible sprays on cakes and cupcakes and it's become new OBSESSION!
Mostly, cake stencils are used with royal icing but I love using edible sprays.
You can use them to get an "airbrushed" effect on your cakes and cupcakes WITHOUT actually using an expensive airbrush machine.
It's also much faster and easier!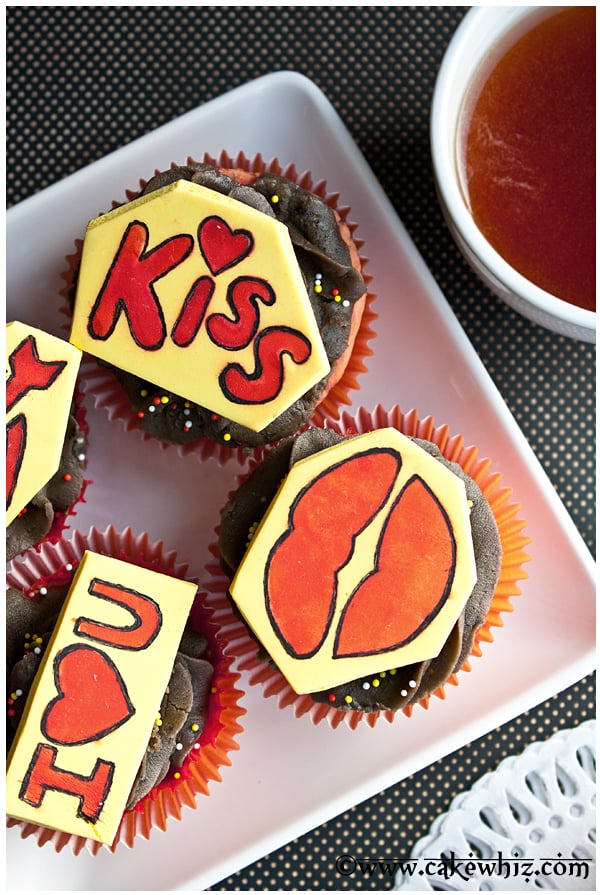 I am using Wilton's edible sprays called "Color Mist" because they are CHEAPER than all the other brands out there and the quality looks pretty good to me. 
However, I am NOT too fond of their silver shade coz it looks a little greyish/purplish but the rest of the colors are excellent!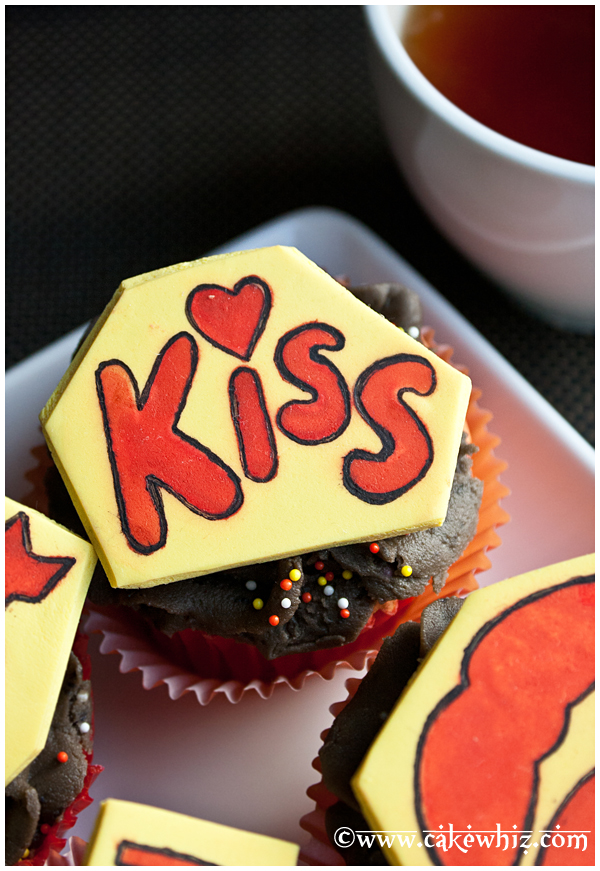 The cupcakes that you are seeing today are actually vanilla cupcakes that are topped off with an amazing chocolate buttercream.
They were decorated with red edible spray and Valentine's day stencils. 
I also gave those designs some extra definition by outlining them with a black edible marker. 
Honestly, I am very happy with how they turned out and WOULDN'T change anything.
My FAVORITE design ended up being these roses because they are GORGEOUS!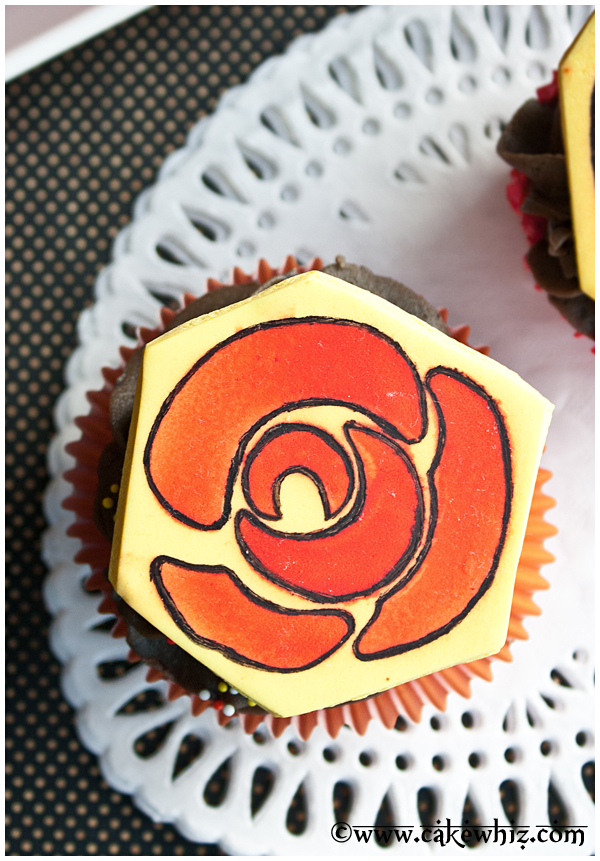 Here are some TIPS on how to use cake stencils and edible sprays on fondant:
Work in an open, ventilated area coz the fumes of these edible sprays have a surprisingly STRONG odor.
Make sure your work area is covered in newspaper or scrap paper because your don't want the spray residue to splatter everywhere.
 Edible sprays are very easy to clean… just use a cleaning wipe or a wet cloth.
 Make sure the nozzle is ALIGNED with the red mark coz if not, the spray doesn't come out as evenly.
Make sure to SHAKE your bottle before spraying so that the mixture gets mixed properly. I forgot to do this one time and I got weird splatters on my cake…yikes!

Spray on a scrap piece of paper before you spray on your actual cake or fondant piece, just to get an idea of how you should be holding the bottle, the amount of pressure you should be applying e.t.c.
DON'T spray on your cake or fondant piece too closely. These sprays work best when you are spraying from a little distance…about 6 -8 inches from your work surface.
Don't over-spray! Spraying too much creates puddles of paint and that's just NASTY!
Edible sprays work WELL on both, fondant and buttercream.
DON'T touch your cake or fondant pieces immediately after spraying them. Let them air dry for 10-15 minutes or else you will end up with smudges.  
You will need the following SUPPLIES:
Yellow marshmallow fondant or gum paste (any color you want)
Red color mist or any other brand of red edible spray
Circle cutter
Valentine's day themed Stencils
Black edible marker
Knife
Rolling pin
Note:
I used 50/50 to make these stencil toppers since they dry faster than just using marshmallow fondant. You can also use gumpaste.
The fondant version took the longest to dry… about 5 days! That was just a crazy long drying period!
These are the INSTRUCTIONS:
Step 1:
Roll out yellow fondant, gumpaste or 50/50 (or whatever you decide to use).
Use a circle cutter to cut out a piece.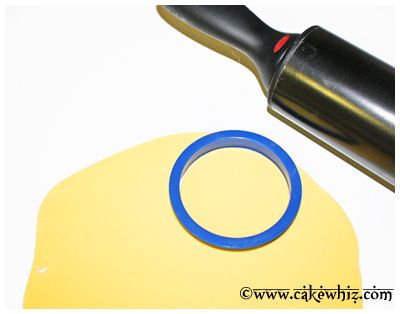 Step 2:
Place your stencil on top of the fondant piece.
Then, shake your spray bottle and spray on top of your stencil.
Make sure your stencil doesn't move while you are spraying.
You can secure it in place by taping it down with some tape if you like.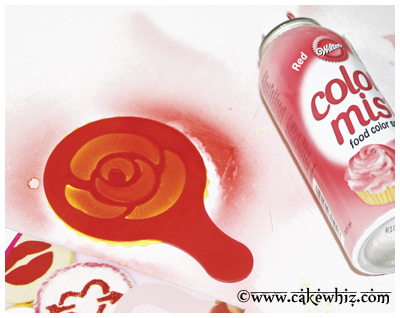 Step 3:
Once you are done spraying, gently remove the stencil from your fondant piece.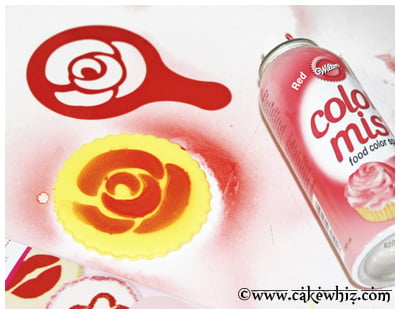 Step 4:
Outline your designs with a black edible marker.
This step is optional but I think it gave these designs some extra definition.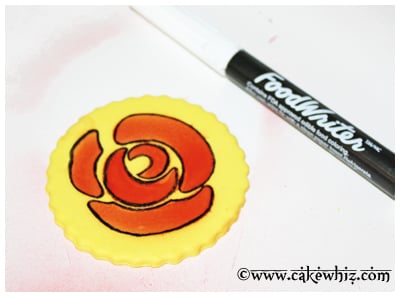 Step 5:
Use a knife to cut your fondant piece into a random abstract shape.
This step is optional and you are more than welcome to use the round fondant piece, as is.
Allow your pieces to dry for about 24 hours or until they get firm.
Then, you can use them on top of your cupcakes.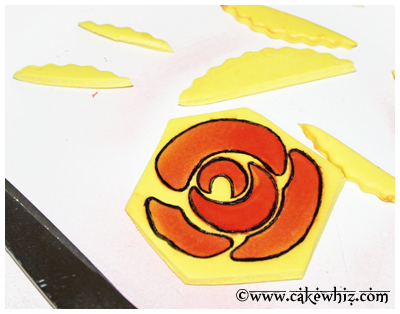 Well, that's all for today.
I hope you enjoyed this tutorial and learnt how to use cake stencils and edible sprays.
Until next time, tata my lovelies!