Boston Cream Cupcakes
Easy Boston cream cupcakes recipe from scratch, homemade with simple ingredients. Composed of soft and fluffy vanilla cupcakes, smooth pastry cream filling, rich ganache topping.
I am not really sure why this dessert has the word "pie" in it because it does not resemble a pie at all. Regardless of its name, it's one of my family's favorite dessert. If you are fond of stuffed cupcakes, be sure to check out these Mocha Cupcakes (Coffee Cupcakes), which are filled with caramel. You would probably also like these Chocolate Cherry Cupcakes, which are filled with chocolate truffles.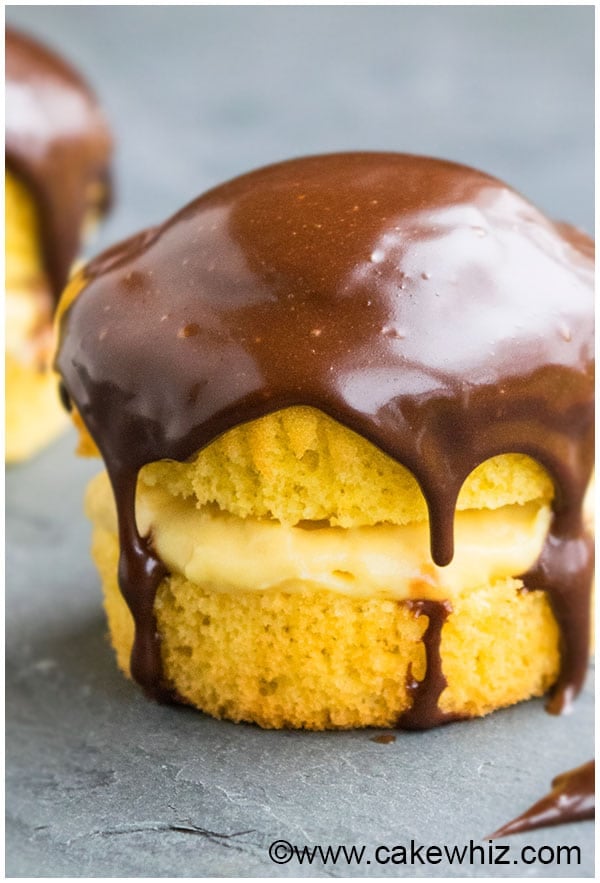 How to make Boston cream cupcakes recipe from scratch?
Bake vanilla cupcakes- And allow them to cool completely.
Prepare pastry cream filling – And allow it to cool completely too.
Make chocolate ganache- And allow it to cool slightly so it thickens a bit.
Assemble– Slice cupcake in half, fill lower half with pastry cream, place other cupcake half on top, pour ganache.
These homemade Boston creme pie cupcakes are composed of 3 components:
Vanilla cupcake
Pastry cream
Chocolate ganache topping
Technically, it has all the flavors of the classic cake but in mini cupcake form. They make great individual servings and are perfect for parties, especially kids birthday parties.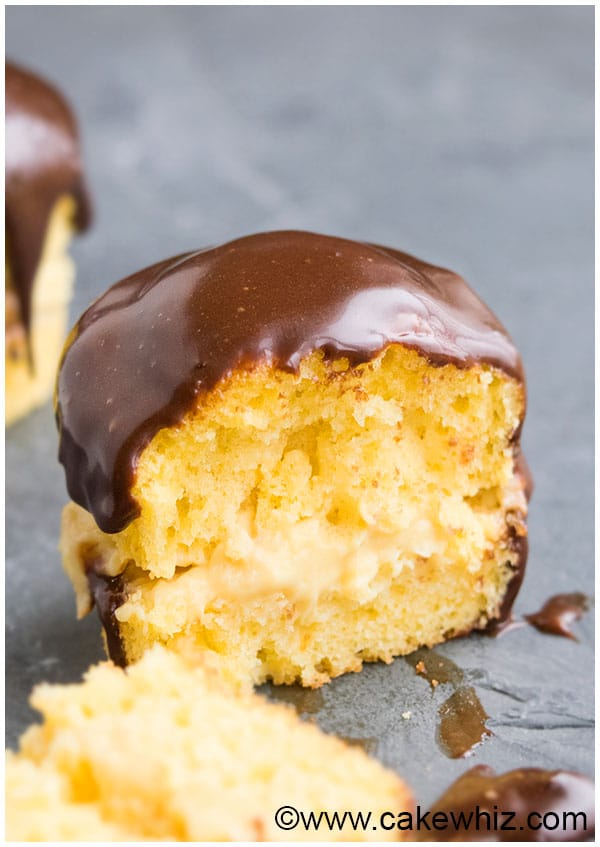 3 ways to add cream filling in cupcakes
You can do what I did. Slice the cupcake in half and scoop a tablespoon of pastry cream on top. Then, cover with the other half of the cupcake and press gently until everything sticks together like a sandwich.
Attach a round tip to a piping bag and fill the bag with pastry cream filling. Poke the center of the cupcake with the your tip and squeeze the bag until the center is fully filled. Top off with ganache.
You can use an apple corer to make a hollow center in your cupcake. Don't go all the way through. Leave the bottom of the cupcake intact so that that the filling doesn't leak out. Spoon a few teaspoons of pastry cream filling in the hollow center and top off with ganache.
I have a a video tutorial on How to Fill Cupcakes that would be very helpful, if you have never done this before.
Variations
Decorate– Once you drip ganache on top of cupcakes, toss some colorful sprinkles, mini chocolate chips, chopped nuts or even chocolate shavings.
Try a different topping– Such as this Chocolate Ganache Frosting, which can be piped.
Consider a different filling- Obviously, that won't be the classic choice but for a change, try Homemade Banana Pudding or Vegan Chocolate Pudding.
Instead of vanilla cupcakes- You can make Yellow Cupcakes. Both are similar in texture but have a slightly different flavor.
Tips and Techniques for Boston cream pie cupcakes
You must use whole milk for cupcakes and pastry cream– Because it has a higher fat content than 2% milk and that yields the richest, creamiest results.
Use the best quality of vanilla extract you can find- Trust me, it makes a difference!
Do not over-mix the cupcake batter- Over-mixing will change the texture and make cupcakes very tough.
Butter, milk and eggs for cupcakes should be at room temperature- Because they blend together more smoothly and evenly.
The pastry cream can me made a day in advance- It definitely needs some time to chill and set. You cannot skip the chilling step.
If you are short on time– Use a cake mix to make vanilla cupcakes. Use store bought pastry filling. They sell small boxes of powdered mixes and you just have to add milk or water to them. Use store bought chocolate frosting. If you melt this frosting in the microwave, you can pour it over the cupcakes just like ganache.
Cupcakes, ganache, filling must all cool completely- This is very important because if you assemble warm cupcakes, the filling and topping will melt and make a sticky mess.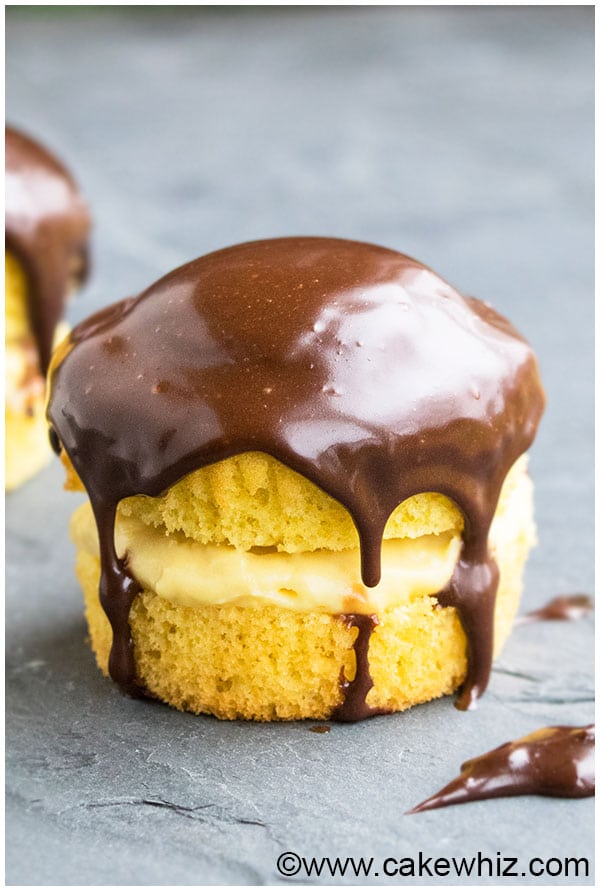 Storage
Refrigerate– In a sealed container for up to 3 days.
Freeze– Unfrosted cupcakes can be frozen in a sealed container for up to 1 month. The pastry cream cannot be frozen because it's a heavy milk-based dessert, which tends to separate upon thawing. Ganache can be frozen in a sealed container for up to 1 month. When you are ready to enjoy these treats, let the cupcakes and ganache thaw in the fridge overnight and prepare the filling and then, assemble as per instructions below.
More Cupcake Recipes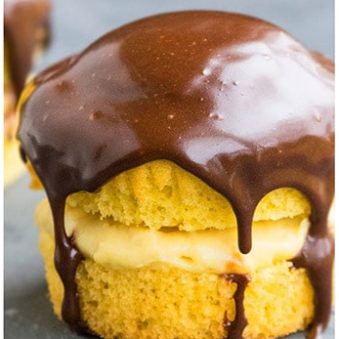 Boston Cream Cupcakes
Easy Boston cream cupcakes recipe from scratch, homemade with simple ingredients. Composed of soft and fluffy vanilla cupcakes, smooth pastry cream filling, rich ganache topping.
Yield: cupcakes
Instructions
Bake vanilla cupcakes and allow them to cool down completely.

While the cupcakes are baking, make homemade vanilla pudding or pastry cream filling.

Also make chocolate ganache. Heat chocolate chips and heavy cream in a saucepan. Mix until chocolate chips are fully melted. Let the mixture cool down and thicken a bit.

Once the cupcakes cool down, remove the liners and slice the cupcake in half with a sharp knife.

Pour about 1 tablespoon of the filling (it should be cool and thick) on the bottom portion and then stick the other half of the cupcake on top.

Pour 1-2 tablespoons of ganache on top of the cupcake and let it drip a little along the sides. Enjoy!
Notes
Read all my tips above. Store leftovers in a sealed container in the fridge for up to 2 days.
Nutrition
Serving: 18g, Calories: 404kcal, Carbohydrates: 42g, Protein: 3g, Fat: 24g, Saturated Fat: 15g, Cholesterol: 84mg, Sodium: 27mg, Potassium: 193mg, Fiber: 1g, Sugar: 27g, Vitamin A: 765IU, Vitamin C: 0.2mg, Calcium: 79mg, Iron: 1.5mg