Halloween candy corn s'mores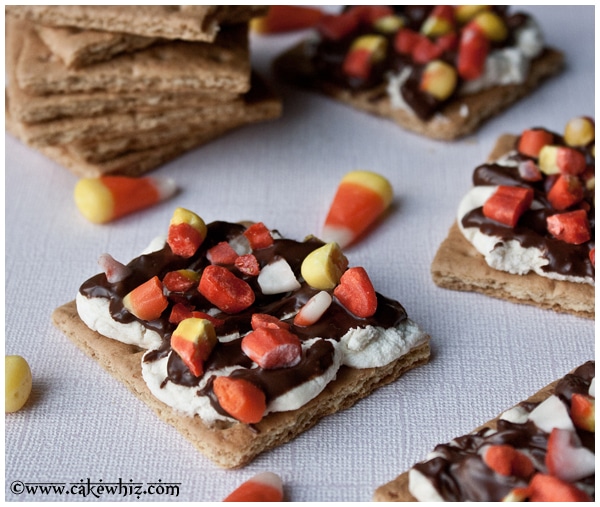 Seeing packages of candy corns at the grocery store makes me want to SHRIEK with happiness!
It lets me know that my FAVORITE time of the year is only a little while away….HALLOWEEN!
Speaking of candy corns, I WISH they would sell them all year round…hehe

Everything about them is PERFECT… Wouldn't you agree?
Their CUTE triangular shape…
Their PRETTY yellow, orange and white colors…
And their SWEET flavor!
Some folks find them too sweet but I think the sweetness is just RIGHT

While eating some last night, I had this CRAZY idea of making candy corn s'mores!
And I genuinely think that's the BEST idea I have had in a very long time…lol
These were SOOOO freakin good!
A graham cookie covered in ooey gooey marshmallows, topped off with melted chocolate and chopped up candy corns… Mmmmmm!
If you are a candy corn lover, you have to make these ASAP!
Trust me… you'll THANK me

These are so easy to make that I feel silly writing the recipe…hehe.
But, here goes…
To make them you will need the following ingredients:
Graham crackers
Marshmallows
Melted chocolate
Candy corns

And here are the steps:
Step 1:
Place 1 or 2 marshmallows on top of your graham crackers.
Step 2:
Heat them in the microwave for about 15 seconds until the marshmallows melt.
Timing may vary depending on the power of your microwave.
Step 3:
Drizzle some melted chocolate on op of the marshmallows.
Step 4: 
Sprinkle some chopped up candy corns.
And you are done! 
I am currently addicted to these and hope you like them as much as me

Well, that's all for today

Until next time, tata my lovelies.