How to Make Chocolate Caramel Apples
Learn how to make quick and easy chocolate caramel apples recipe for Fall or Thanksgiving parties. A great homemade gourmet gift.
Today's recipe reminds me of the gourmet apples I love from the Rocky Mountain Chocolate Factory. This delectable and indulgent treat combines the crisp, natural sweetness of fresh fruit with the rich, gooey goodness of caramel and a generous coating of luscious chocolate. It's also a great way to use up that huge supply of apples we have this time of the year. In my family, these are always a hit along with these Apple Nachos and Mini Apple Strudels.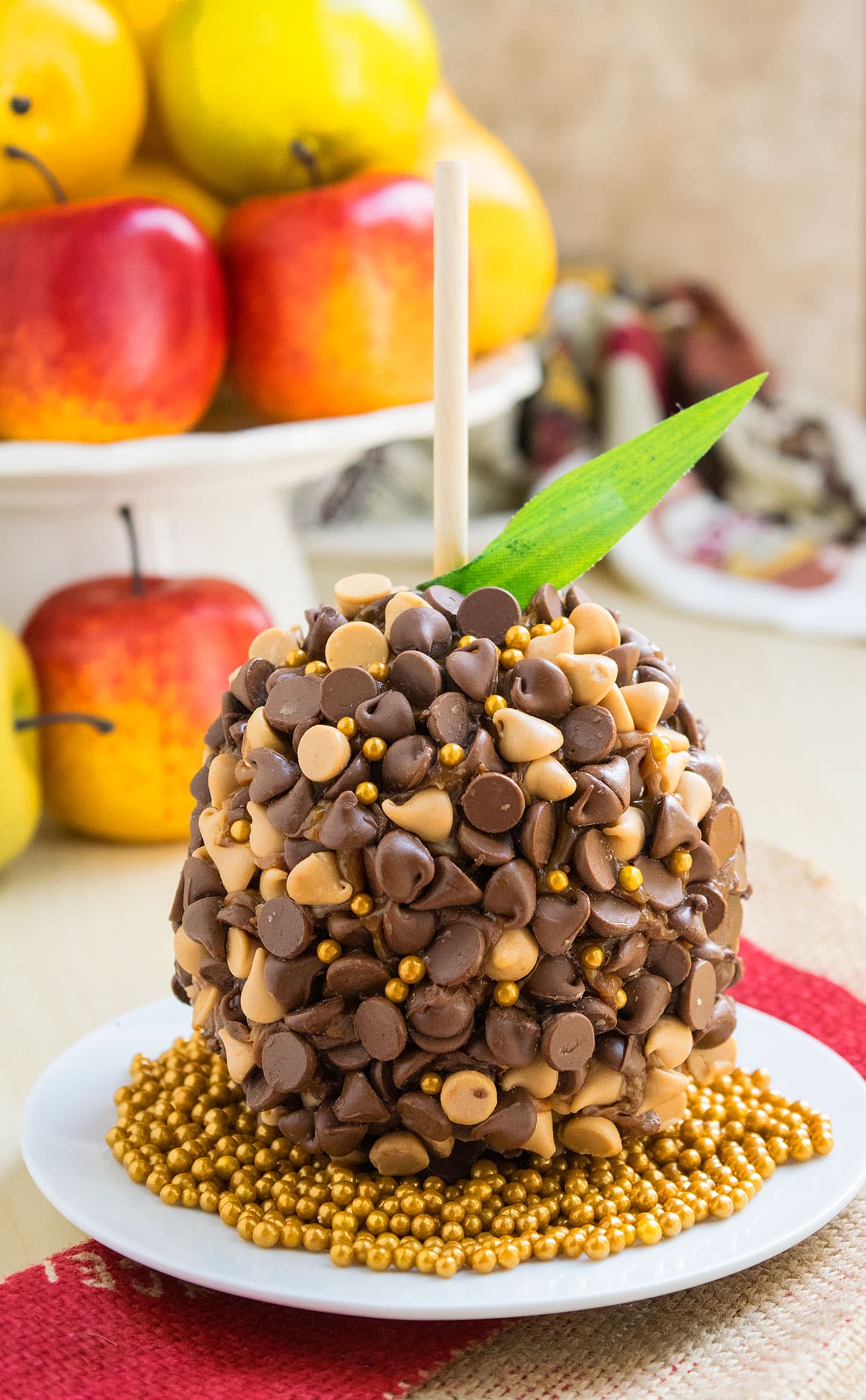 Key ingredients for dipped caramel apples
Caramel- You need really thick consistency. I melt Kraft caramel candies instead of making it. It's easy and never fails and saves you time. I have a Homemade Caramel Sauce Recipe but it has a thinner "syrup-like" consistency that's not suitable for dipping.
Apples- Use good quality Granny Smith or Honeycrisp apples.
Chocolate chips- Make sure it is a high quality chocolate. I also used peanut butter chips.
Edible pearls- This makes for a cute, appetizing decoration at the end.
Sticks- Be sure they are wooden popsicle sticks or wooden heavy duty lollipop sticks, because these apples will be heavy.
Green craft paper leaves- Because it is hard to find apples with the leaves attached and it makes a cute accent.
How to make easy homemade caramel apples recipe from scratch?
Wash and dry– All the apples.
Push- A sturdy wooden stick through them.
Dip– Them in melted caramel.
Let sit- Until caramel is set.
Dip– Apples in melted chocolate and/or cover them in chocolate chips.
Topping options for gourmet apples
Peanuts- Can be salted or unsalted.
Almonds- Tastes best if slightly toasted.
Pistachios- Should be roughly chopped.
Walnuts- Adds a great flavor and crunch. Just make sure they are chopped up.
Pecans- Be sure they are chopped up into small pieces.
Sprinkles- This is super fun to add and can be done in many colors, shapes, and sizes. Colored sugar crystals on white chocolate is a nice touch as well as larger sprinkles that match any holiday.
Coconut- You can use sweetened or unsweetened, depending on your sweet tooth. I suggest using shredded coconut pieces.
White chocolate- Use melted white chocolate or white chocolate chips to top it off.
Cinnamon sugar- Use 1 Tbsp cinnamon to 1/4 Cup Sugar for the perfect ratio and sprinkle on while the caramel or chocolate is still wet. A great pairing with this is white chocolate.
Candies- You can have a lot of fun with this by using anything from nerds to crushed up peppermints.
Chopped Oreos- This can be done with or without the filling, depending on how sweet you want it. Just make sure the pieces are small enough to stick to the apple and be easily consumed.
Graham crackers- Use crushed crackers either regular or cinnamon and top off your apple with some extra crunch.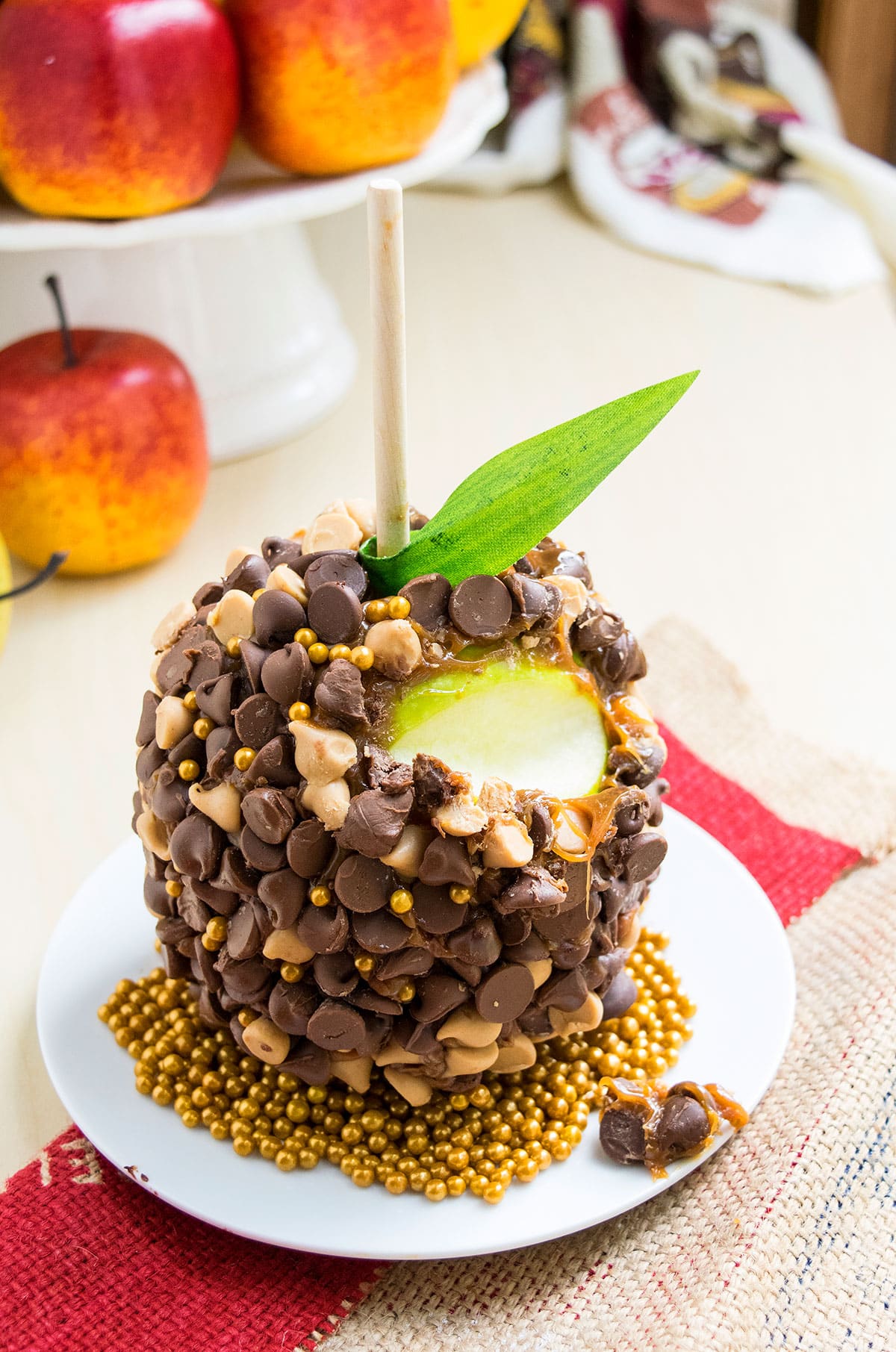 Tips and techniques
Remember to wash apples properly– To remove that waxy residue or you can just use organic apples. To remove wax coating, all you have to do is mix 1 cup of boiling water with 1/2 teaspoon white vinegar and then dip each apple for 4-5 seconds. Dry thoroughly with kitchen towels and that's it!
Use good quality ingredients- Make sure to use ripe apples and chocolate chips that meet high standards. Your chocolate caramel apples are only as good as the ingredients you use.
Use thick wooden popsicle sticks- These apples will get heavy! Don't use plastic lollipop sticks or thick straws. I tried them and they were breaking and bending and absolutely useless.
If you have leftover melted chocolate or caramel– You can use that for additional DRIZZLING on top of these apples or just dip other things in them like large marshmallows, Oreos or graham crackers. Speaking of crackers, you have to try these Chocolate Covered Graham Crackers. They are mind- blowing!
You may need more or less chocolate and caramel– Depending on the size of your fruit. I like to use big apples and I always end up with leftover sauces. But honestly, I prefer having more on hand since I don't want to worry about running out halfway and then melting again. It's so annoying.
Why did my caramel coating get hard? This usually happens when the caramel is cooked for too long. It becomes a glass-like coating.
Caramel apple slices- Cut slices and dip them halfway in caramel and then chocolate and then add toppings. Arrange on a serving dish and serve. These are so much easier to eat too and not as messy as eating a whole loaded apple.
Apple lollipops- Use smaller sizes of apples to make lollipops, which is also easier for kids to enjoy.
Use another fruit- Get creative! Instead of apples like pears, pineapple wedges, orange slices or bananas. Speaking of bananas, you must try these Frozen Chocolate Covered Bananas.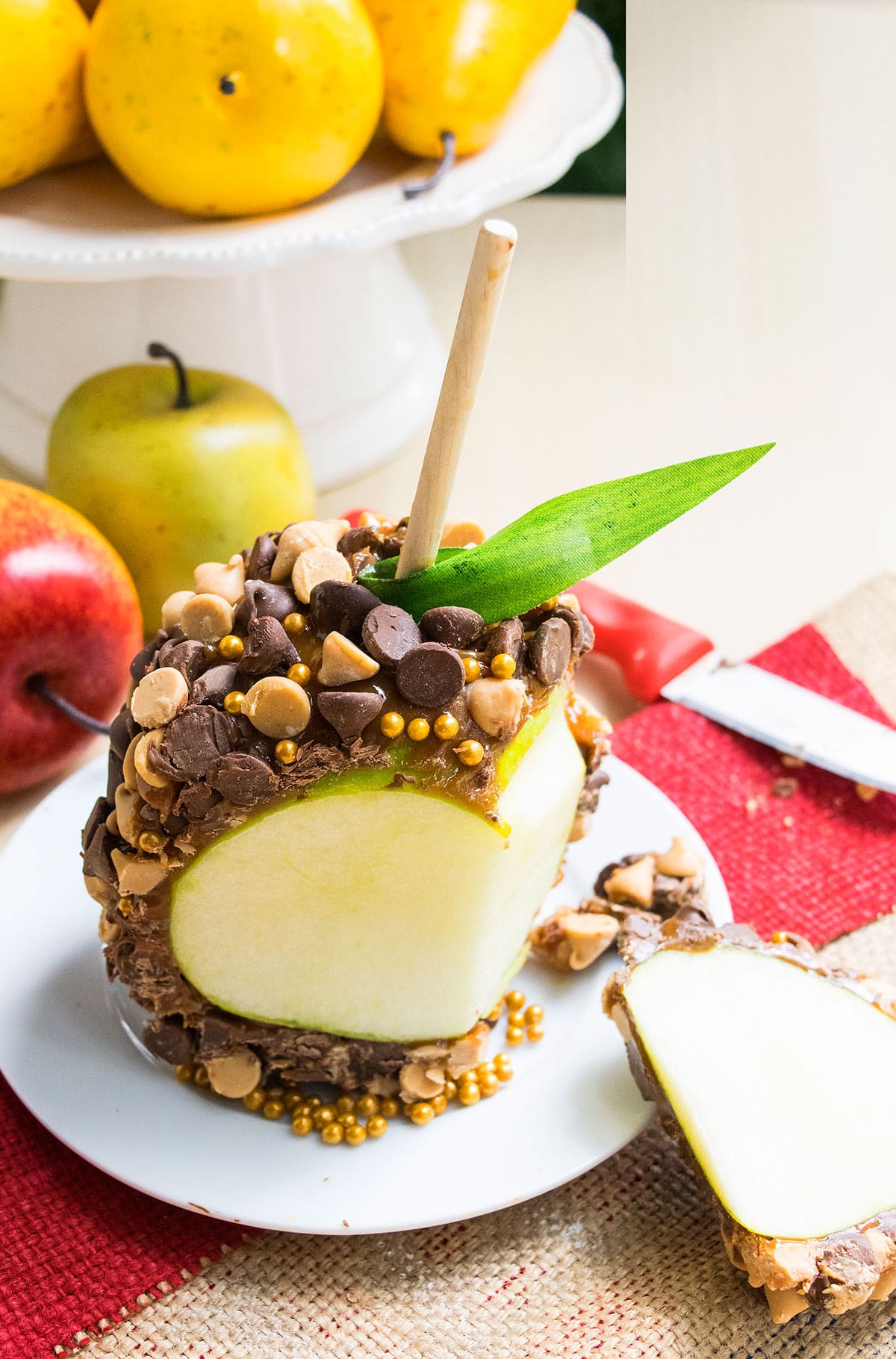 Recipe FAQ
How to melt caramel?
Use a double boiler or melt in a heat-safe bowl in microwave.
How do you keep caramel from sliding off apples?
Make sure to rinse and dry the apples very well because they have a waxy coating that prevents anything from sticking and adhering to it.
What kind of apples are best for dipping?
Granny Smith are great because they are tart and they balance the sweet coatings perfectly. Another option is Honeycrisp apples which have sweet and sour notes and compliment the toppings well.
How are you supposed to eat this?
You can have fun and be messy and eat the whole loaded apple as is. Another option is to use a sharp knife to cut slices around the central core and enjoy those.

Storage of taffy apples
Room temperature- I would only leave these out for 1-2 days, because the apples will go bad quickly with a hole in them from the stick.
Fridge- Place them in a box with a tight cover and store in the refrigerator. Personally, I like to take them out of the fridge and keep them at the countertop for 15-20 minutes and then enjoy them. This makes them so ooey gooey! Since you are puncturing the apples by pushing a wooden stick through them, I would say these can only last for 3 days.
Freezer– Do not freeze because they don't thaw well.
More apple desserts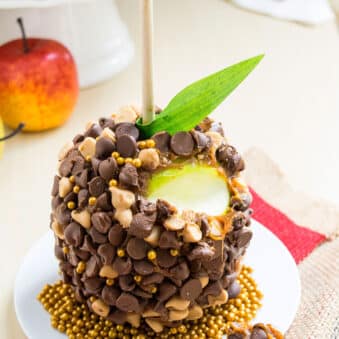 Chocolate Caramel Apples
Learn how to make quick and easy chocolate caramel apples for Fall/ Thanksgiving parties. Fun to make with kids! Lots of tips and tricks included!
Yield: Apples
Ingredients
5 Apples, Granny Smith or Honeycrisp apples
2 bags Soft and chewy caramel candy, 11 oz. bags each, Melted
5 cups Chocolate chips
½ cup Edible pearls, Golden
5 Wooden lollipop sticks
Green craft paper leaves
Instructions
Wash your apples and pat them dry with paper towels.

Push wooden lollipop sticks into each apple.

Now, melt caramel in the microwave or a

saucepan

. Remember to use a deep bowl, which makes it easier for dipping.

Dip apples, one at a time, in the bowl of melted caramel.

Place tray in the fridge for 15 minutes so that the caramel sets up a bit.

Remove tray from fridge and cover all the apples with chocolate chips. Fill any gaps with golden edible pearls.

Place the tray in the fridge again and let the caramel and chocolate chips set for 30-45 minutes.

Prior to serving, stick a small craft paper leaf on top of each apple. You will just have to push the leaves in slightly and they will stick to the caramel. Enjoy!
Notes
Wash apples very well to remove that waxy residue or you can just use organic apples which don't have a super waxy layer.
Dry apples thoroughly with kitchen towels to remove all water droplets to ensure chocolate sticks properly. 
Depending on the size of your fruit, you may need more or less caramel sauce and melted chocolate. 
You can scroll up and read additional tips above within the post if you have never made these before. 
Store leftovers in the refrigerator and try to finish them off within 3 days.
Nutrition
Calories: 1312kcal, Carbohydrates: 230g, Protein: 10g, Fat: 42g, Saturated Fat: 26g, Cholesterol: 28mg, Sodium: 559mg, Potassium: 299mg, Fiber: 10g, Sugar: 131g, Vitamin A: 615IU, Vitamin C: 9.8mg, Calcium: 286mg, Iron: 2.7mg