Cooked Flour Buttercream (Ermine Frosting)
Quick and easy cooked flour buttercream (Ermine frosting) recipe that's stable, smooth and creamy. Perfect for piping and decorating cakes and cupcakes.
This cooked flour flour buttercream (Ermine frosting) recipe is from a very old FAMILY cook book.
I have used it on my chocolate cake , moist red velvet cake and even my mango cherry cake and it always tastes amazing.
This frosting is soft, creamy, FLUFFY and tastes very light and airy.
This recipe is very different than my classic American buttercream frosting and between the two, I think I like this one better.
The addition of FLOUR is the key to the VELVETTY texture of this unique frosting.
People worry that they would taste the flour but NO! You WON'T taste it at all!
Unlike typical frosting recipes, this one takes a bit longer to prepare but it's absolutely WORTH it!
Ermine frosting is known by so many NAMES such as:
Cooked frosting
Boiled milk frosting
Boiled icing
Cloud frosting
Flour frosting
Cooked roux frosting
Heritage frosting
Mock buttercream icing

Does Ermine frosting need to be refrigerated?
Yes, it needs to be refrigerated. It has milk, which can go bad if the frosting sits outside at room temperature.
How to store Ermine frosting?
Store it in a sealed container in the fridge for up to 1 week.
How do you make vanilla frosting without powdered sugar?
This Ermine frosting traditionally has no powdered sugar and it would the perfect choice.
What is Ermine frosting used for?
It can be used to frost cakes, cupcakes, brownies and can even be used as a filling in desserts.
How to make Ermine frosting? How do you make boiled icing?
It's very SIMPLE. Start off by cooking the milk, sugar and flour on medium heat until it thickens. Let this "flour pudding" mixture, also known as "roux" to cool down completely. In a separate mixing bowl, cream together butter and sugar. Add the flour mixture and vanilla extract. Mix everything together until light and fluffy. Add powdered sugar to enhance the sweetness, if you like (optional).
What is Ermine frosting?
It's an old fashioned frosting that is light and fluffy just like whipped cream but has more flavor. According to family and friends, it used to be the frosting of choice for red velvet cake until cream cheese frosting became more popular.
Here are some TIPS for making PERFECT flour buttercream (Ermine frosting recipe):
Use clear vanilla extract since regular extract can discolor the frosting slightly.
The flour mixture must have NO lumps or else you will end up with lumpy frosting. If necessary, run the "roux mixture" through a fine mesh sieve to remove all lumps OR run a hand held immersion blender through the mixture.
To prevent lumps from forming in the flour mixture, make sure to constantly whisk while you are cooking it.
To make VEGAN Ermine frosting, replace whole milk with vegan milk such as soy milk, coconut milk, almond milk AND replace butter with shortening.
This frosting is NOT pure white. It's slightly "off-white." You can easily add white gel coloring to make it truly white frosting
If you want your icing to be RED, I have noticed Americolor's red gel color works best. It seems to have a deeper shade of red than compared to Wilton's red gel color.
Refrigerating the frosting for 30 minutes prior to frosting will make it easier to pipe.
DON'T use liquid food coloring since that will thin the consistency of the frosting. Only use gel food coloring.
I like to make Ermine frosting with shortening and butter together so as to make it more stable but traditionally, it's made with ALL butter.
I also like to add powdered sugar to this frosting so as to ENHANCE the sweetness a bit and also make it thicker but traditionally, it has not powdered sugar at all.
If the frosting is too thin, CHILL it for 30-40 minutes. If that still doesn't work, mix in a little powdered sugar to make it thicker.
If the frosting is too THICK, add a little milk to thin it out.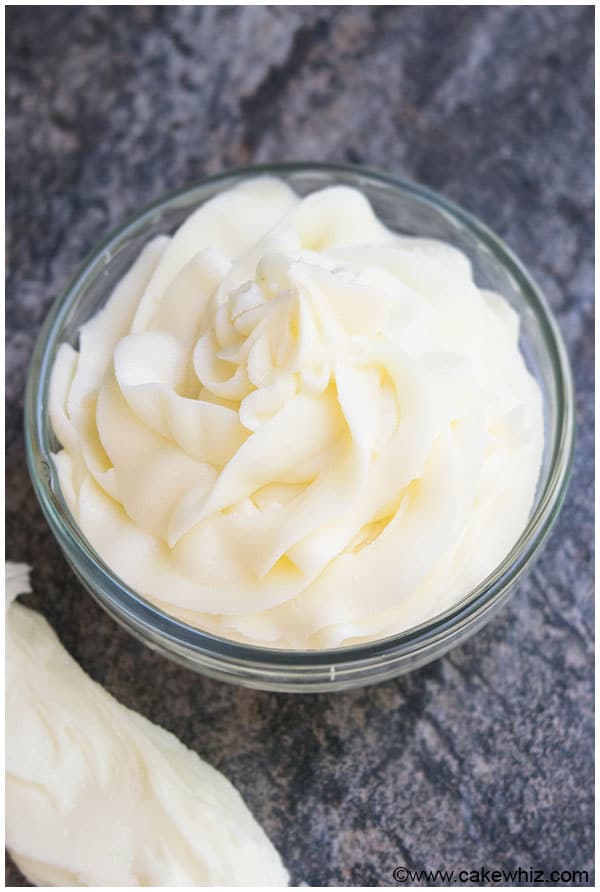 Here are some flour frosting VARIATIONS you can try:
To make peppermint icing, replace vanilla extract 1 tsp peppermint extract.
To make rose icing, replace vanilla extract with 1 tbsp rose water or even more if you want a very strong flavor and fragrance.
To make coconut icing, omit all other extracts add 1 tbsp of coconut extract. If you like a slightly chunky coconut frosting, add 1/3 cup finely shredded coconut. You might need to add a little more milk to smooth out your frosting.
To make chocolate ermine frosting, add 1/4 cup unsweetened cocoa powder in this recipe.
By the way, I also tried making Ermine frosting with cream cheese but it was just too weird and I DON'T recommend it.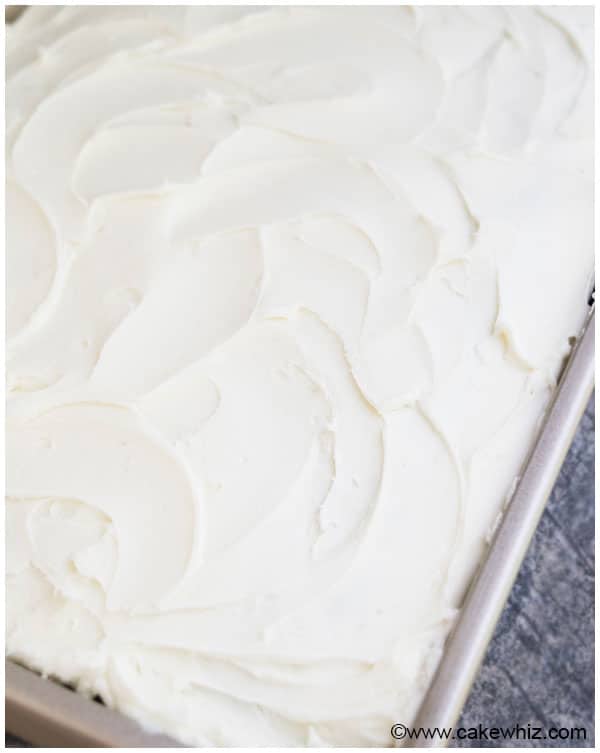 Well, that's all for today.
If you liked this cooked flour buttercream icing, you may like some of these other frosting/icing recipes too: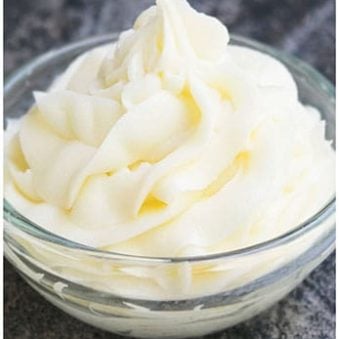 Cooked Flour Buttercream (Ermine Frosting)
Quick and easy cooked flour buttercream (Ermine frosting) recipe that's stable, smooth and creamy. Perfect for piping and decorating cakes and cupcakes.
Yield: Cups
Instructions
In a non-stick saucepan, add milk, flour, granulated sugar and cook on medium heat, while constantly whisking everything together.

When the flour mixture starts to thicken, remove from heat and pour it into a bowl.

Cover the bowl with saran wrap quickly, making sure it's directly touching the surface to prevent any "skin" formation. 

Place this bowl in the fridge and let it cool down completely until it has the consistency of a pudding. 

In a mixing bowl, cream together butter and shortening.

Add powdered sugar (1/4 cup at a time) and continue mixing, until you have the desired consistency and flavor. This step is optional

Use this frosting to pipe your cakes/cupcakes and enjoy!
Notes
Read all my tips above.
Leftover frosting can be stored in a sealed container in the fridge for up to 7 days. 
Nutrition
Calories: 1250kcal, Carbohydrates: 160g, Protein: 4g, Fat: 67g, Saturated Fat: 29g, Cholesterol: 89mg, Sodium: 309mg, Potassium: 120mg, Sugar: 149g, Vitamin A: 1075IU, Calcium: 101mg, Iron: 0.6mg
Until next time, tata my lovelies!