Modern Abstract Cake
Use this cake decorating tutorial to learn how to make a modern upside down abstract cake and a contemporary gray and yellow cake. These tiered cakes perfect for wedding parties, anniversaries or birthdays.
Today, I am sharing one of the most unique cake ever: An upside down abstract cake design.
Since half my wardrobe is filled with polka dot designs, it was only a matter of time before polka dots ended up on one of my cakes….lol.
But, polka dots are usually associated with baby cakes and I didn't want to make a"cutesy" cake.
So, I made an abstract polka dot cake and I think it looks more sophisticated.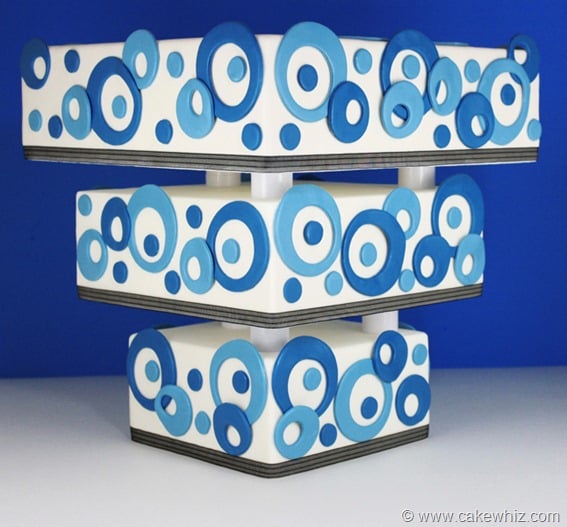 Looks pretty unusual… right?
Most tiered cakes start off with a big cake as the base and the cakes gradually get smaller as you go up. I wanted to do the opposite and make it upside down.
Yup… UPSIDE DOWN!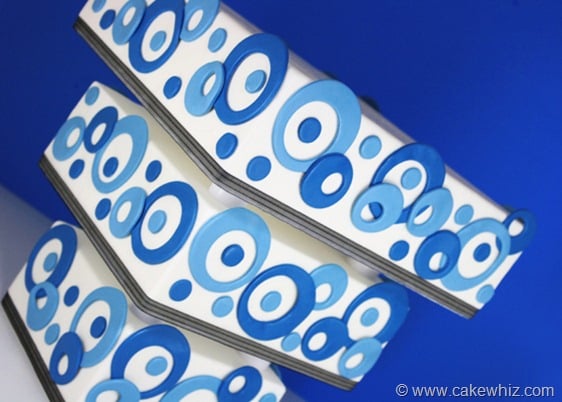 I think it's rarely done coz so far, I have only seen such a cake ONCE and it was in some bridal magazine (I don't remember which one).
I don't even remember the design.
The only thing I remember is admiring its upside down shape and thinking: "Good Lord! That is crazy cool!"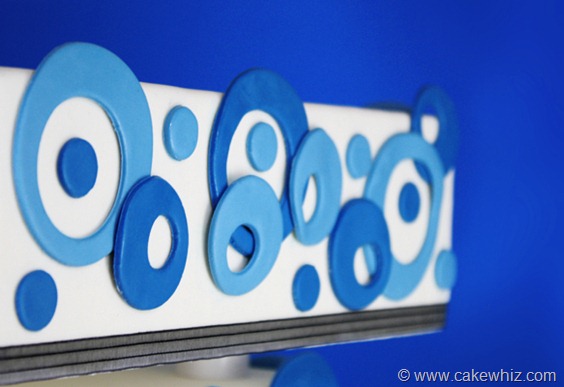 How to make modern abstract cake?
Ingredients and Supplies
2 shades of blue marshmallow fondant
Big, medium and small circle cutters
Paintbrush
Water
Wax paper
Instructions
Roll out turquoise colored fondant. Use a large circle cutter to make a circle cut-out.
Position a medium circle cutter a little farther away from the center of the circle you just made. Then, press the cutter and remove this piece. You will end up with a hollow circle.
Follow steps 1 and 2 again and cut out some regular polka dots and some hollow polka dots in various sizes using big, medium and small circle cutters.
Follow steps 1 and 2 again to make dark blue polka dot cut-outs too. Let these cut-outs dry for 24 hours on a sheet of wax paper. They won't become very stiff but they should be able to hold their shape without bending over.
Brush some water on the back of these cut-outs.
Now, just paste those fondant circles onto your cake. Before doing this, make sure your cakes are already covered in fondant and stacked with plastic pipe supports in between each tier. Also, each tier should be resting on a cake board.
More details for assembling this upside down abstract cake:
Support is the most important thing in such a cake! I was worried that the whole cake would topple over if I used wooden dowels or bubble tea straws. So,I went to Home Depot and picked up some of these plastic pipes and used those for support. Gotta thank Buddy from Cake Boss for that tip (I love that show!!!).
Use a very sturdy cake board for each tier to rest on. I covered that in fondant too and wrapped a ribbon around it.
Rolling out thin fondant to cover a cake makes the edges of a square cake look sharper. Thicker fondant make the edges look rounder.
Ice your cake very smoothly with no crumbs and bumps and the cake would look smoother when you cover it in fondant.
Don't be scared to start all over if you are not happy with it. I did my top tier twice coz I was not satisfied and I had to re-do my middle tier once as well.
Doing a round version of this cake would be much easier since square cakes are not my greatest strength and they take me twice as long to complete.
If you are fond of abstract cakes, this is another really cool cake I made recently. It combines my love for geometric shapes and abstract designs together.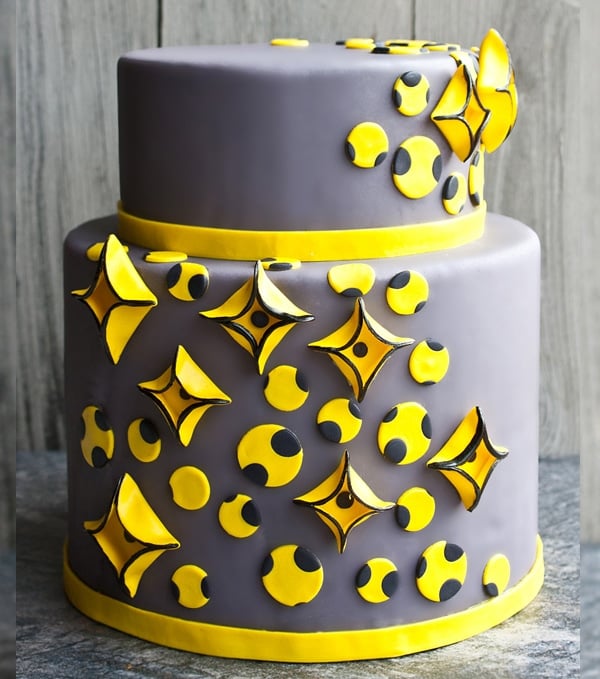 The color scheme is a very modern: yellow and grey. Everything about this cake is asymmetrical. If you are looking for a very unique wedding cake or birthday cake, this would definitely fit the criteria.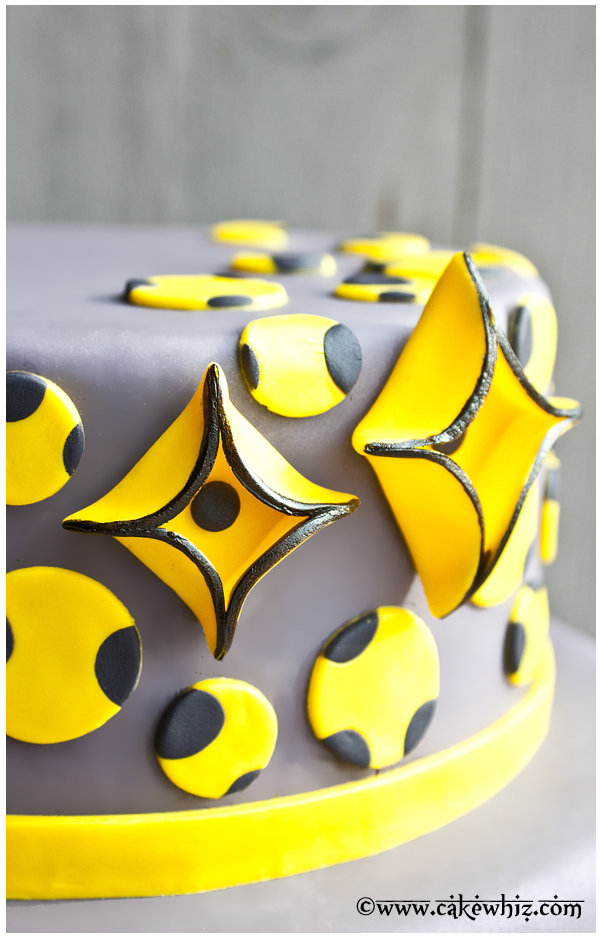 This is the step by step tutorial for this cake. It's just a two tiered cake. The bottom is taller than the top one. I used marshmallow fondant for everything.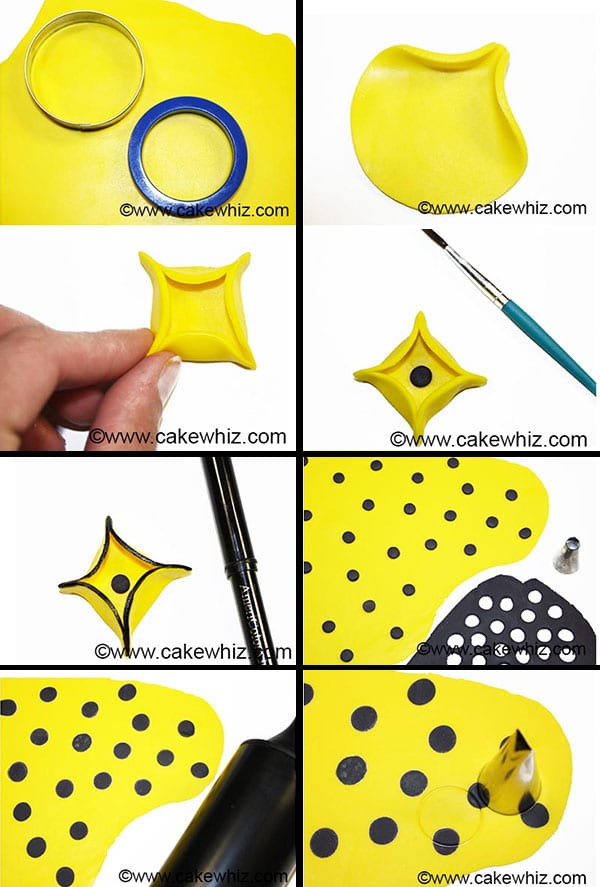 Well, that's all for today.
Until next time, tata my lovelies!