Coffee Popsicles
Quick and easy iced coffee popsicles recipe, requiring simple ingredients. These chocolate coffee popsicles are a refreshing and easy Summer dessert.
*Thank you Dunkin' Donuts for sponsoring today's post so that I share these coffee popsicles with you. As always, all opinions are mine.*
These popsicles are a result of my major LOVE AFFAIR with coffee.
I started making them in college when I needed a CAFFEINE KICK but didn't want to keep brewing coffee every hour.
Seriously, they were much needed during those all-nighters before project deadlines and major exams.
They have a very STRONG coffee flavor and their texture is very similar to a granita, which is INCREDIBLE and super refreshing!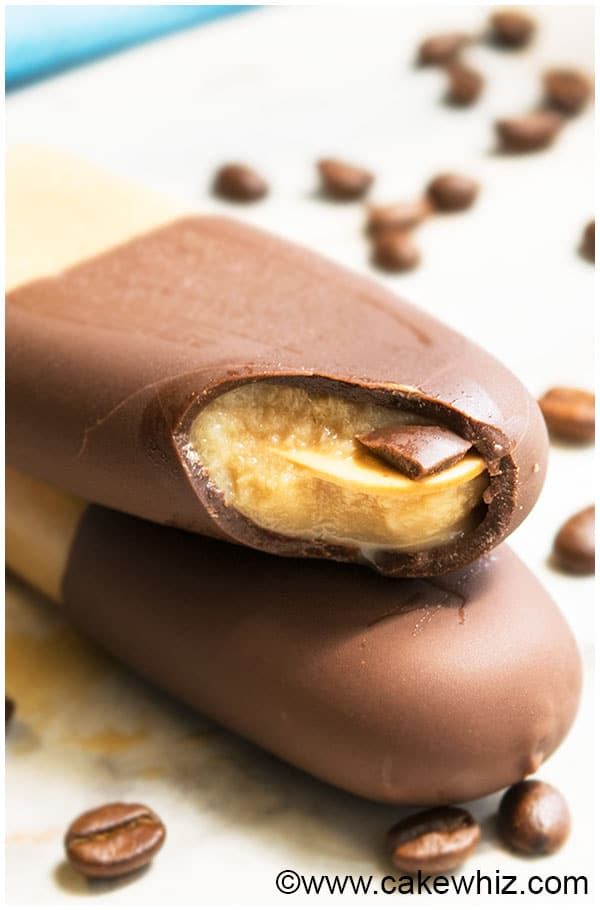 These popsicles taste GREAT as is but I decided to dip them in melted chocolate.
That really took them to a whole new level of deliciousness.
After all, chocolate and coffee together is an OUTSTANDING flavor combination!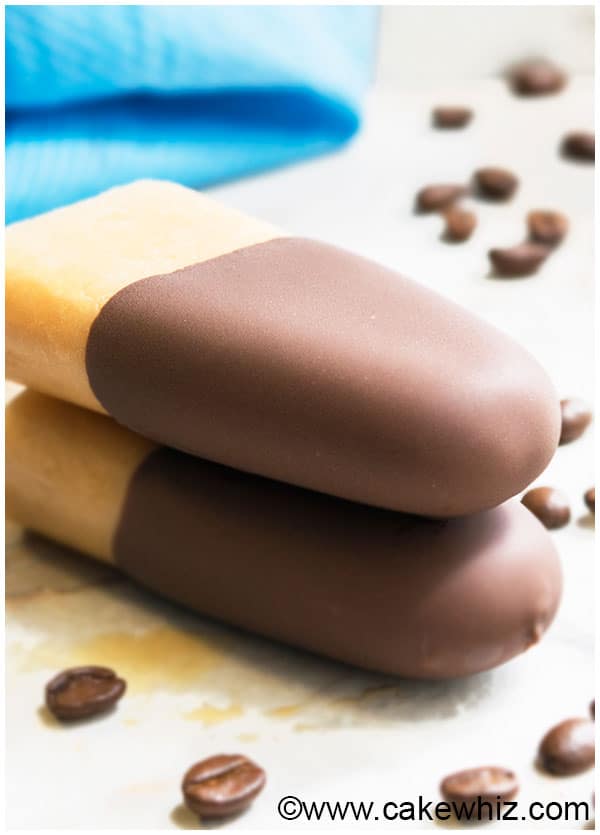 How to make iced coffee popsicles?
The process is very SIMPLE. Start off buying your favorite iced coffee OR brewing your own homemade coffee. Then, just pour it in popsicle molds and freeze until the coffee becomes solid. Remove the popsicle from the mold. Then, dip it in melted chocolate. Let it set and enjoy!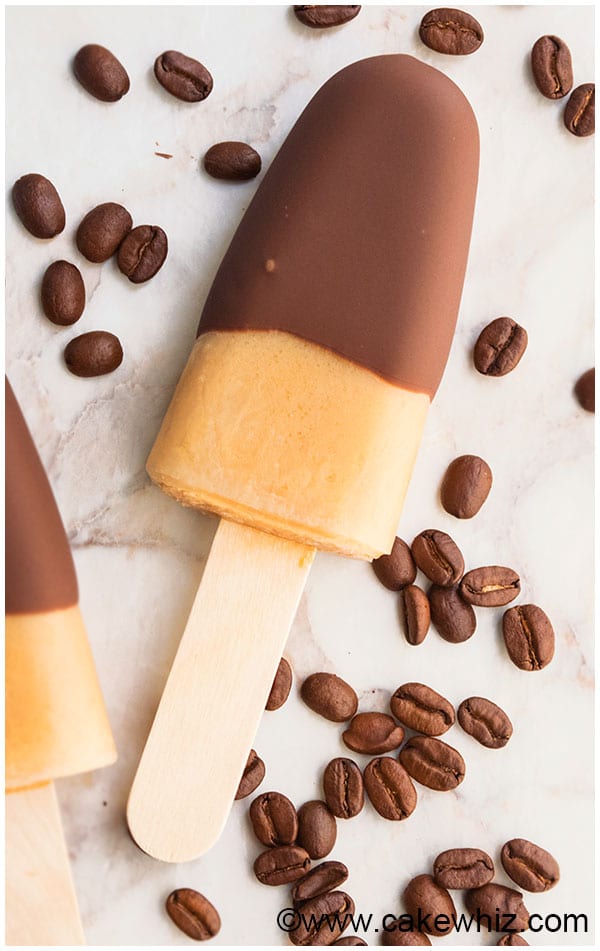 Here are some TIPS for making these SIMPLE coffee popsicles:
Use the BEST iced coffee you can find. I used Dunkin' Donuts iced coffees. They are always made with high-quality Arabica beans. For half of these these popsicles, I used Dunkin' Donuts' Coconut Crème Pie flavored iced latte, which is packed with flavors of vanilla, coconut and sweet pie crust. YUM!
For the other half, I used  Dunkin' Donuts iced Macchiato, which is a beautiful layered espresso beverage made with milk, double shot of Dunkin' Donuts freshly brewed espresso. I also added a caramel flavor swirl but there are other flavors you can choose from: French Vanilla, Hazelnut, Mocha.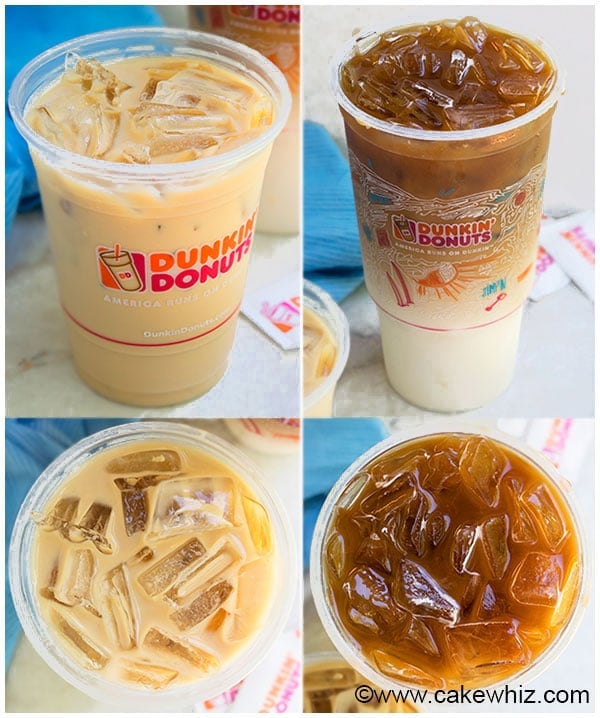 You can mix in some Greek yogurt in your iced coffee to make coffee yogurt popsicles.  After some trial and error, I found that chocolate and coffee flavored yogurts tasted the best but vanilla is a very good choice too. This addition makes it very creamy too.
You can also make healthy coffee popsicles with coconut milk. Quantity can vary, based on your preference.
You can also make creamy coffee popsicles with condensed milk. You can add as much or as little as you like.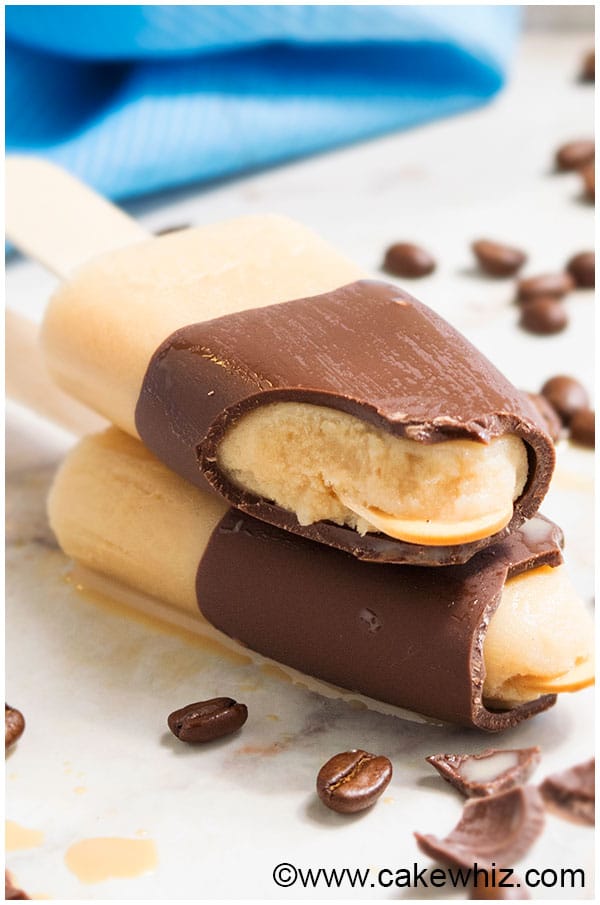 Well, that's all for today.
If you liked these chocolate coffee popsicles, you may like some of these other frozen dessert recipes too…
Skinny chocolate banana popsicles
2 ingredient chocolate ice cream
If you are fond of coffee recipes, check out these readers' favorites…
Mocha pancakes with mocha syrup
Mocha caramel cookie dough truffles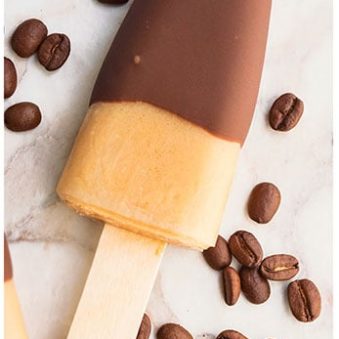 Coffee Popsicles
Quick and easy iced coffee popsicles recipe, requiring simple ingredients. These chocolate coffee popsicles are a refreshing and easy Summer dessert.

Yield: popsicles
Ingredients
3 cups Iced coffee
1 cup Chocolate, Melted
Instructions
Pour iced coffee into popsicle molds.

Chill in the freezer for 2 hours or until they harden. 

Run the mold under warm water and remove the popsicle.

Dip it in melted chocolate and let it set (takes less than 1 minute) and enjoy!
Notes
Read my notes above. 
Leftovers can be stored in the freezer for up to 1 week. 
Nutrition
Calories: 89kcal, Carbohydrates: 10g, Fat: 5g, Saturated Fat: 3g, Sodium: 4mg, Potassium: 85mg, Sugar: 9g, Calcium: 6mg, Iron: 0.5mg
Until next time, tata my lovelies!