Chocolate Coffee Cake
The best soft, moist, quick and easy chocolate coffee cake recipe from scratch, homemade with simple ingredients. Loaded with chocolate frosting and espresso ganache.
These Mocha Cupcakes (Coffee Cupcakes) and this Mocha Cake Roll are two of my favorite coffee- based desserts and I think today's recipe is even better than those!
The coffee flavor in this chocolate chip coffee cake comes from espresso powder and brewed coffee. The chocolate flavor comes from cocoa powder and chocolate chips. It's truly an intense cake and perfect for people who love the chocolate and coffee combination.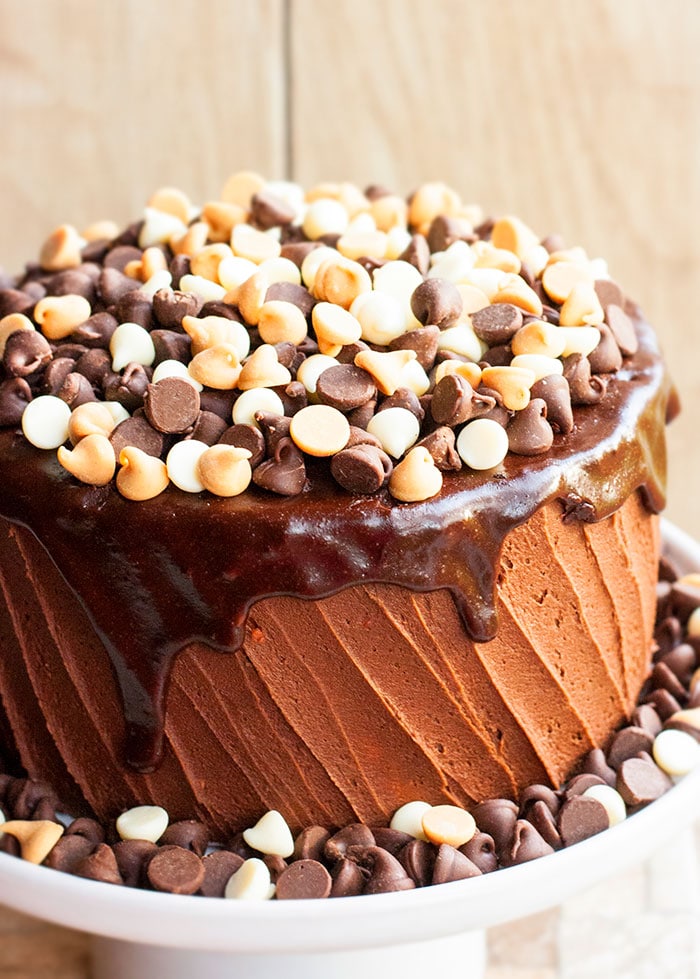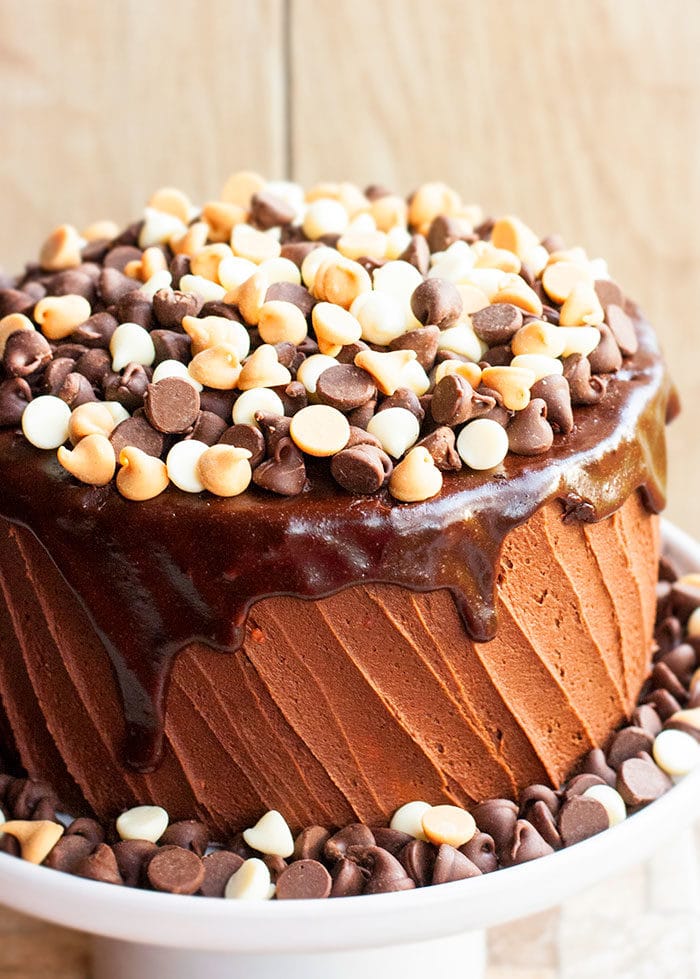 How to make chocolate coffee cake?
Mix together dry ingredients: flour, sugar, cocoa powder, baking powder, baking soda, salt. Keep aside.
Mix together wet ingredients: eggs, oil, buttermilk, vanilla, brewed coffee.
Dump dry ingredients to wet mixture and mix.
Bake.
Prepare frosting and ganache.
Place one cake on a stand.
Top it off with frosting.
Place other cake on top.
Ice entire cake.
Pour ganache and let it drip.
Decorate with chocolate chips and you are done.
Variations
You can also make this chocolate cake recipe with coffee, using a cake mix box. Follow the recipe for How to Make Cake Mix Better (Taste Homemade),using Devil's food cake mix. The frosting and ganache will be the same as the recipe card below.
Chocolate coffee bundt cake– Make this Chocolate Bundt Cake and drizzle espresso/ coffee chocolate ganache on top, using the recipe below.
Instead of chocolate buttercream, you can use this Coconut Cream Chocolate Frosting, which is super fudgy and has a hint of coconut flavor.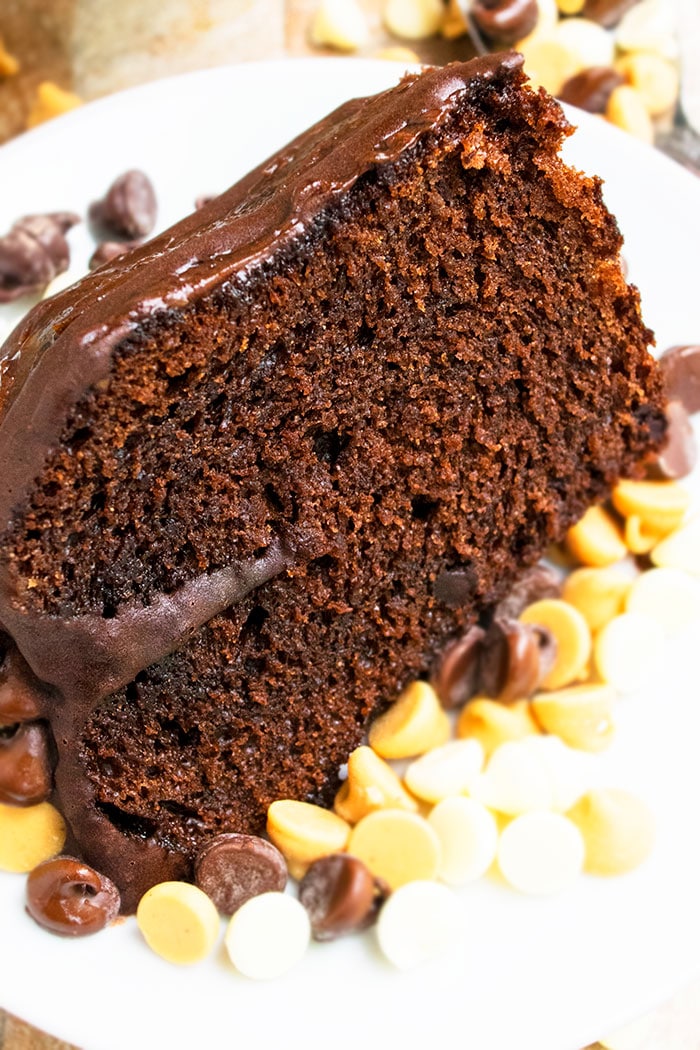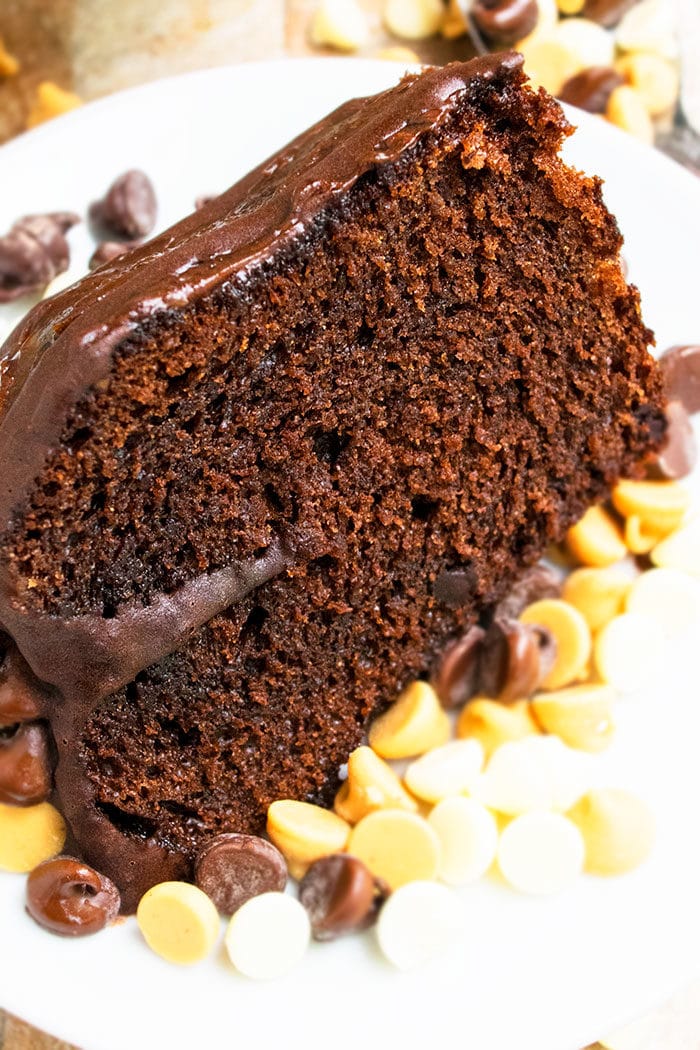 Tips and Techniqes
Don't skip any component of this cake- That's because everything is needed to create the best overall flavor and harmony. Leave anything out and the results will be dramatically different.
What is espresso powder? It is not the same as coffee granules. Espresso granules dissolve in liquid whereas coffee granules do not. You can find espresso powder in the coffee aisle at most grocery stores.
Don't replace buttermilk with whole milk- Because buttermilk adds a lot of moisture to the cake and makes it super soft.
How to make homemade buttermilk? I know this is not an ingredient many of us have on hand, all the time but no worries. Make a great buttermilk substitute at home by mixing together 1 cup whole milk with 1 tbsp vinegar or lemon juice. Let it sit for 5 minutes. Mix and then, use in this recipe.
Don't worry if the batter is thin. You have done nothing wrong and that's just the way it's supposed to be.
Don't over-mix batter– Because that yields tough cakes and it can also cause the cake to collapse/sink during baking.
Decorate it! I kept it simple and decorated with chocolate chips but you can use other candies, chocolate shreds or even sprinkles and fresh flowers.
Both, baking powder and baking soda, are required– Don't replace one with the other because that will alter the texture of this cake.
Use room temperature brewed coffee- Because if it's too hot, it will start cooking the eggs in the batter.
Don't use butter in the cake batter– This is one of the few times I recommend using oil instead of butter because during my experiments, I noticed butter made the cake too dense.
Don't use dark chocolate– This is with regards to cocoa powder and chocolate chips because it makes the cake too bitter.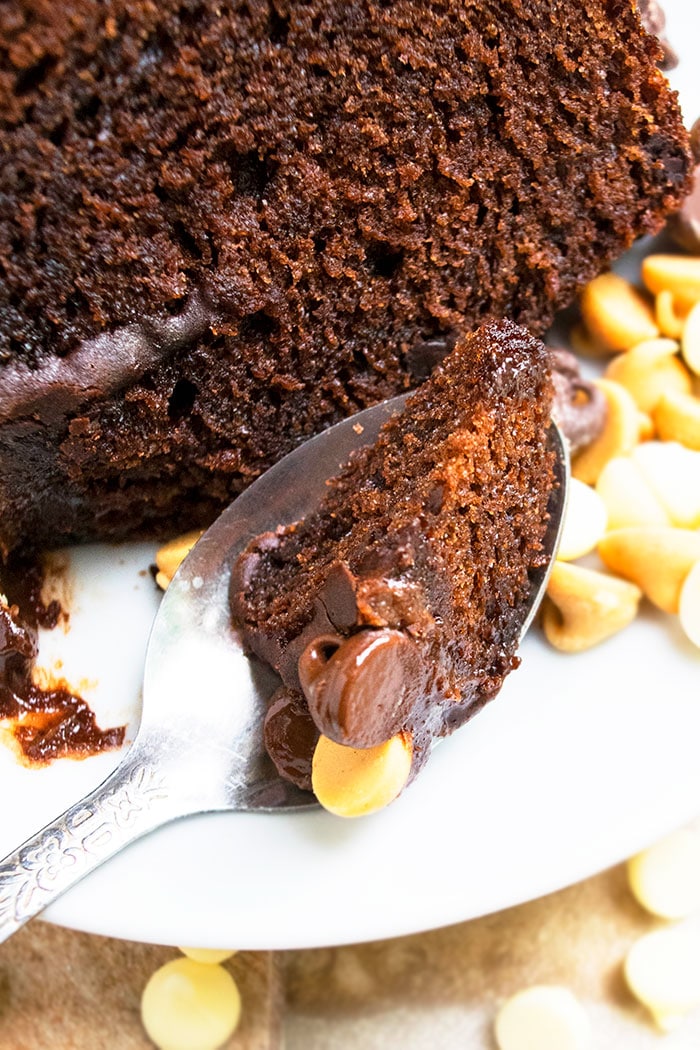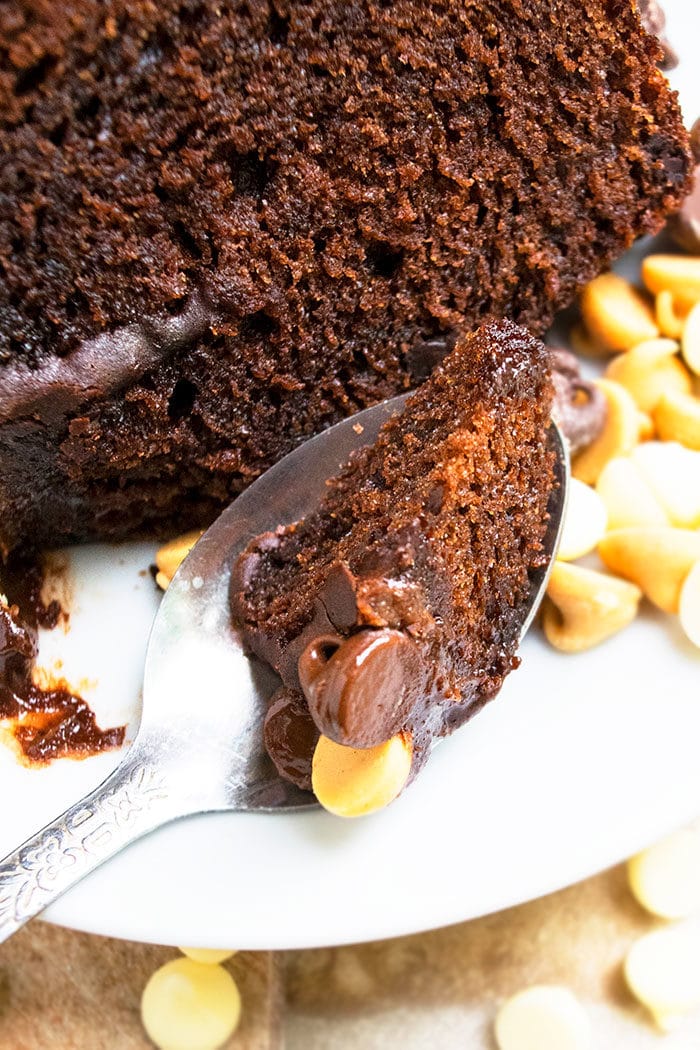 Other coffee desserts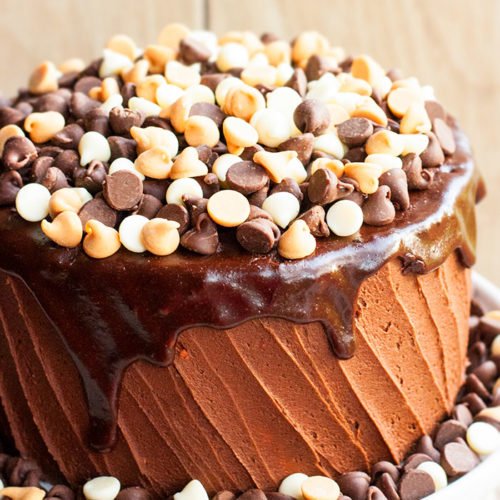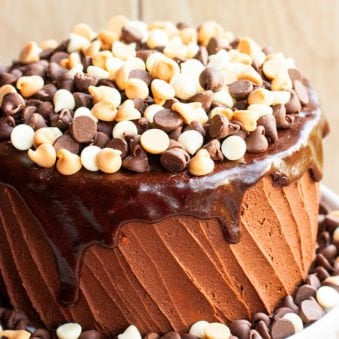 Chocolate Coffee Cake
The best soft, moist, quick and easy chocolate coffee cake recipe from scratch, homemade with simple ingredients. Loaded with chocolate frosting and espresso ganache.
Yield: Slices
Instructions
In a large mixing bowl, whisk together the flour, sugar, cocoa powder, baking soda, baking powder and salt. Keep aside.

In another mixing bowl, add eggs, buttermilk, coffee, oil, vanilla extract and mix until smooth.

Dump dry flour mixture into this wet mixture and mix until just combined.

Pour batter into 2 greased/ floured round cake pans (Dimensions 8×2).

Bake for 35-40 minutes at 350 degrees or until an inserted toothpick in the center comes out clean.

Allow the cakes to cool down completely.

While the cakes are baking, prepare the chocolate frosting, as per the recipe above but make sure to also add 1 tbsp espresso powder.

Also, make the ganache: In a microwave- safe bowl, add chocolate chips, heavy cream, espresso powder and butter. Heat in the microwave at 30 second increments, mixing after each interval. Continue doing this until you have a smooth and creamy mixture.

Start assembling: Place one cake on a cake stand.

Spread frosting on top.

Place the other cake on top of the frosting and gently press it to secure it.

Then, frost the entire cake in chocolate frosting.

Use the back of a spatula to design a diagonal pattern all around the cake.

Pour espresso ganache on top of the cake and use a spatula to spread it out and allow it to drip a little along the sides.

Toss a variety of chocolate chips on top of the cake for decoration. Enjoy!
Notes
Read all my tips above.
Leftovers can be stored in a sealed container in the fridge for up to 3 days. 
Nutrition
Calories: 1023kcal, Carbohydrates: 144g, Protein: 9g, Fat: 49g, Saturated Fat: 19g, Cholesterol: 84mg, Sodium: 770mg, Potassium: 440mg, Fiber: 4g, Sugar: 114g, Vitamin A: 615IU, Vitamin C: 0.4mg, Calcium: 143mg, Iron: 3.9mg
Until next time, tata my lovelies!