Homemade Gingerbread Latte Recipe
Homemade gingerbread latte recipe that is quick and easy to make with brewed coffee, milk and spices. Ready in less than 20 minutes and great for Christmas.
*Thank you Vital Proteins for sponsoring today's post so that I can share this recipe for homemade gingerbread latte with all of you. As always, all opinions are mine.*
We are officially less than a month from Christmas, which means it's time to enjoy this HOMEMADE gingerbread latte, while listening to Holiday music!
This is one of those beverages that I only make around the holiday season.
It's RICH, creamy and packed with spices and honestly, the aroma that fills the kitchen when I am making this is phenomenal.
Most recipes, including my Mom's recipe are made with gingerbread latte syrup BUT I find that to be too sweet and a little time-consuming to prepare.
So, this is my QUICK gingerbread latte without syrup, which comes together in less than 20 minutes.
Also, compared to the lattes you buy outside with artificial flavorings, I like to think this is a healthy gingerbread latte, with the same flavor and  half the guilt…hehe.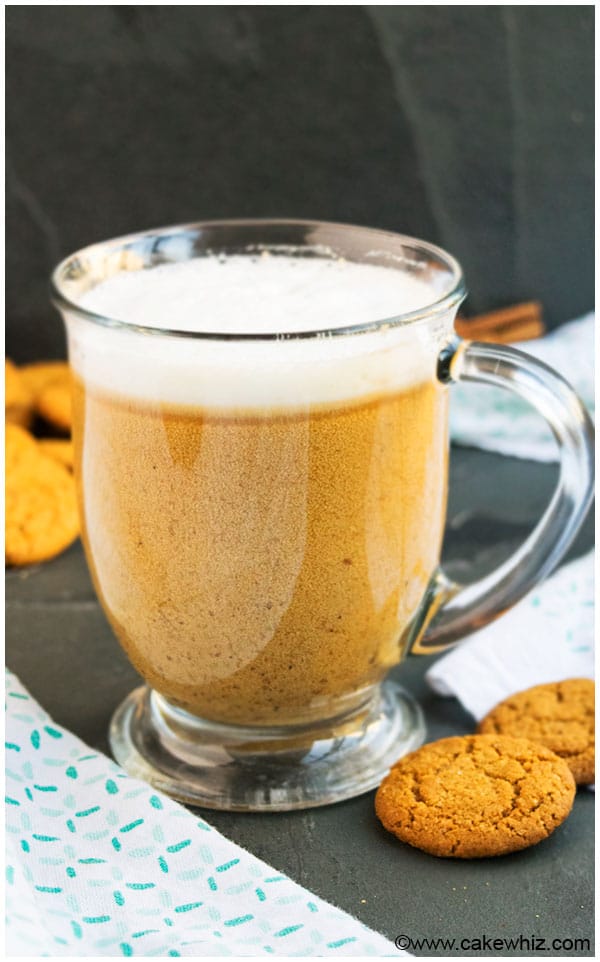 Here are some TIPS for making perfect homemade gingerbread latte:
You can make gingerbread latte with soy milk, nonfat milk, skim milk, coconut milk, almond milk BUT I highly recommend using whole milk to make sure the end result is super rich and creamy.
Some people make gingerbread latte without coffee and replace it with strong black tea (gingerbread tea latte) BUT I prefer it with coffee and that is originally the way it was first made (gingerbread coffee latte).
ADJUST the amount of molasses and brown sugar, based on your preference. I like mine sweet!
You can use fresh ginger but I use ginger powder since it's just easier and there is no difference in flavor.
Add 1 tsp vanilla extract to make vanilla gingerbread latte.
You can make this latte HOT or COLD and I have included instructions for both below.
Here are some suggestions for gingerbread latte topping:
Whipped cream (Classic!)
Milk foam (Just froth some milk and spoon the foam on top of your latte)
A dash of nutmeg or cinnamon
A light drizzle of caramel sauce
What is in a gingerbread latte?
It's typically made by combining together milk, brewed strong coffee,  combination of spices like cinnamon, nutmeg, ginger and some form of sweetener such as sugar, honey, molasses, maple syrup.
How do you make gingerbread latte?
Start off by heating milk in a saucepan. Add molasses, brown sugar, cinnamon, nutmeg, ground ginger, creamer (optional) and cook on medium heat until mixture comes to a boil. Remove from heat. Now, assemble everything in a mug:
Does gingerbread latte taste like coffee?
It only has a hint of coffee but very strong flavor of spices.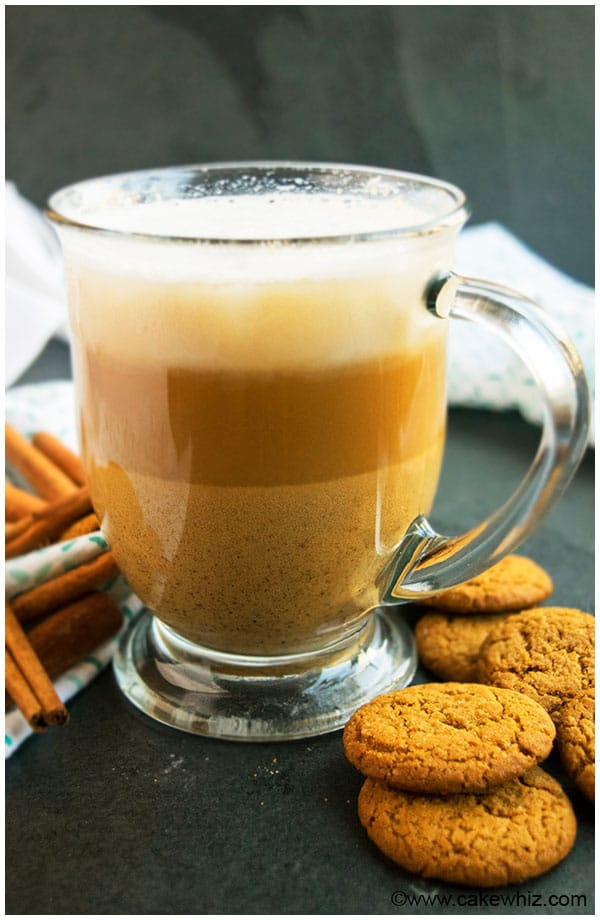 This time, I added 1 EXTRA ingredient- Vital Proteins Gingerbread Coffee Creamer  which really took this latte over the top. Even hubby agreed!
It has an INCREDIBLE flavor and fragrance.
It's also sugar free, gluten free, dairy free and packed with collagen, which is good for your overall health.
I felt that just a little amount of that creamer really made my latte THICK and CREAMY!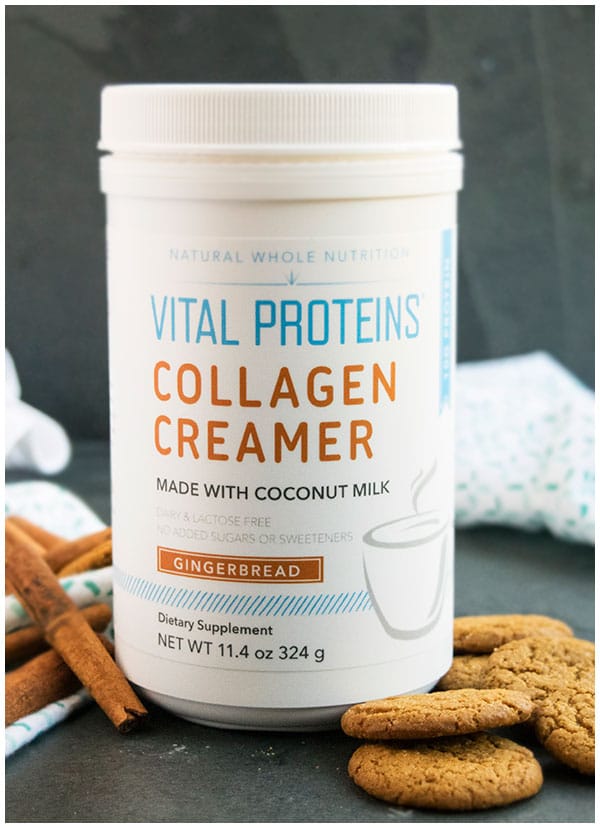 Well, that's all for today.
If you liked this post, you may like some of these other gingerbread recipes too:
Easy Cake Mix Gingerbread Cookies
You might also like this Masala Chai Tea Latte Recipe.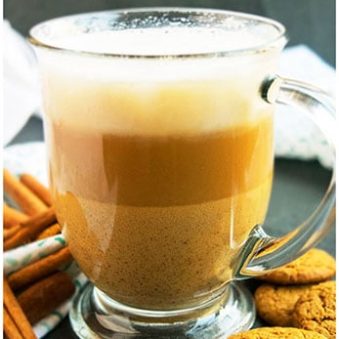 Homemade Gingerbread Latte Recipe
Homemade gingerbread latte recipe that is quick and easy to make with brewed coffee, milk and spices. Ready in less than 20 minutes and great for Christmas.
Yield: Cups
Ingredients
2 cups Milk , Whole
1 tsp Cinnamon powder
1 tsp Ginger powder
1/4 tsp Nutmeg powder
3 tbsp Molasses
1 tbsp Brown sugar
1 1/2 tbsp Vital Proteins gingerbread coffee creamer powder, Optional but highly recommended
1 cup Coffee, Brewed, Strong
1/3 cup Milk, Optional, For froth on top of latte
Instructions
In a non-stick saucepan, add milk, cinnamon, ginger, nutmeg, molasses, brown sugar, creamer (optional) and whisk everything together.

Allow everything to cook on medium high heat until mixture comes to a boil.

Remove from heat and keep aside.
Assembling
Pour 1/2 cup hot coffee in one mug and 1/2 cup coffee in another mug.

Slowly, pour the milk mixture mixture on top.

Froth some warm milk and spoon the milk foam on top of each mug or top off with whipped cream. Enjoy!

To make iced gingerbread latte, fill half the mug with ice cubes. Top it off with cold brewed strong coffee. Slowly, add cold gingerbread milk mixture. Top off with whipped cream or milk foam. Enjoy!
Notes
Read all my tips above.
If you don't have Vital Proteins gingerbread coffee creamer powder, really consider ordering it! It can also be omitted from the recipe OR replaced with another ginger flavored creamer. 
Leftovers can be stored in a sealed mug or saucepan in the fridge for up to 2 days. It can be reheated in the microwave or stovetop. 
Nutrition
Calories: 292kcal, Carbohydrates: 43g, Protein: 9g, Fat: 9g, Saturated Fat: 5g, Cholesterol: 28mg, Sodium: 137mg, Potassium: 873mg, Sugar: 42g, Vitamin A: 460IU, Calcium: 396mg, Iron: 1.7mg
Until next time, tata my lovelies!