No Bake Mocha Cheesecake
This easy no bake mocha cheesecake recipe makes the perfect dessert for Summer parties. It's packed with chocolate and coffee flavors.
*Thank you Vital Proteins for sponsoring today's post so that I can share this mocha cheesecake recipe with all of you.*
Continuing my love affair with mocha desserts, brace yourselves for my favorite no bake mocha cheesecake recipe!
This easy cheesecake is LOADED with chocolate and coffee flavors.
Seriously, it has 6 tablespoons of strong ESPRESSO powder.
That makes it ideal for coffee- loving chocoholics!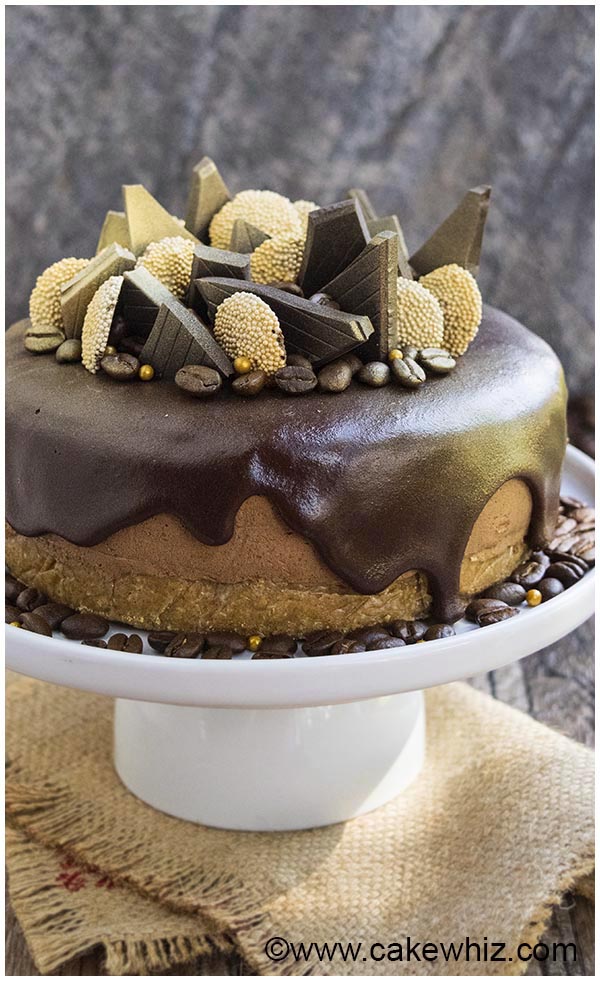 Most cheesecake recipes are so complicated that they make my head spin.
Thankfully, this mocha cheesecake recipe is super EASY and you don't even have to turn on your oven.
How great is that for Summer time? heheh.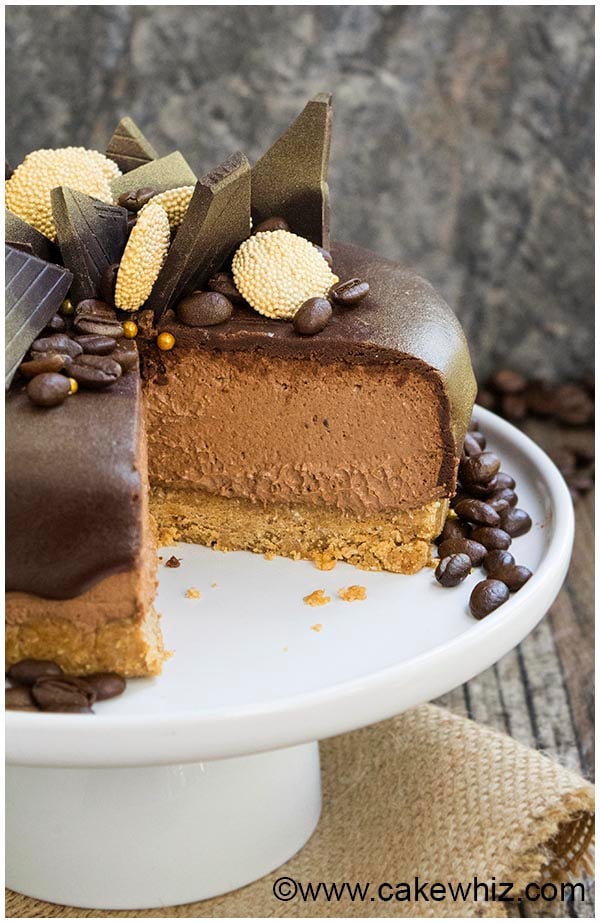 This SIMPLE cheesecake is composed of 3 layers…
There is a graham cracker crust at the base, followed by a thick creamy mocha cheesecake layer, which is topped off with rich chocolate ganache.
Finally, I made it GLAMOROUS by adding some decorative abstract chocolate pieces and coffee beans and spraying everything with gold edible mist.
This would be great for an OSCAR party, just like my gold halva cake.
Here are some TIPS and TRICKS for making perfect no bake cheesecake and graham cracker crust every time:
Adding some gelatin in no-bake cheesecakes allows it to hold its shape better, especially when slices are made.
DON'T use low fat or sugar free whipped cream! The results aren't be the same.
When making the crust, always remember that if you add too much butter, the crust will become greasy. If not enough butter is added, the crust won't hold its shape together.
I like to add a little bit of coconut in my graham cracker crust but it is optional. It simply adds a subtle "coconutty" flavor and chewiness to the crust.
If you prefer a salty crust, you can use salted butter instead of unsalted butter.
You can apply the graham cracker crust recipe to any type of graham crackers- original, cinnamon and even chocolate flavored ones.
You must pack the graham cracker crust together so that it doesn't fall apart. The best way to do that is by pressing down the flat base of a drinking glass or a measuring cup to make everything compact and firm.
The crust must be refrigerated for about 3 hours or until the butter solidifies and it becomes hard and firm. Then, spread cheesecake mixture on top of this crust.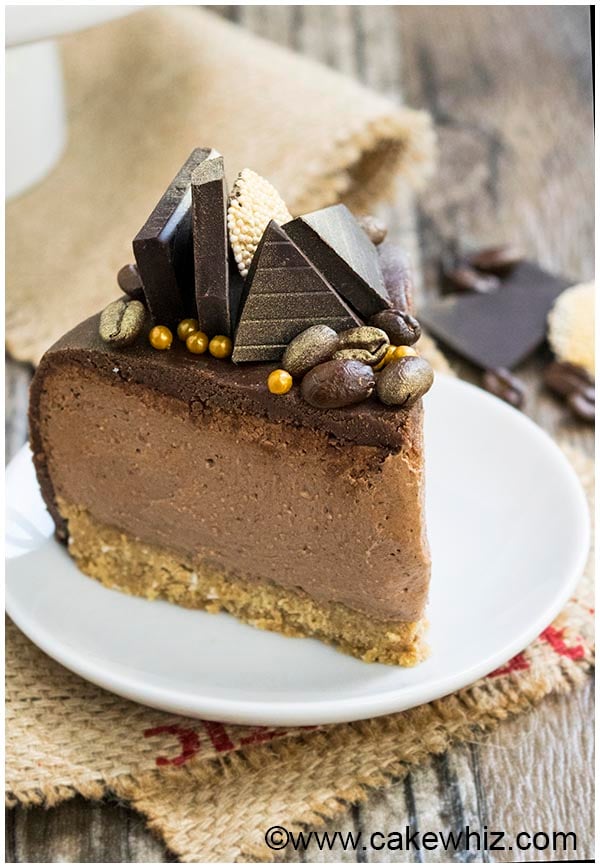 As you know I LOVE Vital Proteins gelatin and used it in today's recipe ad well as that raspberry mousse cake recipe I shared a few weeks ago.
It works just like regular gelatin but has the added benefit of all these NUTRIENTS that help your skin, bones, hair and nails.
Best of all, it's colorless, odorless and flavorless!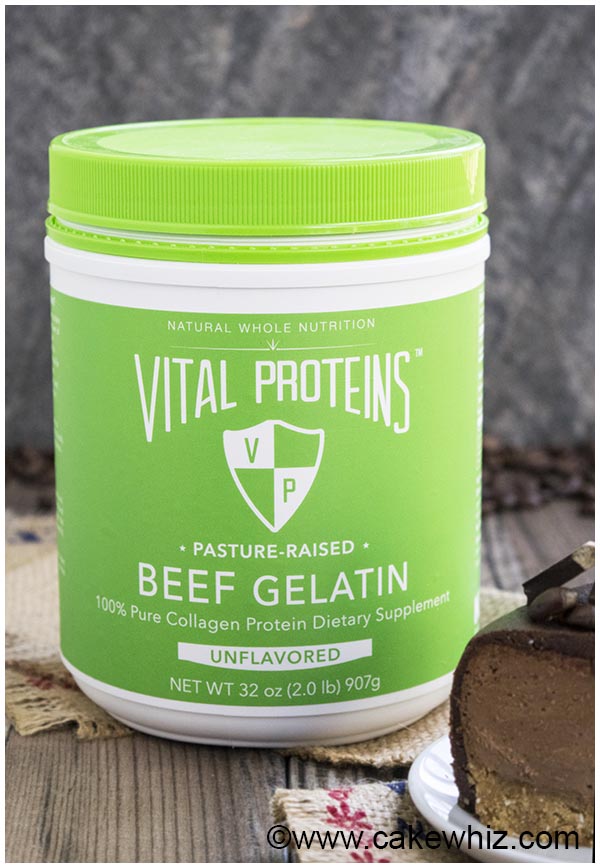 Well, that's all for today.
If you liked this post, you may like some of these other mocha recipes too…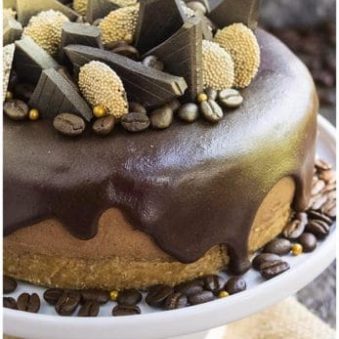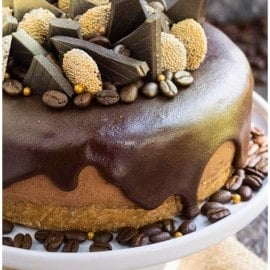 No Bake Mocha Cheesecake
This easy no bake mocha cheesecake recipe makes the perfect dessert for Summer parties. It's packed with chocolate and coffee flavors.
Yield: Slices
Ingredients
Graham cracker crust:
1½ cups Graham cracker crumbs
2 tbsp Coconut, Finely shredded
¼ cup Brown sugar
7 tbsp Butter, Melted
Decoration:
10 Broken chocolate pieces
¼ cup Coffee beans
Edible gold spray
Edible gold pearls
Instructions
Graham cracker crust instructions:
In a

mixing bowl

, add the graham cracker crumbs, coconut, brown sugar and mix everything roughly with a fork.

Add melted butter and mix everything until your have a coarse mixture.

Press it down tightly, using the flat base of a drinking glass or measuring cup.

Chill this graham cracker crust in the fridge for 30 minutes- 1 hour or until it becomes hard.
Mocha cheesecake instructions:
In a mixing bowl, add cream cheese and powdered sugar. Mix until everything becomes soft and smooth.

Add melted chocolate and mix again.

Dissolve espresso powder in heavy cream and add this into the chocolate cream cheese mixture and mix again.

Now, add gelatin and water in a small cup and let it bloom for 3 minutes. Then, heat it in the microwave until it dissolves.

When the gelatin mixture cools down a bit, add it into the chocolate cream cheese mixture and mix again.

Gently, stir in whipped cream until everything is thoroughly combined.

Spoon this mixture on top of the graham cracker crust.

Refrigerate the cake for 5 hours or until the cheesecake layer sets.
Chocolate ganache instructions:
In a

saucepan

, add heavy cream and set it on medium heat.

When it's about to come to a boil, lower the heat and add chocolate.

Whisk everything together until the chocolate fully melts and you have a smooth and glossy mixture.

Remove the saucepan from heat and allow the ganache to cool down a bit.
Assembling/Decoration:
Gently, remove cheesecake from the

springform pan

and place it on a cake stand.

Pour melted ganache on top of the cake and let it drip slightly down the sides.

Finally, top off everything with chocolate pieces, coffee beans, edible pearls and spray everything with gold mist. Enjoy!
Nutrition
Calories: 5983kcal, Carbohydrates: 435g, Protein: 66g, Fat: 449g, Saturated Fat: 284g, Cholesterol: 993mg, Sodium: 2645mg, Potassium: 4537mg, Fiber: 31g, Sugar: 247g, Vitamin A: 10980IU, Vitamin C: 2.3mg, Calcium: 1472mg, Iron: 31.2mg
Until next time, tata my lovelies!