How to Make Graduation Diploma Cupcakes
Learn how to make graduation diploma cupcakes with this step by step tutorial. Easy and fun treat for all the lucky graduates!
Another cousin of mine graduated from high school last week and I made easy Graduation diploma cupcakes.
We had a FUN celebration…I can't believe how FAST all my little cousins are all growing up!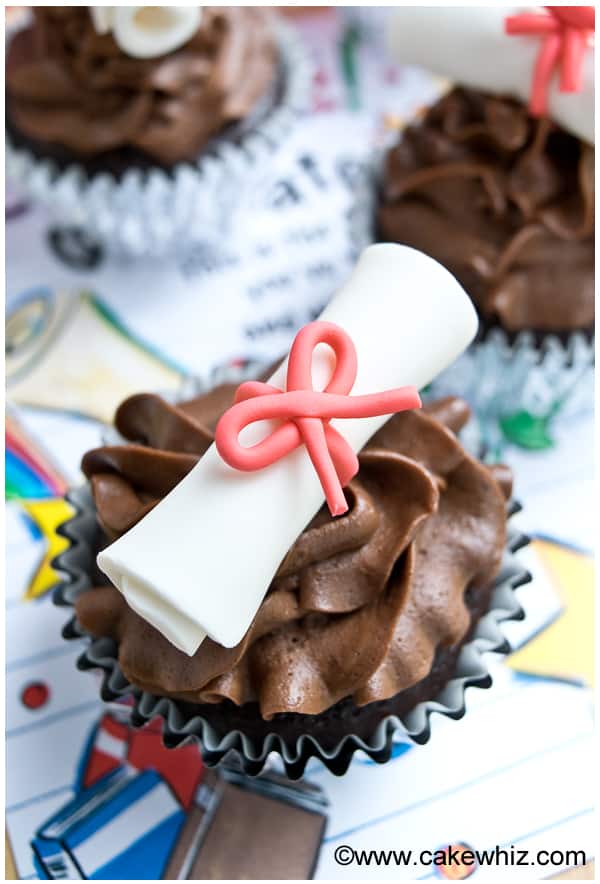 I was planning on making little graduation hats.
But, these just looked CUTER.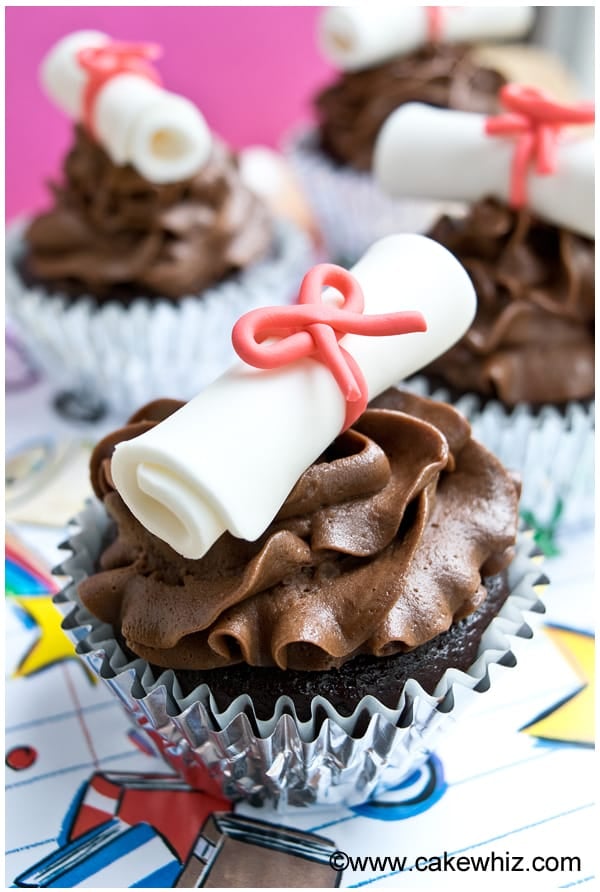 These graduation toppers were also very EASY to make.
You just need a square cutter and two colors of fondant.
I had to make a few extra diploma toppers coz the little one kept sucking on them like they were lollipops…lol.
As for the FLAVOR of these cupcakes… I made my favorite chocolate cupcakes but tossed some mini chocolate chips in the batter coz my cousin is just as big a CHOCOHOLIC as me.
Finally, I iced them in creamy chocolate frosting.
These cupcakes are a chocolate-lover's delight and she LOVED them!
She said she DIDN'T even wanna share with anyone and I don't blame her…hahaha.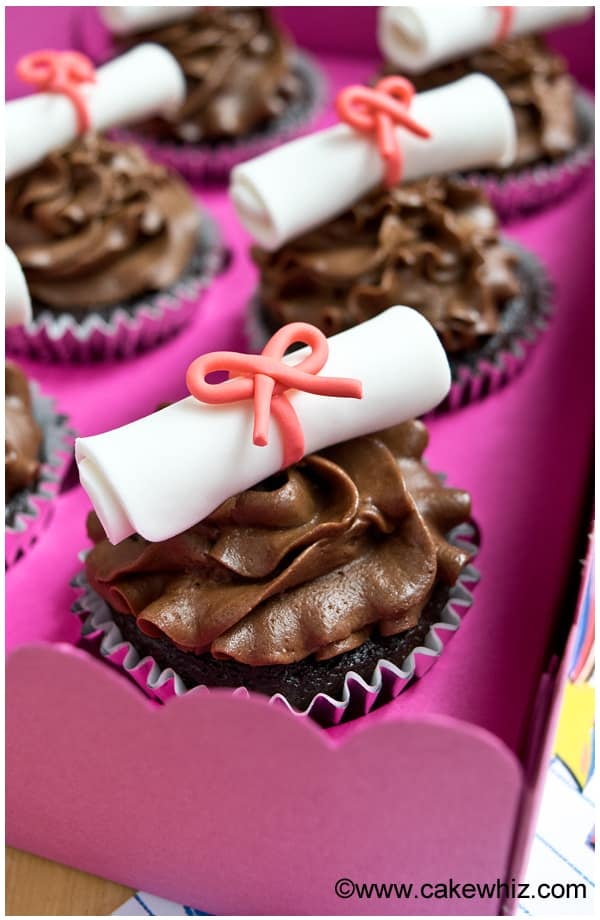 I put them in a FANCY cupcake box and attached a funny card.
By the way, do you have any idea how HARD it is to get a funny card for graduates?!
I had to go to three stores before I found one that made me LAUGH…lol.
Most of them are so BORING and SERIOUS! Sheesh!
To learn how to make graduation diploma cupcakes, you will need the following supplies:
Chocolate cupcakes
Chocolate buttercream icing
White marshmallow fondant
Pink or red marshmallow fondant
Square cutter
Knife
Note:
I used fondant to make these diploma toppers but if you are short on time, use gum paste since that dries faster.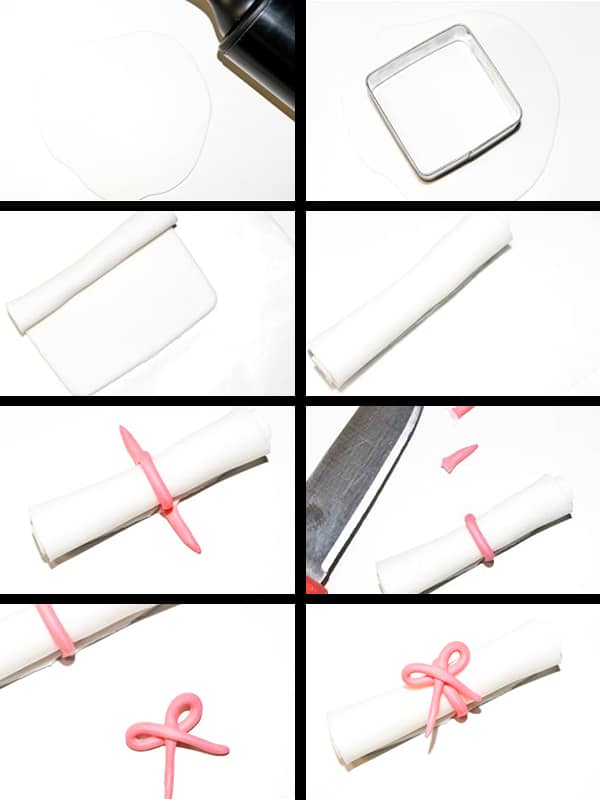 And here are the steps:
Step 1:
Roll out white fondant.
Step 2:
Use a square cutter to cut out a piece.
Step 3:
Place this piece on a sheet of wax paper.
Start rolling this piece from one end to the other, while gently pressing the center.
Step 4:
And you will end up with something like this…
Step 5:
Roll out a small thin rope of pink or red fondant.
Wrap it around the center of the white diploma.
Press gently so that it sticks into place.
Step 6:
Use a knife to cut off excess pink fondant on the ends.
Step 7:
Roll out another thin rope of pink fondant and shape it into a bow.
Step 8:
Stick it in the center of the diploma, using very little water or corn syrup.
Let this diploma dry overnight or until it hardens.
Step 9:
Now, just prepare your cupcakes and frost them in chocolate icing and then place a diploma topper on each cupcake.
And you are done making easy graduation diploma cupcakes.
Well, that's all for today.
If you liked these diploma cupcakes, you may also like some of these other ideas…
Fondant sheet of paper and fondant pencil
Until next time, tata my lovelies!