Nutter Butter Penguin Cookies
Learn how to make quick and easy Nutter Butter penguin cookies, using this step by step tutorial. Fun edible craft for kids for Christmas and Winter time!
*Thank you Nutter Butter for sponsoring today's post so that I can make these Nutter Butter penguin cookies. As always, all opinions are mine.*
My little one has been fighting a cold for a few days. To take his mind off his runny nose, we decided to get crafty in the kitchen and transformed Nutter Butter cookies into these adorable and easy penguin cookies sledding down a sugary snow trail.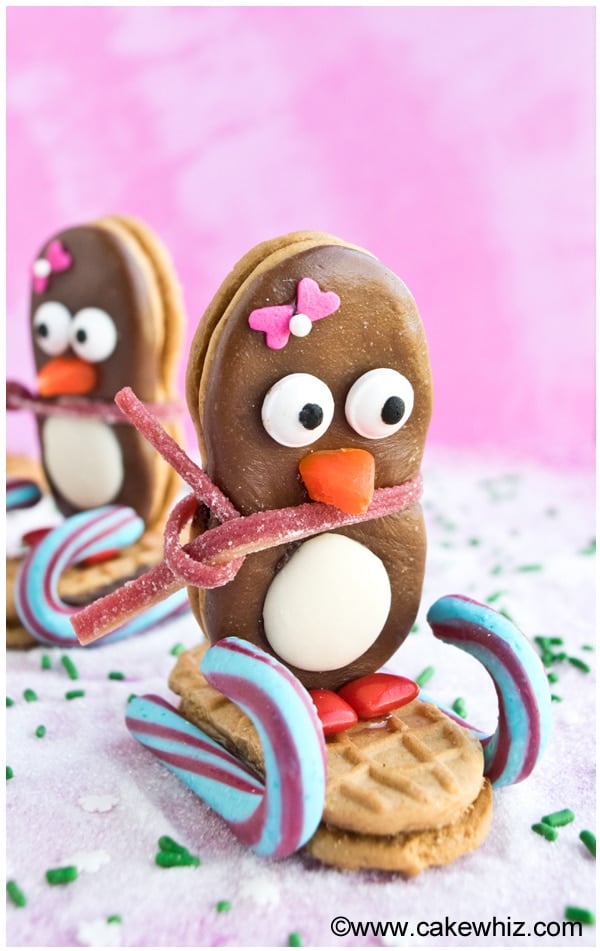 These little cookies would be a fun dessert/snack to make for Christmas parties or maybe you can make them for a Winter wonderland themed birthday party.
By the way, these are not penguin shaped cookies because you don't even need a penguin cookie cutter.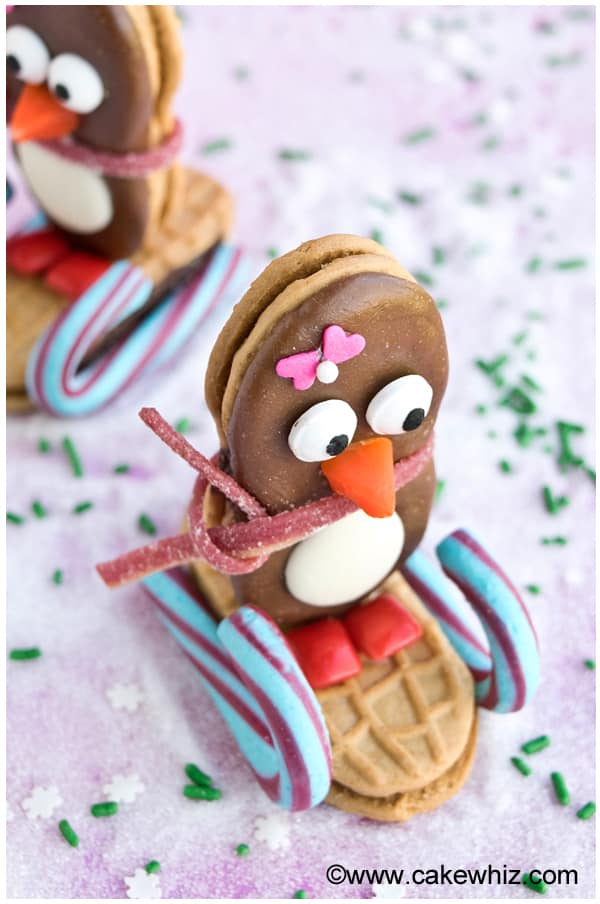 I used Nutter Butter cookies because they had the perfect ski shape and a variety of other candies. Everything was "glued" together with melted chocolate, making these cookies entirely edible.
I have also seen another version- Oreo penguin cookies- and they use Oreos instead of Nutter Butters and they are just as easy too.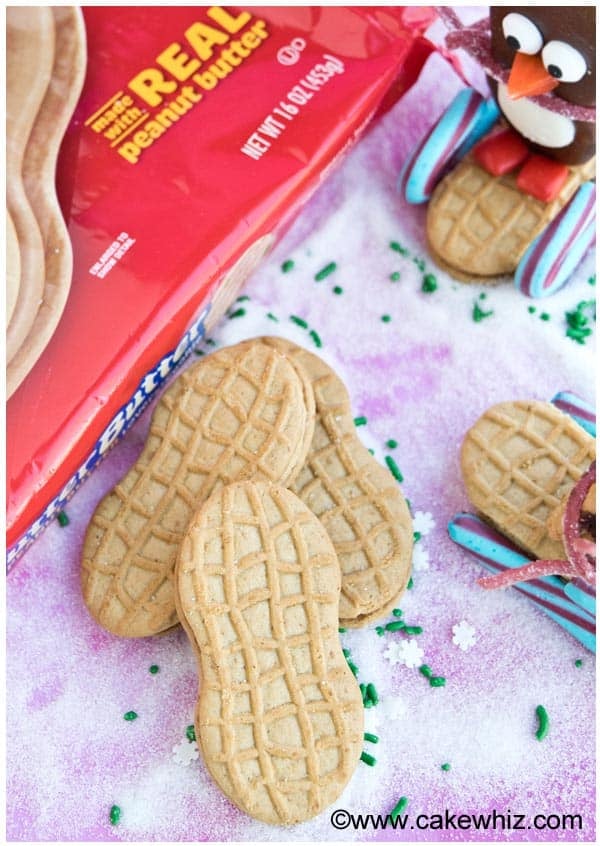 Other fun food for kids
Supplies for easy penguin cookies:
Nutter Butter cookies
Mini candy canes
Square shaped chewing gums
Tootsie Rolls
Eyeball candies
White candy melts
Candy corns
Sweet & Sour Candy strips
Mini heart sprinkles
White edible pearls
Corn syrup or melted chocolate
Knife
Scissors
Paintbrush
How to Make Penguin Cookies?
Use a knife to cut the sides of a Nutter Butter cookie so that it's straight and not curved any more.
Paint some corn syrup along the sides of the cookie and stick the candy canes here. Press gently until the candy canes stick securely.
Use corn syrup to stick two square shaped chewing gums side-by-side on top of the cookie. Your Nutter Butter sled is ready…Keep this whole structure aside for now.
Now, unwrap a tootsie roll and heat it for 10 seconds in the microwave so that it becomes soft and pliable.
Roll the Tootsie roll into an oval shape and start pressing it on top of a Nutter Butter cookie.
Use your fingers to smooth out the ends.
Use corn syrup to stick the eyes near the top half of the cookie and a white candy melt near the bottom portion of the cookie.
Use corn syrup to stick the eyes near the top half of the cookie and a white candy melt near the bottom portion of the cookie.
Stick the orange beak below the eyes.
Cut out a long, thin piece of candy strip.
Wrap the candy strip around the penguin's neck.
Stick two heart sprinkles and a white edible pearl in the shape of a bow, on the penguin's head.
Now, stick the penguin piece on top of the sled piece with some corn syrup or melted chocolate. Hold the pieces together for about a minute so that they stick securely and you are done making your Nutter butter penguin cookies!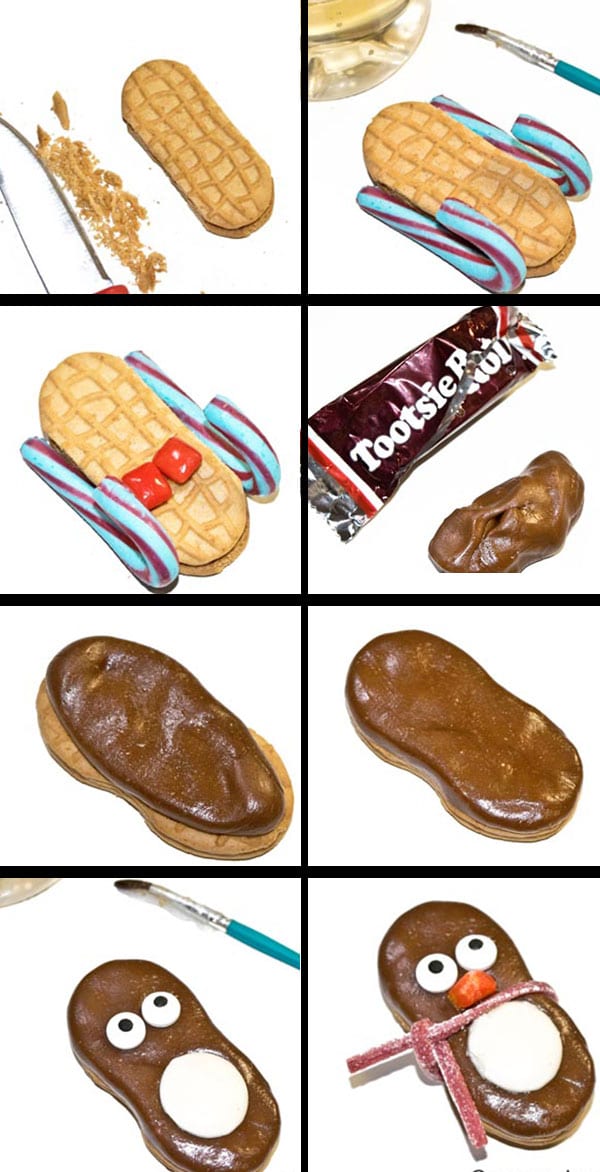 Until next time, tata my lovelies!