Chocolate Trifle Recipe
Learn how to make the best, no bake, quick and easy chocolate trifle recipe with simple ingredients. Loaded with layers of cake, pudding, whipped cream, chocolate sauce, pretzels.
This is a fun spin on the classic English trifle dessert and perfect for chocoholics and chocolate lovers. It's sweet and salty and comes together in just 15 minutes. It's just as delicious as my St.Patrick's Day Irish Trifle.
If you are short on time, you don't even have to make all the separate layers from scratch. Just get store-bought cakes, puddings e.t.c. and it will still taste delicious.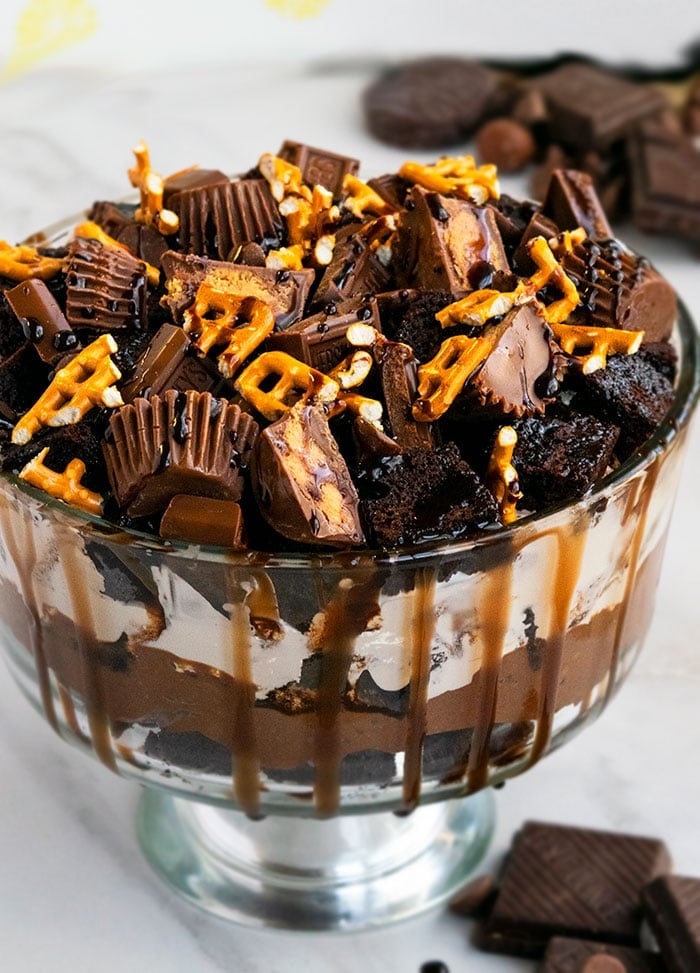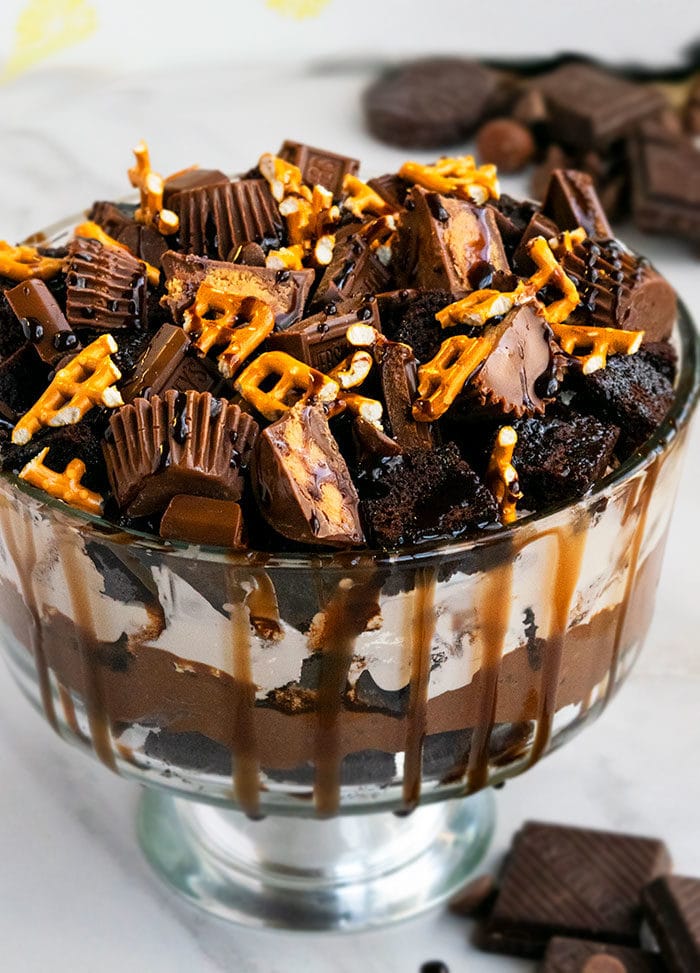 What is a trifle (definition)?
It's a traditional British dessert composed of multiple layers of cake (typically sponge cake), often soaked in wine or sherry, whipped cream, fresh fruits (typically berries, especially strawberries), jam/ jelly and custard/ pudding.
How to make trifle recipe?
Bake cake.
Make pudding or custard.
Make whipped cream.
Make sauce.
Gather toppings.
Assemble: Place small cake slices at the bottom of a large bowl.
Top it off with with pudding.
Place more cake slices on top.
Top it off with whipped cream.
Top off with more cake slices.
Add more pudding.
Finally, top off with chocolate, pretzels, more cake cubes.
Drizzle sauce and enjoy.
What do you put in a trifle bowl?
You can keep it simple of go overboard with as many various layers as you like. It's mostly composed of the following layers:
Cake
Whipped cream
Custard or pudding
Jam or jelly
Fruits (typically berries)
How do you eat a trifle cake?
If it's prepared in one large bowl, you would need to spoon and serve it in separate bowls for your guests. Make sure you dig deep, when spooning it, so as to get all the layers.
For convenience, you can also make individual mini trifles in small glasses or bowls and just give those your guests with small spoons.
How long can a trifle be refrigerated?
It can be stored in a sealed container in the fridge fo up to 2 days.
What is the difference between a trifle and parfait?
They are both very similar. They are both composed of layers of fruit, creamy fillings and cake pieces. Parfait is typically served for breakfast and made with layers of sweetened yogurt, fresh fruits, granola and nuts. Trifle, on the other hand, is served as dessert and composed of layers of cakes, frosting, whipped cream, jams, pudding and custard.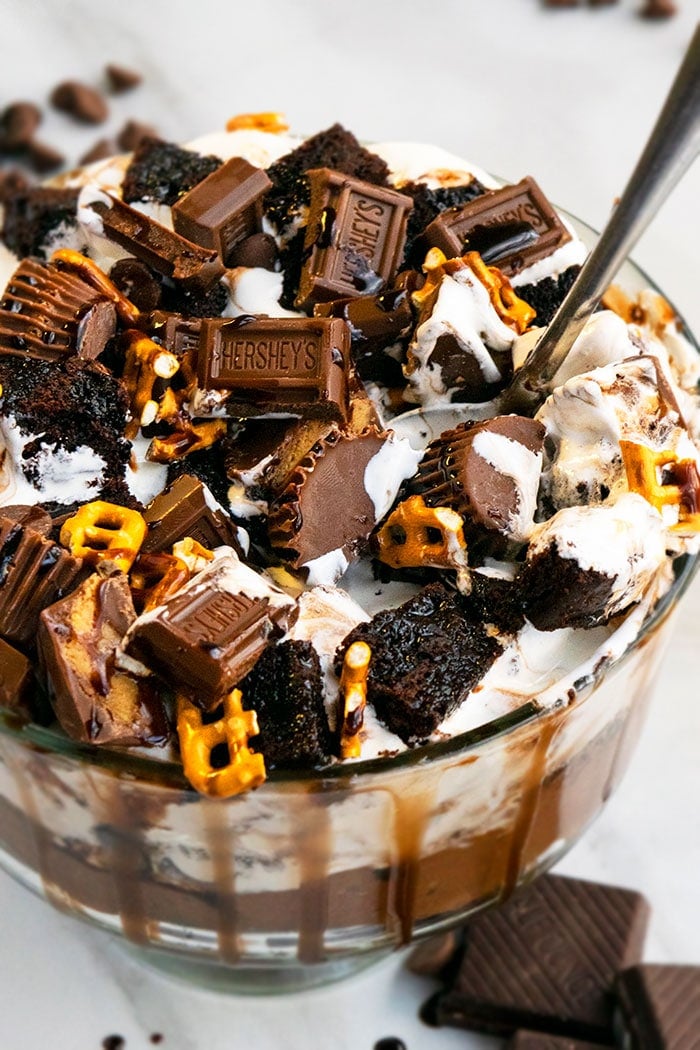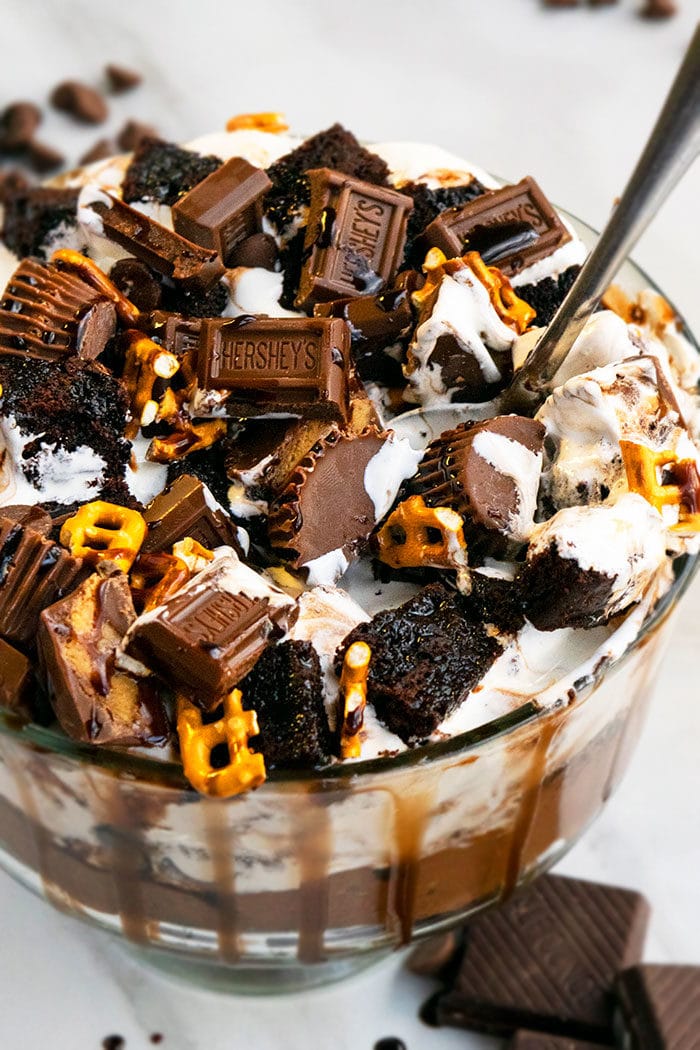 Variations
Oreo brownie trifle– This would truly be the ultimate death by chocolate flavor. Use this Easy Chocolate Oreo Cake Recipe or these Fudgy Oreo Brownies, along with Chocolate Buttercream Frosting and lots of chocolate candies and Oreo cookies.
Christmas trifle– Use my Gingerbread Recipe or this Easy Ginger Cake along with White Chocolate Buttercream Frosting and seasonal sprinkles and peppermint candies or crushed candy canes.
Pumpkin– Use this Easy Pumpkin Cake (With Cake Mix), along with pumpkin pudding, whipped cream, and chopped nuts.
Berry or strawberry trifle or strawberry shortcake– If you make it red, white and blue, it would be perfect 4th of July celebrations. Use the Best Vanilla Cake with Strawberry Pie Filling and Strawberry Buttercream Frosting and fresh fruits.
Black forest- This has all the flavors of my Black Forest Cake (With Cake Mix). Use chocolate cake, Cherry Pie Filling and whipped cream.
Lemon– Use Lemon Pound Cake (With Cake Mix) and layer with Lemon Curd and whipped cream. Decorate with thin lemon slices and white chocolate shreds.
Tiramisu– Replace cake with coffee soaked ladyfingers and use mascarpone cheese filling, whipped cream. Add a dusting of cocoa powder, espresso powder on top.
Carrot cake– Use this Moist Carrot Cake and pair it with Cream Cheese Frosting. Pair it with pistachio pudding.
Cookie dough– Use Vanilla Buttermilk Pound Cake and pair that with cookie dough balls. Any of these would be great: Healthy Chocolate Chip Cookie Dough Bars, Chocolate Chip Cookie Dough Truffles, Peanut Butter Cookie Dough Bars. Add whipped cream, vanilla pudding and lots of mini chocolate chips.
Peanut butter– Use vanilla cake, along with peanut butter frosting, peanut butter pudding, melted peanut butter, peanut butter chips and lots of Reese's candies.
Banana– Use this Banana Chocolate Chip Cake and cut it into small cubes. Use banana pudding and butterscotch chips and white chocolate chips for topping.
Birthday– Use rainbow colored cakes and top off with colored frosting and lots of sprinkles.
Tips and Techniques
Everything must be at room temperature– Nothing should be hot or even warm because that will cause all the layers to melt together and become a mess.
Use firm cake– Such as pound cakes (, Cream Cheese Pound Cake, Sour Cream Pound Cake) because they are dense and able to withstand the weight of all the heavy layers.
Be neat- You need to carefully layer each component and avoid making the sides of your glass trifle bowl dirty because the end result won't be as nice. You want all the layers to be clear and prominent.
What flavors to use? Since there are many components in this dessert, make sure to use flavors that compliment each other. Don't use chocolate with lemon, for example, because that would be awful.
Alcohol is optional– I didn't use it but some people drizzle a little brandy or sherry on top of the cake slices so that it absorbs into it.c
Add a layer of whipped cream and repeat the layers! There are no set ingredients or layering order. I only added whipped cream at the top and repeated the other layers once.
Topping ideas– The possibilities are endless. Some options include: fresh fruits and berries (strawberry, raspberry, blackberry, cherry, blueberry), chopped chocolate candies, sprinkles, pretzels, chopped cookies, chocolate chips, Dulce De Leche, fudge sauce, Homemade Caramel Sauce.
Use small cake slices– I like to cut them into small cubes because they are easier to arrange in the bowl and also easier to eat.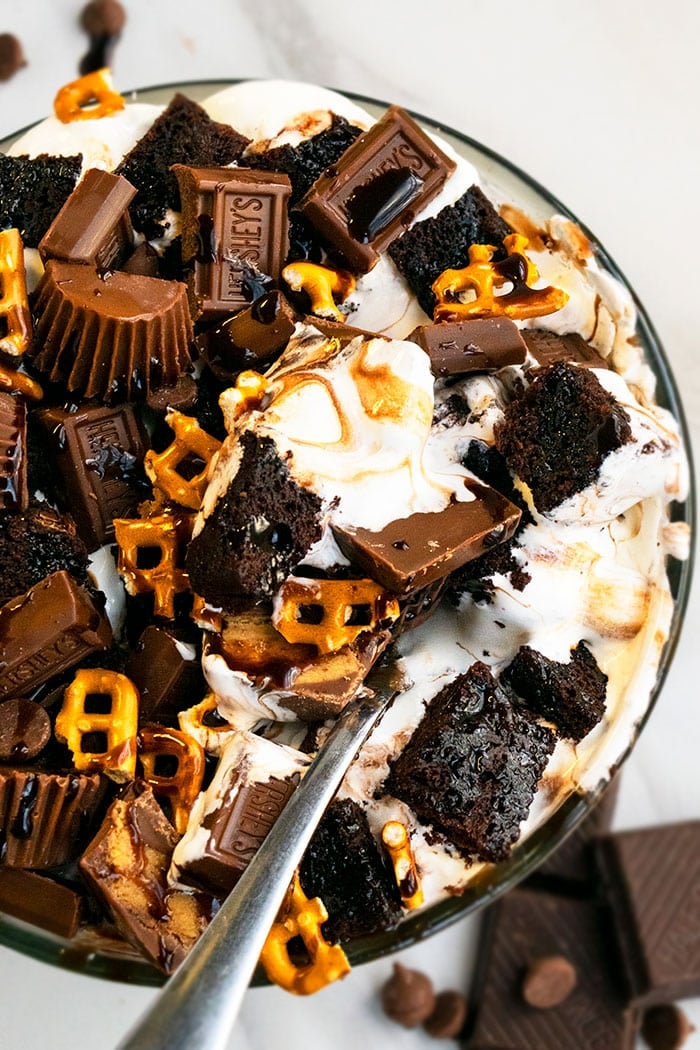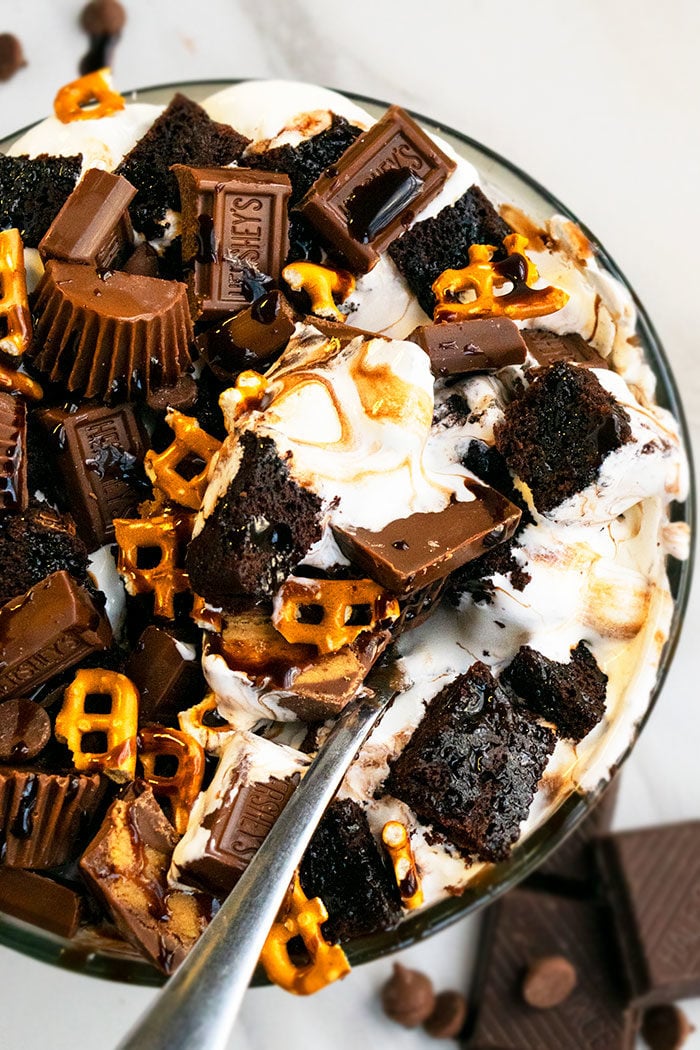 More Chocolate Desserts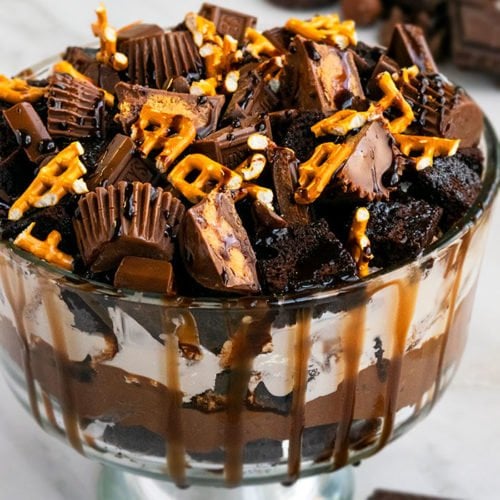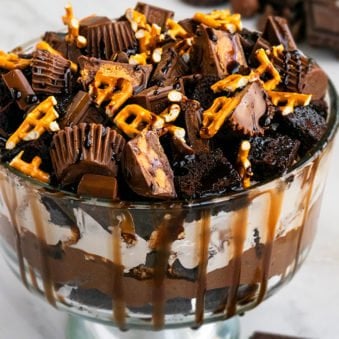 Easy Chocolate Trifle Recipe
Learn how to make quick and easy chocolate trifle recipe with simple ingredients. Loaded with layers of cake, pudding, whipped cream, chocolate sauce.
Yield: People
Instructions
In a large glass trifle bowl, place a layer of cake slices.

Top off with a thin layer of jam (optional).

Top this off with a thick layer of pudding.

Add another layer of cake and jam.

Top it off with a thick layer of whipped cream.

Add another layer of cake.

Then, add another layer of whipped cream and random spoonfuls of pudding.

Stick a few more cake pieces.

Sprinkle chocolate candies and pretzels on top.

Drizzle Nutella syrup or chocolate fudge sauce.

Chill until you are ready to serve and enjoy!
Notes
Read all my tips above.
Leftovers can be stored in a sealed container in the fridge for up to 2 days. 
Nutrition
Calories: 243kcal, Carbohydrates: 38g, Protein: 2g, Fat: 9g, Saturated Fat: 5g, Cholesterol: 23mg, Sodium: 239mg, Potassium: 116mg, Sugar: 26g, Vitamin A: 215IU, Vitamin C: 1.7mg, Calcium: 49mg, Iron: 0.5mg
Until next time, tata my lovelies!