Easy Pumpkin Cake with Pumpkin Candies
Make an easy pumpkin cake from scratch and decorate it with pumpkin candies. It's very moist, spicy and flavorful. Perfect for Fall and Thanksgiving parties
I found a bag of those CUTE pumpkin candies left over from Halloween and decided to make an easy pumpkin cake and deocrate them with those candies.
Don't you just love finding stuff RANDOMLY that you didn't even know you had? lol.
This EASY pumpkin cake is made from SCRATCH.
I have tried a few pumpkin cake recipes that are made by doctoring cake mixes and honest to god… my Mom's recipe is SOOOOO much better!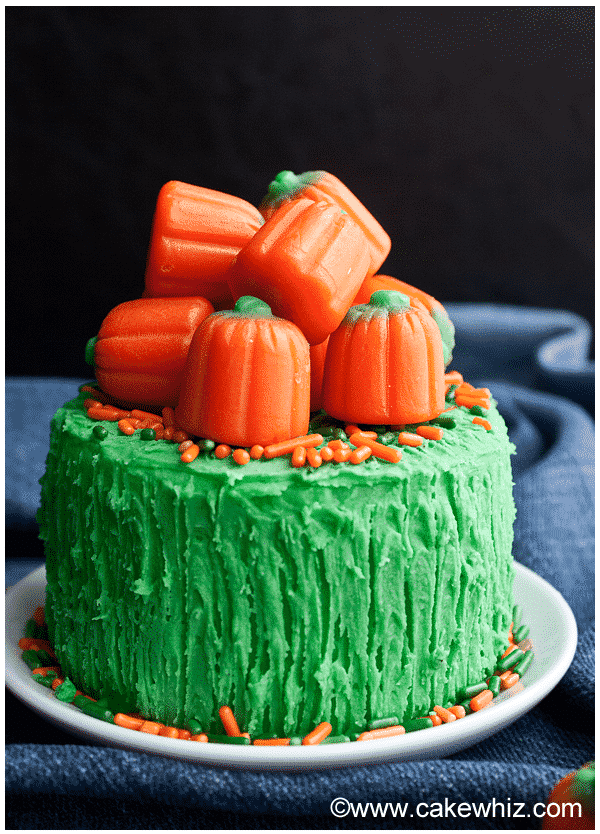 You really NEED to make it at least once.
And I highly doubt you will go back to your old recipe!
This cake is very rich since it uses BOTH, butter and oil.

MY OTHER RECIPES
It's also very FLAVORFUL since it's packed with numerous spices like cinnamon, nutmeg, allspice and cloves but the spices are balances and not over-whelming.
This recipe also uses about 2 cups of pumpkin puree and 4 eggs, which results in a super MOIST cake.
Something about Fall always makes me CRAVE this spicy cake.
Eating it makes me feel warm and fuzzy inside…I know it's silly but it makes me feel so relaxed and HAPPY..hehehe.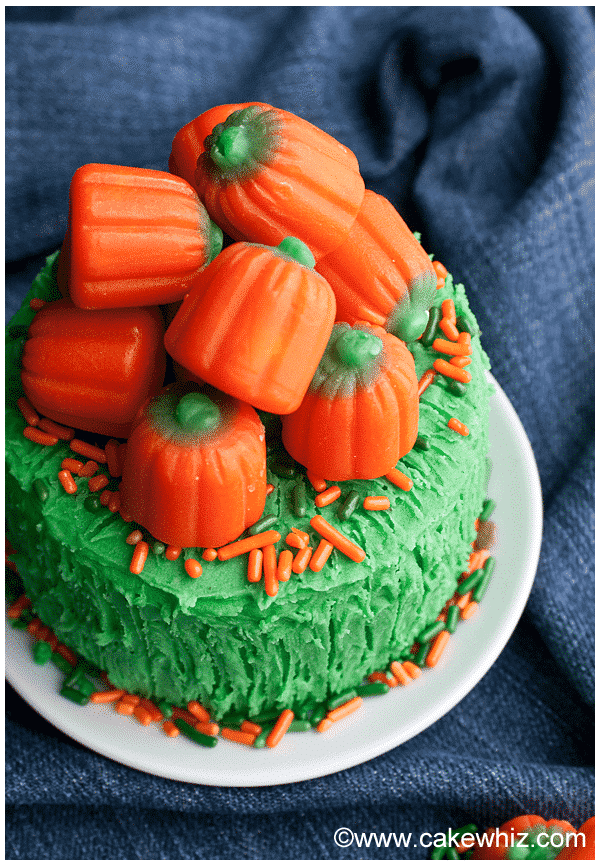 Well, that's all for today.
If you liked this cake, you might also like these other cakes…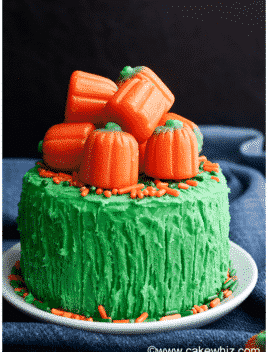 Nutrition Facts
Easy Pumpkin Cake
Amount Per Serving
Calories 538 Calories from Fat 144
% Daily Value*
Total Fat 16g 25%
Saturated Fat 8g 40%
Cholesterol 113mg 38%
Sodium 438mg 18%
Potassium 297mg 8%
Total Carbohydrates 90g 30%
Dietary Fiber 3g 12%
Sugars 54g
Protein 8g 16%
Vitamin A 177.4%
Vitamin C 2.7%
Calcium 10.5%
Iron 18.8%
* Percent Daily Values are based on a 2000 calorie diet.
Easy Pumpkin Cake
Make an easy pumpkin cake from scratch and decorate it with pumpkin candies. It's very moist, spicy and flavorful. Perfect for Fall and Thanksgiving parties.
Servings: 8 Slices
Course: Cakes, Dessert
Cuisine: American
Calories: 538 kcal
Ingredients
2¾ cup All-purpose flour
1¾ cup Pumpkin puree
¾ cup Brown sugar
1¼ cup Granulated sugar
½ cup Butter Unsalted
½ cup Olive oil
½ cup Milk Whole
4 Eggs Large
1½ tbsp Vanilla extract
1 tsp Baking powder
1 tsp Baking soda
1 tsp Cinnamon powder
¼ tsp Allspice powder
½ tsp Nutmeg powder
⅛ tsp Clove powder
American buttercream frosting Green color
Sprinkles Orange and green colors
Instructions
n a mixing bowl, add flour, baking powder, baking soda, cinnamon powder, allspice powder, nutmeg powder. Mix everything with a wooden spoon. Keep this bowl aside.

In another mixing bowl, add pumpkin puree and milk. Mix thoroughly with a whisk until there are no lumps. Keep this bowl aside.

In another mixing bowl, add butter, oil, vanilla extract, brown sugar and granulated sugar. Mix everything in a mixer until your have a pale and fluffy mixture.

Add eggs, one at a time and keep mixing.

Add the pumpkin/milk mixture and mix again.

Finally, add the flour and mix everything until everything is just combined. Don't overmix!

Pour this batter into two 8x2 floured/greased round cake pans.

Bake at 350 degrees for about 45 minutes or until an inserted toothpick comes out clean.

Let the cakes cool down and then fill and frost them in green colored buttercream icing.

Use a fork to make some random patterns around the cake.

Place some pumpkin candies on top of the cake and toss some sprinkles.

And you are done!
Recipe Notes
- The recipe is for two 8x2 round cakes. But, the cake that you are seeing above is a mini cake that I made with some leftover batter.
Until next time, tata my lovelies!