This spiced soft and moist carrot cake recipe from scratch with cream cheese frosting is easy to make with simple ingredients. Perfect Easter dessert.
After countless trial and errors, I have the perfect moist carrot cake recipe from scratch to share with all of you.
This is truly the BEST carrot cake ever and packed with wonderful spices like nutmeg and cinnamon.
I am not too fond of cloves and ginger and omit that but if you like that, feel free to add some in this recipe.
This SIMPLE carrot cake recipe is made with BASIC ingredients that I bet you already have in your kitchen pantry: flour, baking powder, baking soda, spices, sugar, oil, pineapples, coconut and carrots.
People have strong feelings about the use of pineapples and nuts in this cake.
Some people love them and some hate them.
Based on my research, carrot cake with pineapple and nuts, especially walnuts is the CLASSIC version.
I know carrot cake is usually considered an Easter cake or Easter dessert but honestly, it can be enjoyed throughout the year at birthday parties, anniversaries, weddings and other celebrations.
I combined 3 family recipes to come up with this TRADITIONAL carrot cake with cream cheese frosting recipe.
It even got the seal of approval from my Mom and Grandma, who are both excellent bakers.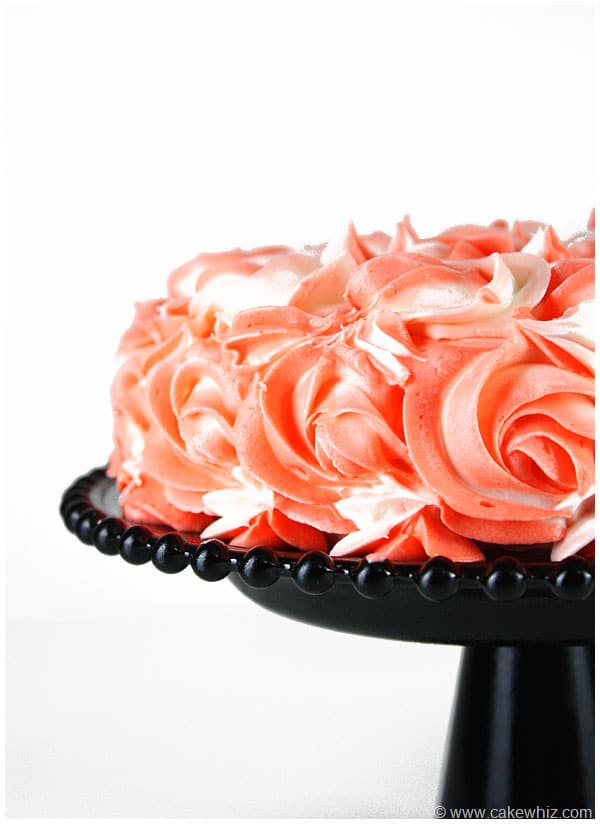 Here are some TIPS for making perfect carrot cake:
Make sure to use both, brown sugar and granulated sugar. Don't replace one with the other since brown sugar adds a wonderful flavor to this cake.
You must drain the juice from the crushed pineapples and blot any excess liquid. If you don't do this, your cake will have too much liquid and it will be very soggy.
Both, baking powder and baking soda, are used in this easy carrot cake recipe. Do not omit one with the other.
Make sure your oven is calibrated properly so that the cake bakes evenly at the proper temperature.
Don't use small eggs in this recipe. It didn't give the same results. Large eggs must be used.
If you add 1 tsp orange extract, it will add an incredible fruity flavor to this cake.
Either sweetened or unsweetened shredded coconut can be used. Sweetened coconut will obviously yield a sweeter cake.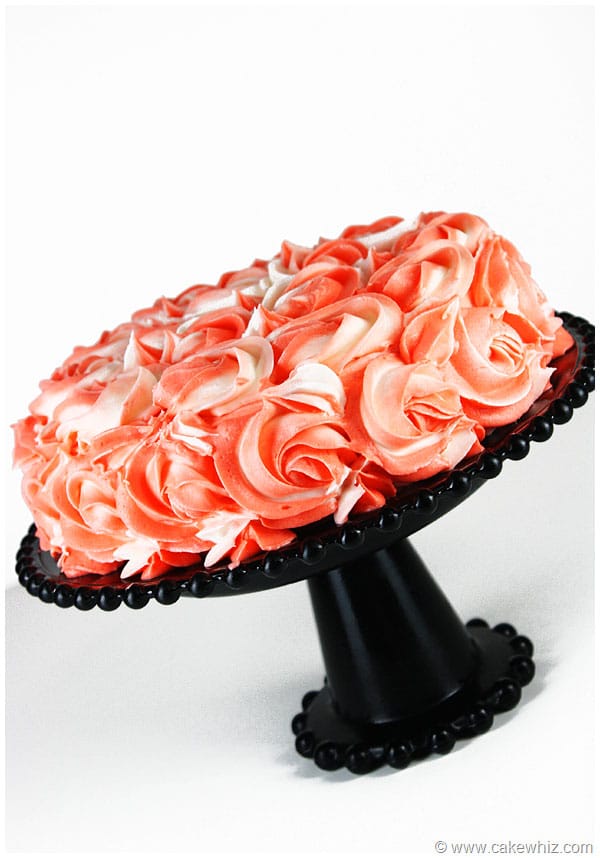 For the design of this cake, I was inspired by Amanda from iambaker.
She made a cake with this rose design and I fell in love with it.
To do the rose technique, you'll need to follow these steps (I have done the step-by step tutorial on a sheet of wax paper. You will obviously be doing this on a frosted cake):
Step 1:
Attach Wilton's 1M tip to a piping bag and fill it with orange and white cream cheese icing. It's best to have this icing at a medium consistency.
Step 2:
Hold your piping bag close to a 90 degree angle (I am holding it at about a 75 degree angle). Squeeze your bag until icing starts to come out and start to move your hand counter-clockwise. Keep going… And going…And going… until you have made a full circle. Then stop squeezing and gently lift your hand away from the rose. That's it…you will end up with a rose!
To sum it up, start in the center and then move counter clockwise until you have completed a full circle.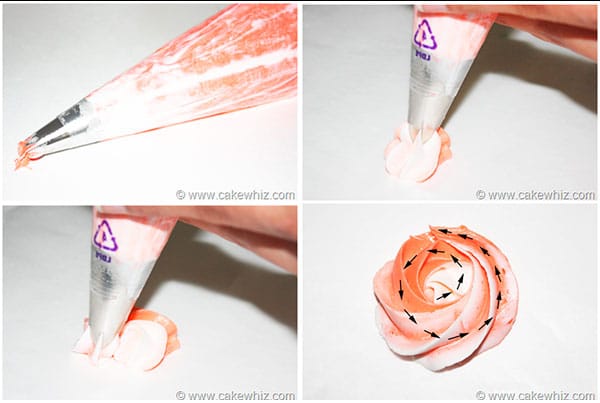 If you liked this classic carrot cake recipe, you may like some of these other Easter dessert recipes:
Chocolate coconut Easter bird nests
Ideas for filling plastic Easter eggs
Moist Carrot Cake with Cream Cheese Frosting
Author: CakeWhiz
Recipe type: Dessert
Prep time:
Cook time:
Total time:
Serves: 8-10 slices
This spiced soft and moist carrot cake recipe from scratch with cream cheese frosting is easy to make with simple ingredients. Perfect Easter dessert.
Ingredients
1 cup brown sugar
1 cup granulated sugar
4 large eggs
1½ tsp vanilla extract
1½ cups vegetable oil
1 pound carrots (peeled and grated)
½ cup crushed pineapples (juice drained and blotted with paper towels to remove any excess liquid)
2½ cups all-purpose flour
¼ cup shredded coconut (sweetened or unsweetened)
1¼ tsp baking powder
1 tsp baking soda
1 tbsp ground cinnamon
½ tsp ground nutmeg
⅓ cup roughly chopped nuts (I used pecans and walnuts)
Cream cheese frosting (make double batch)
Instructions
In a mixing bowl, add brown sugar, granulated sugar, eggs and vanilla extract and mix until smooth.
Add oil, grated carrots and crushed pineapples and mix until just combined.
In a separate mixing bowl, whisk together the flour, coconut, baking powder, baking soda, ground cinnamon and ground nutmeg.
Dump this dry mixture into the wet mixture and mix until just combined.
Stir in the nuts and mix until just combined. DO NOT over-mix!
Pour batter into 2 greased and floured round cake pans (Dimensions: 9x2).
Bake at 350 degrees for about 40 minutes or until an inserted toothpick in the center comes out clean.
While the cakes are cooling, prepare the cream cheese frosting.
Once the cakes cool down completely, place one cake on a cake stand and spread icing on the top. Then, place the other cake on top of the icing and frost the entire cake with cream cheese icing.
Fill a piping bag with orange and white colored frosting and attach Tip 1M. Make roses all over the cake.
Enjoy!
Notes
- Read all my tips above.
- Leftovers can be stored in a covered container in the fridge for up to 3 days.
Well, that's all for today.
Until next time, tata my lovelies!