Easy Pudding Trifle
Easy, no bake pudding trifle recipe, homemade with simple ingredients with layers of vanilla pudding, blueberries, marshmallows, whipped cream, sprinkles and sugar decorations. Great for Winter parties or Frozen themed parties or even gender reveal parties!
When I think of layered desserts, I think of this Chocolate Trifle and this Irish Trifle.Beautiful layers of various ingredients are arranged in a glass cup or bowl to make a show-stopper.
The homemade pudding really took today's dessert over the top. It uses egg yolks, which make it ultra rich and creamy and super decadent.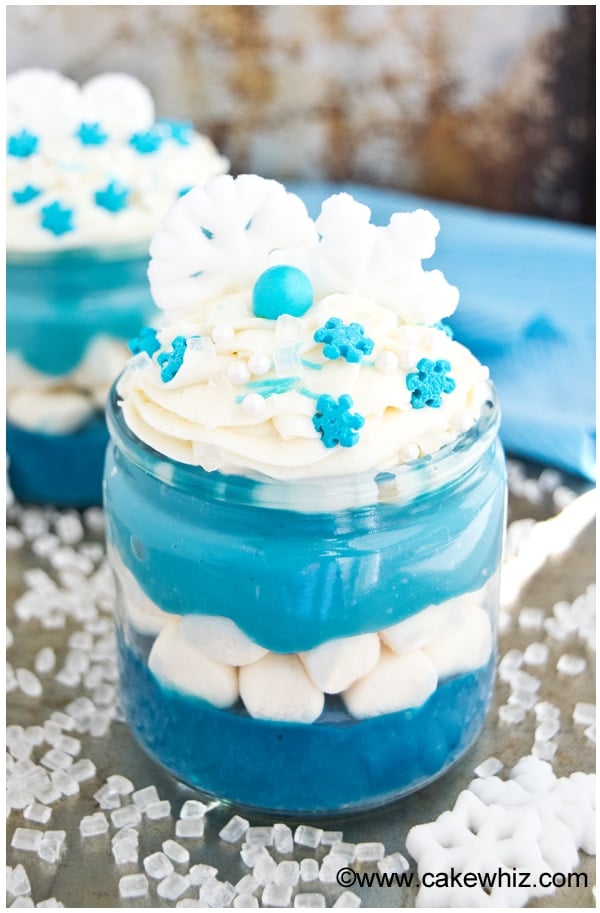 How to make pudding trifle from scratch?
Make pudding mixture on medium heat- By mixing together milk, sugar, egg yolks, cornstarch, butter, vanilla.
Color it blue- With food coloring.
Chill- Until pudding sets.
Assemble- Spread pudding at the bottom of cup, followed my blueberries and marshmallows, followed by pudding. Top it off with whipped cream and decorations.
Enjoy– Dig in!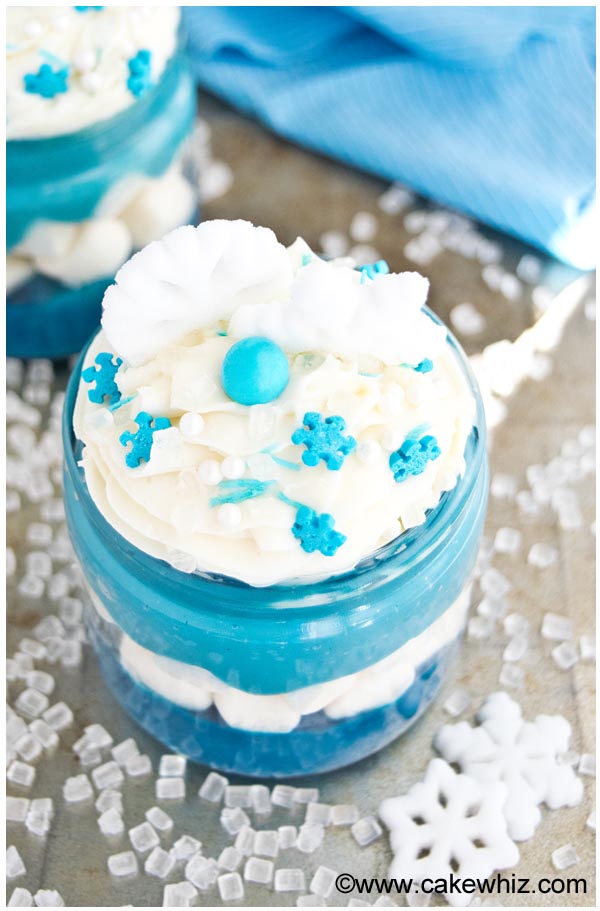 Variations for blue Winter pudding cups
Serve in a large bowl- Instead of individual mini cups, serve in a large trifle bowl and guests can scoop out their own portions.
Try other colors- I used 2 shades of blue but you can use any color of your liking. Use liquid food coloring or consider using gel colors, which are more concentrated and have more color options.
Decoration ideas- Use mini marshmallows, sprinkles, nuts, shredded coconut, mini candies, sugar decorations or even toothpick cupcake toppers.
Use other frostings- Try American Buttercream Frosting or Marshmallow Frosting.
Add other fruits- I used blueberries but you can use other berries like strawberries, raspberries, blackberries
Add a layer of cake- Use leftover cake. Be sure to cut it into small cubes. Try this Buttermilk Pound Cake or this Cream Cheese Pound Cake or this Sour Cream Pound Cake.
Use other extracts- Vanilla is the most popular choice but you can try coconut, almond, maple e.t.c.
Add a layer of jam or preserves- Try strawberry or raspberry flavors.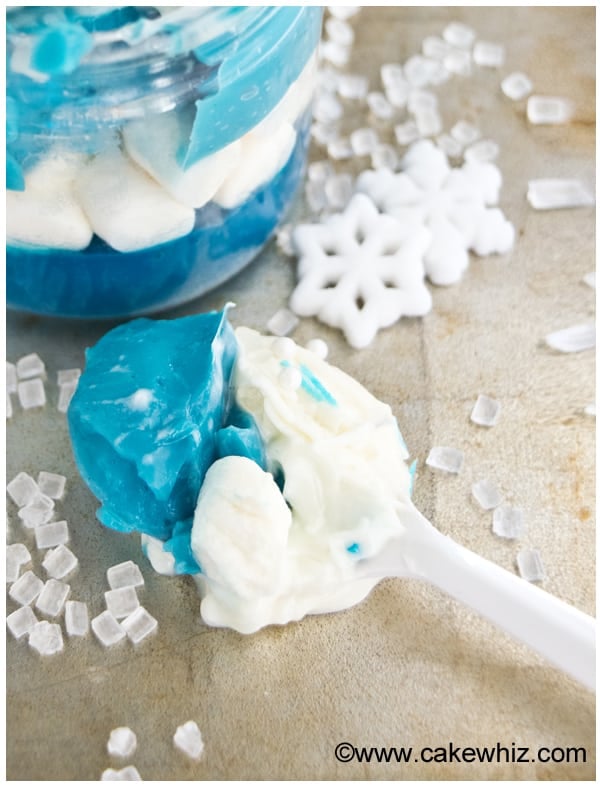 Tips and Techniques
Use full fat milk- For the richest, creamiest pudding.
Use unsalted butter- Because it prevents the pudding from becoming too salty.
Whisk constantly- Because it prevents any lumps from forming and keeps the pudding super smooth.
Mix together egg yolks and cornstarch separately– This is very important because it keeps any lumps from forming when you add it into the milk mixture.
Cook on medium heat- This prevents the milk from boiling over and the pudding cooks more evenly
Homemade pudding vs. Store-bought pudding boxes- The store-bought version is a quick and convenient option when you are short on time. Just color it blue and then, layer as you like.
Use mini marshmallows– Because regular marshmallows are too large to fit into small cups.
Storage
Refrigerate– Leftovers can be stored in the fridge for up to 2 days.
Freeze– Leftovers cannot be frozen because marshmallows don't thaw well and the layers all blend into each other.
More Pudding Recipes
More Blue Desserts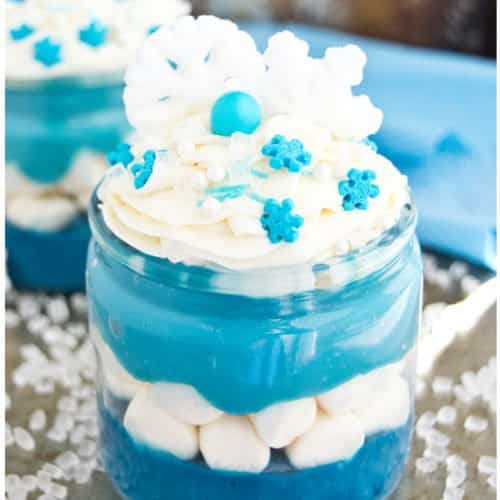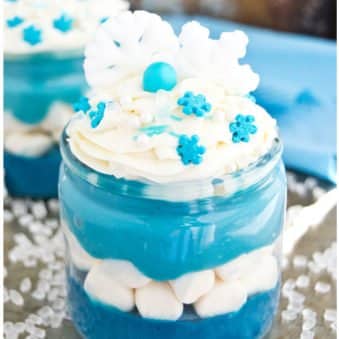 Easy Blue Pudding Trifle
Easy, no bake pudding trifle recipe, homemade with simple ingredients with layers of vanilla pudding, blueberries, marshmallows, whipped cream, sprinkles.
Yield: People
Ingredients
Blue velvet pudding
2 1/2 cups Milk, Whole
1/2 cup Sugar, Granulated
3 tbsp Cornstarch
2 Egg yolks
1 tsp Vanilla extract
1 tbsp Butter, Unsalted
Blue food coloring
Decorations:
2 cups Mini marshmallows
1 cup Blueberries
2 tbsp Sprinkles
Instructions
Add 2 cups milk and sugar in a non-stick saucepan and place on medium heat. Mix until sugar dissolves completely.

Now, in a small mixing bowl, add cornstarch, remaining ½ cup milk and egg yolks. Stir everything together until there are no lumps. Keep aside.

When the sugar dissolves in the milk completely, add the cornstarch/egg mixture into the saucepan while stirring. Don't stop stirring or you will end up with lumpy pudding!

Keep stirring until the pudding thickens.

Divide the pudding into two bowls and add blue food coloring. Make sure both the puddings are a different shade (one should be dark blue and one should be light blue).

Allow the puddings to chill in the fridge until they set. This takes about 2 hours.

Then, assemble everything. Add dark blue pudding at the bottom of a small glass cup. Add some mini marshmallows on the top. Toss some blueberries. Then, spread some light blue pudding on top of all that.

Pipe a swirl of whipped cream on top.

Decorate with sprinkles and sugar decorations. Enjoy!
Notes
Read all my tips above.
Leftovers can be stored in the fridge for up to 2 days. 
Nutrition
Calories: 273kcal, Carbohydrates: 38g, Protein: 6g, Fat: 10g, Saturated Fat: 5g, Cholesterol: 120mg, Sodium: 115mg, Potassium: 211mg, Sugar: 26g, Vitamin A: 465IU, Calcium: 184mg, Iron: 0.3mg