Fall Themed Tiered Apple Cake
Use this tutorial to make a beautiful and unique Fall themed tiered apple cake. Great for Autumn weddings and parties and sure to wow your guests!
*Thank you Craftsy for sponsoring today's post so I could share this Fall themed tiered apple cake with all of you. As always, all opinions are mine.*
Since I am fascinated by cakes, I tend to spend hours looking at cake designs on the web.
And last year, I saw an apple tiered cake by Kicca Cakes. 
Well, that cake has been on my MIND ever since and I wanted to make something similar but ADD my own personal touch.
I wanted to make it look more "RUSTIC" and "ANTIQUE-Y" and really capture the Fall/Autumn theme.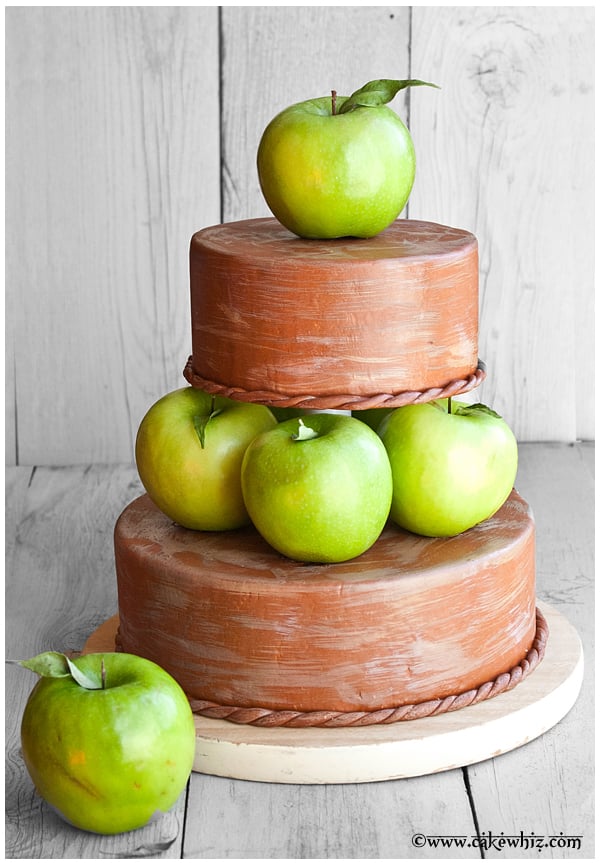 My biggest OBSTACLE was figuring out how to use apples as cake separators.
You see…apples are NOT that light, which means their weight will CRUSH the cake and that would SUCK big time!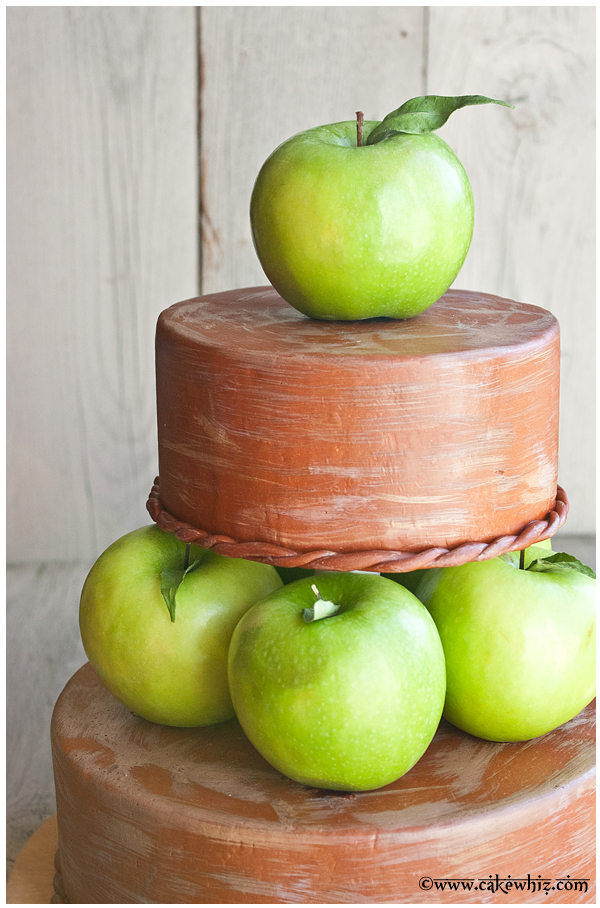 I was CONFUSED.
So, I showed the cake sketch to my husband and asked for his insight…
He's NOT a cake decorator BUT he has the ability to think outside the box and come up with AWESOME solutions!
First, he suggested putting a PVC pipe through the apples…
I told him that wouldn't work coz the juices from the apples will start oozing, once we push the pvc pipe through it…EEKS!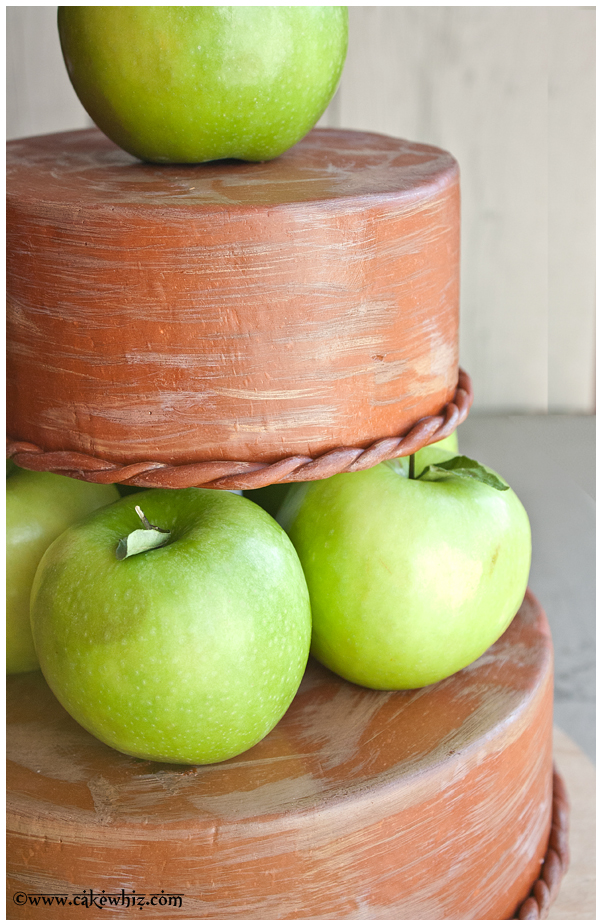 Then, he suggested using a thick central pvc pipe in the bottom tier and arranging the apples around it.
He also said to use thinner pvc pipes under each apple…
And it made perfect sense! WOOHOO!
My hubby is a GENIUS! I don't think I could have made this cake without his help!
Yup… He's the BEST!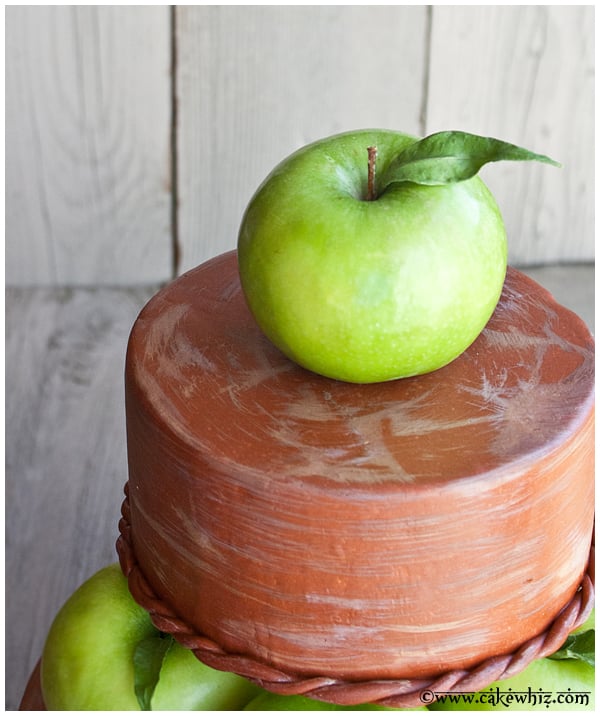 Working on this cake took A LOT of time and it didn't help that my son kept RUNNING off with with these apples and THROWING them around like tennis balls…lol.
So, almost all of them got bruised and dented…lol. 
Oh well… it kept him busy and distracted while mommy worked on the cake…lol
After about 8-9 hours of work…my sketch came to reality!
And I LOVE it.
I wouldn't change even a single thing…Would you???
I gave this tiered apple cake a very "old" and "antiquey" look by doing the "wisping technique," which I learnt from Erin Gardner's Craftsy Class.
And like I have said many times before, if you are into cake decorating, check out Craftsy videos.
Anyways, if you liked this tiered apple cake, you may enjoy some of these other Fall/Thanksgiving desserts too:
Fall Themed Chocolate Tree Cake
Fall Themed Cake With Leaf Stamps
Easy Pumpkin Cake with Pumpkin Candies
Now, to do the "wisping" technique, you will need the following SUPPLIES:
Brown fondant
Brown gel color
White gel color
Foam brush
Plastic bowl

These are the INSTRUCTIONS:
Step 1:
In a plastic container, mix some brown and white gel colors until you end up with a goldenish brown shade.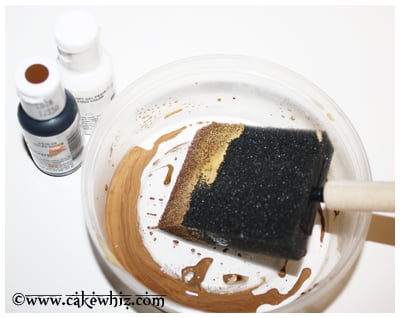 Step 2:
Cover your cake in brown fondant.
Now, dip your foam brush in this container.
Start moving your hand right and left randomly across your fondant covered cake.
Do this as many times as you like.
Do some "wisping" on top of the cake too…Just move your foam brush swiftly in a circular motion.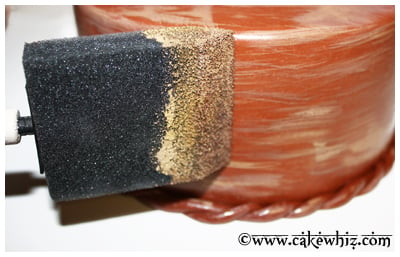 Step 3:
Do this for both the tiers and they should look like they have streaks of golden.
I also used a toothpick to add some texture and dents on the cake to make it look "old."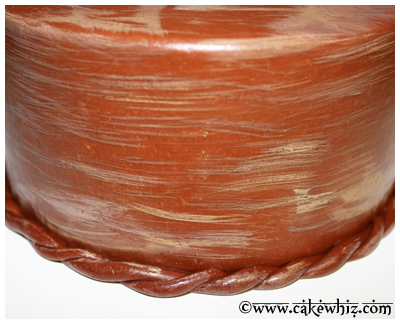 I DIDN'T get a chance to take more pictures…
But, here are some more details of this tiered apple cake:
– The bottom is tier is 9×3 and the top tier is 6×3.
– it's really hard to find apples with intact leaves. So, I used some royal icing to stick curry leaves into place. My main reason for using curry leaves was that they don't go limp quickly (such as mint leaves which go limp in about 20 minutes).
– There is a pvc running through the center of the bottom tier.
– On the bottom tier, there are 6 pvc pipes. 1 is in the center and it's longer than the rest. The remaining 5 are hidden under each apple so as to prevent them from digging into the cake. The central pvc is glued to the base of the top tier.
– On the top tier, there is a pvc pipe hidden under the apple topper.

This messy sketch of mine might help too…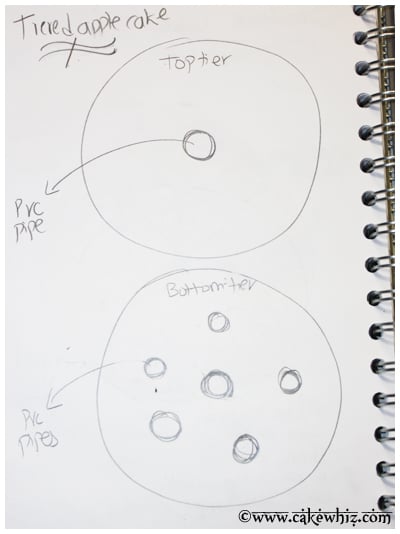 Until next time, tata my lovelies!