How to Make Chocolate Leaves
Use this cake decorating tutorial to learn how to make chocolate leaves with melted chocolate and edible mint leaves. Easy way to decorate Fall cakes.
When I was little, my Mom taught me "how to make chocolate leaves."
She learnt the technique in some book.
I used to call them "mint chocolate leaves" because mint leaves are used to create the chocolate template or pattern.
I would "try" to to make them with her but since my hands were so small and warm, the chocolate would melt and I would end up with big BLOBS that looked nothing like leaves…hehe.
I have learnt a lot since then and even though these may look complicated to make, they are actually very SIMPLE and EASY!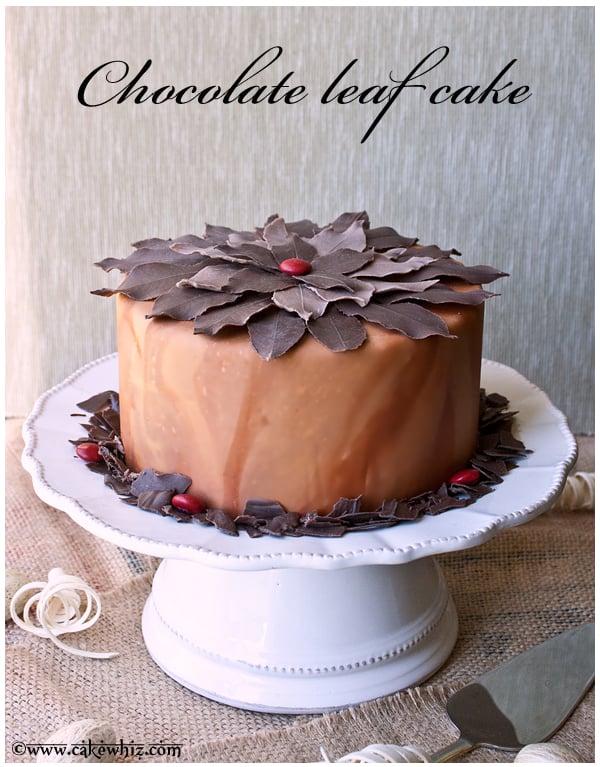 These chocolate leaf decorations are PERFECT for Fall/Autumn parties and even Thanksgiving parties.
I like them so much better than piped chocolate leaves with frosting.
I think this chocolate leaves cake would be a wonderful addition to your Thanksgiving party or even Christmas party.
It has earthy tones and the little bit of red makes such a nice accent.
You can even makes some WHITE chocolate leaves or color your white chocolate with various colors and make rainbow chocolate leaves.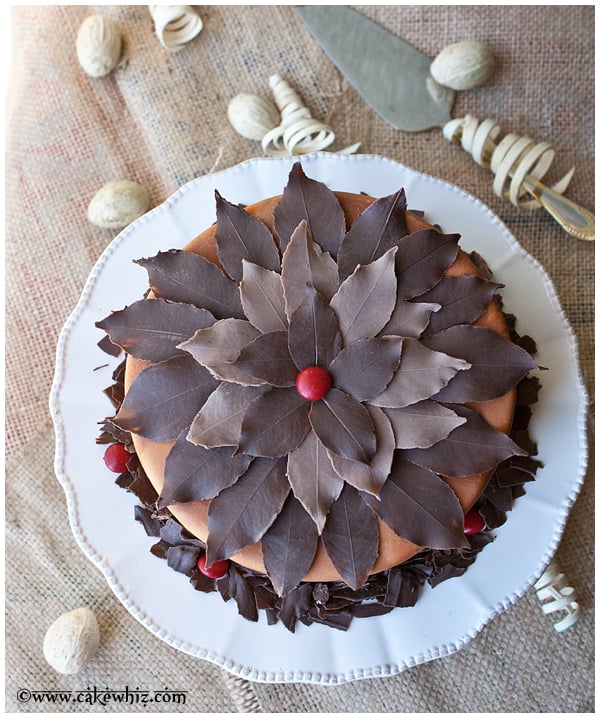 Here are some more DETAILS of this cake:
How to make chocolate leaves for cake decoration?
Start off by rubbing shortening on non toxic leaves like mint leaves. Then, brush chocolate on top of them. Chill the leaves for a few minutes until the chocolate sets. Then, peel the leaves away from the chocolate and use them to decorate cakes and cupcakes.
To make these chocolate leaves, you will need the following SUPPLIES:
Paintbrush
Shortening
Wax paper
Non-toxic leaves (such as curry leaves or mint leaves)
Melted chocolate (in dark and light shade)
Note:

A leaf has a smooth top side and a more textured underside with lots of veins.
 You will be working on this textured area of the leaf… NOT the top side!
You can lighten dark chocolate by mixing in some white chocolate until you have the shade you like.
Avoid touching the chocolate leaves too much because the warmth of your fingers will cause them to melt.
Always remember to make extras because some are bound to break while you are peeling them away from the actual leaves.
These are the INSTRUCTIONS:
Step 1:
Rub a thin coat of shortening on your leaves.
Step 2:
Use a paintbrush to pain some leaves with light chocolate and some leaves with dark chocolate.
Make sure you have a thick coating of chocolate to ensure the leaves don't break when you peel them away from the leaves.
Place these leaves on a cookie tray, lined with wax paper.
Step 3:
Place the tray in the freezer for 5 minutes or until the chocolate firms up.
Step 4:
Now, gently peel the leaf away from the chocolate and you are done!
You can use these on top of your cakes or cupcakes.
Well, that's all for today.
If you liked this chocolate leaves tutorial, you may also like some of these other Fall/Thanksgiving cakes:
Until next time, tata my lovelies!