Upside Down Pear Cake
This soft and moist upside down pear cake recipe is easy to make with simple ingredients. It's the perfect Fall/Autumn or Thanksgiving dessert.
If you have a tonne of pears lying around, you are going to LOVE today's upside down pear cake recipe.
I wasn't really planning on making this cake but yesterday, I was cleaning out my refrigerator and there they were… FIVE pears staring back at me!
Pears must be a HORRIBLE fruit because even my cook books don't have many pear-related recipes.
There was one recipe for a pear scone (eeks!) and another one for pear sauce (yuck!).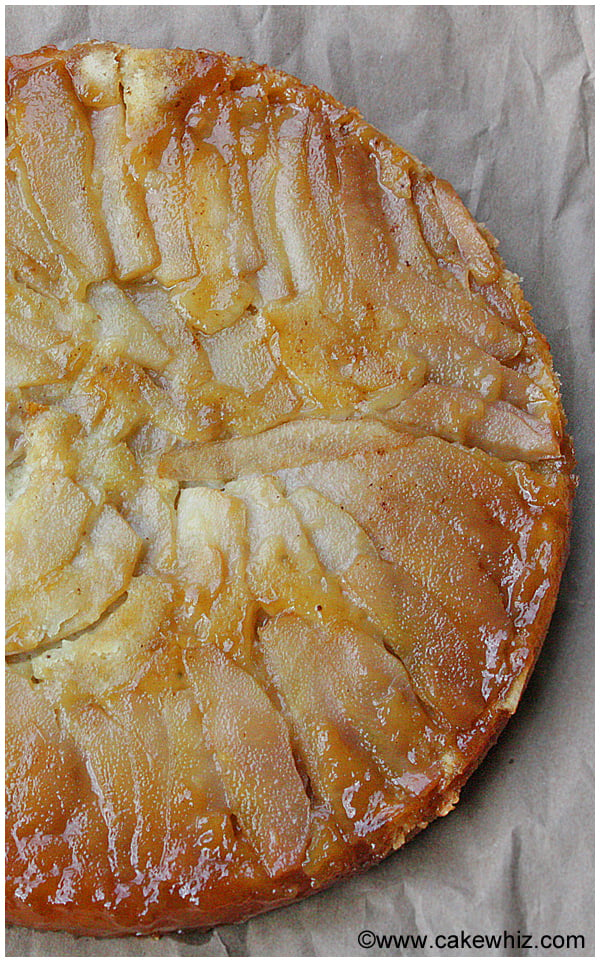 So, I got CREATIVE and started gathering basic ingredients, measuring, mixing, baking.
Imagine my SURPRISE when I took my first bite of this cake and DIDN'T puke…lol.
This upside down pear coconut cake cake was surprisingly GOOD!

MY OTHER RECIPES
The melted brown sugar mixture created a CARAMEL-LIKE topping on top of the cake, which complimented the natural sweetness of the pears in a way that was PHENOMENAL! 
The upside down pear cake was rich and dense BUT in a good way.
I also added some finely shredded coconut in the batter, which gave this cake a NICE texture and fragrance.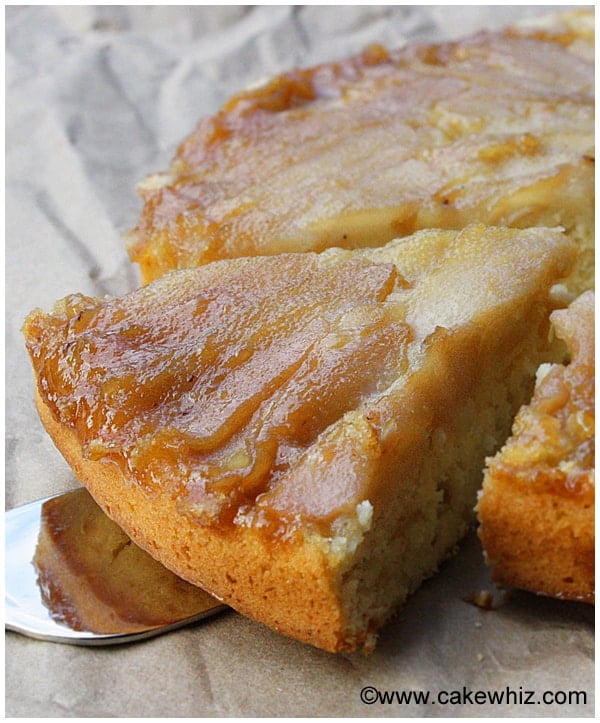 When this cake came out of the oven, it was looking so NAKED!  lol.
I didn't like that at all!
So, I tossed some white chocolate shreds and coconut on the top and it looked so much better, instantly.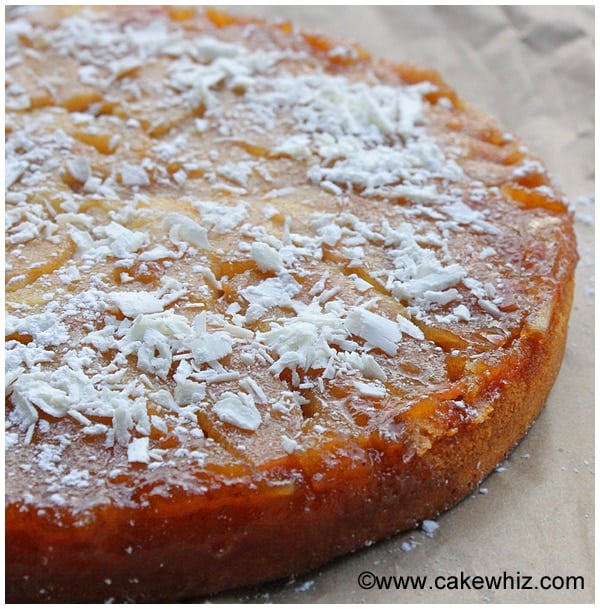 If you liked this recipe for upside down pear cake, you may also like some of these other cake recipes:
Best pineapple upside down cake
Mango cake with mango frosting
Cranberry, coconut and candied nut cake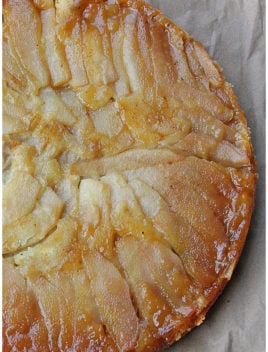 Nutrition Facts
Upside Down Pear Cake
Amount Per Serving
Calories 362 Calories from Fat 144
% Daily Value*
Total Fat 16g 25%
Saturated Fat 10g 50%
Cholesterol 71mg 24%
Sodium 98mg 4%
Potassium 221mg 6%
Total Carbohydrates 51g 17%
Dietary Fiber 2g 8%
Sugars 33g
Protein 4g 8%
Vitamin A 9.5%
Vitamin C 3.1%
Calcium 8%
Iron 7.8%
* Percent Daily Values are based on a 2000 calorie diet.
Upside Down Pear Cake
This soft and moist upside-down pear cake recipe is easy to make with simple ingredients. It's the perfect Fall/Autumn or Thanksgiving dessert.
Servings: 9 slices
Course: Cakes
Cuisine: American
Calories: 362 kcal
Ingredients
Caramel-like Topping
¼ cup Unsalted butter
⅓ cup Brown sugar
3 Pears peeled and cut into ½ inch wedges
Cake Batter
1⅓ cup All-purpose flour
3 tbsp Coconut desiccated
1 tsp Baking powder
1 cup Brown sugar
6 tbsp Butter
2 Eggs
1 tbsp Vanilla extract
¼ cup Fat-free milk
Decoration
1 tbsp Coconut finely shredded
3 tbsp White chocolate shreds
Instructions
Heat oven to 325 degrees. Grease a round spring form pan (Dimensions- 9×3). Add butter and place this pan in the oven. Keep an eye on it. When the butter melts (in less than 5 minutes), remove the pan from the oven.

Now, sprinkle brown sugar all over the melted butter.

Arrange your pears on top of the butter and sugar mixture. Keep this pan aside while you prepare the cake batter.

In a mixing bowl, cream butter and sugar until it's light and fluffy.

Then, add eggs (one at a time) and vanilla extract and mix everything properly.

Now, add flour, baking powder, salt, coconut and milk and mix until just combined.

Pour this batter into the pan you had prepared earlier.

Bake for about 50 minutes at 325 degrees or until an inserted toothpick comes out clean.

Let this cake cool for an hour on a cooling rack and then release the sides of the springform pan and flip it over gently on a serving dish or a cake board. Top it off with finely shredded coconut and white chocolate shreds. Enjoy!
Until next time, tata my lovelies!