How to Make Turkey Topper
Use this cake decorating tutorial to learn how to make turkey topper for Thanksgiving cakes and cupcakes with fondant and modeling chocolate. Quick & easy!
I used this TURKEY cake as inspiration for this tutorial on "how to make turkey topper.
This little edible turkey topper is completely edible.
However,  it has not made it into my collection of toppers that I just CANNOT eat!
I mean… Come on! Look at it! Can you blame me?
That's just CUTENESS OVERLOAD! hahaha.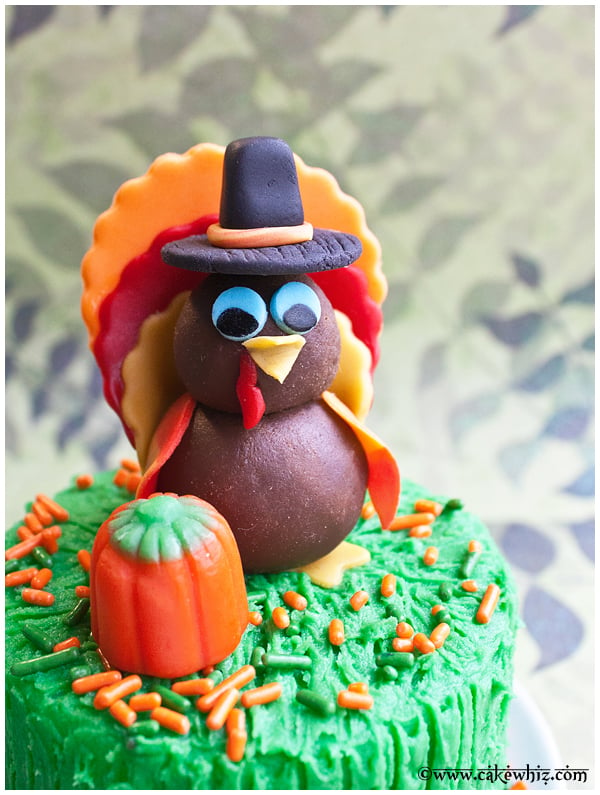 I used BOTH, marshmallow fondant and modeling chocolate to make this topper because it created a wonderful play dough texture that was very easy to handle.
You can use only fondant if you like but modeling chocolate is sturdier and dries faster.
By the way, I am obsessed with these ADORABLE little pumpkin candies.
I think they are PERFECT for embellishing cakes this time of the year.
Here are some more DETAILS of this Thanksgiving turkey cake:
This is a small chocolate cake (5×3).
The cake is frosted in the cooked flour buttercream (Ermine frosting).
I used a FORK to decorate the cake (Yup! A fork!!!).
I just threw some green and orange sprinkles on top and around the base of the cake.
Then, I placed my little turkey topper on top and a even a little pumpkin shaped candy and all done!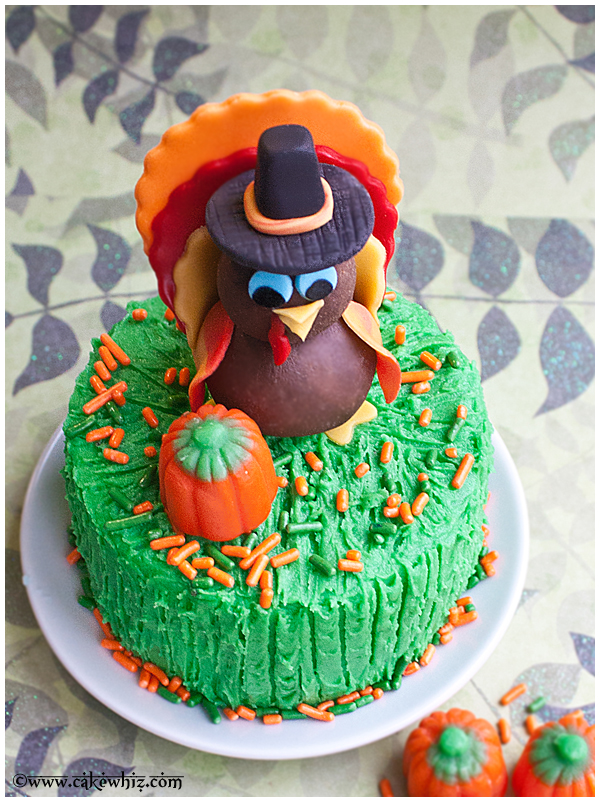 I know it's a lot of work but totally WORTH it because this cake is sure to WOW your guests on Thanksgiving!
If you don't want to make a cake, you can make smaller turkeys and use those as cupcake toppers.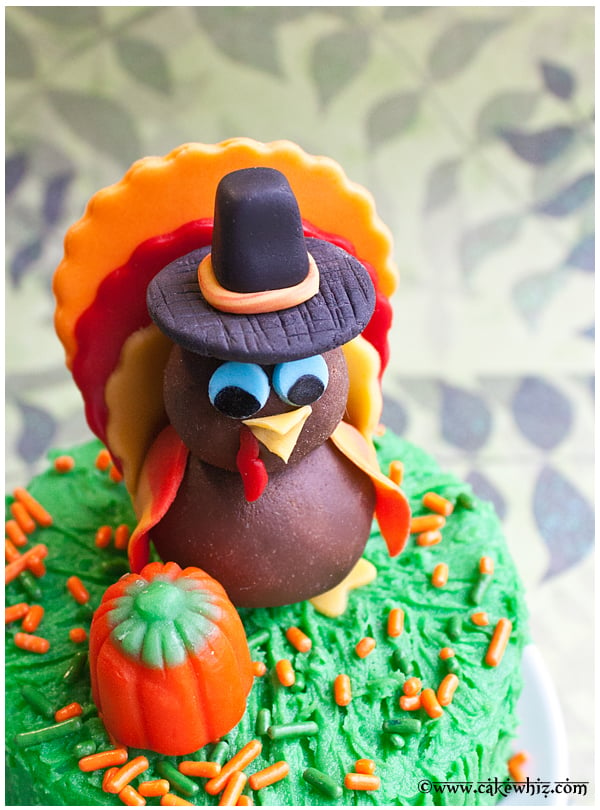 To make this fondant or modeling chocolate turkey topper, you will need the following SUPPLIES:
Brown modeling chocolate
Red fondant
Orange fondant
Yellow fondant
Black fondant
Round sprinkles
Toothpick or wooden skewer (or you can even use a spaghetti strand)
Scalloped cutter
Small leaf cutter
Small star cutter
Rolling pin
Knife
Paintbrush and water
Black edible marker
These are the INSTRUCTIONS:
Start off by rolling a small ball of modeling chocolate and a big ball of modeling chocolate.
Stick a toothpick or wooden skewer or even a spaghetti strand into the big ball and push the smaller ball on top. This will be the turkey's body.
Roll out some yellow fondant now and use a scalloped cutter to cut out a piece.
Also, use a star cutter to cut out 2 yellow star pieces.
Now, roll out some orange fondant and use a scalloped cutter to cut out a piece.
Roll out some red fondant and cut out another scalloped piece.
Brush water on the orange piece. Stick the red piece here.
Brush water on the red piece and stick the yellow piece here. These will be the turkey's feathers.
Brush water on the two star pieces and stick your turkey's body on top and press it securely into place.
Brush water on the turkey's backside and stick the feather piece here. Bend the feathers inwards a little.
Roll out little sausage shapes of red, orange and yellow fondant. Place them close together. And start rolling them together into a spiral. Roll them a few times again randomly.Use a rolling pin to flatten this piece.
Use a leaf cutter to cut out 2 leaf shapes. These will be the turkey's wings.
Brush water on the sides of the body and stick the wings here.
Draw eyeballs on 2 round sprinkles. These will be the turkey's eyes.
Brush some water and stick them into place.
To make the beak, flatten a small piece of yellow fondant. Use a knife to cut a small diamond shape. Fold it in half with the help of a knife. Brush some water and stick it into place.
To make the little red thing around a turkey's beak, make a small sausage shape out of red fondant and stick it into place and your turkey is ready! You can even make a little pilgrim hat for your turkey, if you like.
Allow this edible fondant turkey topper to dry overnight at room temperature, away from humidity and moisture and then use it as a cake topper.
Well, that's all for today.
Until next time, tata my lovelies!