Pumpkin Cheesecake with Gingersnap Crust
Spiced pumpkin cheesecake with gingersnap crust recipe made from scratch. It's topped off with white chocolate ganache and is very rich and creamy.
*Thank you Vital Proteins for sponsoring today's post so I could share this pumpkin cheesecake with gingersnap crust recipe with all of you. As always, all opinions are mine.*
I am pretty darn positive my hair turned gray in the process of perfecting this pumpkin cheesecake recipe…lol.
Since I usually make no bake cheesecakes, this was quite a LEARNING experience with many challenges.
But, it was all worth it because now, I can serve a CLASSIC pumpkin cheesecake for Thanksgiving, this year…Yay!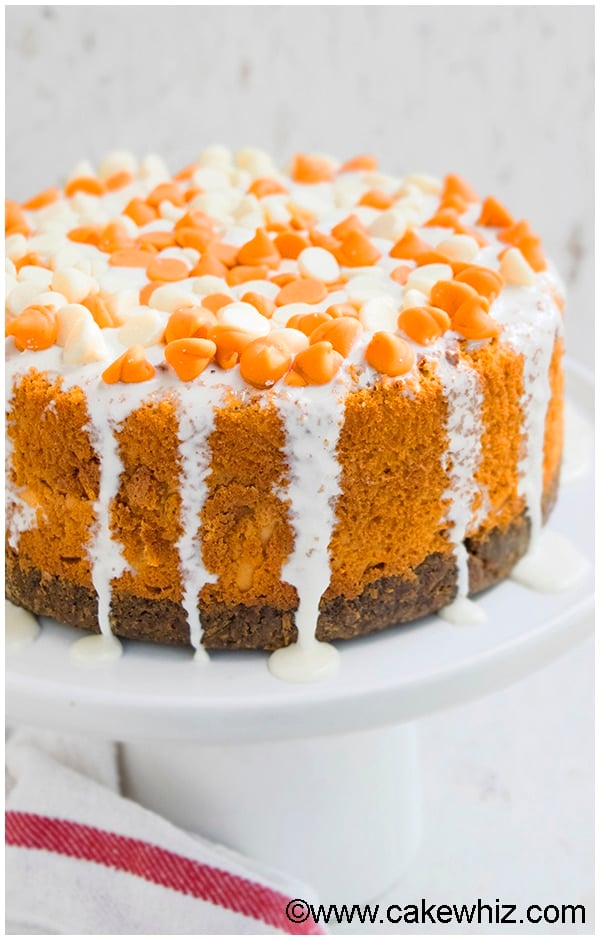 I have had spiced pumpkin cheesecake with Oreo crust and even graham cracker crust but I truly believe this cheesecake with gingersnap crust is BETTER than the other two.
You can also add some pecans in my crust recipe and make a gingersnap pecan crust.
Hubby LOVED this version but I couldn't even tell the difference…hahahah.
The recipe I am sharing today is for a cheesecake that's made with REAL pumpkin puree and not pumpkin pie filling.
You can also use this recipe to make MINI pumpkin cheesecake and even pumpkin cheesecake BARS.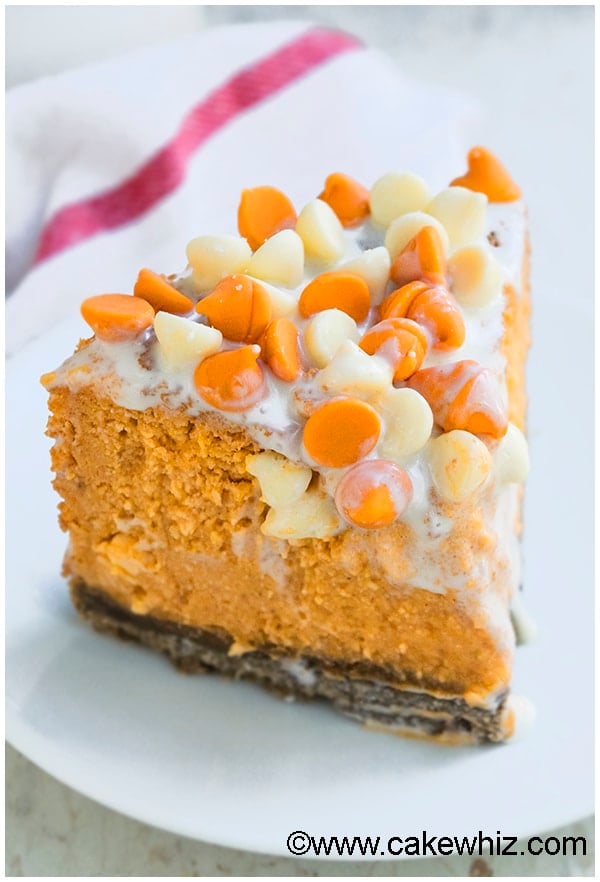 Here are some TIPS for making the BEST pumpkin cheesecake from scratch:
Make sure all your ingredients are at room temperature.
Make sure your oven temperature is accurate. The last thing you need is a dry (over-baked) or wet and soggy cheesecake (under-baked).
Follow the recipe for this pumpkin cheesecake with gingersnap crust very closely and don't start modifying it. I have tested this recipe a few times and my mom has tested it too and it works perfectly.
Plan ahead! Make your cheesecake a day in advance so that the flavor deepens and the cheesecake has a chance to set and cool down properly.
Garnish and decorate the cheesecake when it has chilled in the fridge for a few hours and cooled down completely.
Don't skip the step where you have to cook the pumpkin for a few minutes! It evaporates excess water.
Don't skip the step where you leave the cheesecake in the oven (partly open) after it's done baking for 45 minutes. This allows your cheesecake to still cook but not over-bake.
Yes! You really need to bake for that long. Don't change the temperature or baking time.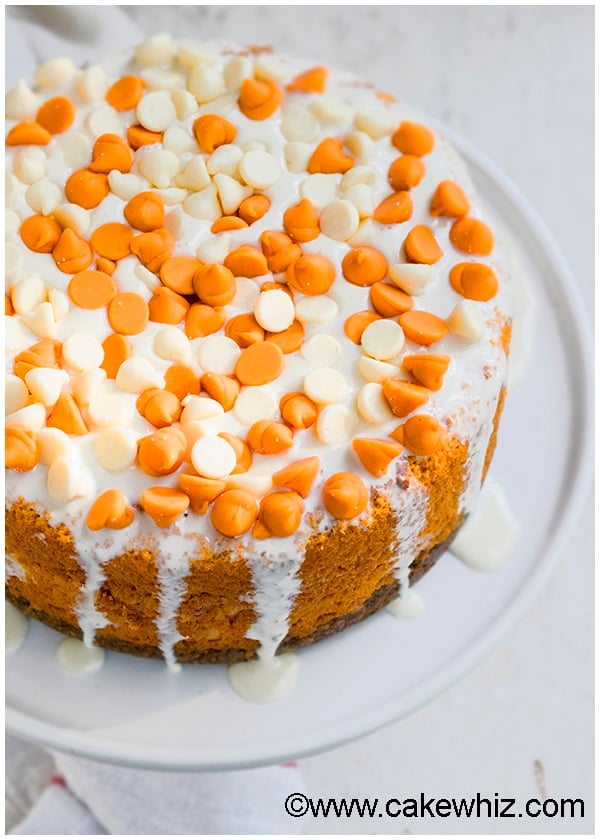 Also, here are some questions and answers that should HELP with any common cheesecake problems/issues…
How to prevent a cheesecake from CRACKING? Why did my pumpkin cheesecake crack?
There are a few reasons for this:
– Don't whip the batter on high speed and don't mix it for too long since that will incorporate air into the mixture and cause it to rise too much and then collapse and crack.
– Many people use a water bath. Basically, wrap the outside of your springform pan in foil and place it in a tray with hot water and then bake it. The hot steam allows even baking and prevents cracks. My recipe today is for a pumpkin cheesecake without water bath.
– If your oven temperature is not calibrated properly and the temperature is too high, the top will cook faster than the inside and cause it to crack as well.
What to GARNISH pumpkin cheesecake with? How to garnish pumpkin cheesecake?
You can garnish and decorate with a variety of chocolate chips, like I did. Pumpkin cheesecake with caramel sauce is also very popular. You can also garnish with whipped cream, ganache, chopped nuts like pecans.
Can you make pumpkin cheesecake WITHOUT springform pan?
No, my sister and I tried using a basic round cake pan a few years ago. It does not work. The cheesecake sticks to the cake pan and it's impossible to remove it properly.
Can you FREEZE pumpkin cheesecake? How to freeze cheesecake?
Yes, you can freeze it up to 1 month. Once the cheesecake has cooled down completely in the fridge, remove the outer rim of the springform pan but leave the bottom intact.  Cover the cake in saran wrap and then cover it again in foil paper. Remember that there should be no toppings on your cheesecake. You can add that prior to serving.
Can you make pumpkin cheesecake ahead of time?
Yes, it's actually recommended that you make this cheesecake at least 24 hours ahead of time, giving it a lot of time to set.
How to know when pumpkin cheesecake is done baking? How to know when cheesecake is set?
Why is my cheesecake LUMPY?
Your mixture was not properly combined. Use a hand held mixer or stand mixer.
When to REMOVE cheesecake from springform pan?
You can remove it once the cheesecake has completely cooled down in the fridge overnight or at least 4 hours. Gently, slide a knife around the cake to loosen it before removing the outer rim of the springform pan.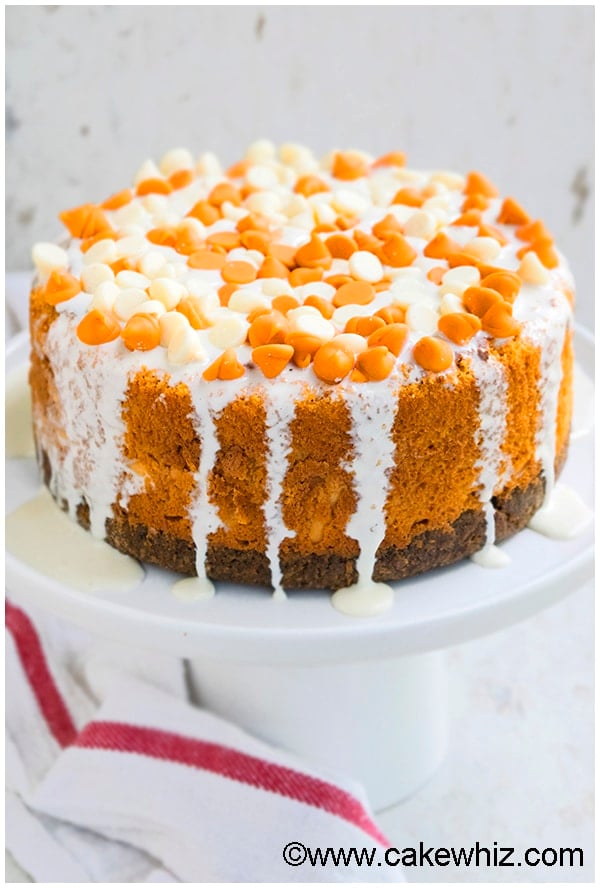 I used Vital Proteins collagen peptides in the gingersnap crust today.
It has sooooo many health benefits and honestly, you CAN'T even taste it or smell it.
Such an awesome way to give a dessert a SUPPLEMENTAL boost!
I have also used collagen peptides in all of these recipes:
Cashew caramel chocolate chip cookies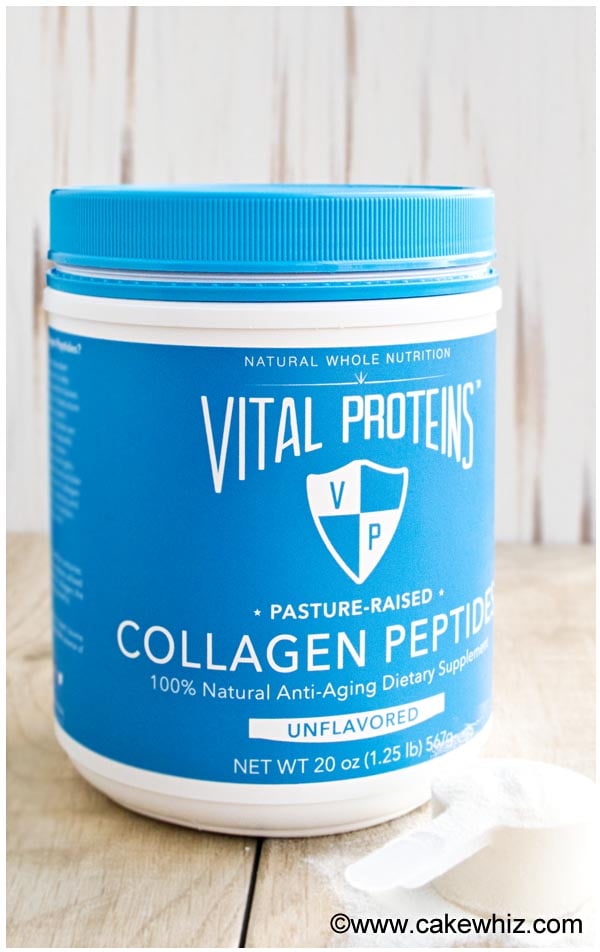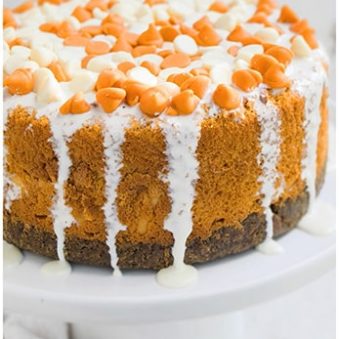 Pumpkin Cheesecake with Gingersnap Crust
Spiced pumpkin cheesecake with gingersnap crust recipe made from scratch. It's topped off with white chocolate ganache and is very rich and creamy.
Yield: slices
Ingredients
Gingersnap Crust
1½ cups Gingersnap cookie crumbs, Finely ground
½ cup Vital Proteins collagen peptides
6 tbsp Butter, Melted
2 tbsp Sugar
Pumpkin Cheesecake
3 packages Cream cheese, 8 ounces each
1½ cups Brown sugar
1 can Pumpkin puree, 15 oz can
¼ cup Sour cream
2 tbsp Flour, all purpose
1 tbsp Pumpkin pie spice
1 tsp Vanilla extract
4 Eggs, Large
Orange food coloring, Optional
White Chocolate Ganache
1 cup White chocolate
¼ cup Heavy cream
Instructions
Gingersnap Crust
In a mixing bowl, mix together the gingersnap cookie crumbs, collagen peptides, melted butter and sugar. You will end up with a wet and crumbly mixture.

Spray an 9 inch springform pan with oil and dump this mixture into the pan and spread it out.

Use the flat base of a drinking glass or measuring cup to really pack down the cookie crust.

Bake at 350 degrees for 8 minutes. Then, remove from oven and let it cool down.
Pumpkin Cheesecake
In a a small non-stick saucepan, add pumpkin puree and cook on medium heat for about 10 minutes until some of the water evaporates. Remove from heat and let it cool down. Tip: Place it in the freezer for a few minutes to speed up the process.

In a mixing bowl, add cream cheese and brown sugar and mix until everything is light and fluffy and there are no lumps.

In another mixing bowl, add eggs, pumpkin puree, sour cream, flour, pumpkin pie spice,

vanilla extract

and orange food coloring and mix everything together until just combined.

Dump this pumpkin mixture into the cream cheese mixture and mix on low speed until everything in thoroughly combined.

Pour this batter into your springform pan with the gingersnap crust and bake at 350 degrees for 1 hour. Then, turn off the heat and prop the oven door slightly with a wooden spoon. Keep it this way for 45 minutes (the cheesecake continues to cook).

After 45 minutes, remove the cheesecake from the oven and let it come down completely. Then, cover it with foil and chill in the fridge for 4-5 hours or overnight.
White Chocolate Ganache
In a non-stick saucepan, add white chocolate and heavy cream and cook until the chocolate is completely melted. You will end up with a smooth and glossy glaze.

Remove from heat and let it cool down a bit.
Assembling
Prior to serving, run a knife around the cheesecake and gently remove the outer rim of the springform pan.

Pour ganache on top of the cheesecake and let some of it run down the sides and finally, toss some white chocolate chips and pumpkin flavored chocolate chips.
Notes
- Read all the tips above. -Double the gingersnap cookie crust recipe to make a thicker crust. That's what I did in today's post.
Nutrition
Calories: 751kcal, Carbohydrates: 64g, Protein: 13g, Fat: 50g, Saturated Fat: 28g, Cholesterol: 216mg, Sodium: 439mg, Potassium: 455mg, Fiber: 2g, Sugar: 58g, Vitamin A: 10115IU, Vitamin C: 4.5mg, Calcium: 230mg, Iron: 2.6mg
*Thank you Vital Proteins for sponsoring today's post. As always, all opinions are mine.*