Pumpkin Pie Fudge With Gingersnap Crust
Easy pumpkin pie fudge with gingersnap crust and walnut topping. Easy to make with lots of white chocolate. Best dessert for Fall and Thanksgiving.
*Thank you International Delight for sponsoring today's post so that I can share this pumpkin pie fudge with gingersnap crust with all of you. As always, all opinions are mine.*
Fall and Thanksgiving is almost here and that calls for the BEST pumpkin pie fudge recipe ever!
More specifically, this is a pumpkin pie fudge with gingersnap crust that's topped off with chopped walnuts! YUM!
I only make this fudge around this time of the year because making it any other day just seems plain WEIRD…lol.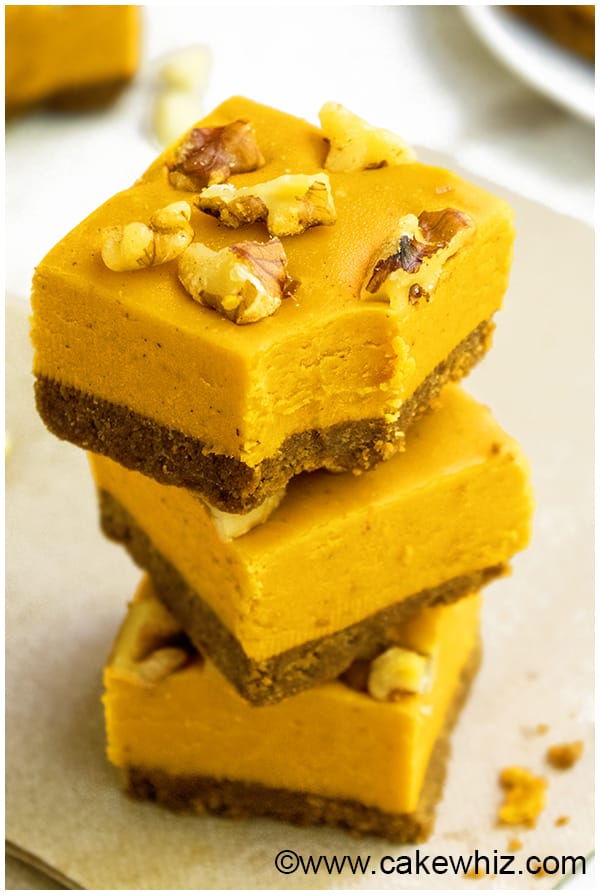 I know that pumpkin fudge recipes with marshmallow creme/cream or marshmallow fluff are more common but my recipe does not include that.
I also don't use evaporated milk or heavy cream.
Instead I like to use a combination of condensed milk and International Delight ® Pumpkin Spice Coffee Creamer.
Honestly, I believe that's what makes my fudge SOOOOOO much better than others.
This is the RICHEST and most CREAMY pumpkin pie fudge ever and it's bursting with pumpkin spice flavors!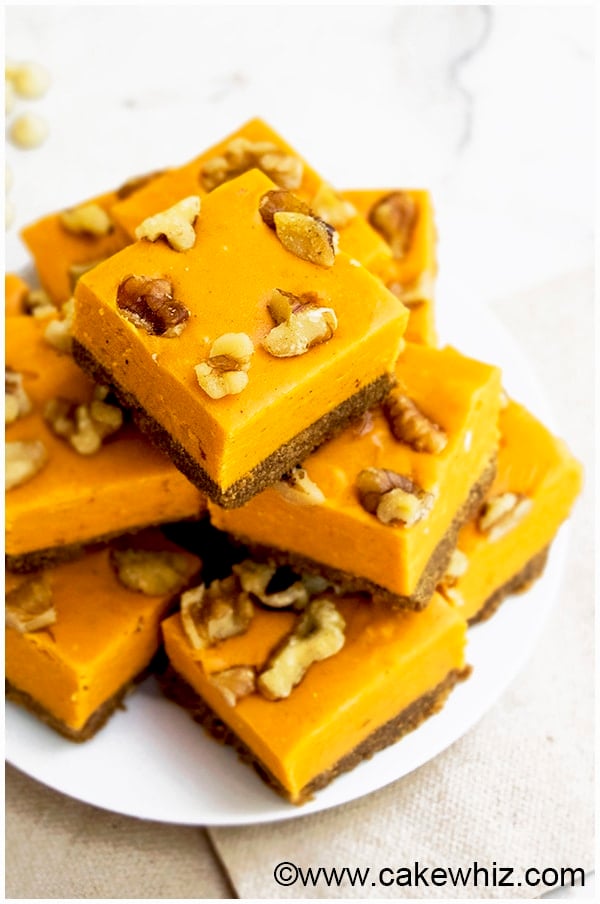 Even though this is a no bake pumpkin fudge recipe and you don't need to turn on your oven, you still need to DUMP everything in a saucepan and cook on low to medium heat for a few minutes so that everything melts and becomes thoroughly combined.
But, do you want to know the best part?
This fudge is made WITHOUT candy thermometer…
Thank goodness for that because I get very anxious when I have to use that thing…hahaha.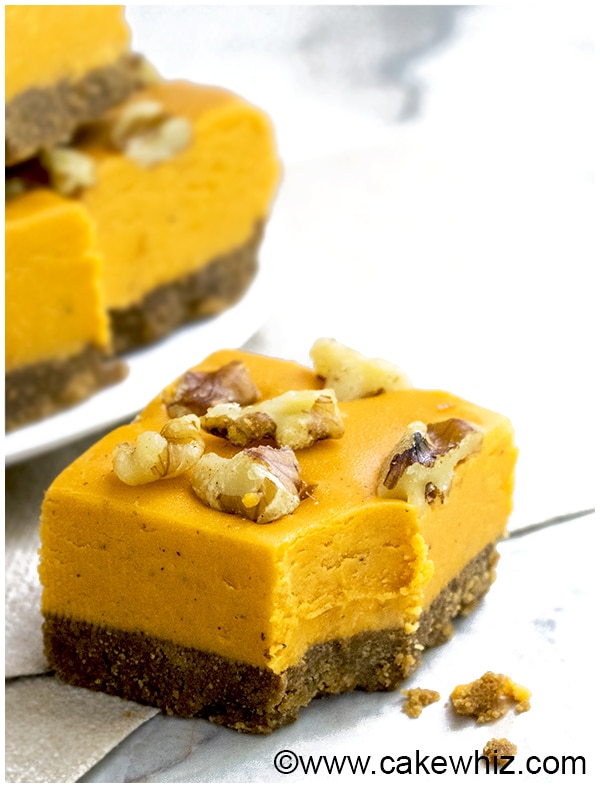 Before someone asks why I used a creamer in my recipe, I will tell you to seriously go out and try International Delight's Pumpkin Pie Spice creamer first.
It's the best creamer ever and SOOOOOO flavorful and smells HEAVENLY!
I adore using it in my morning coffee because the aroma and rich flavor lifts my spirits, especially during the breezy Fall mornings.
And using it in this fudge took it to a whole new level of deliciousness!
By the way, that salted caramel mocha flavor is also pretty darn INCREDIBLE and now, I want to use it in a mocha caramel fudge…hahahah.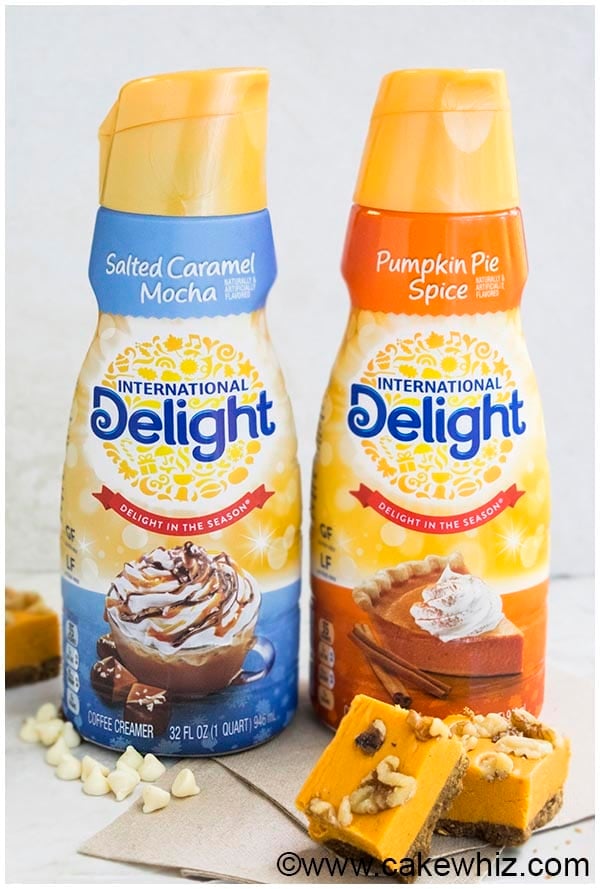 Well, that's all for today.
If you liked this post, check out some of this pumpkin recipe too:
Pumpkin Cheesecake with Gingersnap Crust
Easy Pumpkin Cake with Pumpkin Candies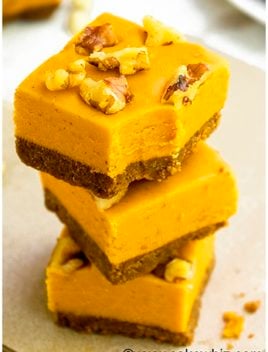 Best Pumpkin Pie Fudge
Easy pumpkin pie fudge with gingersnap crust and walnut topping. Easy to make with lots of white chocolate. Best dessert for Fall and Thanksgiving.
Servings: 24 pieces
Course: Dessert
Cuisine: American
Calories: 282 kcal
Ingredients
Gingersnap cookie crust
2 cups Gingersnap cookie crumbs Finely ground
6 tbsp Butter Melted unsalted
2 tbsp Sugar
Pumpkin fudge
4½ cups White chocolate chips
⅓ cup Pumpkin puree
1 can Condensed milk Sweetened 14 oz
¼ cup International Delight ® Pumpkin Pie Spice Coffee Creamer
1 tbsp Pumpkin pie spice
Orange gel coloring
½ cup Walnuts Chopped for topping
Instructions
In a mixing bowl, mix together the gingersnap cookie crumbs and melted butter. You will end up with a wet and crumbly mixture.

Line an 8 inch rectangular pan with aluminum foil and spray it with oil. Dump the gingersnap cookie mixture into the pan and spread it and and pack it down firmly with the flat bottom of a drinking glass. Chill this in the freezer for 20 minutes while you make the pumpkin fudge mixture.

In a saucepan, add white chocolate chips, pumpkin puree, condensed milk, coffee creamer, pumpkin pie spice and orange gel coloring. Cook this mixture on low heat while constantly mixing until everything is melted and thoroughly combined. The mixture will start to thicken a bit and this takes about 20 minutes.

Pour this pumpkin mixture on top of the gingersnap cookie crust and spread evenly with a spatula, if necessary. Toss some chopped walnuts on top of the fudge. Place the pan in the fridge and refrigerate overnight (or at least 6 hours) to allow the fudge to set.

Then, make square slices with a sharp knife. Enjoy!
Recipe Notes
- You can replace walnuts with pecans or almonds, if you like. - Store any leftovers in the fridge and finish it off within 1 week.
Nutrition Facts
Best Pumpkin Pie Fudge
Amount Per Serving
Calories 282 Calories from Fat 144
% Daily Value*
Total Fat 16g 25%
Saturated Fat 9g 45%
Cholesterol 20mg 7%
Sodium 77mg 3%
Potassium 177mg 5%
Total Carbohydrates 30g 10%
Sugars 30g
Protein 3g 6%
Vitamin A 13.4%
Vitamin C 1%
Calcium 12%
Iron 1.5%
* Percent Daily Values are based on a 2000 calorie diet.
Until next time, tata my lovelies!