Use these instructions to make an easy Halloween Twizzler and candy cake. Fun for spooky Halloween parties and even kids can make it.
10 more days till HALLOWEEN and I am getting ready with this Halloween Twizzler and candy cake. 
According to my Mom, there is a child living inside me, refusing to grow up…hahaha. 
No wonder she says that as often as she does coz I enjoy candies and costumes just as much as any little kid out there…lol.
One of my favorite part of Halloween is shopping for candies.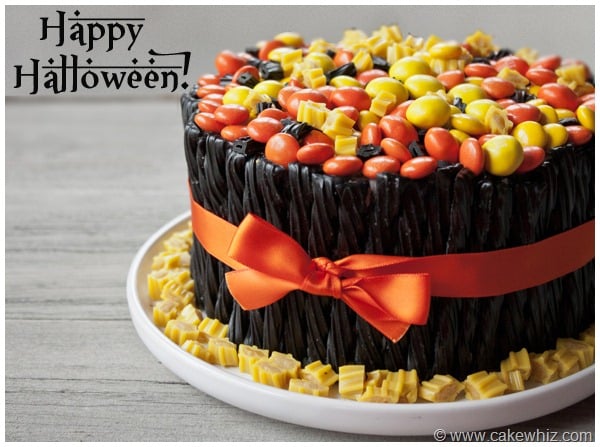 Seriously, the candies they get this time of the year are freakin AMAZING!!!!
All sorts of COLORFUL candies…. yellow, orange, black!
It would be a shame not to use them in a cake… Don't you agree? 

MY OTHER RECIPES
So, after picking up a bag full of candies from the store, I got to work and a Halloween Twizzler and candy cake was born!
This is one of those easy cakes you can put together in VERY little time.
Initially, I was planning on decorating this cake with fondant witches and goblins.
But playing around with fondant is hard when you have a 6 month old who keeps putting everything in his mouth… lol.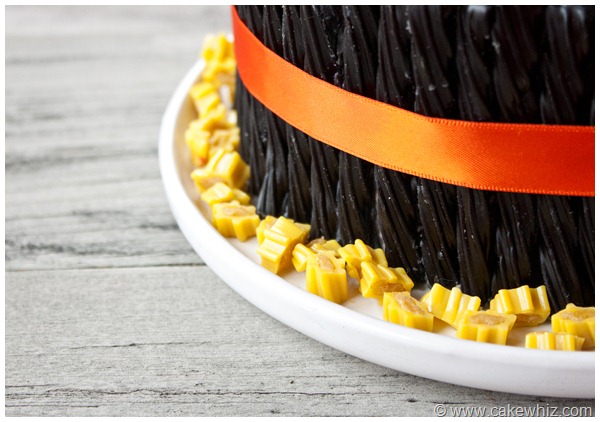 I kept things simple and used my doctored chocolate cake mix recipe for this Halloween cake.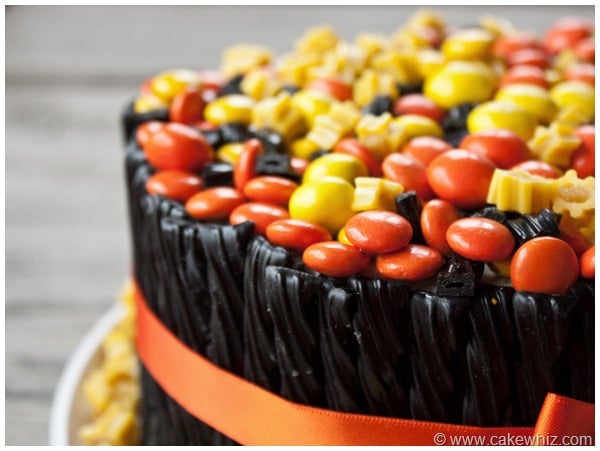 To make this Halloween Twizzler and candy cake, you will need the following ingredients and supplies:
Chocolate cake (Doctored up cake mix recipe)
Chocolate buttercream icing
Black Twizzlers
Yellow and orange M&M candies
Orange ribbon
And here are the steps:
Step 1:
Bake a chocolate cake and frost it in chocolate buttercream.

Tip:
Do not use white frosting! Make sure your icing is dark in color or use chocolate frosting coz black licorice leaves black stains and they show through the cracks between the licorice.
Step 2:
Start sticking your  black Twizzlers all around the cake. I had to cut my Twizzlers in half to match the height of the cake. You may need to do that too.
Step 3:
Wrap a bright orange ribbon around the cake to hold Twizzlers in place. Without this ribbon, some of my Twizzlers were falling over.
Step 4:
Now, toss yellow and orange candies on top of the cake. I also cut up some yellow and black Twizzlers into little pieces and tossed those on top.
Step 5:
Place your cake on a round dish and toss some more yellow Twizzler bits around the base.
And you are done making your Halloween Twizzler and candy cake!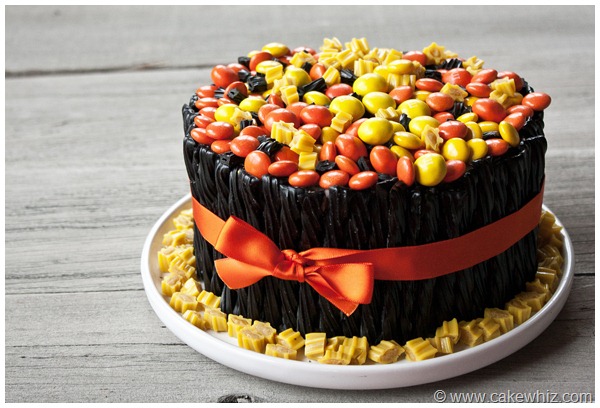 If you want to make another type of candy cake, you can make my Kit Kat cake.
I covered it in fruits BUT for Halloween, you can cover it in yellow/orange candies instead of berries and use a spooky ribbon instead of a fancy one.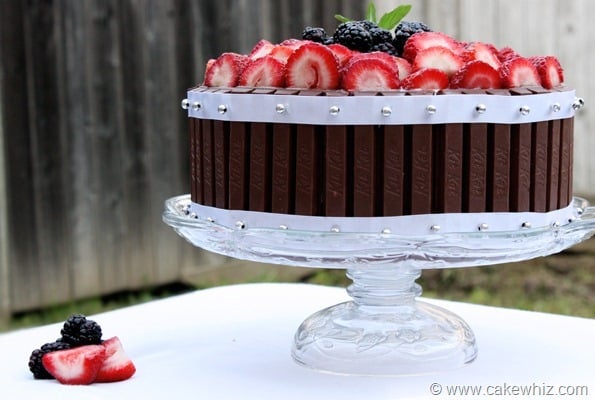 Well, that's all for today.