Kit Kat Cake With Strawberries
Quick and easy Kit Kat cake with strawberries, blackberries, requiring simple ingredients. This easy cake decorating idea is perfect for birthdays.
I made this Kit Kat cake for family and friends on my last trip to Canada.
This chocolate Kit Kat cake recipe is:
Easy to make for beginners
Requires simple ingredients
My family LOVED it and it and we had NO leftovers.
Since I didn't have any of my cake supplies with me on my trip, I worked with what I had: Strawberries, Blackberries and lots of Kit Kats!
If you don't have time to bake a cake from scratch or make frosting from scratch, you can make a no bake Kit Kat cake by using pre-made non-frosted cake, store-bought frosting and lots of fresh berries of your choice.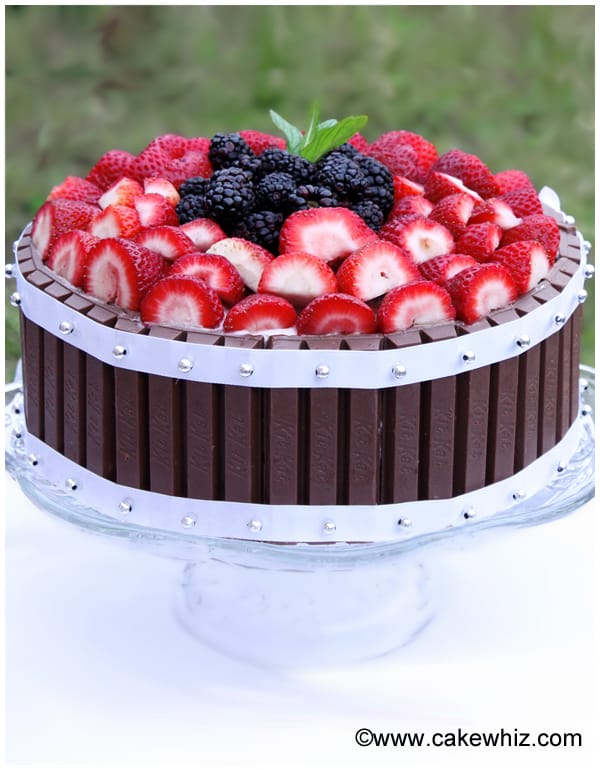 You are not only limited to a chocolate cake with Kit Kat border.
You can use different chocolate bars around the cake like Twix or Snickers or Mars bars.
It's a cool cake. So, have FUN with it!
Other Kit Kat Cake Ideas:
Instead of berries, use m&m candies to make a m&m Kit Kat cake.
Replace berries with Easter egg candies to make Easter Kit Kat cake.
I used regular milk chocolate Kit Kats but you can also make a white Kit Kat cake.
Make some fondant pigs and add them on top of the cake with some messy chocolate frosting to make a fun pig Kit Kat cake.
Instead of chocolate cake, you can chill ice cream in a circle pan and stick Kit Kats all around it to make an ice cream Kit Kat cake.
How to make Kit Kat cake?
Frost a cake with buttercream icing and stick Kit Kats all around it. Tie a ribbon around it to hold the candy bars together. Arrange the fresh fruits on top of the cake and enjoy!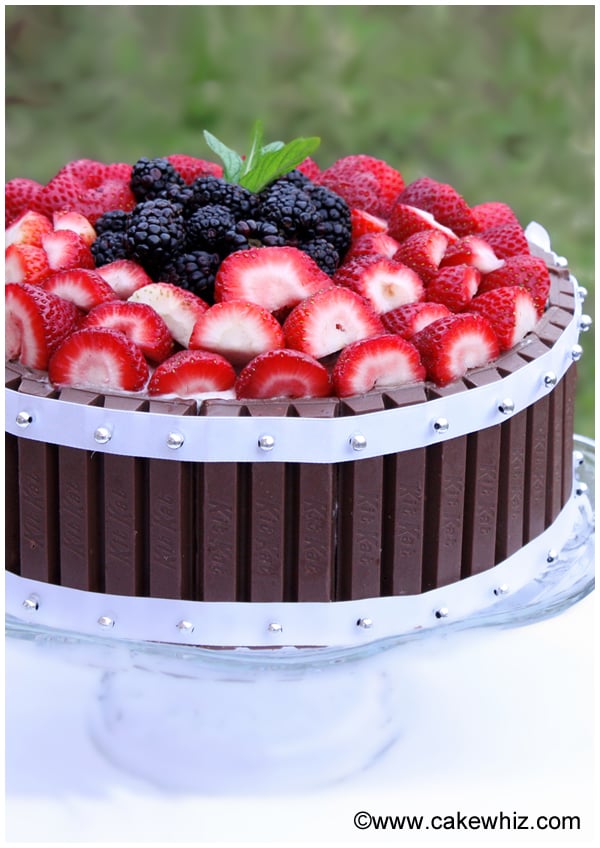 Other strawberry recipes:
Strawberry Buttercream Frosting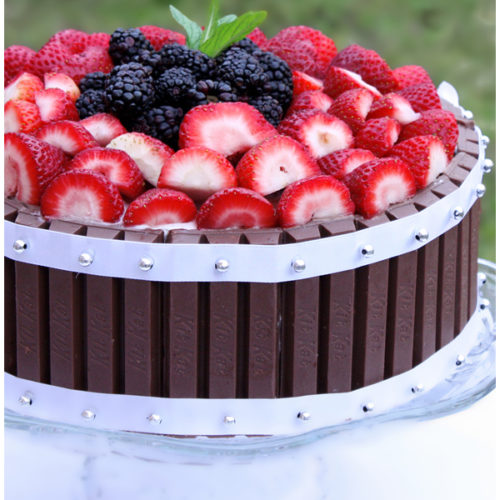 Kit Kat Cake
Quick and easy Kit Kat cake with strawberries, blackberries, requiring simple ingredients. This easy cake decorating idea is perfect for birthdays.
Yield: Slices
Ingredients
2 Chocolate cakes, Round, 8x2 each
25-30 Strawberries, Washed and sliced in half
15 Blackberries, washed
3-4 Mint leaves, Fresh
40 Kit Kats
Instructions
Bake 2 round chocolate cakes. Let them cool down and then cut off the dome.

Place one cake on a

cake stand

and frost the top with chocolate buttercream icing.

Then, place the other cake on top of the icing and press gently so the two cakes stick together.

Frost your entire cake in chocolate buttercream icing.

Unwrap all of your Kit-Kat bars and start sticking them around your cake. The frosting acts like glue.

To hold all the Kit-Kats in place, tie two ribbons around them for extra support.

Wash your strawberries and blackberries and pat them dry with a paper towel.

Cut your strawberries lengthwise and place them on a paper towel so that all those juices can get absorbed. The last thing you need is drippy strawberries… it can make your cake so soft and "mushy."

Arrange the strawberries in a circular pattern on top of the cake. Place the blackberries in the center. Top it all off with few mint leaves. Enjoy!
Notes
If you are not using a cake stand, make sure your cake is sitting on a very sturdy cake board since this cake will get heavy.
Since this cake is covered in fruits, I highly advise you to keep it in the refrigerator until you are ready to serve.
Nutrition
Calories: 1693kcal, Carbohydrates: 292g, Protein: 14g, Fat: 53g, Saturated Fat: 32g, Cholesterol: 20mg, Sodium: 1274mg, Potassium: 517mg, Fiber: 4g, Sugar: 217g, Vitamin A: 270IU, Vitamin C: 25.2mg, Calcium: 528mg, Iron: 4.2mg
Well, that's all for today.
Until next time, tata my lovelies!