Homemade Ice Cream Sandwich
Classic, homemade, quick and easy ice cream sandwich recipe, made with simple ingredients. Fun to make with kids. Great for birthday parties!
*This simple recipe for ice cream sandwich is sponsored by Kellogg's. All opinions are my own.*
This is probably the only sandwich that no kid will ever refuse. They can be enjoyed as a dessert or snack and you can get super creative with the add-ins and the coatings on the sides. I feel like this is the easiest recipe and requires the most basic ingredients that everyone has in their pantries. It's simple enough for even kids to help out, which is always awesome.
Also known as a cookie ice cream sandwich!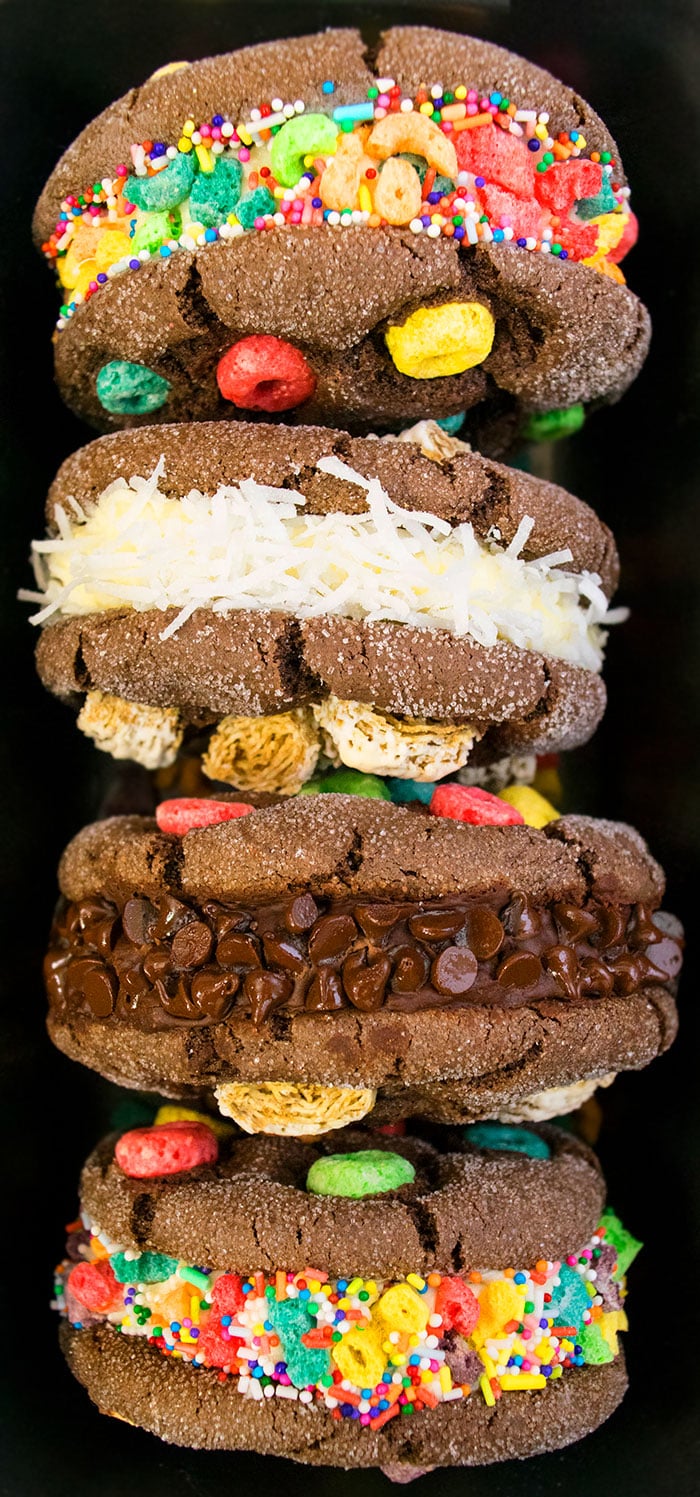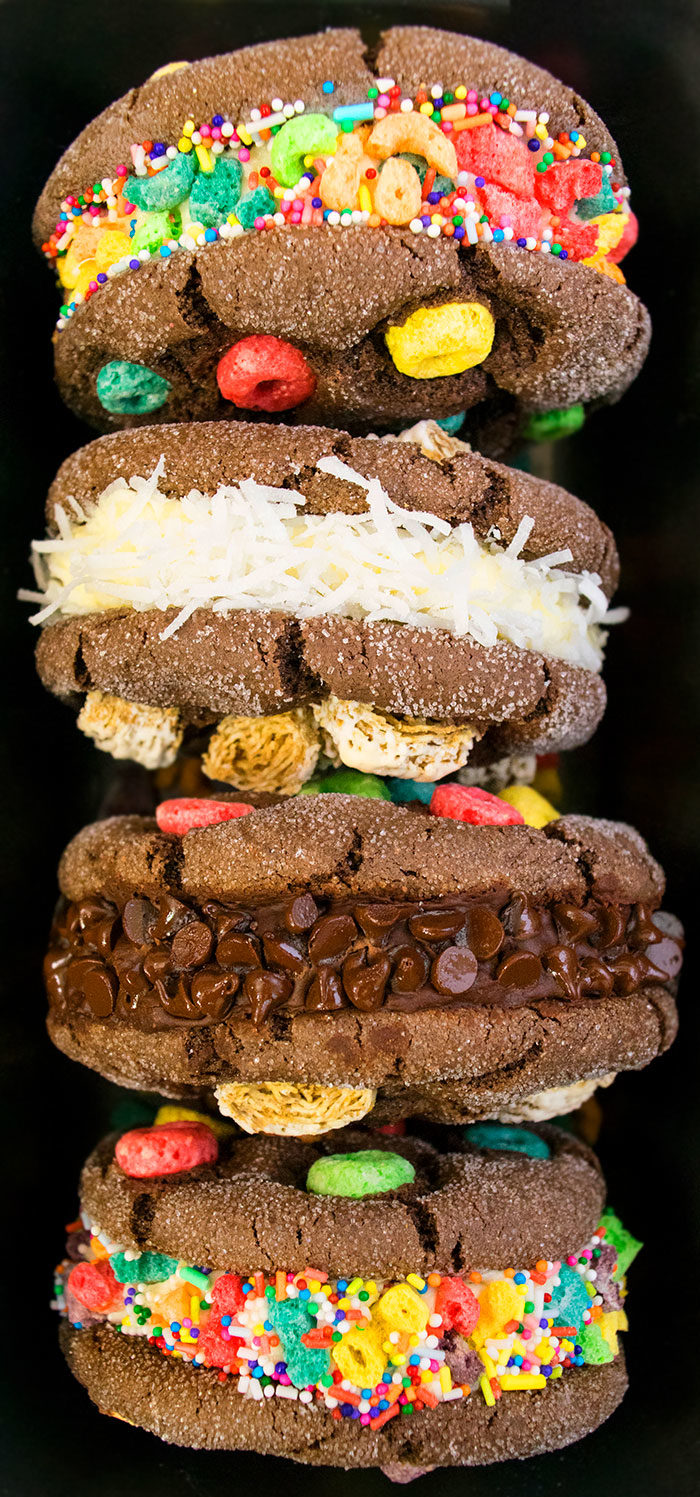 What is in an ice cream sandwich?
It's a frozen dessert that consists of ice cream, sandwiched between two cookies. Typically, vanilla ice cream and chocolate cookies are used but you can get as creative as you like.
How do you make classic ice cream sandwiches? How to make homemade ice cream sandwiches?
Mix together eggs, oil, cake mix, baking powder.
Chill dough.
Make cookie dough balls and roll them in sugar and stick cereal on top.
Bake and fully cool the cookies.
Top off a cookie with a scoop of ice cream and stick another cookie on top.
Roll the sides in sprinkles, crushed Kellogg's cereal or coconut and you are done.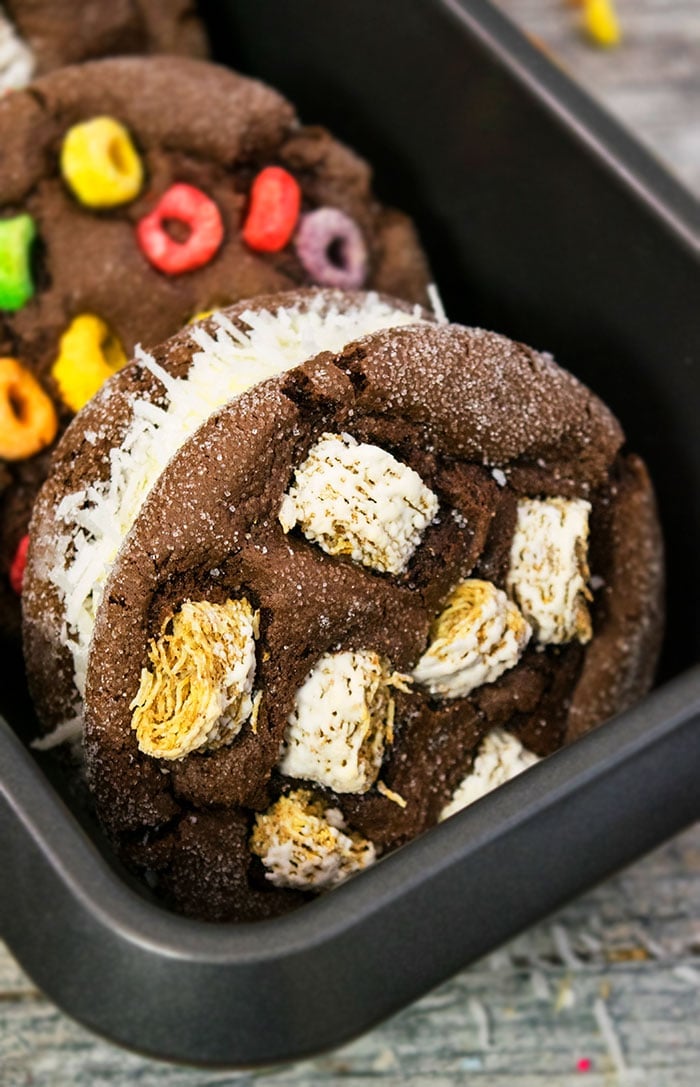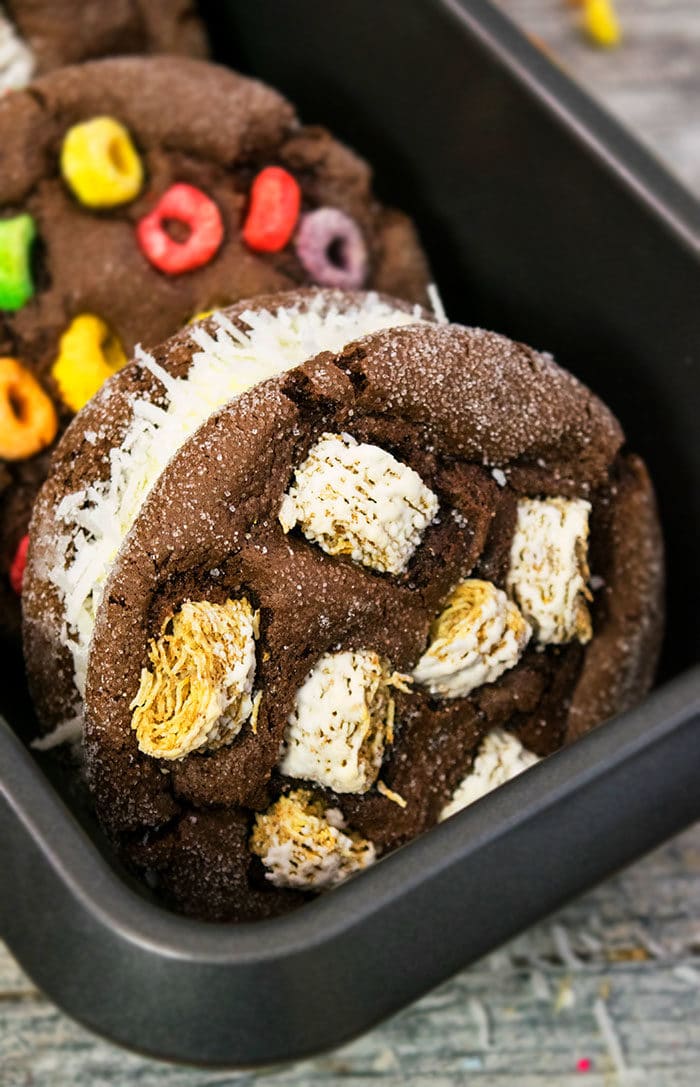 Tips and variations for this ice cream sandwich dessert
All ingredients must be at room temperature so that they blend together smoothly and evenly.
Don't replace oil with butter since the texture of the cookie becomes very dense.
Chilling is important because it makes it easier to handle the dough. Furthermore, it prevents the cookies from spreading too much while baking.
Rolling in granulated sugar is optional but it makes these cookies soft and chewy on the inside and crispy and crackly on the outside, which is delicious!
Any brand of cake mix can be used as well as any flavor. You can even use your favorite homemade cookie recipe and stick cereal in them, prior to baking.
Typically, vanilla ice cream is used in these dessert sandwiches but you can use whatever flavor you like.
Cookies must cool down completely before you fill them with ice cream or else ice cream will melt and start dripping everywhere.
You can use a variety of ingredients to coat the sides such as: sprinkles, nuts, roughly chopped candies e.t.c.
To make ice cream sandwich cake, stack the sandwiches in a tower formation and sprinkle candies and sprinkles all over the cake. This would be perfect for kids birthdays!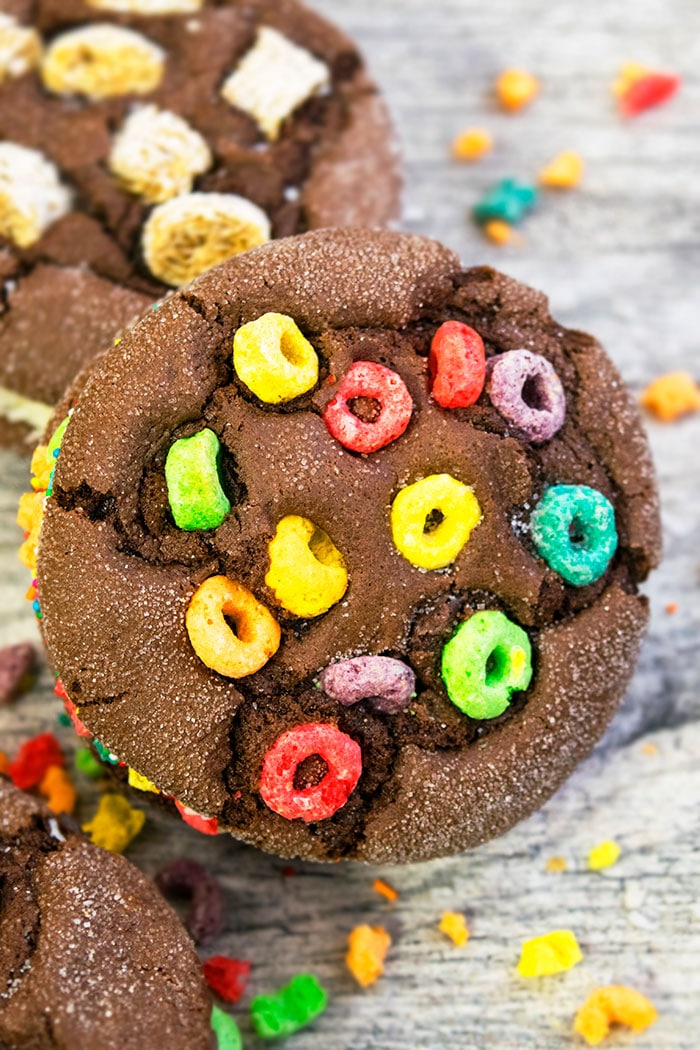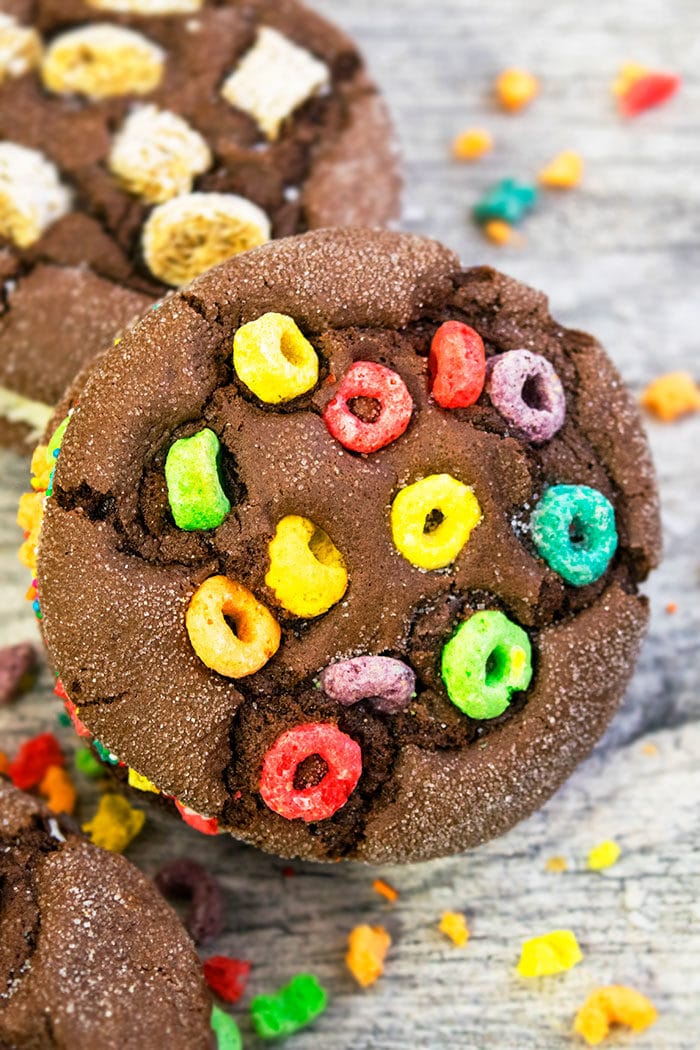 I got a little creative and used Kellogg's Froot Loops and Frosted Mini Wheats from Sam's Club in the cookies to make them more fun and my son loved them! He has already asked me to make them for his friends at his next play date. Who says you can only enjoy cereal for breakfast? Right?! There are so many different, shapes, colors, flavors that the possibilities of using them in desserts are endless.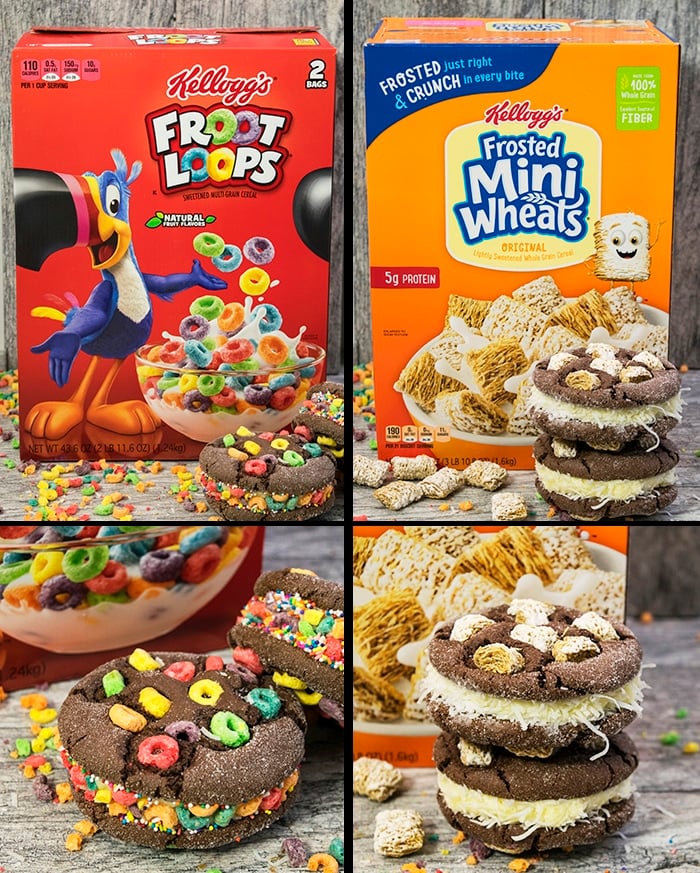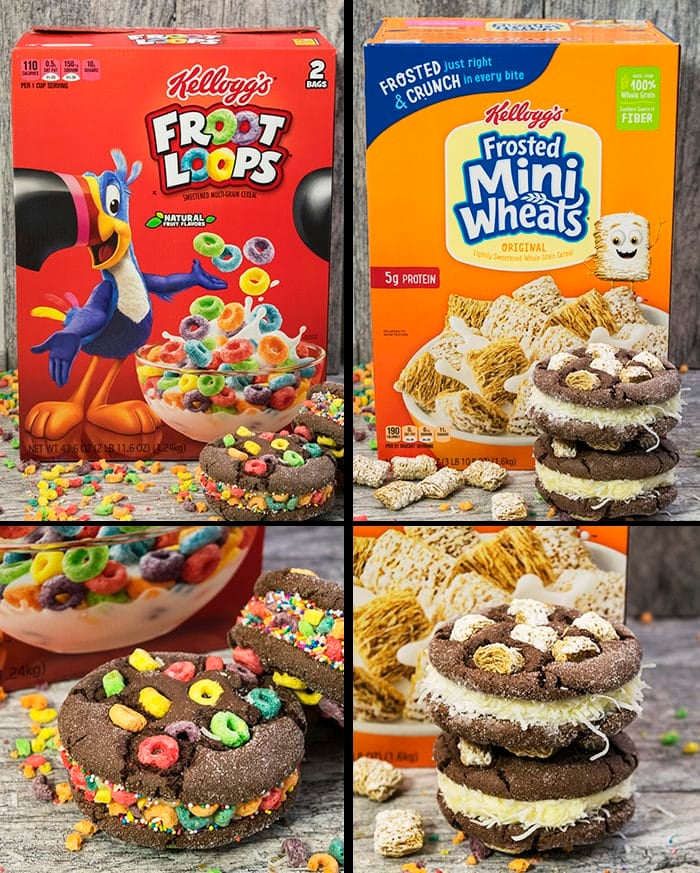 Other Ice Cream Recipes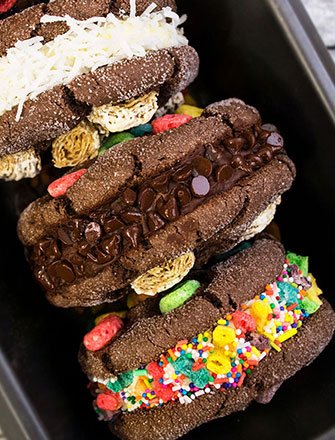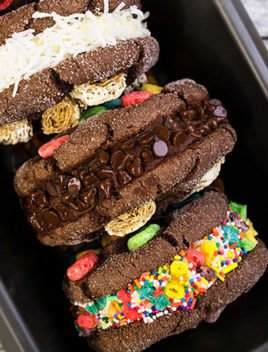 Ice Cream Sandwich Recipe
Classic, homemade, quick and easy ice cream sandwich recipe, made with simple ingredients. Fun to make with kids. Great for birthday parties!
Yield: Big sandwiches
Ingredients
2 Eggs, Large
1/3 cup Oil
1 box Chocolate cake mix
1 tsp Baking powder
1 cup Granulated sugar, For rolling cookie dough balls, Optional
1/2 cup Froot Loops cereal
1/2 cup Frosted Mini Wheats cereal, Cut them into half
Filling and Decoration
3 cups Vanilla ice cream
1/2 cup Froot Loops cereal, Roughly crushed
1/2 cup Sprinkles
1/2 cup Shredded coconut
Instructions
Add cake mix, baking powder and mix until just combined.

Chill dough for 30 minutes so that it's easier to handle.

Scoop out small portions of the dough and make balls. 

Roll them in a bowl of sugar and place them on a cookie tray, lined with parchment paper.

Push Froot Loops on half the cookies and Frosted Mini Wheats on the other half.

Bake at 350 degrees for about 15 minutes or until edges are firm.

Allow the cookies to cool down completely.

Then, turn over one cookie and place a scoop of ice cream. Place another cookie on top and press gently to stick it together.

Roll the sides of Froot Loops cookies in crushed cereal and sprinkles. Roll the sides of the Frosted Mini Wheat cookies in shredded coconut. Enjoy!
Notes
Read all my tips above.
Leftovers can be stored in a sealed container in the freezer for up to 3 days. Let them sit at room temperature for 10 minutes to soften slightly and enjoy. 
Nutrition
Calories: 981kcal, Carbohydrates: 146g, Protein: 10g, Fat: 43g, Saturated Fat: 13g, Cholesterol: 100mg, Sodium: 852mg, Potassium: 598mg, Fiber: 3g, Sugar: 110g, Vitamin A: 530IU, Vitamin C: 3.5mg, Calcium: 284mg, Iron: 5.4mg
Until next time, tata my lovelies!