Homemade Apple Pie Filling
Learn how to make quick and easy homemade apple pie filling recipe from scratch on the stovetop. Made with simple ingredients and ready in just 30 minutes.
This is my Grandma's HOMEMADE apple pie filling recipe and I have even used it in this Apple Pie Cake. This filling also FREEZES very well, meaning you can store any LEFTOVERS and enjoy it whenever the cravings hit!
Canning apple pie filling/ Canned apple pie filling
This was something my Grandma loved to do with this recipe.
Sterilize the canning jars and lids in boiling water.
Pour the cooked filling in these jars, leaving half inch space on top.
Gently remove air bubbles by tapping the jar gently.
Screw on lids and process in water bath canner for 20 minutes.
How to make apple pie filling on the stove? How do you make a pie filling?
The process is very SIMPLE.
First, toss the apples and lemon together and keep it aside.
Heat up a mixture of water, cornstarch, sugar and spices in a saucepan over medium high heat.
Then, you add those apples and cook for about 15 minutes until thick.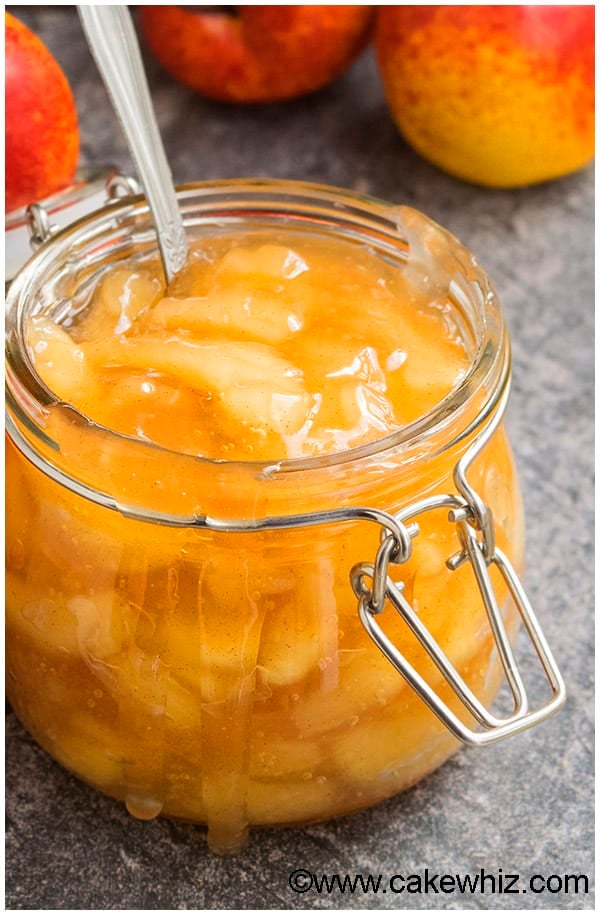 You can use homemade apple pie filling for:
Cake filling
Cupcake filling
Turnovers
Strudels
Cobblers
Apple crisp
Cookies
Dump cakes
Ice cream topping
Freezer apple pie filling- Can you freeze homemade apple pie filling? How to freeze apple pie filling?
Making a large batch of this filling to freeze is a great idea! Yes, you can freeze it for up to 3 months. Once your filling has cooled down completely, pour the mixture into freezer Ziploc bags and freeze. When you are ready to use it, just place the freezer bag on your countertop and let it come down to room temperature naturally OR you can leave the bag in the fridge overnight.
Best apple pie filling
Among all the variations I have tried, I think this one is the best. It's quick, easy, requires simple ingredients, can be canned or frozen and has the perfect spiced flavors.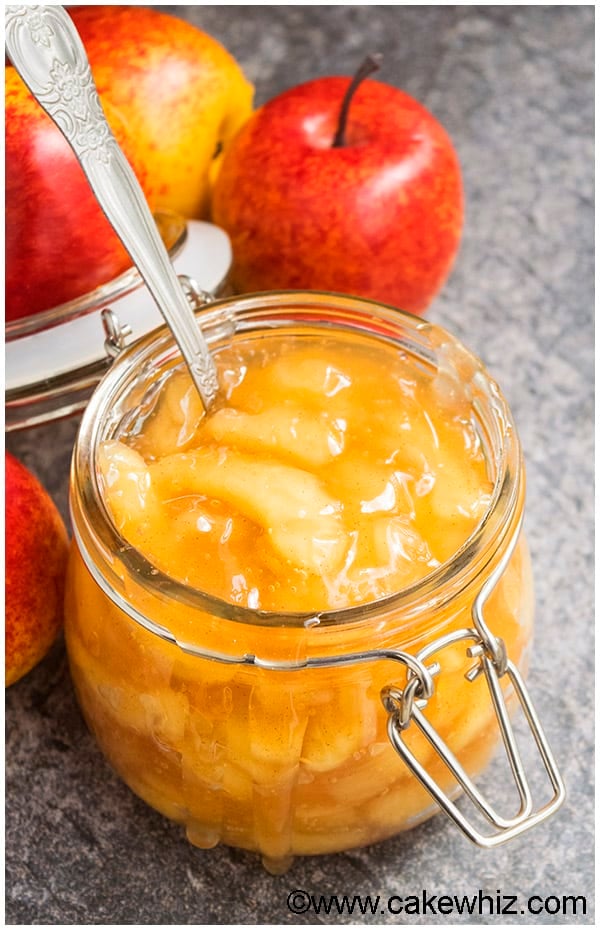 How to thicken apple pie filling? How do you make apple filling thick?
I like to use cornstarch to thicken the filling but people have their own preferences. I have seen recipes with tapioca, flour, gelatin, instant ClearJel and even pie filling enhancer. Cornstarch is just easily available at our homes and at stores too.
How to sweeten apple pie filling?
I like to make it with brown sugar and granulated sugar together. However, you can sweeten it with honey, maple syrup, corn syrup or artificial sweeteners.
What apples to use for apple pie filling?
I like to use Granny Smith apples since their texture and flavor is great in desserts but you can use whatever type of apples you like.
How do you make a homemade apple pie?
Line a pie pan with pie crust.
Fill it will this homemade pie filling.
Cover the top with another layer or pie crust.
Bake until crust is fully cooked and enjoy.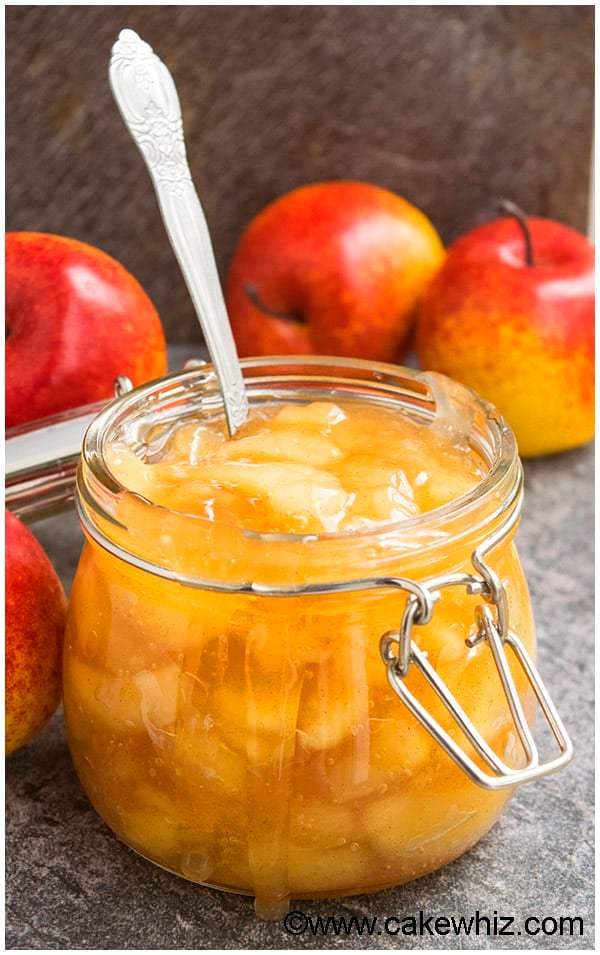 TIPS for making stovetop apple pie filling:
DON'T skip the cornstarch because apple pie filling without cornstarch is very thin and does not have the correct consistency.
To PREVENT apples from turning brown, mix together lemon juice and apples and let it sit for 10 minutes.
ADJUST the quantities of spices, based on your preference.
DON'T replace granulated sugar for brown sugar or vice versa. Both sugars are required for the perfect sweetness.
DON'T overcook the apples or else they will become soft and "mushy."
You can REPLACE apples with pears and make pear pie filling.
Leftovers can be stored in a sealed container in the fridge for up to 1 week.
Other apple recipes
Other pie filling recipes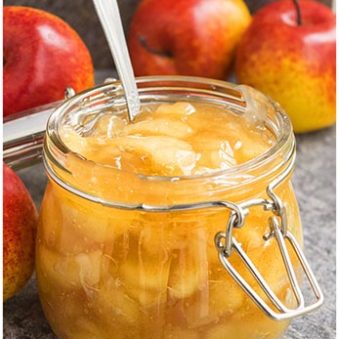 Homemade Apple Pie Filling
Learn how to make quick and easy homemade apple pie filling recipe from scratch on the stovetop. Made with simple ingredients and ready in just 30 minutes.

Yield: cups
Ingredients
6 cups Apples, cored, peeled and roughly sliced
2 cups Water
1 tbsp Lemon juice
1/2 cup Granulated Sugar
1/2 cup Brown sugar
1/4 cup Cornstarch
3/4 tsp Cinnamon powder
1/4 tsp Nutmeg powder, Optional
1/8 tsp Allspice powder, Optional
Instructions
In a deep bowl, mix together the apples and lemon juice and keep aside. This prevents them from turning brown.

In a saucepan, add water, cornstarch, brown sugar, granulated sugar, cinnamon, nutmeg, allspice.

Cook on medium heat and bring to a boil, while constantly mixing (or else you will end up with lumps).

Add the apples and bring to a boil again.

Lower the heat and let it simmer for about 15 minutes. Your apples should be soft but not "mushy."

Turn off the heat and allow the filling to cool down completely. It will thicken as it cools down.

Pour this mixture into jars with sealed tops and refrigerate for up 1 week.

If you are freezing this filling, pour it into freezer bags once it fully cools down. Seal it properly and freeze up to 3 months. Enjoy!
Nutrition
Calories: 316kcal, Carbohydrates: 81g, Sodium: 161mg, Potassium: 203mg, Fiber: 4g, Sugar: 68g, Vitamin A: 85IU, Vitamin C: 8.7mg, Calcium: 42mg, Iron: 0.4mg
Until next time, tata my lovelies!