Easy Homemade Apple Pie Recipe
Classic, old fashioned, easy apple pie recipe from scratch, requiring simple ingredients. It has a buttery flaky pie crust and a homemade apple pie filling.
Thanksgiving just won't be the same without this perfect apple pie! It's truly a classic just like this Easy Pecan Pie Recipe or this Easy French Silk Pie. If you have ever been scared of making your own pie, you can be at ease now with this version.
My Mom's easy and simple apple pie recipe is the best!

How to make apple pie? How do you make homemade apple pie? How do you make the best apple pie?
Prepare the pie crust and spread it in a pie dish.
Fill it with an apple mixture composed of apples, cinnamon, nutmeg, lemon juice, sugar, cornstarch.
Top it off with cubed butter.
Cover with pie crust and trim and crimp the edges.
Bake, let it cool down completely and you are done.
Best apples for apple pie
Granny Smith, McIntosh, Honeycrisp, Golden Delicious, Gala apples are best. Use a combination of them, if you like.
Homemade apple pie filling recipe
It's very easy and made by cooking apples, sugar, cornstarch, cinnamon, water together until thick.
Dutch apple pie
This is different than the classic version because it has a pie crust base that's filled with an apple filling and topped off with a crumbly streusel topping instead of a pie crust.
Apple crumble pie/ Apple crumb pie/Crumb topping for apple pie
That is the Dutch version. That's made by combining together flour, butter, sugar, cinnamon and some nuts (optional) into a crumbly mixture. It's spread on top of the pie, prior to baking instead of a pie crust to create a delicious crumbly topping.
Cinnamon roll apple pie
Make a cinnamon roll pie crust by rolling store bought cinnamon roll dough very thin and using that in this recipe instead of a regular pie crust.

Mini apple pies
You can use mini round pie pans OR you can make the pies in mason jar lids or even make them in a cupcake pan.
Apple slab pie
This version is usually made in a shallow pan like a cookie tray.
Apple pie bars
Make this pie in an oven-safe rectangle dish and when it cools down, cut it into bars.
Caramel apple pie
You can check out my no bake Easy Caramel Apple Pie Recipe OR you can make this pie below and drizzle thick caramel sauce, prior to serving.
Apple pie crust
You can use store-bought pie crust or make it from scratch. It's simple and made by combining together, flour, butter, sugar and water.
Apple cranberry pie
Add 1/3 cup fresh cranberries in this recipe to give it a little tartness.

Tips for apple pie recipe from scratch:
Use glass pie pans or dull metal pie pans because dark pans absorb a lot of heat while baking and lead to too much browning. I usually use foil trays because they are easier to take over to family and friends.
To prevent the crust from burning or over-browning, cover the edges with strips of aluminum foil halfway through baking.
Brush the crust with egg wash before baking and this will ensure that nice deep golden-brown color.
Use unsalted butter to prevent the pie from becoming too salty.
Store-bought crust or homemade pie crust can be used.
Store- bought or homemade pie fillings can be used.
You must cut slits on top of the pie crust to vent the steam.
You can do a lattice top or any other design on top of the pie with pie crust. I did not do that since I was going for a classic appearance.
I used store-bought pie crust today because it's just so much easier but I have provided my family's crust recipe too.

Other Pie Recipes
Other Pie Fillings
Other Apple Recipes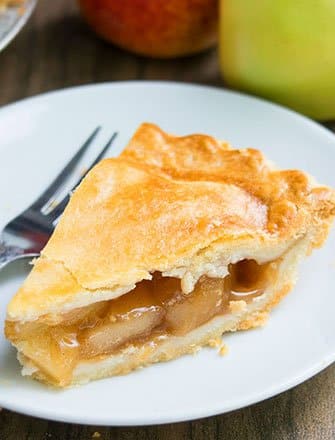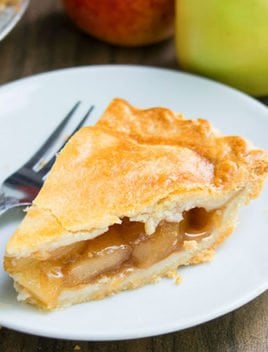 Easy Apple Pie Recipe
Classic, old fashioned, easy apple pie recipe from scratch, requiring simple ingredients. It has a perfect flaky pie crust and a homemade apple pie filling.
Yield: Servings
Instructions
Pie Crust
Add flour, sugar, salt, cinnamon, nutmeg in a food processor and pulse to mix everything together.

Add butter in the food processor and pulse a few times until pieces of butter are very small (almost the size of a pea).

Add 6 tbsp of very cold water and pulse again. Add additional 1 tbsp water at a time, if necessary, until dough just begins to hold together and is not too sticky.

Transfer the dough to a table and use your hands to form it into a ball. Don't over-mix or else the dough will become tough! You should be able to still see pieces of butter in the dough. That's normal and you need that!

Divide the ball into 2 portions and shape each portion into a flat disc. Wrap each disc in plastic wrap and refrigerate for 30-40 minutes.
Pie Filling
In a mixing bowl, add brown sugar, flour, cinnamon, nutmeg, ginger, lemon juice, apples and mix until fully coated. Keep aside.
Assembling
Remove your dough from the fridge and let it sit at room temperature for about 10 minutes so that it becomes a bit soft and easy to roll.

Roll dough to about 1/8 inch thickness. If dough is sticking to the table or rolling pin, sprinkle some flour to make it easier.

Roll the crust on the rolling pin and unroll it over the pie dish. Spread it out and press it firmly along the sides of and bottom. Trim off excess dough from sides.

Spread the apple mixture on top of this crust.

Place cubed butter on top of the apples.

Roll out the second pie crust over the filling. Trim off excess and and press/crimp all around the edges to seal the crust.

Make a few slits on top to vent the steam, while baking.

Brush with egg wash to ensure a wonderful golden brown color.

Bake at 375 degrees fo for about 50 minutes or until crust is golden brown and apples are tender and filling is bubbly.

Tip: Cover edge of the crust with strips of aluminum foil after the first 20 minutes of baking to prevent excessive browning.

Allow the pie to cool down completely before slicing. Enjoy!
Notes
Read all my tips above.
Tastes best when served fresh but leftovers can be stored in a sealed container in the fridge for up to 2 days.
Nutrition
Calories: 370kcal, Carbohydrates: 58g, Protein: 3g, Fat: 14g, Saturated Fat: 5g, Cholesterol: 28mg, Sodium: 201mg, Potassium: 219mg, Fiber: 4g, Sugar: 32g, Vitamin A: 220IU, Vitamin C: 6.8mg, Calcium: 38mg, Iron: 1.5mg
Until next time, tata my lovelies!