Easy Apple Cake Recipe With Cake Mix
Quick and easy apple cake recipe with crumble topping/ crumb toping. It's soft, moist, loaded with fresh apples, cinnamon and made with a cake mix.
This cake mix apple cake is a family favorite just like my Apple Pie Cake and this Old Fashioned Applesauce Cake.
Apple coffee cake
Because of the crumble topping, this cake is very similar to a coffee cake. You can add some cinnamon in the topping too.
Apple crumble cake/ Apple crumb cake
The crumb topping is made by combining together flour, sugar, coconut, butter into a rough, chunky mixture. That is sprinkled on top of the cake, prior to baking.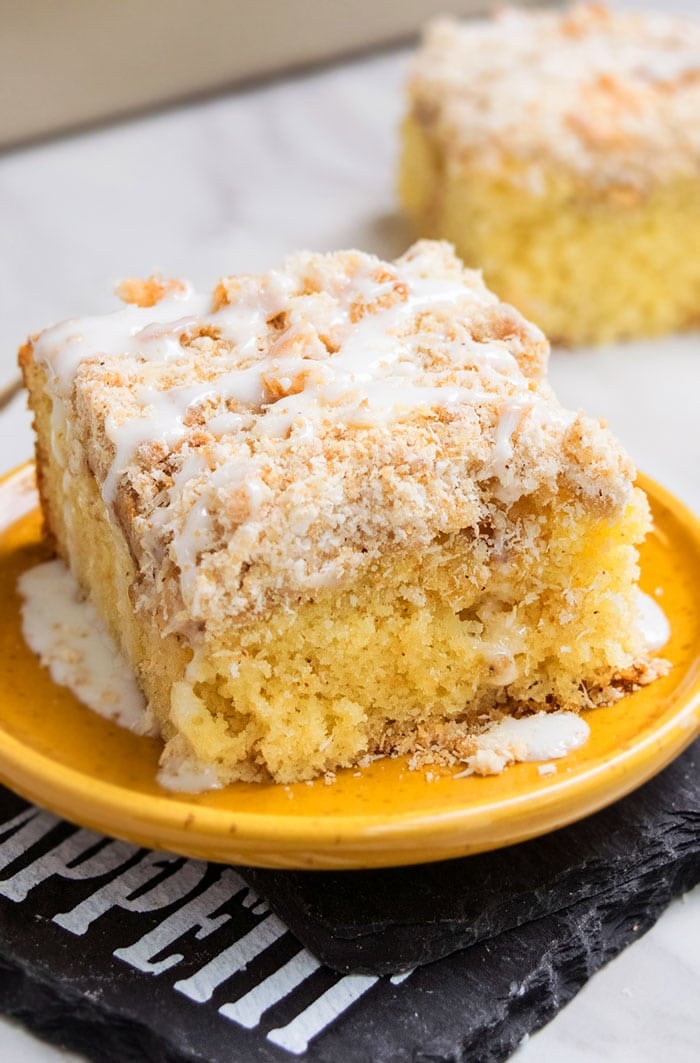 Apple spice cake
This cake is packed with nutmeg and cinnamon spices. You can add some allspice too. Make sure your spices are high quality for best flavor.
Fresh apple cake
You can use whatever type of fresh apples you like. I prefer red apples because they are sweet and not tart like the Granny Smith apples. You can also use a variety of apples, if you like.
Caramel apple cake
Drizzle caramel sauce on top of the cake, prior to serving.
Moist cake mix apple cake
You can use whatever brand of cake mix you like. As for flavor, I like to use a yellow cake mix but a spiced cake mix is also very good.
Even though this is not an apple cake recipe from scratch and starts off with a cake mix, it tastes just as good as my scratch recipe and takes even takes less time to prepare!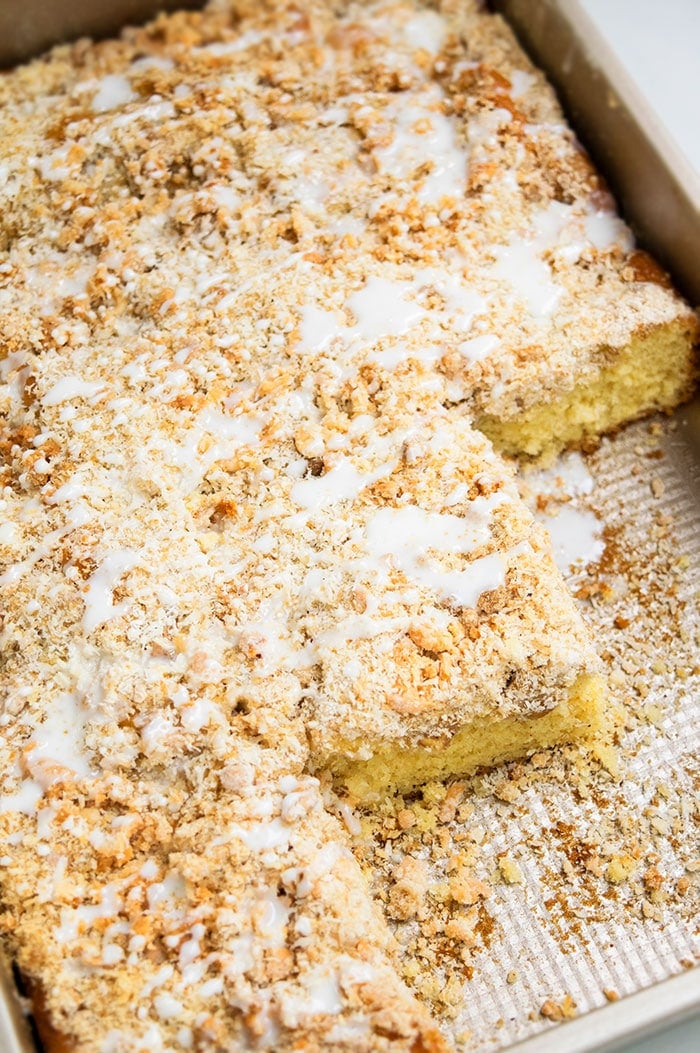 Variations of old fashioned apple cake:
There are many variations of this cake from different parts of the world and each of them is made slightly differently. Based on my research there is German apple cake, Dutch apple cake, French apple cake and even Jewish apple cake.
There is also an upside down apple cake. Use my pear cake (pear upside down cake recipe) and replace pears with apples.
There is also an apple dump cake recipe, which is made by mixing together cake mix, eggs and apple pie filling. It's typically served warm with a scoop of ice cream.
There is also an apple bundt cake, which has a firmer texture and it's not as airy as this version I have shared below.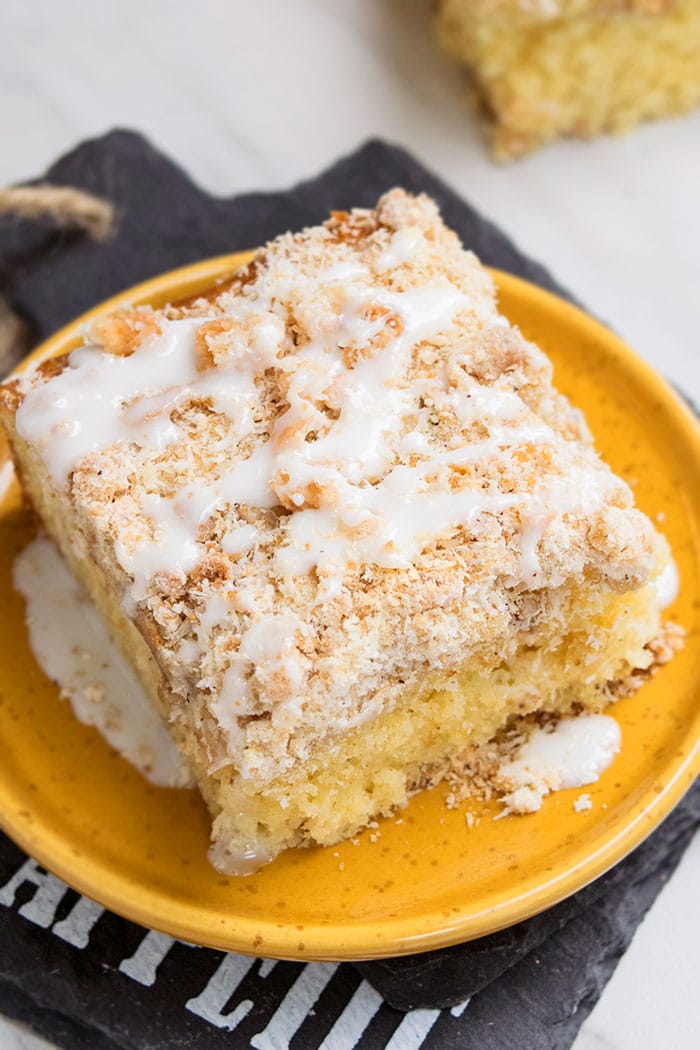 Tips for best apple cake:
The apples used in this recipe should not be chopped too big. They should be about 1 to 1.5 inches.
Don't use this cake batter in a bundt pan because it does not work well. You must use a rectangle pan.
Use unsalted butter to prevent the cake from becoming too salty.
Don't omit the crumble topping because that's what really takes this cake over the top.
Adjust the amount of spices, based on your preference.
Adjust the amount of apples, based on your preference. If you like a lot of apples, you can use up 6 apples in this recipe but I prefer 5.
Yellow cake mix can be replaced with spiced cake mix too.
You don't have to use all the sugar glaze on the cake. You can drizzle as much or as less as you like.
Don't drizzle the glaze until the cake has cooled down completely or else it will melt and become a sticky mess.
Other Apple Recipes:
Other doctored cake mix recipes: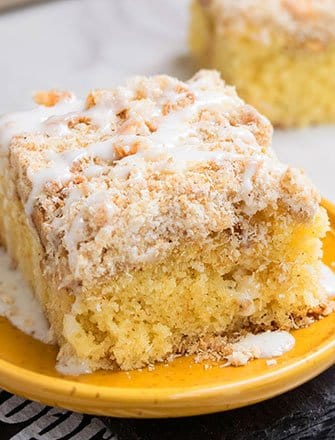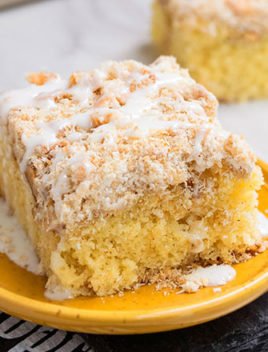 Apple Cake Recipe With Cake Mix
Quick and easy apple cake recipe with crumble topping/ crumb toping. It's soft, moist, loaded with fresh apples, cinnamon and made with a cake mix.
Yield: Slices
Ingredients
4 Eggs, Large
1 cup Water
1/2 cup Milk, 2% or Whole
1/3 cup Oil
1 box Yellow cake mix, Any brand is fine
5 Apples, Washed, Peeled, Cored, Roughly chopped into 1.5 inch pieces
3 tbsp Brown sugar
1 tsp Cinnamon powder
1/2 tsp Nutmeg powder
1 tbsp Lemon juice
Topping
3/4 cup All-purpose flour
1/3 cup Coconut, Desiccated or Shredded
1/2 cup Brown sugar
1/2 cup Butter, Unsalted, Cut into small pieces
Sugar Glaze
1 cup Powdered sugar
2-3 tbsp Milk, 2% or Whole
1 tsp Vanilla extract
Instructions
In a mixing bowl, add eggs, water, milk, oil and mix everything until smooth.

Add cake mix powder and mix until just combined. There might be some lumps but don't worry about them and don't over-mix!

Pour about 3/4 of the batter batter in a greased and floured rectangle cake pan (Dimension: 9x13).

In another mixing bowl, add apples, brown sugar, cinnamon, nutmeg, lemon juice and mix until apples are fully coated.

Spread these apples on top of the cake batter.

Pour the remaining cake batter on top. It won't fully cover the apples and that's perfectly fine.

In another bowl, make the topping by mixing together together the flour, coconut, brown sugar, butter with a fork until you have a crumbly mixture.

Sprinkle this topping over the apples and cake batter.

Bake at 350 degrees for about 45 minutes or until an inserted toothpick in the center comes out clean.

Let it cool down completely.

While the cake is cooling prepare the sugar glaze by whisking together powdered sugar, milk and vanilla extract until it's smooth and perfect for drizzling. If you want the drizzle thinner, add more milk. If you want it thicker, add more powdered sugar.

Drizzle the glaze on top of the cake and enjoy.
Notes
Read all my tips above.
Leftovers can be stored in a sealed container in the fridge for up to 3 days. 
Nutrition
Calories: 473kcal, Carbohydrates: 75g, Protein: 5g, Fat: 17g, Saturated Fat: 7g, Cholesterol: 76mg, Sodium: 413mg, Potassium: 170mg, Fiber: 2g, Sugar: 49g, Vitamin A: 375IU, Vitamin C: 4mg, Calcium: 134mg, Iron: 1.8mg
Until next time, tata my lovelies!