Chocolate Snowflake Cake
Use this cake decorating tutorial to make a quick and easy snowflake cake with simple ingredients and supplies. Perfect Winter cake or birthday cake.
With this super chilly weather, I was inspired to make this QUICK and EASY snowflake cake.
After browsing lots of snowflake cake designs and ideas, I decided to keep this Winter cake very SIMPLE so that it does not take too long and even beginners cake make it.
Many of my friends like to use their snowflake shaped cake/ snowflake cake pan, which is also a great idea but those pans are expensive and I didn't want to spend money on something that I won't use that much.
This is a mini 5 inch round avocado marble cake, covered in light blue fluffy cooked flour buttercream (Ermine frosting) and sprinkled with shredded coconut. It's topped off with a SPARKLY chocolate snowflake.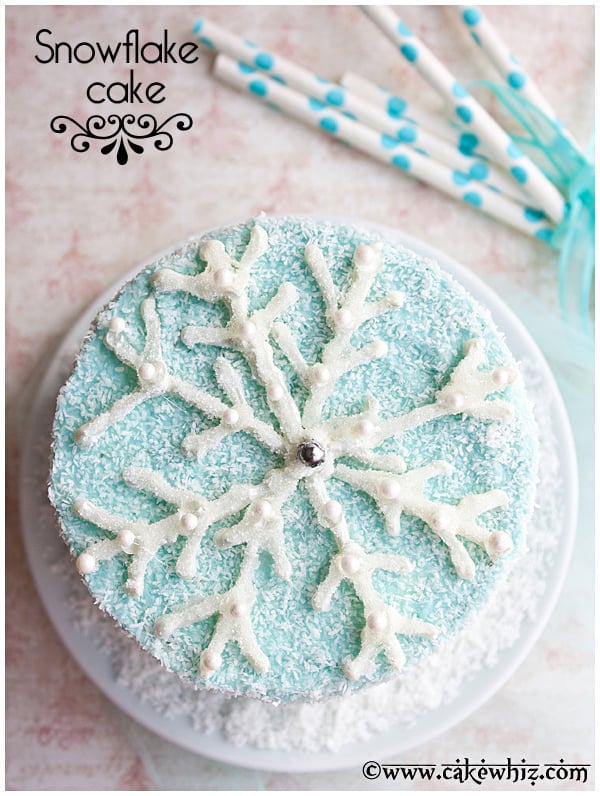 I made a blue cake but you can also make a pink snowflake cake, using pastel pink frosting and pink white chocolate. That would be PERFECT for girls birthday parties.
If your kids are a fan of the Frozen movie, use my instructions below to make a beautiful and easy Frozen snowflake cake/ snowflake birthday cake.
You can also make multiple chocolate snowflakes and stick them on a rectangle cake to make a snowflake sheet cake. That would easily serve a crowd at parties.
You can make MINI chocolate snowflakes and use them to make snowflake cake pops. Check out my post on how to make cake pops and cake balls.

How to make a snowflake cake?
Bake the cakes and let them cool down completely. Fill and frost them in light blue buttercream icing. Then, cover the entire cake in finely shredded coconut. Trace a snowflake pattern on a sheet of wax paper with melted white chocolate. Decorate it with edible sprays and edible pearls and and allow the chocolate to set. Then, remove the snowflake from wax paper and carefully, place it on top of the cake. Enjoy!
How to make snowflake cake decorations?
Here are some ideas:
Use melted white chocolate to make snowflake designs.
Use shredded coconut and edible white pearls and white sprinkles to create the illusions of snow.
Use white chocolate curls or shredded white chocolate.
Use light blue or white frosting on your cakes.
Use store-bought edible Winter sugar decorations.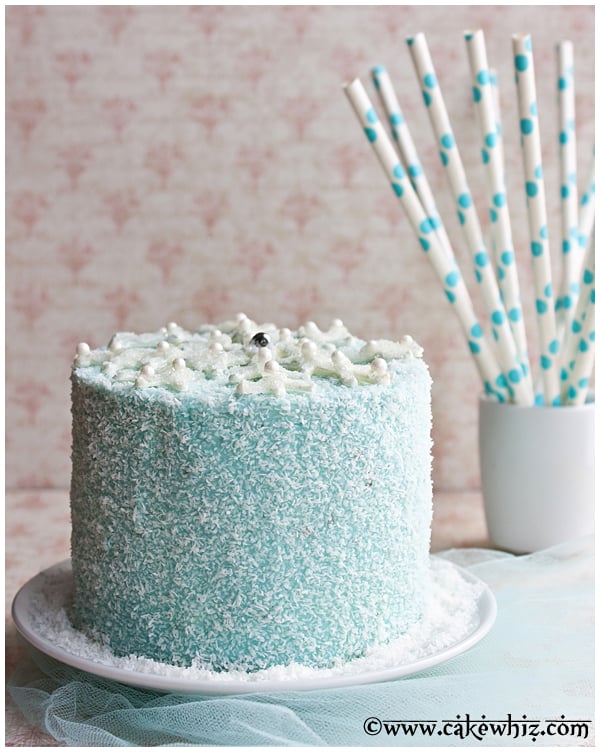 To make this snowflake cake topper, you will need the following SUPPLIES:
White chocolate
Piping bag
Sparkling sugar
Edible silver spray
Silver pearls
White pearls
Corn syrup
White paper
Wax paper or parchment paper
Tape
Pencil
Ruler
These are the INSTRUCTIONS:
Step 1:
Draw an outline of your round cake pan on a sheet of paper. This will ensure that your chocolate snowflake is the same size as your cake.
Step 2:
Use a pencil to draw a snowflake design inside the circle. This will be your snowflake template.
Step 3:
Place a sheet of wax paper on top of this paper template.
 Secure it in place with tape.
Step 4:
Fill a piping bag with melted white chocolate and outline this snowflake design. 
Make sure your piping is thick, which makes the chocolate snowflake strong and firm. This reduces the likelihood of it breaking when you remove it from the wax paper.
Step 5:
Sprinkle white sparkling sugar all over the snowflake before the chocolate hardens.
Step 6:
Place a silver edible pearl in the center.
Step 7:
Stick some white pearls randomly all over the snowflake.
Step 8:
Spray edible silver spray on the snowflake to give it a slight shimmer.
Step 9:
Allow the chocolate to completely set. Then, remove the tapes and GENTLY peel the snowflake away from the wax paper.
TIP:
If you place this snowflake in the freezer for 5 minutes, removing it from the wax paper becomes even easier.
Step 10:
Gently, place this chocolate snowflake topper on top of your cake. Enjoy!
Well, that's about it for today.
If you liked this blue Winter cake, you may like some of these other Winter desserts:
Until next time, tata my lovelies!