How to Make Modeling Chocolate
Learn how to make homemade modeling chocolate with 2 ingredients. It's quick, easy, cheap and also great for cake decorating. Great alternative to fondant.
The FIRST time I heard of modeling chocolate (also known as candy clay) was while watching Cake Boss.
Buddy was using it to make a tree and it looked SUPER COOL!
But, I never got around to trying it out until very recently…And I LOVE it!
It tastes so much better than fondant… just like TOOTSIE ROLLS.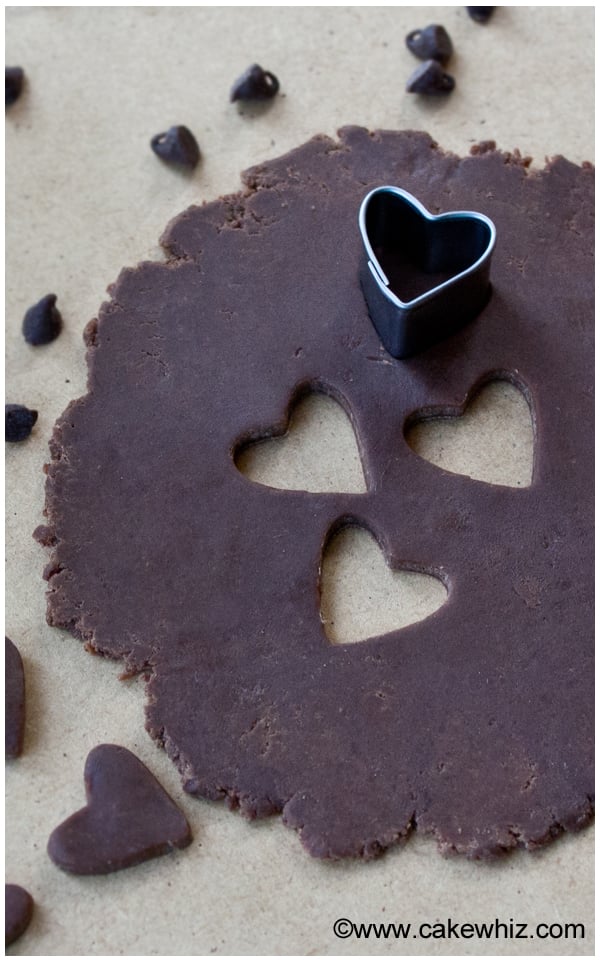 It's also very EASY to make and only requires TWO ingredients:
Chocolate
Corn syrup
You can use real chocolate (the best quality you can find) OR Wilton's candy melts to make modeling chocolate.
Personally, I prefer candy melts coz I can just use PRE-COLORED ones, which means there is NO need for me to mix in color.
That SAVES me a lot of time.
Here are some GREAT things about modeling chocolate:
It DOESN'T dry up like fondant when you leave it unattended.
You DON'T have to worry about covering it up immediately while doing your work…YAY!
You can use the warmth of your hands and fingers to BLEND any seams or tears.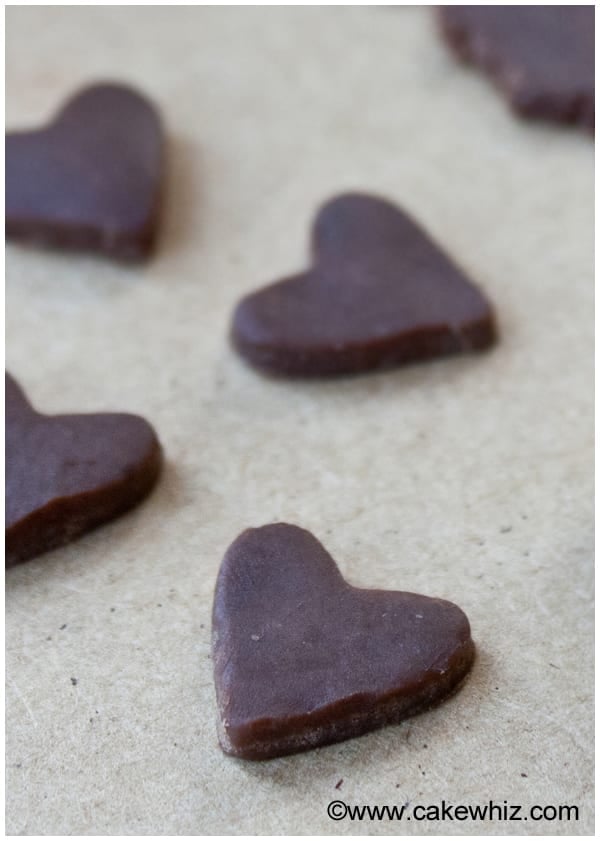 But, there are some DRAWBACKS too:
It's much heavier than fondant.
Your decorated cakes will be HEAVIER too!
You CAN'T use it to cover a cake entirely or at least I haven't been able to do that successfully because it tears.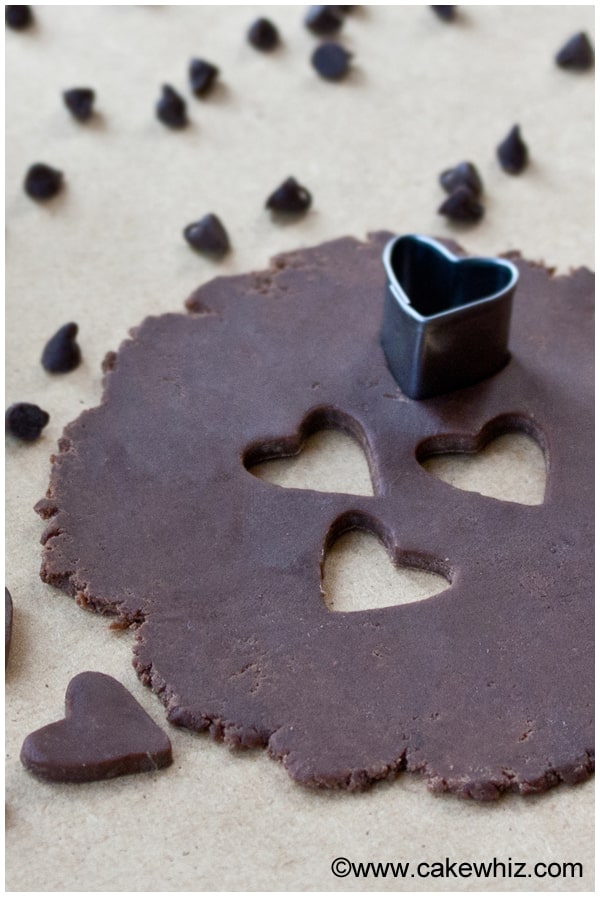 Here are some TIPS about working with modeling chocolate:
If you decide to make modeling chocolate with REAL chocolate, then use the following ingredients: 1 pound chocolate (the best baking chocolate you can find like Ghiradelli) and 1/2 cup light corn syrup.
The METHOD for making modeling chocolate is the SAME whether you use candy melts or real chocolate.
Different brands of chocolate have different fat content and that will cause your modeling chocolate to behave differently.
If your modeling chocolate is very crumbly and starts falling apart when you are kneading it, that means you should add more corn syrup next time.
If your modeling chocolate is too soft, you should add less corn syrup next time.
DO NOT knead modeling chocolate too much…only knead for about 10-15 seconds. OVER-KNEADING makes it very oily and crumbly and almost impossible to work with.
If you are using white chocolate to make modeling chocolate, you can use candy colors or fondant gel colors to tint it any shade you want.
To make modeling chocolate, you will need the following ingredients:
12 oz Wilton's candy melts
1/4 cup light corn syrup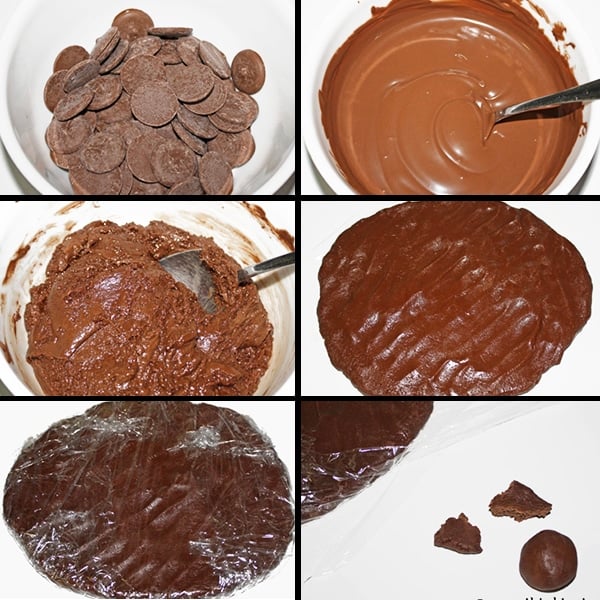 Here are the steps for making modeling chocolate:
Step 1:
Place candy melts in a microwave-safe bowl and start melting it at 15 second increments.
Step 2:
Make sure to take your bowl out of the microwave every 15 seconds and mix everything with a spoon.
Continue doing this until your chocolate is completely melted.

Before moving on to the next step, please make sure this chocolate is not too hot.
It should be slightly warm and if a drop of it was to touch your wrist, it should NOT hurt or burn.
Step 3:
Now, pour the corn syrup…
Step 4:
And mix until…
Step 5:
It's just blended.
Please DO NOT over-mix since it will start to break down and become very oily!!!!
Basically, it should look like a wet and messy blob just like this…
Step 6:
Pour this batter on a sheet of saran wrap and flatten it with your hands.
Step 7:
Let it come down to room temperature and then wrap it completely in saran wrap.
Keep it at room temperature overnight.
Step 8:
The next day, your modeling chocolate is ready to be used.
It's going to be hard…Modeling chocolate gets hard at room temperature.
But don't worry…you can make it soft again.
Step 9:
Take out small portions of modeling chocolate and knead them for 10-15 seconds.
The warmth of your hands and fingers will make it soft.
Roll it out and you are ready to decorate.
Use cookie cutters to cut out shapes OR use it to make flowers OR whatever else you like.
If you liked this post, you might also like some of these other posts:
Until next time, tata my lovelies!