How to Make a Gold Halva Cake
This beautiful golden chocolate halva cake has a rich halva filling and it's frosted in fluffy buttercream icing. Quick and easy to make and decorate!
A GRAND event like the Oscars needs an EQUALLY grand cake like my gold halva cake.
I DON'T really watch the Oscars for the awards…I could care less who wins what award in what specific category…lol.
All I like to do is GAWK at the COOL fashion!
I mean I wouldn't be caught dead wearing a lot of of those dresses but it's FUN to live vicariously through other people's fashion….hahaha.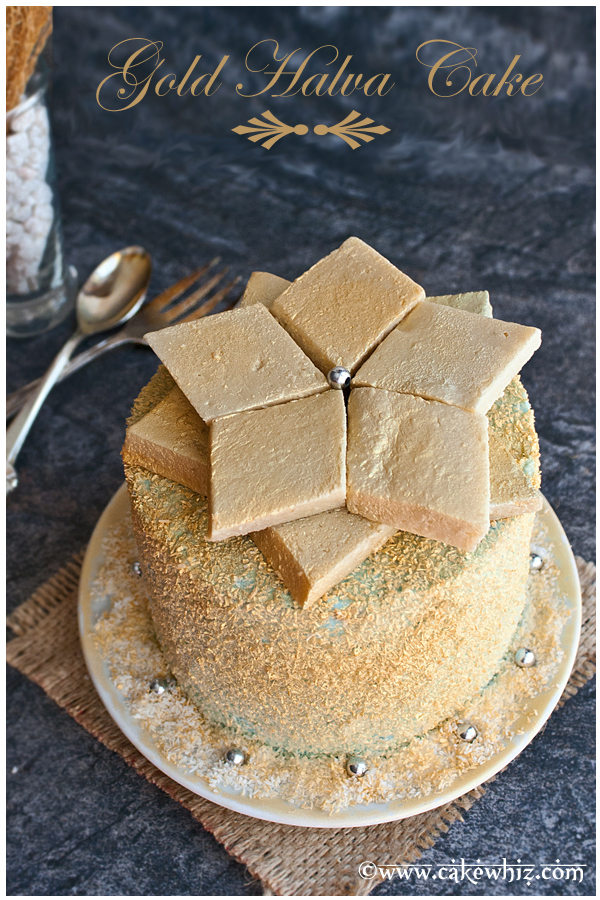 Now, I know most people snack on popcorns, cookies, chips and other such things while watching the Oscars. 
But, I decided to make this dark chocolate cake with halva filling, covered in luscious buttercream icing and some shredded coconut.
And finally, it's topped off with halva diamond pieces!
I used an Indian halva called "Kaju Katli" which can be be EASILY found at Indian bakeries. 
They are soft, sweet and made with cashew paste. 
What I LIKE the most is that bakeries usually cut them in these BEAUTIFUL diamond shapes.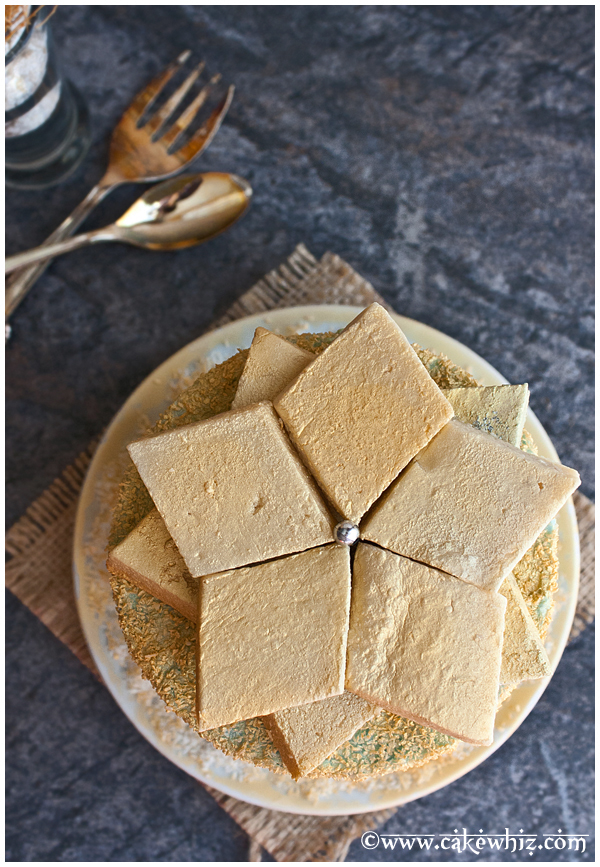 I personally find halva VERY sweet on its own but when I paired it with this dark chocolate cake, it DIDN'T feel that sweet.
The flavor combinations in this gold halva cake somehow worked better than I expected…YAY! 
Best of all, I sprayed this cake GOLDEN… Just like an Oscar award trophy.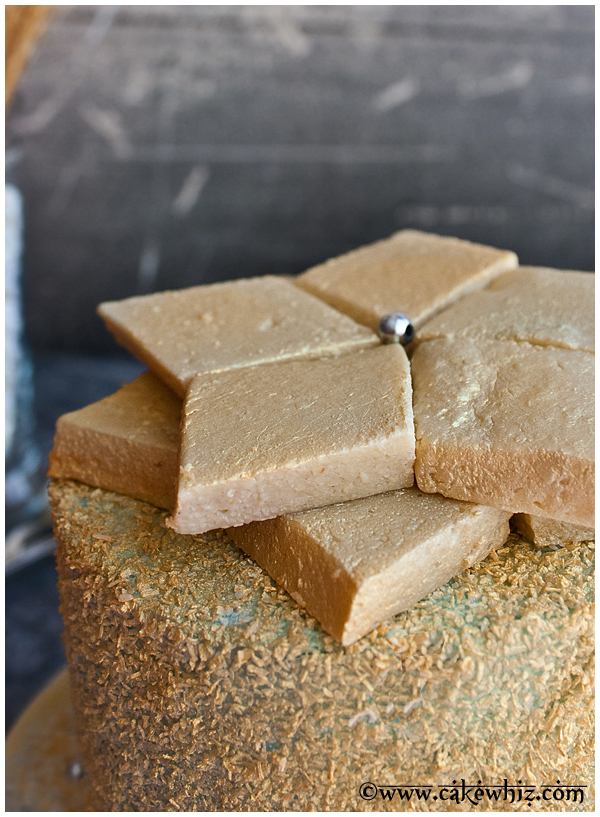 Here are some TIPS about this cake: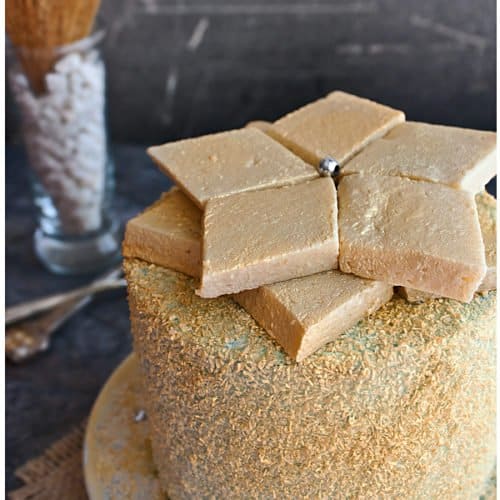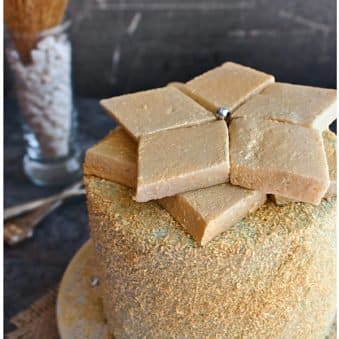 Gold Halva Cake
This beautiful golden chocolate halva cake has a rich halva filling and it's frosted in fluffy buttercream icing. Quick and easy to make and decorate!
Yield: Slices
Ingredients
Cake:
1 box Pillsbury chocolate cake mix, Get the box without pudding
1 cup Milk, Whole
4 Eggs, Large
½ cup Butter, Unsalted
1 tbsp Vanilla extract
1 snack pack Chocolate pudding, 3.25 oz
2 tbsp Cocoa powder, Unsweetened
Halva filling:
10 pieces Halva, I used "kaju katli" pieces that I got from an Indian bakery
¼ cup Heavy cream
Decoration:
1 cup Shredded coconut
Golden edible spray, I used Wilton's gold color mist
10 Halva pieces
1 tbsp Silver edible pearls
Instructions
In a deep bowl, add butter and eggs. Mix until they are combined.

Add the cake mix powder,

cocoa powder

, chocolate pudding, milk, vanilla extract. Mix until everything is combined properly.

Pour this batter into a greased/floured 8x2

round cake pan

. Bake at 350 degrees for 45 minutes or until an inserted toothpick comes out clean.

While your cake is baking, prepare the buttercream icing.
To prepare the halva filling:
Place the halva pieces in a deep bowl and mash them with the back of a spoon or use a mixer.

Add heavy cream... 1 tbsp at a time and mix until you have a thick and smooth consistency. Keep in mind that all bakeries have different recipes for their halvas. Some are soft and some are firmer. So, you may need to add more or less heavy cream to get the desired consistency.

After your cake has cooled down, cut it in half and fill in with the halva filling and place the other half of cake on top.

Cover your entire cake with buttercream icing and sprinkle some shredded coconut. I love coconut in cakes but you don't have to sprinkle it on your cake if your are not into it
To decorate this cake and make it golden, here are the steps:
Place your halva pieces on a sheet of paper towel. Spray it golden with golden edible spray.

Keep these aside at room temperature until the paint dries (takes about 10 minutes)

In the meantime, place your frosted and coconut covered cake on a turntable. Spray the entire cake with golden edible spray while rotating the cake.

Place your halva pieces on top of the cake in sort of a flower formation. Give your whole cake one final coating of that golden spray and let it dry (takes about 10 minutes).

Add a silver pearl in the center of the flower and toss a few more randomly around the base of the cake. Enjoy!
Notes
Since I was feeling a little lazy, I used my leftover light blue buttercream icing from a previous project and sprayed it golden. Honestly, don't use light blue colored icing! lol. To get the perfect golden color, use either white, ivory or light yellow colored icing.
Leftovers can be stored in a sealed container in the fridge for up to 3 days. 
Nutrition
Calories: 2258kcal, Carbohydrates: 304g, Protein: 30g, Fat: 107g, Saturated Fat: 58g, Cholesterol: 502mg, Sodium: 2124mg, Potassium: 577mg, Fiber: 3g, Sugar: 211g, Vitamin A: 2530IU, Calcium: 359mg, Iron: 12.4mg
Well, that's all for today.
Until next time, tata my lovelies!