Sauteed Cinnamon Apples {30 Mins}
The best old fashioned, classic, quick and easy cinnamon apples recipe, homemade with simple ingredients over stovetop in 30 minutes. Loaded with sugar, butter and cinnamon. Sweet & sticky! Also known as "cooked apples" or "sauteed apples."
Warm, sweet and spiced, these apples are such a simple and delicious comfort food, that if you haven't made them yet, you will wonder why you have waited this long! They are perfect on their own, but can also be used in many other desserts. If you are overflowing with apples this season and are looking for ways to use up a lot of apples, then make sure to try my Crockpot Apple Butter or Easy Apple Crumble Pie.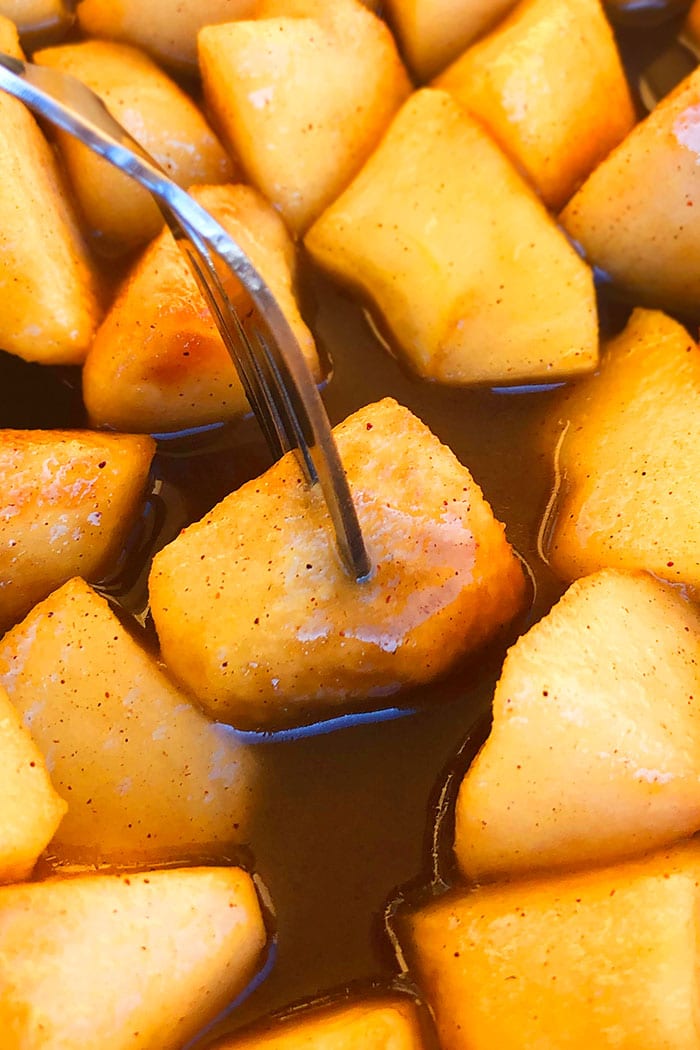 How to make sauteed cinnamon apples from scratch on stovetop?
Heat butter– Until melted.
Add granulated sugar, brown sugar, cinnamon, nutmeg– Mix until combined.
Add apples– Mix until coated.
Cook– Until apples have started to caramelize and become slightly soft.
Enjoy! Serve warm.
What to serve with Southern cinnamon apples recipe?
The apples are perfect on their own, or with a fresh dollop of whipped cream, but they are also so versatile. Use them as:
Topping– Over ice cream, oatmeal, pudding, yogurt, waffles, french toast, or pancakes.
Filling– In cinnamon rolls or pastries, cakes, cupcakes, crepes, pies, tarts, monkey bread, or in a crumble.
Storage
Refrigerate– In a sealed container for up to 3 days.
Freeze- In a freezer safe container or bag for up to 1 month.
Reheat– Allow them to thaw, if frozen, and then reheat in the microwave or on the stovetop.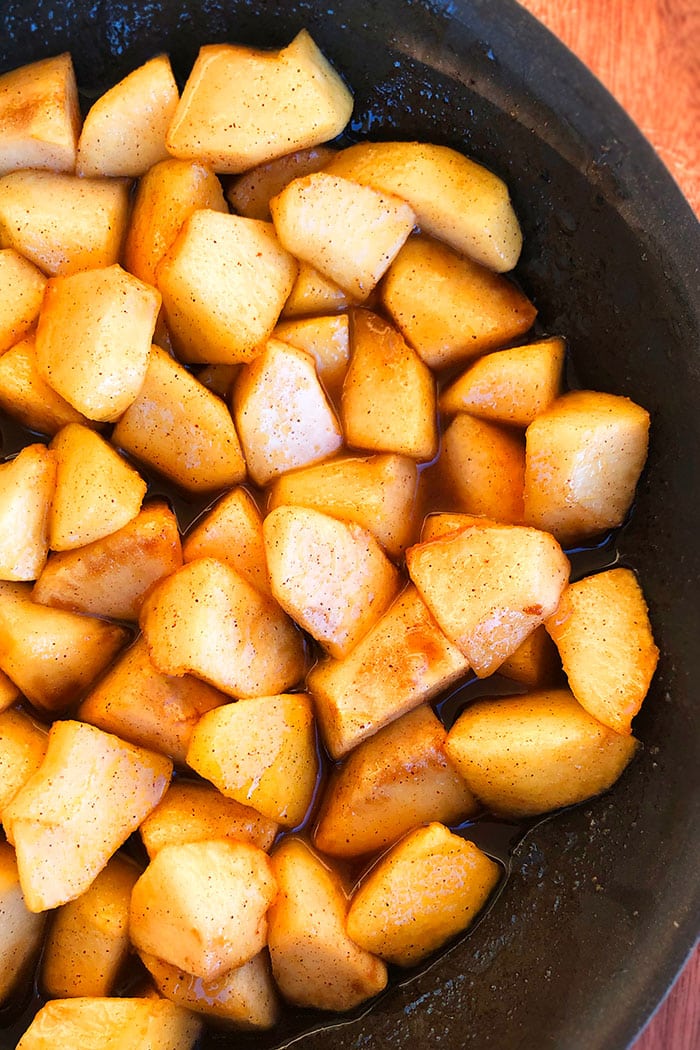 Variations
Cut apples differently– You can cut the apples into slices instead of chunks if you prefer.
Vary the spices– Use apple or pumpkin pie blends, or add ginger, cardamom, all spice. The possibilities are endless!
Add extracts– Such as vanilla, almond, bourbon, amaretto or even coconut.
Make is vegan– Use coconut oil instead of butter.
Use a variety of apples– They all bring a slightly different taste. You can use Fuji, Pink Lady, Gala, Honeycrisp, McIntosh, or Granny Smith. Tart apples would require the addition of more sugar to create a more balanced flavor.
Add nuts- Such as roughly chopped walnuts, pecans, cashews, or slivered almonds.
Add dried fruits- Such as dried cranberries, raisins or even dried mangoes.
Use other sweeteners– Such as honey, agave, maple syrup, coconut sugar, or stevia. This is entirely up to you.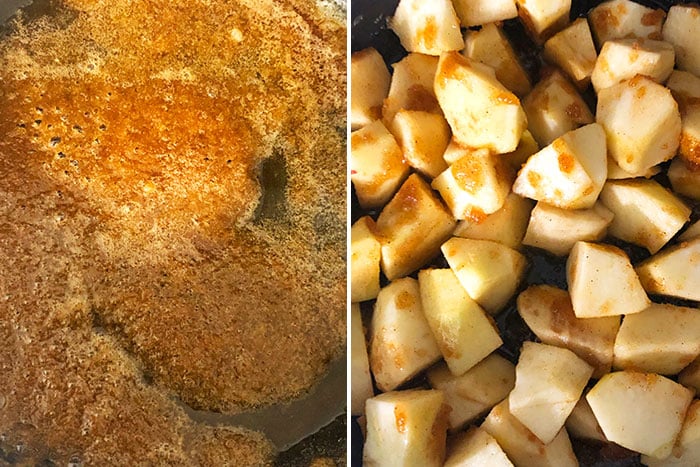 Tips and Techniques
Do you serve this warm or cold? It's best served warm, otherwise the butter will solidify on the apples.
What are the best apples to use? I prefer sweeter apples like Honeycrisp, Fugi, Gala, or Pink Lady, but you can use Granny Smith apples if you prefer a tart apple contrast to the sweet sugar.
Do you peel the apples? I prefer to peel the skin in order to create a more uniform texture, but if you prefer to leave the skin on, you can! It does add color to the dish, and won't change the flavor.
Do not overcook the apples- This will result in a more "mushy" applesauce-like texture, and that is not what we are looking for in this dish.
Stir often– It allows everything to cook evenly and prevents sticking and burning. .
Make sure to incorporate the spices into the warm butter before adding the apples- This allows the spices to blend and cover the apples evenly without leaving large chunks of spices on each slice.
Adjust amount of sugar- Some people like this dish sweet while others don't. Add more or less sugar, based on your preference. I like to use both, granulated and brown sugar for the best flavor profile.
Use a non-stick pan– Because this prevents the apples from sticking and burning.
Cut even slices- That's because when all the apples are cut approximately the same size, they are done cooking at the same time too. Smaller pieces cook faster than larger ones.
More Apple Desserts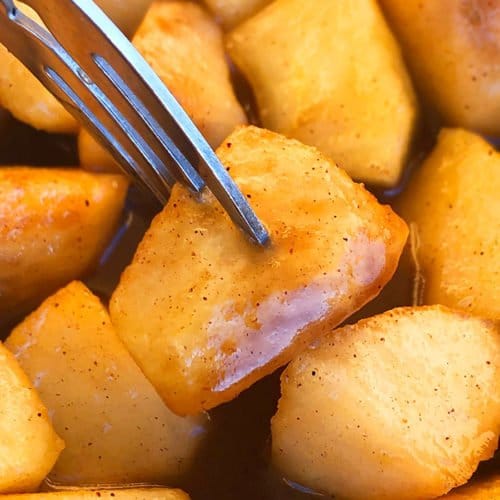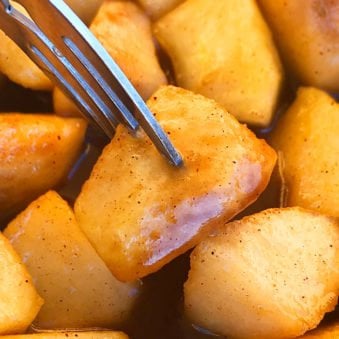 Easy Cinnamon Apples
Quick and easy cinnamon apples recipe, homemade with simple ingredients over stovetop in 30 minutes. Loaded with sugar, butter and cinnamon. Sweet & sticky!
Yield: People
Instructions
Heat butter in a large nonstick pan over medium-high heat until melted.

Add granulated sugar, brown sugar, cinnamon, nutmeg.

Mix until combined.

Add the apples and mix until coated.

Cook, while mixing often for about 20 minutes, or until apples have started to caramelize and become slightly soft. They should not be "mushy." The exact timing will depend on how big the apple pieces are.

Serve warm and enjoy!
Notes
Read all my tips above.
Leftovers can be stored in a sealed container in the fridge for up to 3 days and reheated in the microwave or stovetop. 
Nutrition
Calories: 332kcal, Carbohydrates: 52g, Protein: 1g, Fat: 16g, Saturated Fat: 10g, Cholesterol: 41mg, Sodium: 140mg, Potassium: 207mg, Fiber: 5g, Sugar: 44g, Vitamin A: 571IU, Vitamin C: 8mg, Calcium: 32mg, Iron: 1mg