Even though thanksgiving is not a part of my culture, I find the whole idea behind this wonderful day to be very sweet…
Getting together as a family and giving thanks for all your blessings is just beautiful.
Life gets so busy that we start to take all our blessings for granted but I truly think it's important to reflect on ALL that God has bestowed upon us and be thankful.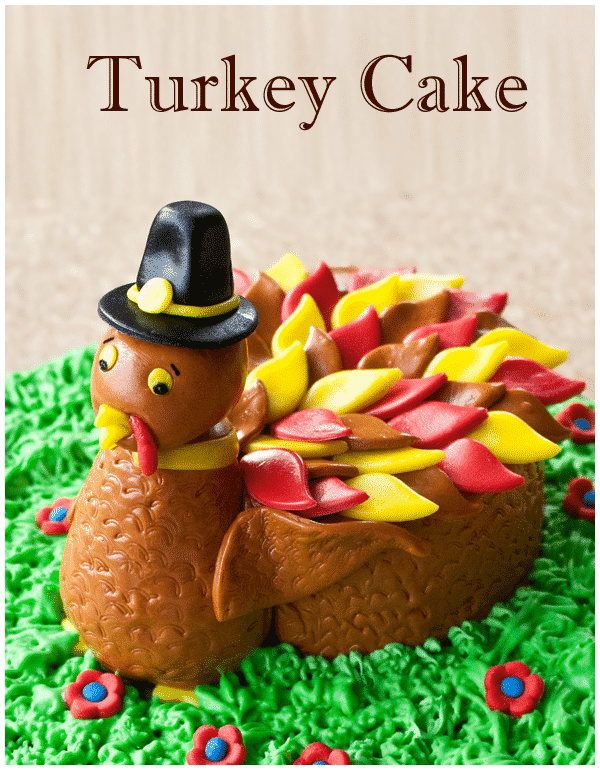 Here are some of the things I am thankful for:
– My family (parents, siblings, cousins, aunts/uncles, hubby and obviously my cute little baby)
– My friends
– My lovely readers (YOU! I love you guys :))
– The internet (I depend on it too much. Without it, I would be so darn lost…lol)
– Life, in general  (I am very happy and content with my life and can't even imagine it any other way…).
– My sweet little home
– Basic necessities in life (heat,water, electricity, shelter, food…)
– Sleep (this may sound silly but after having a baby, I used to miss sleeping but now thankfully, he sleeps through the night and so do I…lol)
– Memories and experiences- good and bad (they have shaped me into the person that I am today!)
What are you thankful for?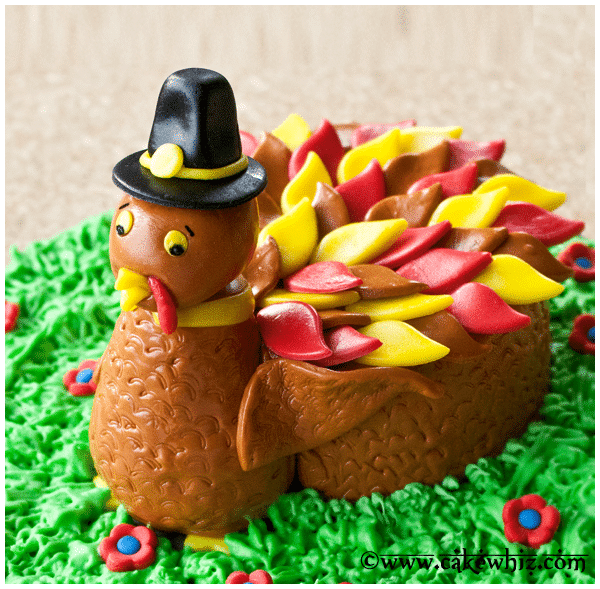 On another note, I am ecstatic to share my Thanksgiving turkey cake with all of you…
Gobble gobble 😉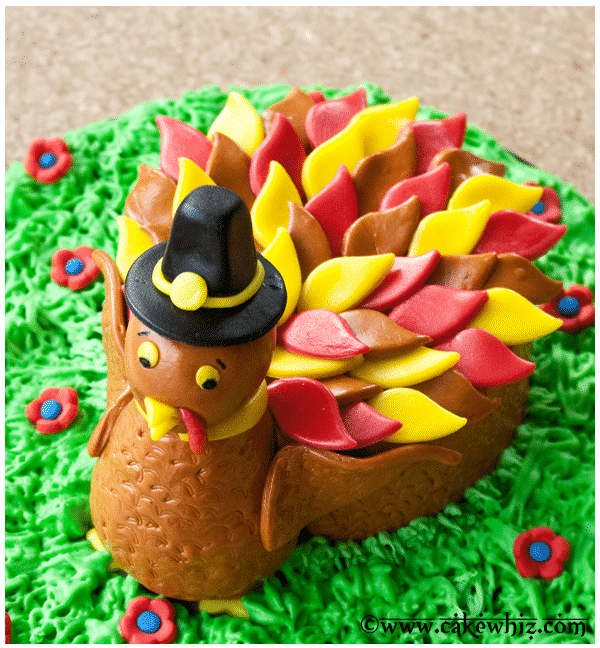 I only had a rough idea in my mind and a VERY messy sketch as to how I was going to do this.
Frankly,  I wasn't even sure whether I could pull it off… lol
BUT,  I am happy as can be with the final outcome 😀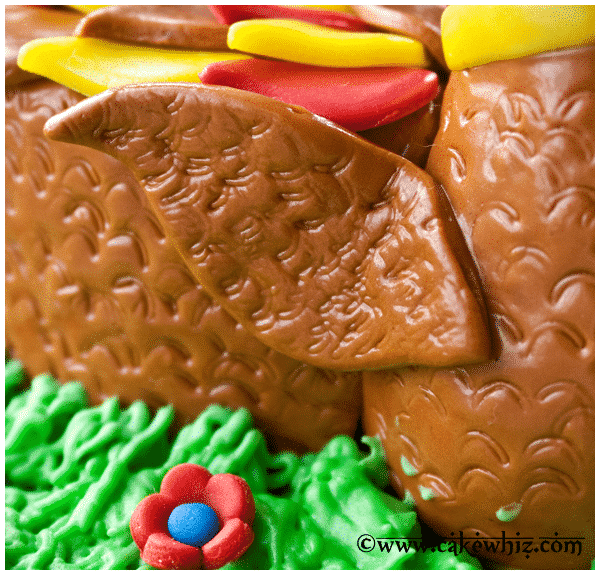 I used my peacock cake as inspiration for this turkey cake.
And now, I am not even sure which one is my favorite…I like them both A LOT! 🙂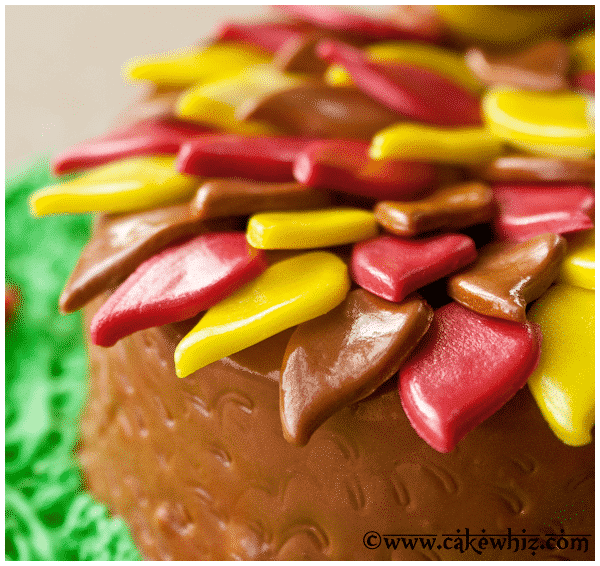 I instantly fell in love with the FEATHERS (and yes… it is possible to fall in love with feathers…lol

)
Just look at all those vibrant colors!
Next time, I might also add orange feathers. The more colorful, the better… right?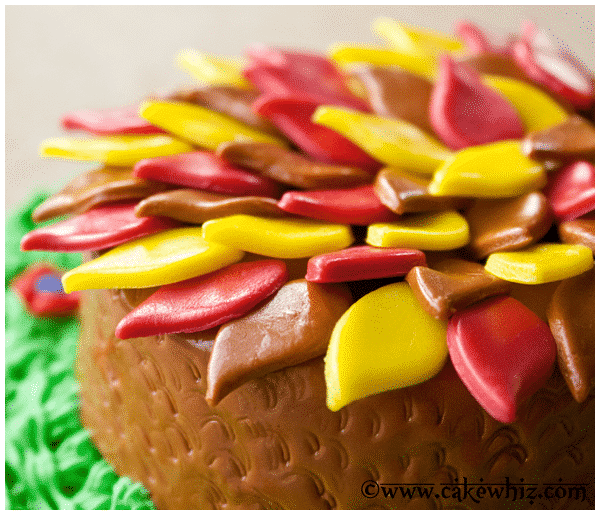 The only thing I don't like about making a fancy cake is ALL the time it takes. 
Sometimes, it takes HOURSSSS! 🙁
I always do a few things in advance and sometimes, I even use store- bought stuff to make my life easier.
However, looking at the final cake and seeing everyone's happy faces makes it all worth it 🙂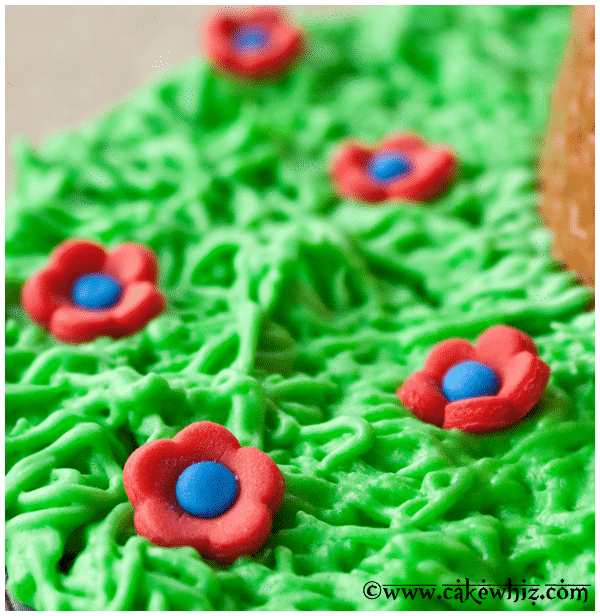 BTW, Before you start making this cake, please read my instructions thoroughly!
I have included a lot of time-saving tips so it doesn't take you as long as it took me to make this cake 🙂
Anyways, let's look at this cute turkey cake one more time and then move on to the tutorial… Shall we? 😉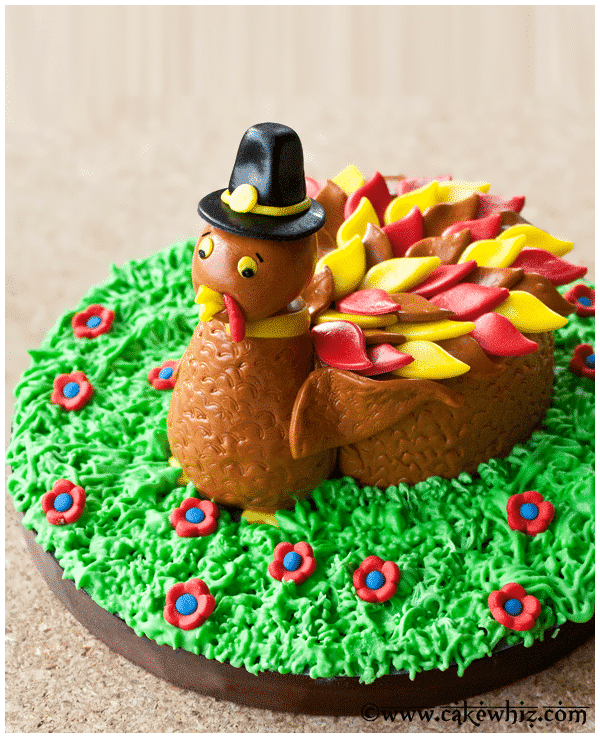 To make this turkey cake, you will need the following supplies:
Brown marshmallow fondant
Red marshmallow fondant
Yellow marshmallow fondant
Black marshmallow fondant
Small red fondant flowers
Green buttercream icing
Chocolate buttercream icing
Rice krispie treats
Wilton tip #233 (grass tip)
Small star cutter
Small leaf cutter
Knife
Paintbrush and water
Toothpicks
2 giant cookies
Mini Hershey's Kisses cake (Dimensions: 4×3)
And here are the steps:
Step 1:
Ice your cake in chocolate buttercream and cover it in brown fondant. 
This cake will be the turkey's body (I mixed some cake crumbs into my fondant to make it a little rough and bumpy coz a turkey's body is probably not very smooth. You don't have to do this if you don't want to.
Tip 1:
If I ever have left over cake batter, I either make some cupcakes or I make a mini 4×3 cake and freeze it PROPERLY. That's why I had this little cake handy.
Tip 2:
Making marshmallow fondant is a little time-consuming. Instead of making your own, you can buy fondant from Hobby Lobby or Michaels or even Wilton's site and that will save you some time.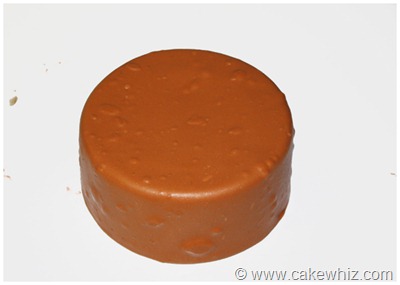 Step 2:
Press the grass tip (Wilton tip # 233) randomly onto the side of your fondant covered cake.
This will make  indentations all over the  the body.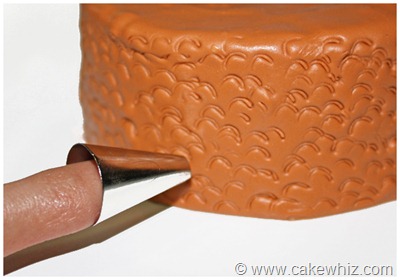 Step 3:
Use your hands to shape some rice krispie treats into a pear shape.
This will be the torso of the turkey.
Also, roll out some brown fondant.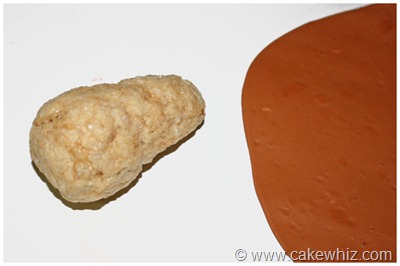 Step 4:
Cover your rice krisipe torso in brown fondant.
Stick a toothpick on top of the torso.
Also make a rice krispie ball and cover it in brown fondant.
This will be the face/head of your turkey.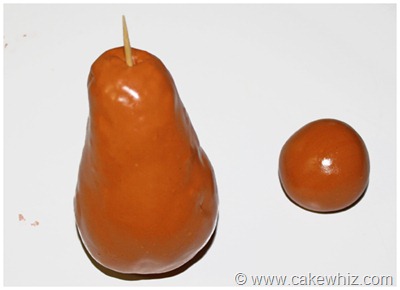 Step 5:
Push the rice krispie ball on top of the toothpick. You can use some water or royal icing to hold it securely.
Start adding other features like a hat made from black fondant, a yellow beak, yellow collar, and yellow feet (made with a star shaped cutter).
I brushed very little water on my fondant pieces to stick them onto the torso and the face.
Tip:
To save time, you can make the hat and feet beforehand. I made them a week ago and they were waiting to be used when I started putting this cake together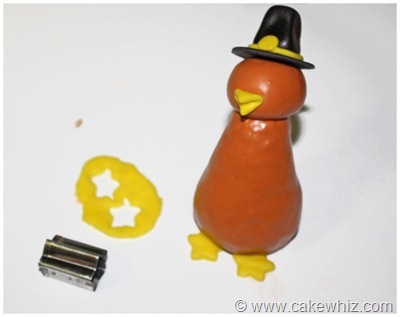 Step 6:
The cake needs to be attached to the rice krispie torso.
To do that, scoop out about 1 inch of cake from the side and push your rice krispie body into this opening. Use some icing to stick the 2 pieces together.
Don't worry if the fondant on your cake starts to get messed up while you are trying to push these two pieces together. It will all get covered in feathers.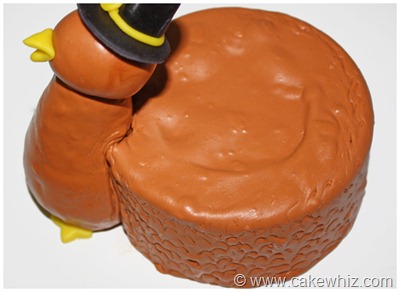 Step 7:
Use tip # 233 again to make indentations on the rice krispie torso.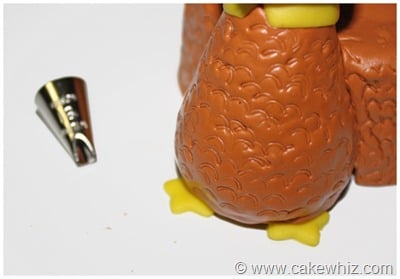 Step 8:
To make wings, use a medium sized leaf cutter to cut out 2 leaves.
Cover them in indentations with tip # 233.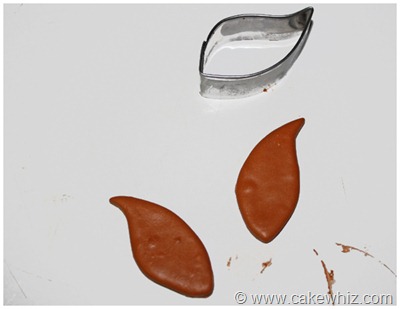 Step 9:
Brush some water behind those leaves and stick them onto the side of the rice krispie torso.
Your turkey now has wings!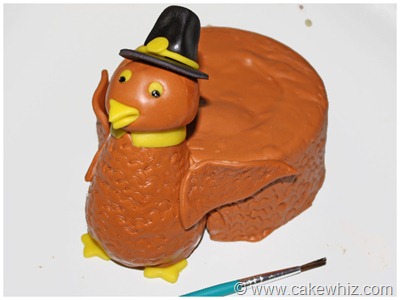 Step 10:
To make eyes, make small balls of yellow fondant… flatten them with your finger and make black pupils with edible marker.
Stick these eyes onto the face of the turkey.
Now, roll out some red fondant into a sausage shape and push it onto the side of the beak using a toothpick.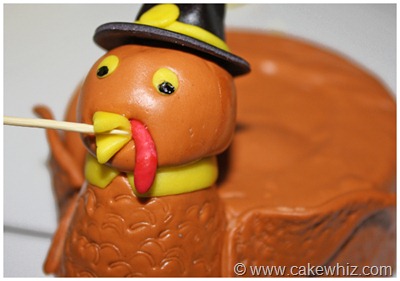 Step 11:
Roll out red, yellow and brown fondant.
Use a small leaf cutter to make many small leaves in these colors. Let them dry up a little. These will be the feathers of your turkey.
Tip:
To save some time, make a bunch of these of these leaves beforehand. I made them while watching T.V last week. 
Also, making these feathers beforehand hardens them a little and they they hold their shape better when I glue them on top of the cake.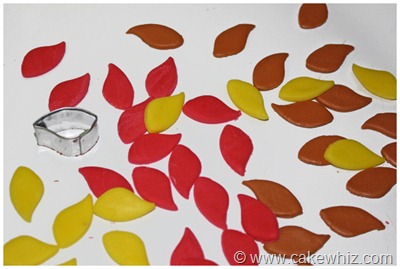 Step 12:
Brush some water around the outer edges of the cake …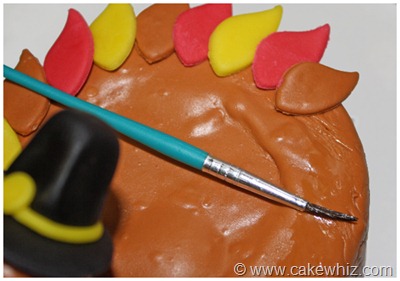 …and start sticking your feathers.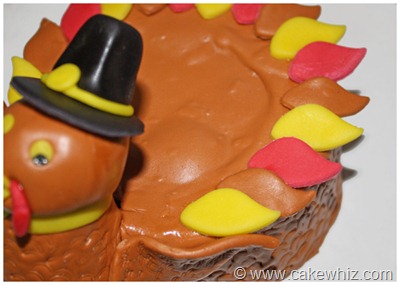 Step 13:
When the outer edge is covered in feathers… brush some water on the inside and stick more feathers.
Keep doing this until the top is fully covered in feathers.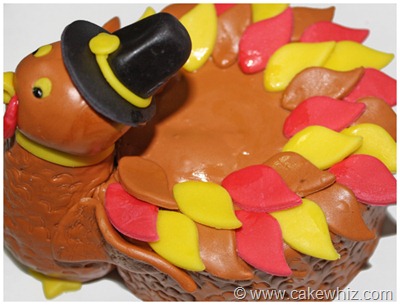 Step 14:
Now, this turkey needs to be placed on something. You can place it on top of a cake board if you want but I did something different…
Take 2 large store bought cookies (the big ones that are about 12 inches) and stick them on top of each other with frosting. Don't put too much frosting that it starts oozing out of the sides …ICK!!!


Wrap a brown ribbon around this cookie sandwich.
Place this cookie sandwich on a cake board.
Now, spread some icing on top of the cookie sandwich and place your turkey on top of it. 
Fill a piping bag with green icing and attach the grass tip (Tip # 233). Cover the entire top with green grass…
I accidentally used white frosting on top of the cookie and then I used green icing to make grass. It's best to use the same color for both – GREEN! 
In case you are wondering, the bakery section at Walmart, Jewel-Osco and Dominick's usually sell these big cookies around the holiday season and they aren't too pricey.
Tip 1:
You can save yourself some time by simply using store bought icing and just coloring it green. However, I feel that store bought icing has a very thin consistency so I prefer putting it in the fridge for about 20-30 minutes before using it.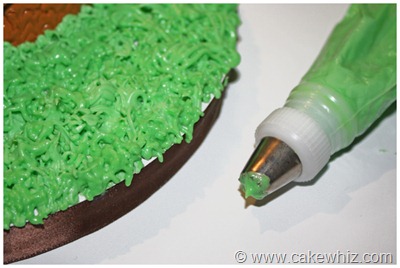 Step 15:
Place a few fondant flowers randomly all over the grass.
I made these red flowers myself and hopefully, I will get around to doing a tutorial on them soon. Every few months, I make a bunch of them and let them dry and store them in air tight container. This way, I always have some on hand to use whenever I want.
UPDATE (July/2/ 2013) :
I have now posted the tutorial for these easy fondant flowers.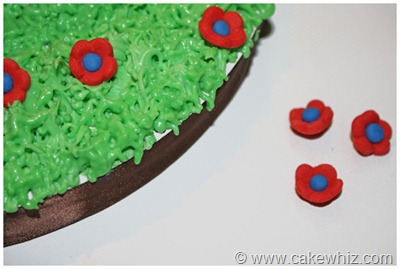 And finally, steam your cake so that everything on the turkey sticks into place.
Steam also makes your cake shiny and neat.
WOOHOO! YOU ARE FINALLY DONE!!!!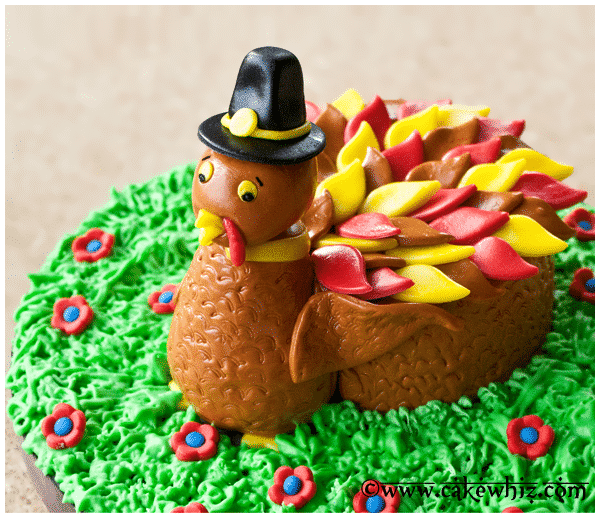 Well, that's all I have for today.
If you liked this cake, you may also like some of these other Thanksgiving treats: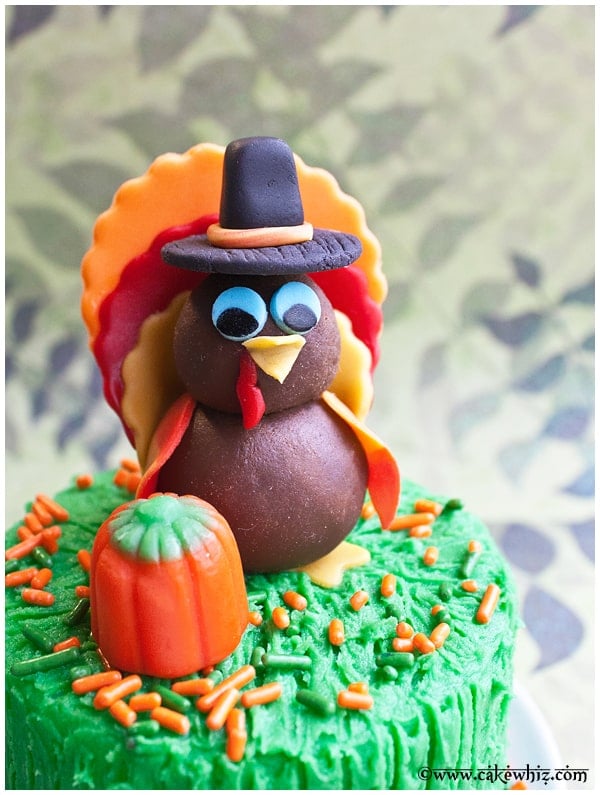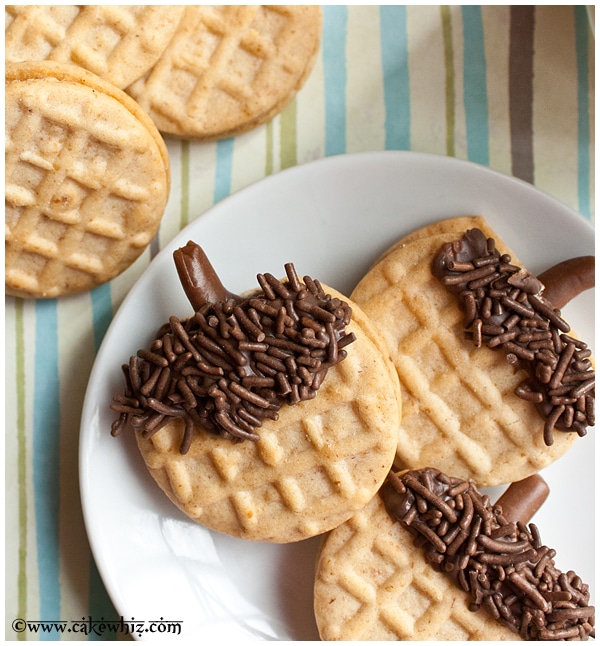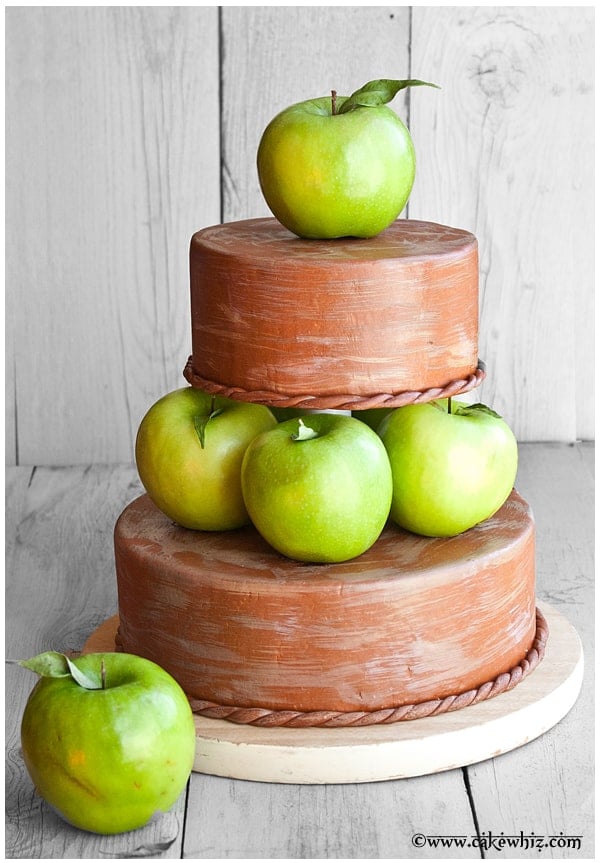 Until next time,  tata my lovelies and I hope each and every one of you has a wonderful Thanksgiving 🙂