Green Treats for St.Patrick's Day
Here's a collection of over 25 beautiful and delicious green treats for St.Patrick's Day. There's everything from cakes, cupcakes, cookies and much more!
Before we know it, St. Patrick's day will be here and this roundup of 25+ GREEN treats for St.Patrick's Day will make your life so much easier.
I am always AMAZED by the wonderful green treats I see all over the blogosphere, around this time!
Today, I have rounded up some of my FAVORITE green treats to share with all of you.
There's everything from cakes to cupcakes to cookies and even some healthy treats!
Well, let's get started with all these green treats for St.Patrick's Day…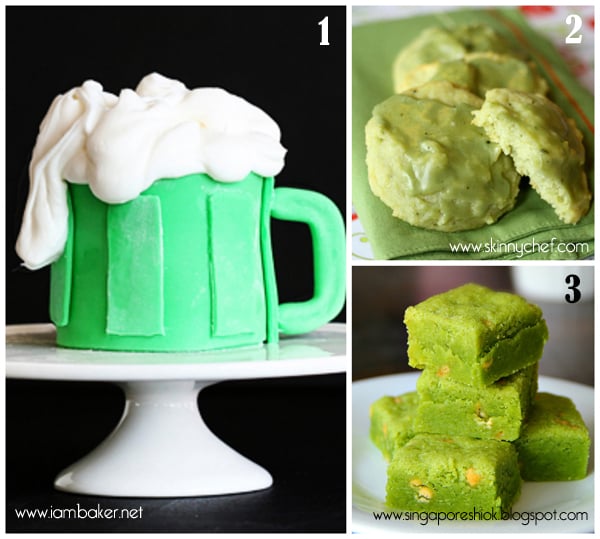 1. Beer mug cupcakes from I am Baker
Believe it or not but these beer mugs are actually cupcakes! How cool is that?! I am totally making these on St.Paddy's Day!
These healthy cookies are given their lovely color with green tea powder! How smart is that?! 
3. Matcha white chocolate chip shortbread from Singapore Shiok
These are some of the most flavorful shortbreads I have ever come across…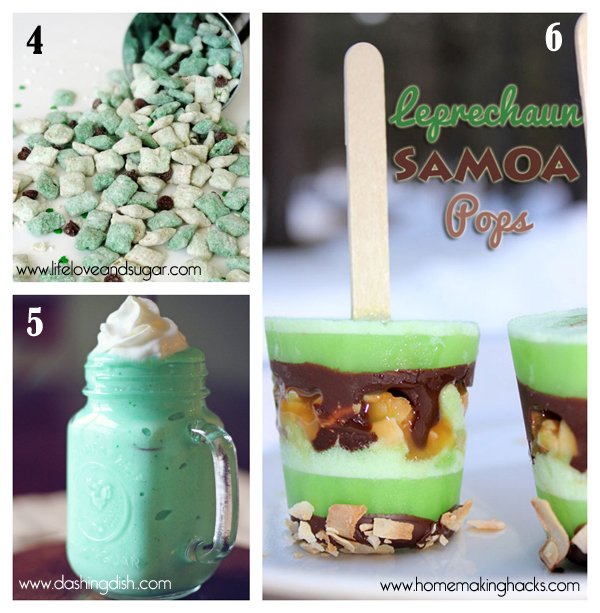 4. Bailey's Irish cream puppy chow from Life, Love & Sugar
I think I can live on puppy chows my whole life and these green ones with Irish cream look incredible! 
5. Shamrock protein shake from Dashing Dish 
Who says you can't have a healthy treat on St. Paddy's Day! This shake is beautiful, delicious and good for you!
6. Leprechaun samoa ice pops from Homemaking Hacks
OMG! I was literally drooling when I saw these gorgeous pops!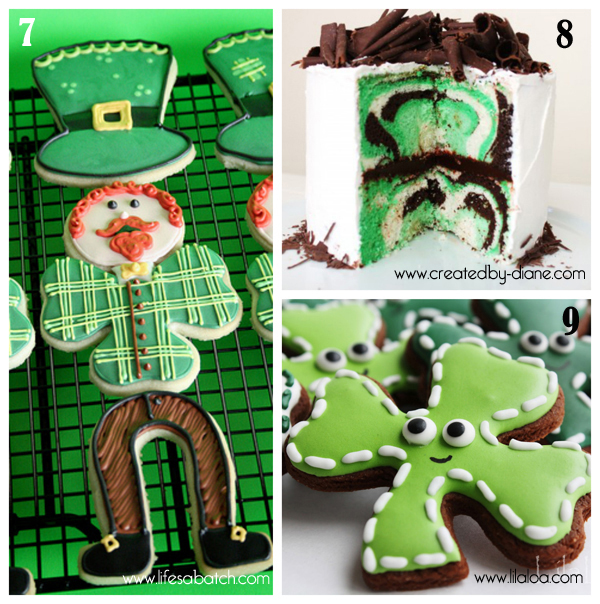 7. Leprechaun cookies from Life's a Batch
I am totally smitten with these leprechaun cookies! hehehe. Everything about them is perfect!
8. Mint chocolate cake from Created by Diane
This cake has a wonderful flavor and even has a crazy cool swirly pattern on the inside!
9. Cute Shamrock cookies from Lila Loa 
Just look at those googly eyes… Don't they just melt your heart?! lol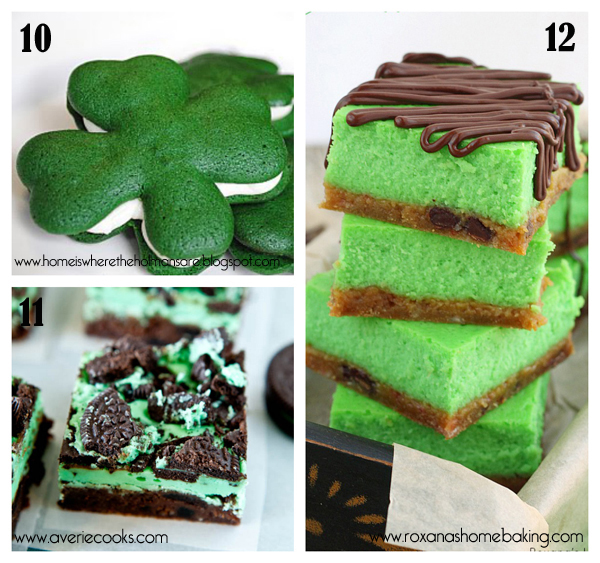 10. Shamrock sandwich cookies from Homemade by Holman
I just want to jump into my screen and take a big bite of these cookies… Don't you?
11. Triple layer fudge mint Oreo brownies from Averie Cooks
I believe this is what chocolate dreams are made of!
12. Grasshopper cheesecake bars from Roxana's Home Baking
The green shade on these bars is soooo vibrant! You have no idea how badly I want to eat these right now…hehe.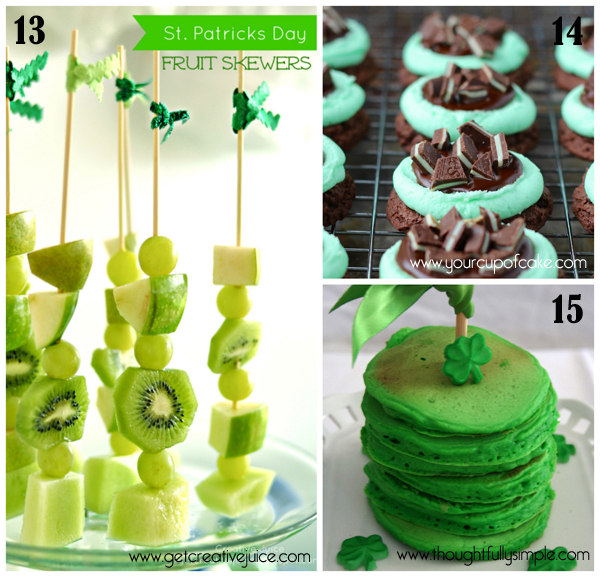 13. Healthy fruit skewers from Creative Juice
This is a brilliant idea! I am sure even my picky 2 year old would enjoy these fruit skewers.
14. Ultimate grasshopper cookies from Your Cup of Cake
These really are the "ultimate" grasshopper cookies, packed with so much "yumminess" …lol
15. Green pancakes from Thoughtfully Simple
I know what I will be having for breakfast on St.Paddy's Day.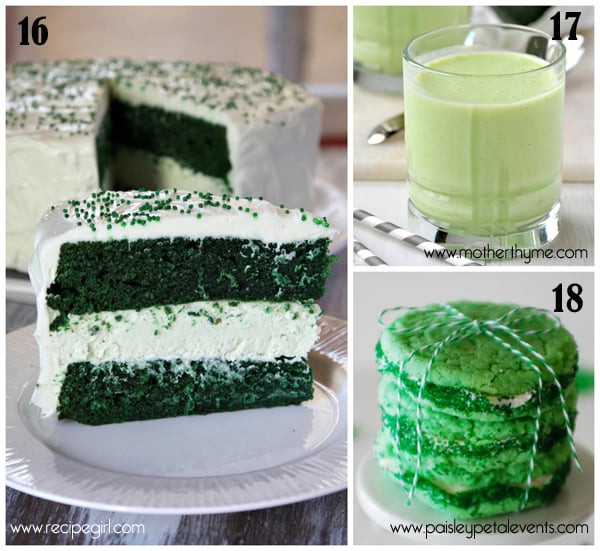 16. Green velvet cheesecake cake from Recipe Girl
My goodness… this cake truly has the  "WOW"  factor! It's a velvet cake and a cheesecake merged together…Swoooooon! 
17. Pistachio banana pudding smoothie from Mother Thyme
Have I ever told you guys how much I love pistachios?! This smoothie has my name written all over it. 
18. Super simple green cookies from Paisley Petal Events 
Everyone needs an easy cookie recipe to whip up at the last minute and this one is simple as it gets and sprinkly too.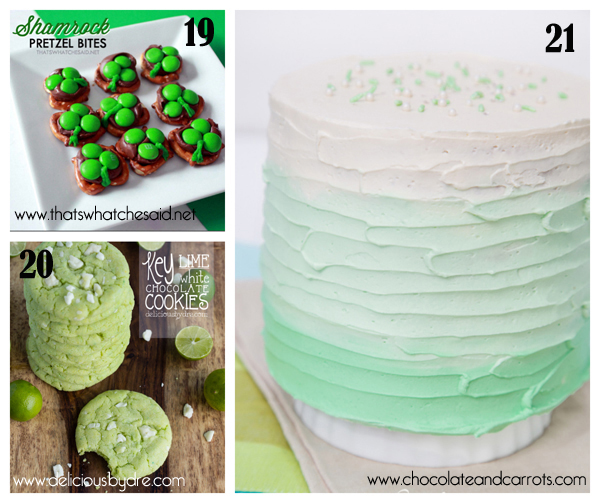 19. Shamrock pretzel bites from That's What Che Said
I think once i start eating these cuties, I won't stop…lol.  
20. Key lime white chocolate cookies from Delicious by Dre
These cookies would be the best thing to munch on with my mocha latte….mmmm! 
21. Green ombre cake from Chocolate and Carrots 
This cake is just as pretty on the inside as it is outside with a lovely ombre pattern!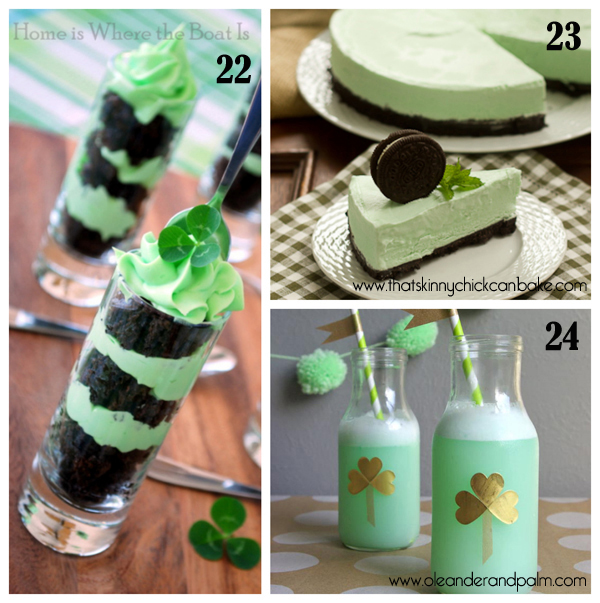 22. Irish car bomb brownies from Home is Where the Boat is
I am totally digging the presentation of these brownies! 
23. Grasshopper pie from That Skinny Chick Can Bake
All I wanna do right now is run into the kitchen and make this asap! lol.
24. Shamrock floats from Oleander and Palm
Such a great idea and the golden shamrock stickers are a great final touch!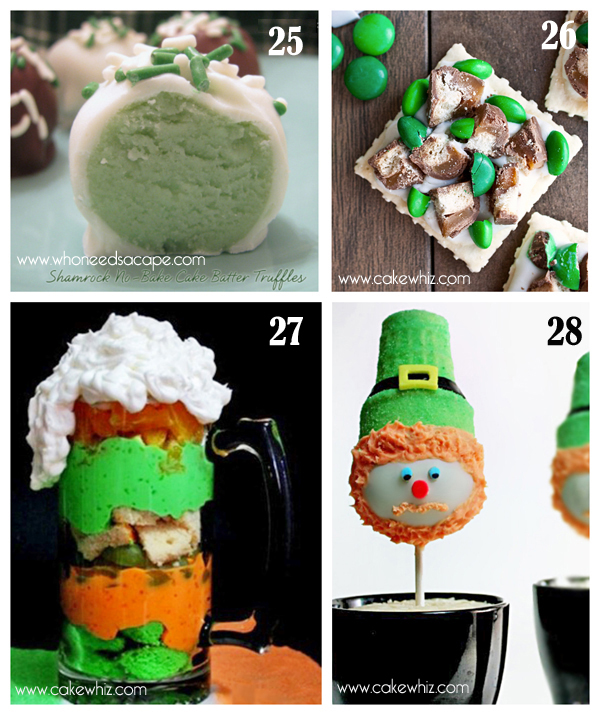 25. Shamrock no-bake cake batter truffles from Who Needs a Cape?
I am a sucker for easy, no bake treats and these cuties look so easy to make! 
26. Candy and cracker bites from Cakewhiz
Simple crackers topped off with melted white chocolate, green m&m candies and chopped up Twix pieces… I must have eaten 20 of these already! lol 
27. Irish beer mug trifle from Cakewhiz
A super easy trifle you can make in no time. Don't you just love the buttercream froth on the top? 
28. Leprechaun cake pops from Cakewhiz 
Aren't these leprechauns adorable?!  
And if you are looking for more green treats for St.Patrick's day, check out my St.Patrick's day board on Pinterest.
Well, that's all for today.
Until next time, tata my lovelies.