Cake with berries and KitKat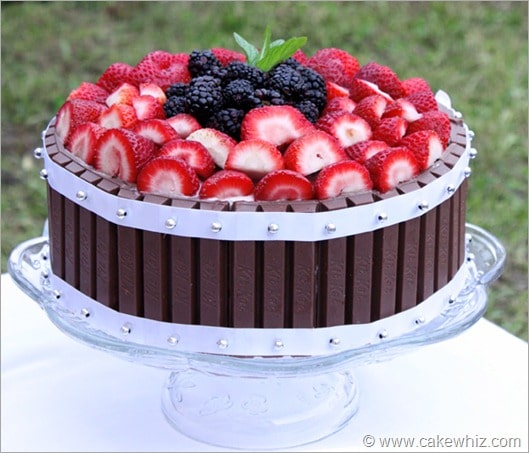 Hellooooo lovely people!!! I am finally back in Chicago  and what can I say?! My trip to Canada was fantastic! I got to hang out with my family and friends and we had such a great time going out, watching movies, shopping, talking and eating! lol
I was eating sooo much that I am pretty sure I put on a few pounds but meah… who cares?! It was worth it! The food there is soooo good plus I love my mom's cooking! heheh 
I went there thinking I won't get a chance to bake but that changed when I decided to visit my mom's best friend. She is the loveliest woman ever and her kids are the sweetest munchkins you will ever meet… hehe.
So, I REALLY wanted to bake them a cake. Since I didn't have any of my cake supplies, I worked with what I had:
Strawberries
Blackberries
and Kit-Kats!
Sounds refreshing… right?
The concept was simple. It didn't take too long to make and from what they told me, it tasted great and everyone loved it. I am happy about that
I didn't have enough time to take pictures of each single step like I normally do. But, I will include detailed instructions and if anything is unclear, feel free to email me.
Here goes:
Step 1: Bake 2 round cakes (dimensions: 8 by3). I made a chocolate cake using this recipe.
Step 2: Once they have cooled, stack them on top of each other. Make sure your cake is sitting on a sturdy cake board since this cake will get heavy.
Step 3: Ice your cake completely in frosting. I used chocolate buttercream frosting.
Step 4: Unwrap all of your Kit-Kat bars and start sticking them around your cake. The frosting acts like glue.
Step 5: To hold all the Kit-Kats in place, tie ribbons around them for extra support.
Step 6:  Wash your strawberries and blackberries and pat them dry with a paper towel.
Step 7: Cut your strawberries lengthwise and place them on a paper towel so that all those juices can get absorbed. The last thing you need is drippy strawberries… it can make your cake too soft and "mushy."
Step 8: Arrange the strawberries in a circular pattern on top of the cake. Place the blackberries in the center. Top it all off with a mint leaf.
And you are done!
Since this cake is covered in fruits, I highly advise you to keep it in the refrigerator until you are ready to serve. This will help your cake look fresh and taste fresh for longer.
Now, go ahead and make your own. You can use different types of berries if you want or you  can even try using different chocolate bars around the cake. I mean… it's a cool cake so have fun with it!
Before I end this posting, I just wanted to announce that the winner of my giveaway was RAZIA SULTAN. Congratulations! I hope you enjoy that gift card on Father's Day
Ok my lovelies… tata for now…