Watermelon Cake
Learn how to make a quick and easy watermelon cake recipe that's fresh, no bake, healthy, beautiful and perfect for Summer parties, birthday parties or even weddings.
I want to clarify that this is a real/fresh watermelon cake and not a watermelon shaped cake or a watermelon cake recipe from scratch.
The easy cake trend has been around for a few years now but I wanted to do something different with that concept.
Instead of making a big watermelon cake, I made tiered mini watermelon cakes and decorated them with fresh edible flowers. I think they turned out GORGEOUS and are perfect for Summer parties.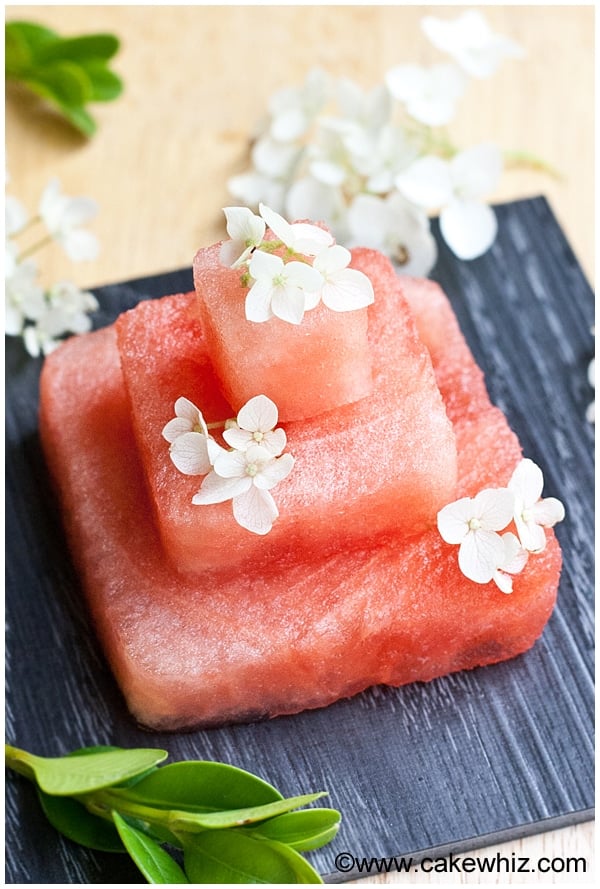 Tips for no bake watermelon cake recipe
Make sure to pat the watermelon dry with paper towels to get rid of excess juices because if the watermelon is too "wet," icing won't stick to it properly.
You must use edible flowers. Ask your florist, if you are unsure.
You can make 1 big cake instead of these mini cakes.
ANY shape of cutter can be used. Metal cutters create a sharper cut compared to the plastic ones.
If you are decorating with other smaller fruits, use toothpicks to stick them securely into place. I use this trick to make my kiddo's favorite strawberry watermelon cake.
You can also follow the same instructions to make a cantaloupe cake or even a honeydew cake.
To make watermelon ice cream cake, use ice cream frosting OR cover the cake in partially melted ice cream. Keep the cake frozen until you are ready to serve.
To make watermelon birthday cake/ watermelon smash cake, decorate with candies, sprinkles and you can even add a little birthday candle that kids can blow out.

How to make a watermelon cake?
Remove the watermelon rind with a sharp knife.
Cut watermelon into big circular pieces.
Use cutters to cut out big, small and medium shapes.
Stack them on top of each other like a watermelon wedding cake.
Decorate with fresh flowers.
What is watermelon cake?
There are 3 different types:
The FIRST one is a baked cake, made with flour, sugar, eggs, watermelon juice e.t.c.
The SECOND one is a cake that is decorated to look like a watermelon, using fondant or buttercream.
The THIRD one is a fresh cake that's made by peeling the rind and carving the inside into the shape of a round cake and then frosting it in whipped cream or buttercream.
How to decorate watermelon cake?
There are many watermelon cake decoration ideas:
Fresh berries (strawberry, blackberry, raspberry, blueberry)
Pineapple slices
Grapes
Nuts
Colorful frostings
Edible flowers
Fresh herbs
How to carve watermelon cake?
Use a very sharp knife. Different sizes of blades help a lot too.
Storage
It should be stored in the fridge because after all, it is fresh fruit and it can go bad in the heat.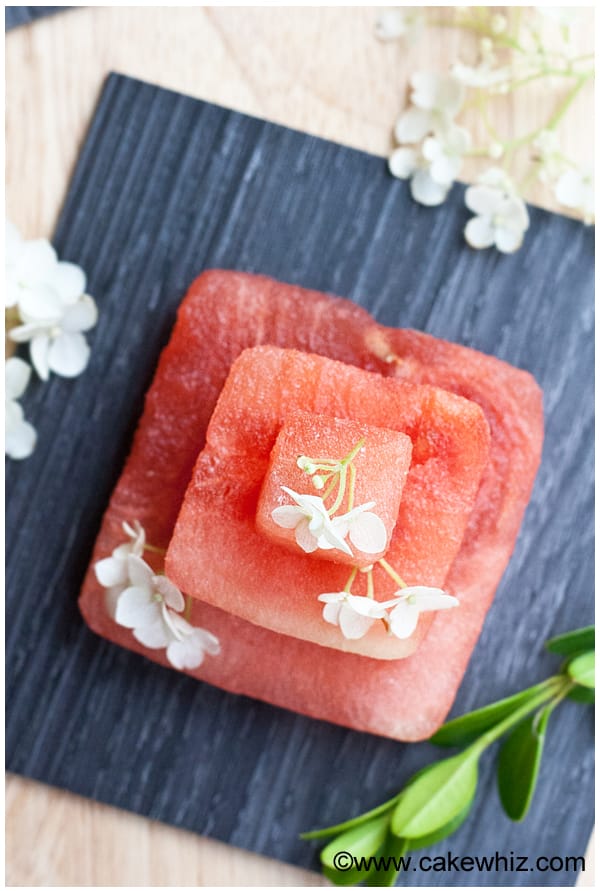 Other fruit cake recipes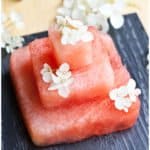 Print Recipe
Fresh Watermelon Cake
Learn how to make a quick and easy watermelon cake recipe that's fresh, no bake, healthy, beautiful and perfect for Summer parties, birthday parties or even weddings.
Servings: 10 Mini cakes
Calories: 229kcal
Instructions
Use a sharp knife to peel the rind off your watermelon.

Then, cut the watermelon into big round slices.

Use the big, medium and small square cutters to cut out three square pieces.

Stack the watermelon pieces on top of each other (with buttercream icing between each layer, if you like).

Decorate the cake with flowers. Enjoy!
Notes
Read all my tips above.
Leftovers can be stored in the fridge for up to 24 hours. 
Nutrition
Calories: 229kcal | Carbohydrates: 49g | Protein: 2g | Fat: 4g | Sodium: 46mg | Potassium: 511mg | Fiber: 1g | Sugar: 42g | Vitamin A: 2560IU | Vitamin C: 36.5mg | Calcium: 31mg | Iron: 1.1mg