Mango Cake with Mango Frosting
This tropical and easy mango cake recipe from scratch with mango frosting is a delicious Summer dessert. It's soft and moist and bursting with fruity mango and coconut flavors.
I LOVE mangoes and use it often in desserts like this mango cake recipe. After trying many recipes, I can confidently say that this is the BEST mango cake recipe!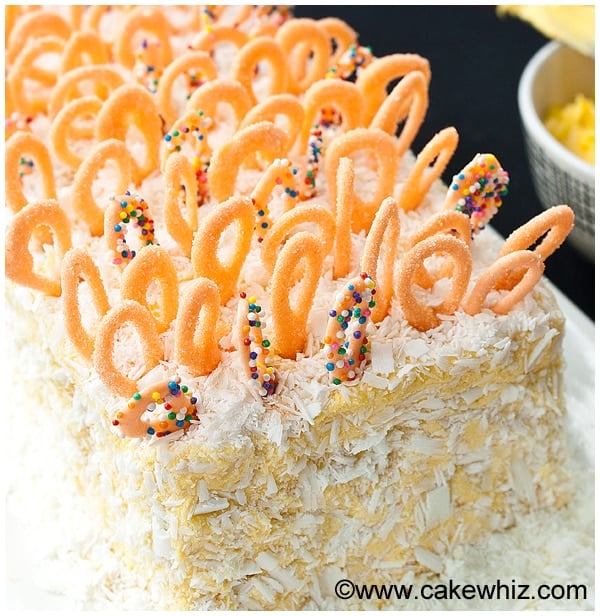 Mangoes seem to be one of those fruits that people seem to be a little SCARED to use in their baking but I think it's a WONDERFUL juicy fruit with a delicious TROPICAL flavor that should be used in desserts more often.
I paired my mango cake with SMOOTH and CREAMY mango frosting, shredded white chocolate, coconut and it looks and tastes heavenly with a natural yellow color.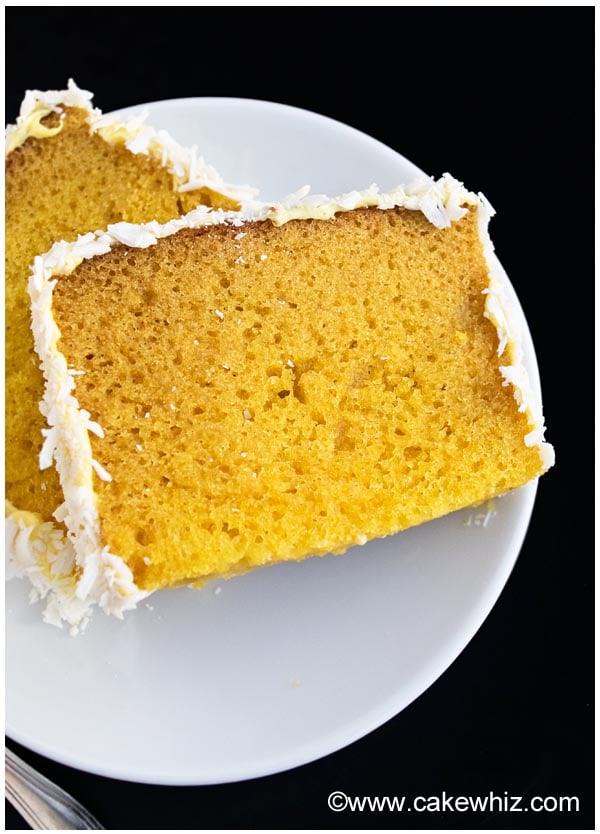 Upside down mango cake is different!
For the upside down version, fresh mango slices are used instead of mango puree. Follow my homemade pineapple upside down cake recipe and replace pineapples with fresh mangoes. Make sure to use paper towels to pat those mango slices dry and get rid of excess juices.
Mango mousse cake recipe has 2 layers!
This is another variation for this cake. Follow my recipe for raspberry mousse cake and replace raspberries with mangoes. Prepare this mango cake first and when it cools down, pour the mousse on top and chill until it sets. You will end up with 2 layers. Cut slices and enjoy.
Eggless Mango Cake
The recipe below uses eggs but I have heard you can use flax seeds as an excellent egg substitute.
Mango Coconut Cake
Mango and coconut both have amazing tropical flavors, which compliment each other very well. Add some shredded coconut in the batter and also toss shredded coconut all over the frosted cake to really bring out the coconut flavor. You can also be a little daring and add 1 tsp coconut extract in the cake batter.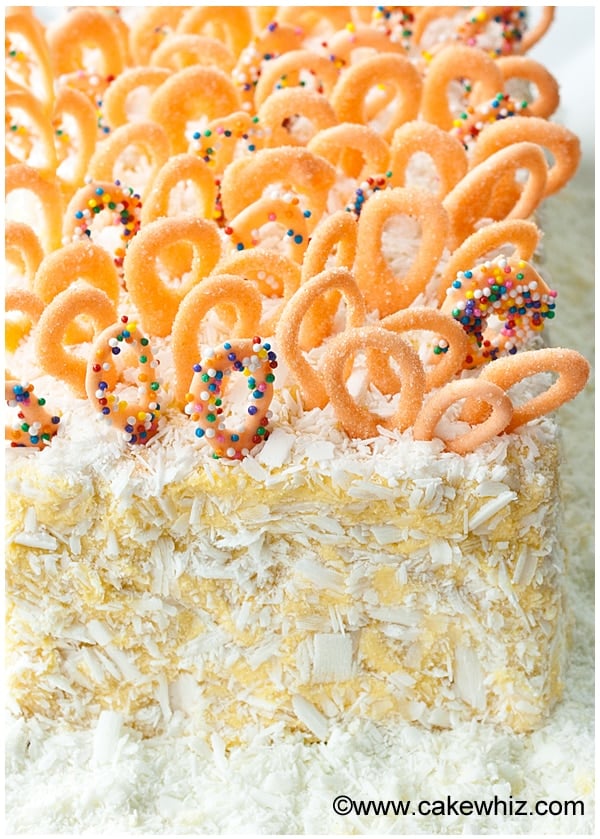 Tips for fresh mango cake recipe:
You can make HOMEMADE fresh mango puree for this cake or just use CANNED mango puree, if you are short on time. It can be found in Asian grocery stores.
Different brands of mango purees have different CONSISTENCIES. If your puree is extremely thick and chunky, you may have to add a bit of milk or water to your cake batter, in order to mix everything together smoothly.
Butter and eggs must be at ROOM TEMPERATURE so that they blend together evenly and smoothly in the batter.
USE cake flour because it gives a perfect cake texture. It can easily be made at home. I have included the link below in the recipe.
DO NOT over-mix the cake batter or else the cake texture will become very tough.
I used a loaf pan to make a mango pound cake style but a circle cake pan can be used instead.
Instead of the chocolate loop decorations, you can top off the cake with sliced fresh mangoes or even roughly chopped dried mangoes. It's simple and beautiful.
Chocolate Loop Decorations:
Pour melted chocolate (any color you like) in a squeeze bottle.
Place a sheet of wax paper on a cookie tray.
Make little loop shapes out of melted chocolate on a sheet of wax paper.
Toss some sprinkles and sanding sugar before the chocolate hardens.
Chill the tray for 10 minutes in the freezer.
Gently peel the loops away from the wax paper and push them on top of the frosted cake.

How to make mango cake?
Start off by creaming together butter and sugar until light and fluffy. Then, mix in eggs, one at a a time. Add vanilla extract, mango puree and mix again. In a separate bowl, whisk together the flour, baking powder, baking soda, cardamom powder, shredded coconut. Dump this dry mixture into the wet mixture and mix until just combined. Pour batter in a cake pan. Bake. Let it cool down and ice it in mango frosting. Decorate. Slice and enjoy.
Other mango recipes: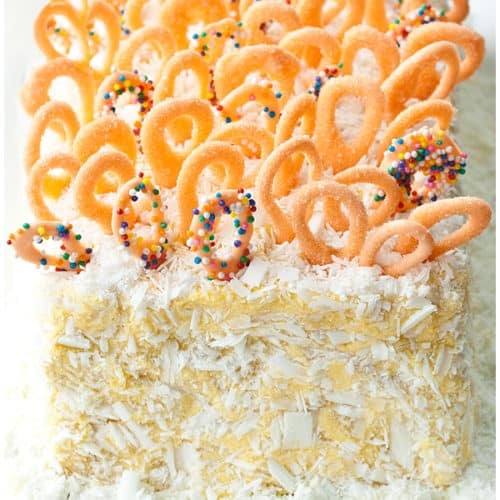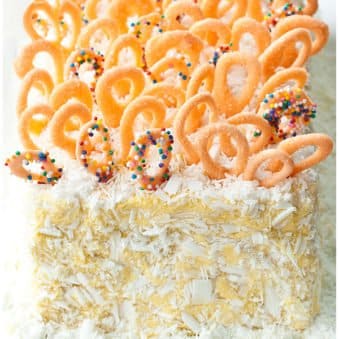 Easy Mango Cake with Mango Frosting
This tropical and easy mango cake recipe from scratch with mango frosting is a delicious Summer dessert. It's soft and moist and bursting with fruity mango and coconut flavors.
Yield: Slices
Instructions
In a a

mixing bowl

, cream butter and sugar together until the mixture is pale and fluffy.

Add eggs (one at a time) and keep mixing.

In a separate bowl, sift together the cake flour, baking powder, baking soda, shredded coconut (optional) and cardamom powder.

Dump the the dry mixture into the wet mixture and mix until everything is just combined. The batter will be thick but don't over-mix!

Pour the batter into a greased/floured

loaf pan

(Dimensions: 9x5x3). Use a spatula to spread out the batter. Bake at 350 degrees for 50-55 minutes or until an inserted toothpick comes out clean.

Allow the cake to cool down to room temperature. Then, fill and frost it in mango frosting and decorate it with chocolate loops, shredded chocolate and coconut. Enjoy!
Notes
Read all my tips above.
Leftovers can be stored in a sealed container in the fridge for up to 3 days. 
Nutrition
Calories: 3527kcal, Carbohydrates: 482g, Protein: 52g, Fat: 158g, Saturated Fat: 95g, Cholesterol: 857mg, Sodium: 2679mg, Potassium: 1526mg, Fiber: 13g, Sugar: 237g, Vitamin A: 7725IU, Vitamin C: 92.8mg, Calcium: 406mg, Iron: 17.9mg
Well, that's all for today.
Until next time, tata my lovelies!