Easy Orangeade Recipe
Quick and easy orangeade recipe made with freshly squeezed oranges and lemon juice. It's a refreshing, classic homemade Summer beverage.
*Thank you Vital Proteins for sponsoring today's post so that I can share this old fashioned orangeade recipe. As always, all opinions are mine.*
With the temperature hitting the high 90's, my family has been enjoying this homemade orange recipe A LOT!
We have been going through 1 large pitcher a day…hehe.
Honestly, this is way better than any orangeade you will ever buy at stores and requires simple ingredients that most of you probably already have in your pantry. Kids can also help make it with you, which is always fun.
Tips for classic orangeade:
The amount of sugar can be adjusted, based on your preference.
You can use whatever sweetener you like: granulated sugar, brown sugar, Stevia, honey, maple syrup e.t.c. The flavor will vary, based on what you use. The classic choice is always granulated sugar.
You must must serve this beverage cold for the best flavor possible.
Use the sweetest oranges you can find.
I don't add ice since I think that dilutes the orangeade as it melts but you can add ice, if you like.
To make fizzy orangeade recipe, replace 4 cups water with sparkling water.

Orangeade vs.  orange juice
They are both very different. Orangeade is made with fresh orange juice, lemon juice and a simple sugar syrup. Orange juice, on the other hand, is usually made with  just freshly squeezed oranges.
How to make orangeade?
Make simple sugar syrup in a saucepan.
Combine it with orange juice, lemon juice, additional tap water or sparkling water.
Pour it in a pitcher with fresh mint leaves and orange slices.
Chill and enjoy!
What is orangeade?
It's a drink made with orange juice, little lemon juice, some form of sweetener (mostly sugar) and water.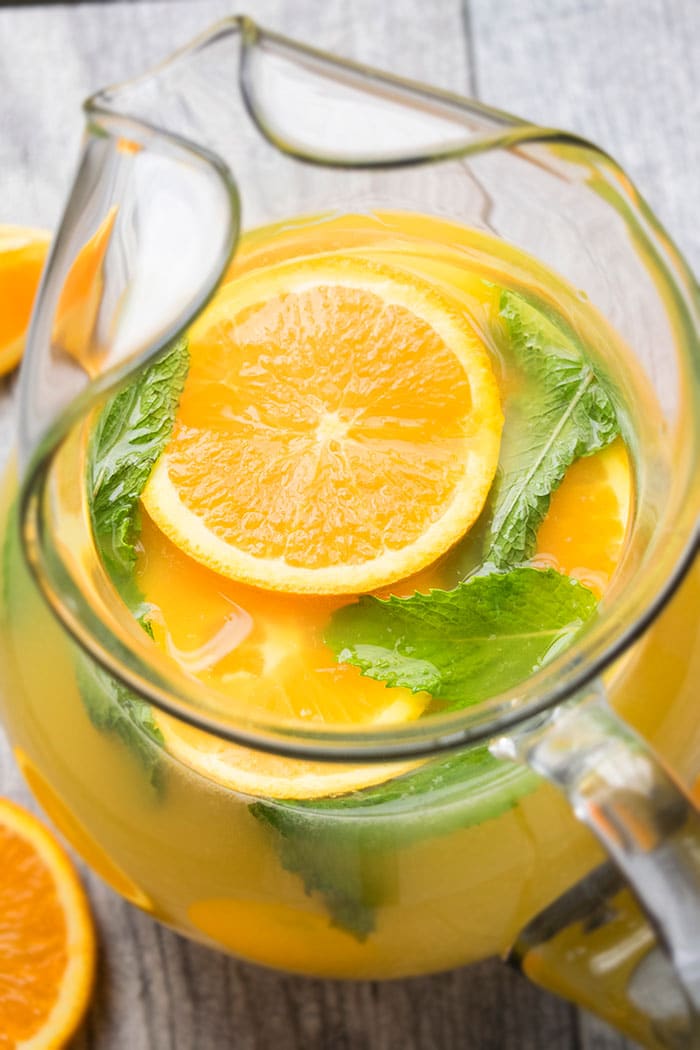 I added a packet of Vital Proteins collagen peptides in this recipe because it adds a boost of nutrition without affecting the color of flavor.
Even my picky kid can't tell!
I have been using Vital Proteins products for a few years now and their products are amazing. I highly recommend them! There are multiple flavors now and they are so easy to use. I LOVE the packets because I can easily travel with them.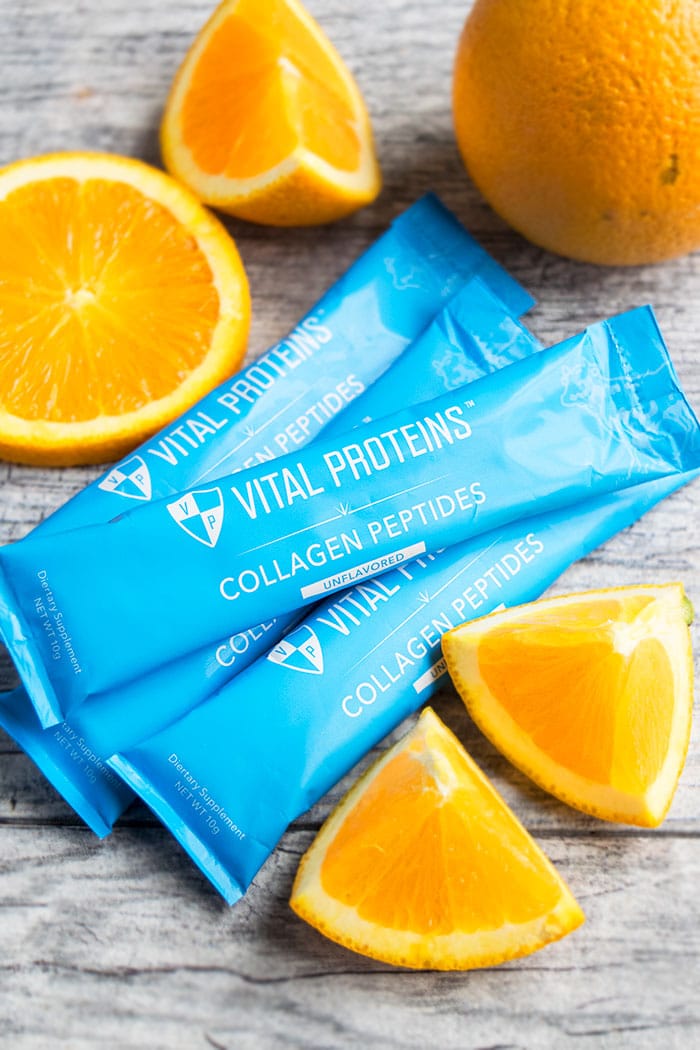 Other drinks and beverages: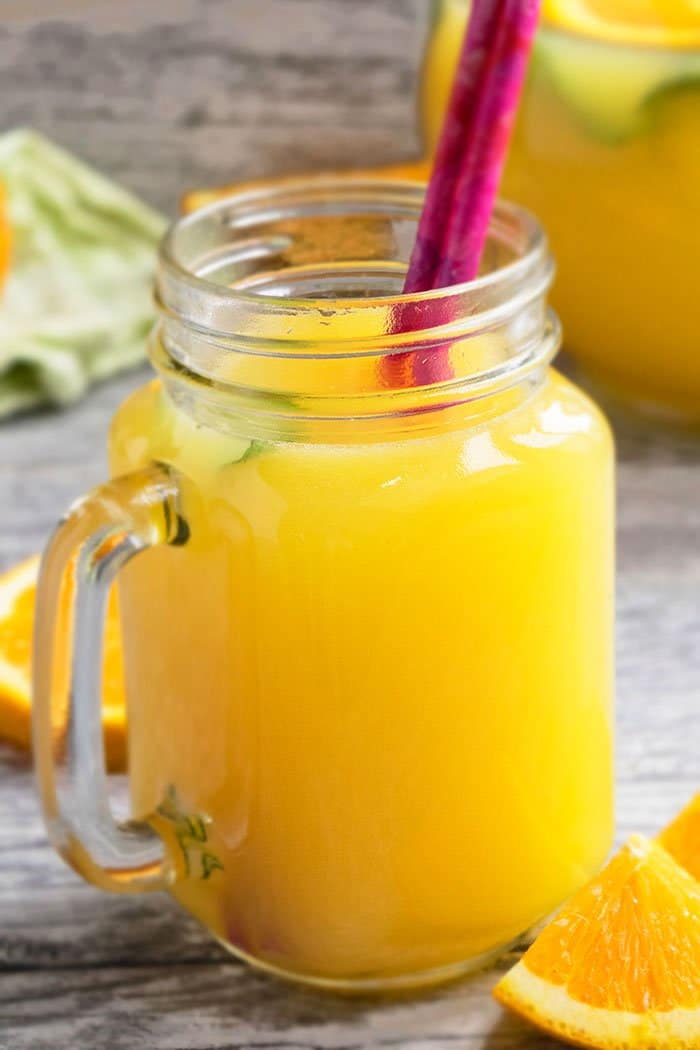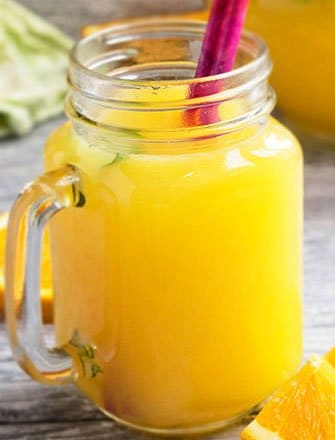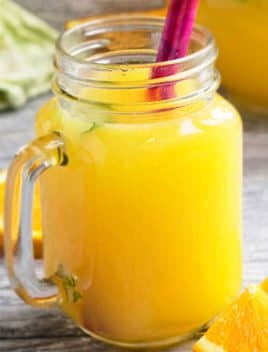 Orangeade
Quick and easy orangeade recipe made with freshly squeezed oranges and lemon juice. It's a refreshing, classic homemade Summer beverage.
Yield: Servings
Ingredients
1 cup Water
1 cup Granulated sugar, Or honey
1 packet Vital Proteins Collagen Peptides
3 cups Orange juice, Fresh
1/2 cup Lemon juice
4 cups Additional water, Or sparkling water
6-8 Mint leaves, Fresh
5-6 Orange slices, Round slices
Instructions
In a saucepan, add water and sugar and cook over medium high heat until al the sugar dissolves completely.

Add collagen peptides (flavorless protein powder) and cook it for a few more minutes until dissolves completely too.

Add orange juice, lemon juice, water and cook for about 1 more minute and remove from heat.

In a large pitcher, add mint leaves and orange slices.

Pour the orangeade and chill for 1-2 hours until it's nice and cold. Enjoy!
Notes
Read all my tips above.
Leftover orangeade can be stored in the fridge for up to 2 days. 
Nutrition
Calories: 146kcal, Carbohydrates: 36g, Sodium: 3mg, Potassium: 216mg, Sugar: 33g, Vitamin A: 235IU, Vitamin C: 56.9mg, Calcium: 15mg, Iron: 0.2mg
Until next time, tata my lovelies!