Cake Ball Cake
Use this cake decorating tutorial to learn how to make cake ball cake. It's quick, easy and a unique wedding cake and a fun birthday cake.
If you use combine cake balls and cake together, you will end up with an EPIC cake ball cake!
Even though I enjoy making cake pops , I like working on cakes more and this cake brought the best of both the worlds.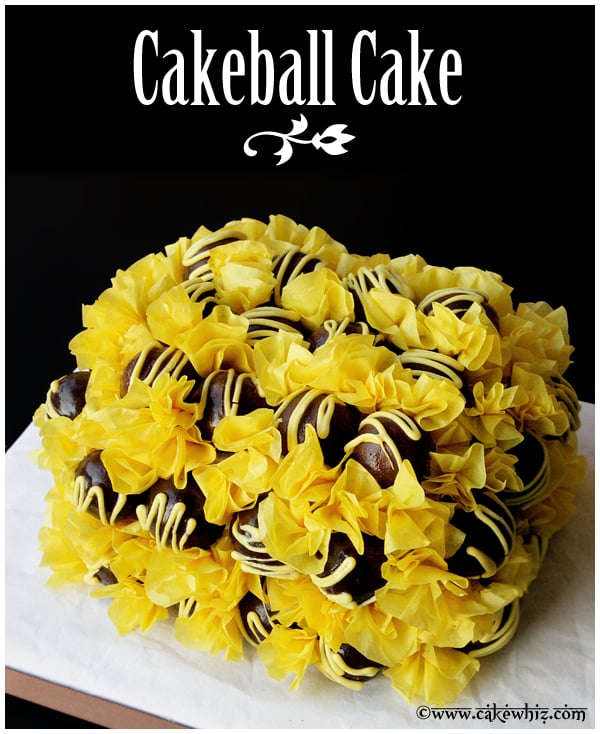 Basically, it involves arranging cake balls in such a way that they resemble a cake.
The idea for this cake ball cake came to me quite randomly when I was making cake pops and sticking them into a styrofoam to dry.
I ran out of space on top of the styrofoam and stuck a few on the sides…
It started to look interesting and that's when I knew I had another fun idea to share with y'all.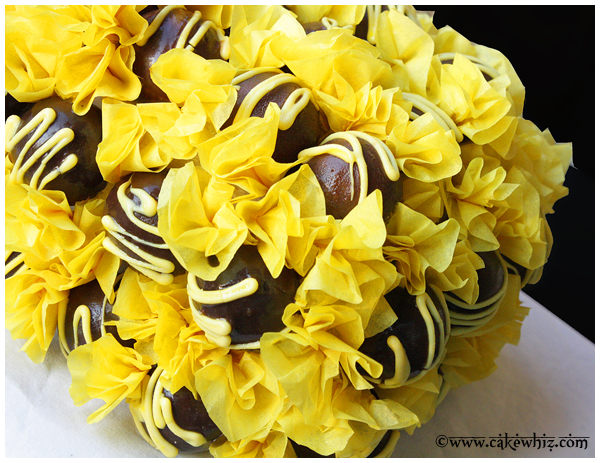 Also, notice all the yellow paper flowers on the cake?
I used those to hide the white styrofoam base that was showing through.
Trust me, if it wasn't for these flowers, the cake was looking ghastly! lol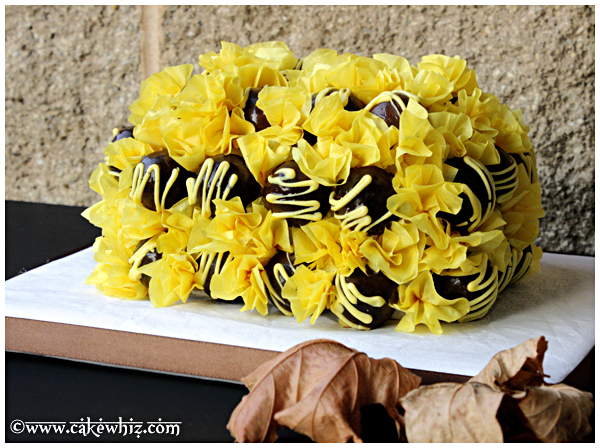 To make this cake ball cake, you will need the following INGREDIENTS/SUPPLIES:
Chocolate cake
Melted dark chocolate
Melted yellow chocolate
Tissue paper
Styrofoam block
Toothpicks
Scissors
Note:
Check out my tutorial for making cake pops and cake balls, if you have never made them before.
These are the INSTRUCTIONS:
Step 1:
Prepare the cake pops with toothpicks instead of lollipop sticks.  This makes it easier to push them through the styrofoam later.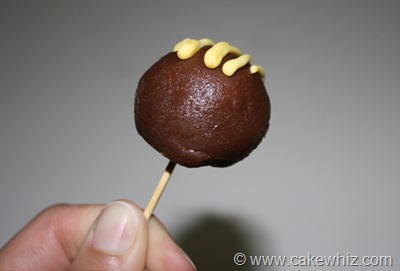 Step 2:
Push this cake ball into a rectangular shaped styrofoam.
Continue doing this until the top and sides are covered in cake balls.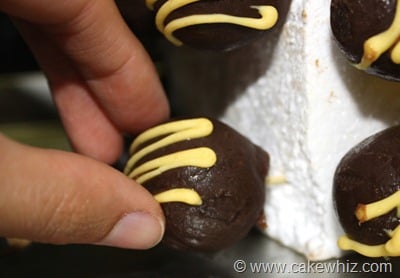 Step 3:
Now, to hide the white styrofoam showing through, cut out square shapes of crafty tissue paper.
Since the chocolate streaks on my cake balls were yellow, I used yellow colored tissue paper.
Hold the square sheet in your hand and start to pinch from the bottom until the top starts to crumple and starts looking like a messy flower.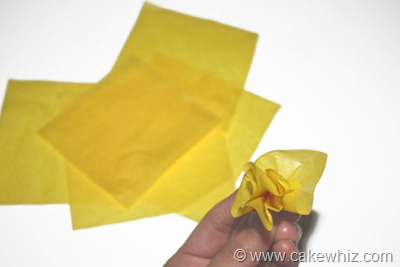 Step 4:
To maintain this "flowery" shape, twist the bottom and it will start to look like a mini stem.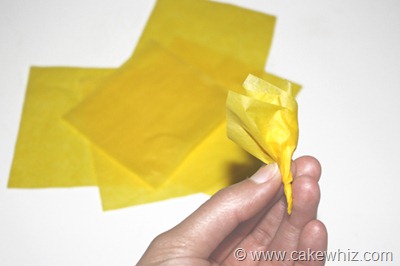 Step 5:
To give  these flowers a more rounded petal look, cut off sharp, random edges from the top using scissors and you will end up with easy-to-make, cute flowers.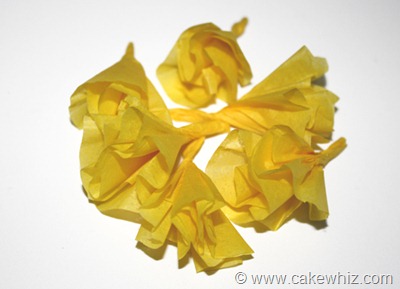 Step 6:
All you have to do now is place these flowers in any gaps you see between cake balls.
Tip:
If you want, you can glue gun a toothpick into each flower and then push it into gaps. This way, the flowers would be more secure but I was feeling slightly lazy and didn't feel like doing this…heheh.
Place your cake ball cake on a board or a tray and you are done!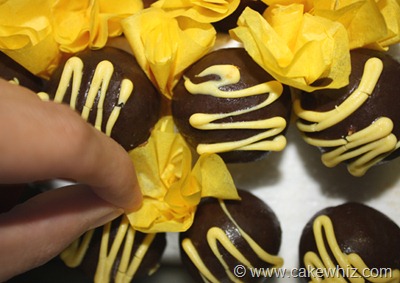 Well, that's all for today.
If you liked this cake ball cake, you may like some of these other decorated cakes too:
Until next time, tata my lovelies!