Homemade Granola (& More Yogurt Toppings)
Best, quick and easy homemade granola recipe with simple ingredients from scratch- Tastes better than store-bought! Sweet, chunky, crunchy with nuts, dried fruits, chocolate, maple syrup.
*This post is sponsored by the New Oikos Oh! Double Cream Yogurt but the content and opinions expressed are my own.*
I love this recipe because I end up with both, little granola clusters AND loose granola. So, I get to enjoy both. It's delicious with a great crunch and I love starting off the day with it, especially on top of yogurt.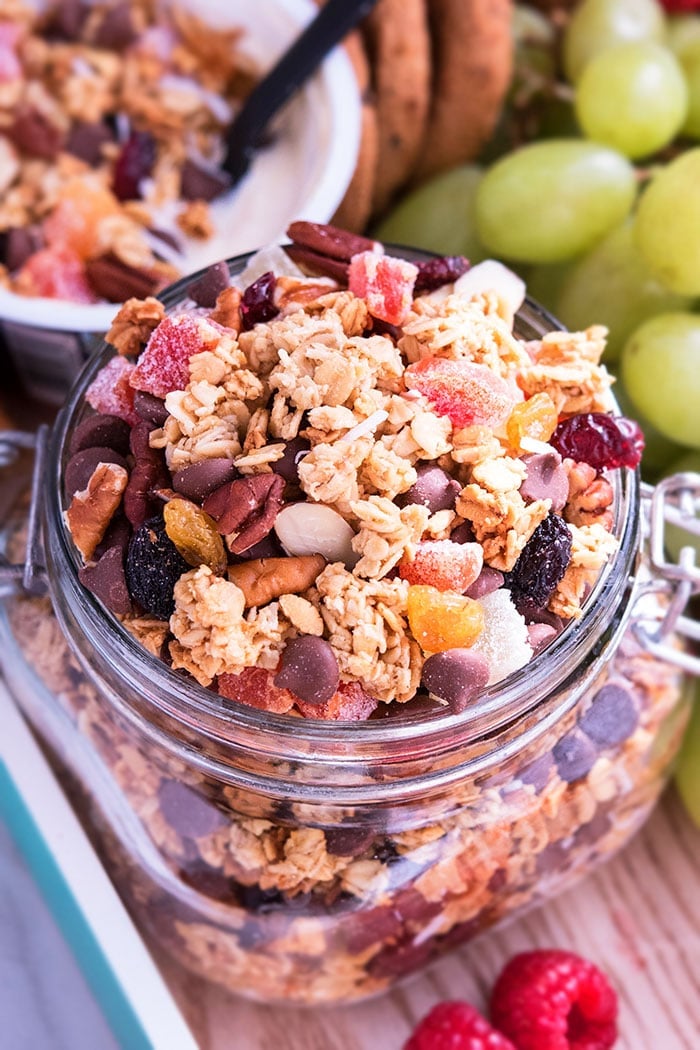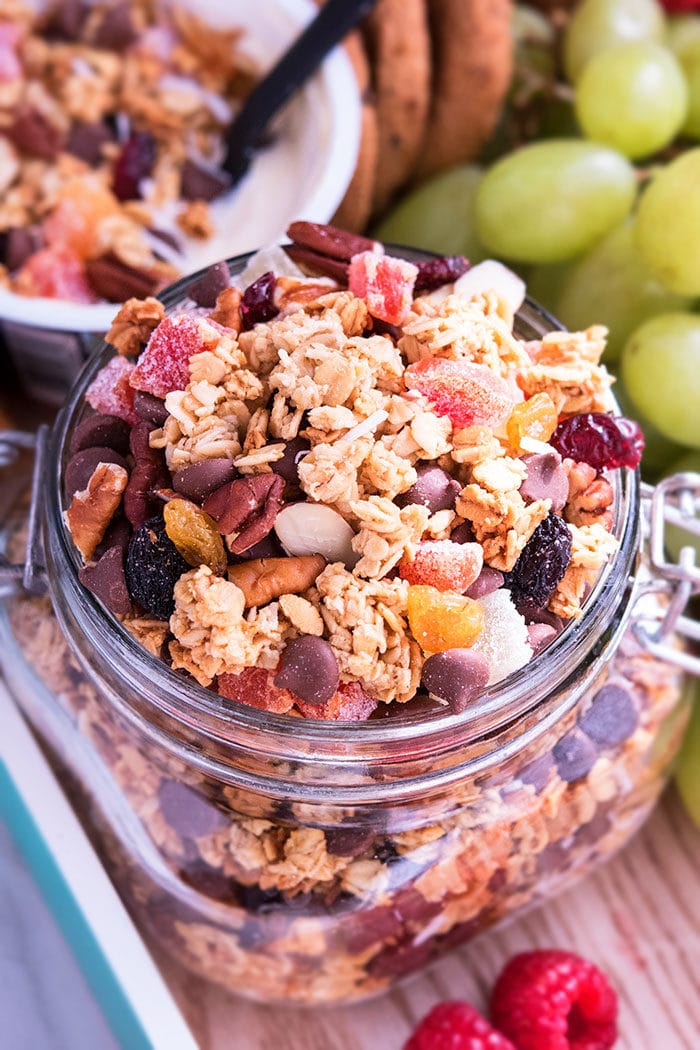 Speaking of yogurt, I have to tell you something: Now, most of you know that work can get crazy and that's why I have 30 minutes scheduled for myself mid-afternoon Monday-Friday. I flip through magazines or read a few chapters from a novel or I simply catch up on some of my favorite TV shows. It's just some unscheduled time to do whatever I want to let go and relax. Lately, I have been loving and snacking on these new Oikos Oh! Double Cream Yogurts, while I unwind. They truly transform my ordinary 30 minute window to extraordinary!
This yogurt is incredibly thick, luscious and creamy. My favorite is the the Salt-Dusted Caramel Crème, which has an indulgent salted caramel flavored sauce at the bottom that's to die for!
These yogurts are great on their own but sometimes, I toss my granola or some berries on top. It makes me feel all fancy and special…hehehe.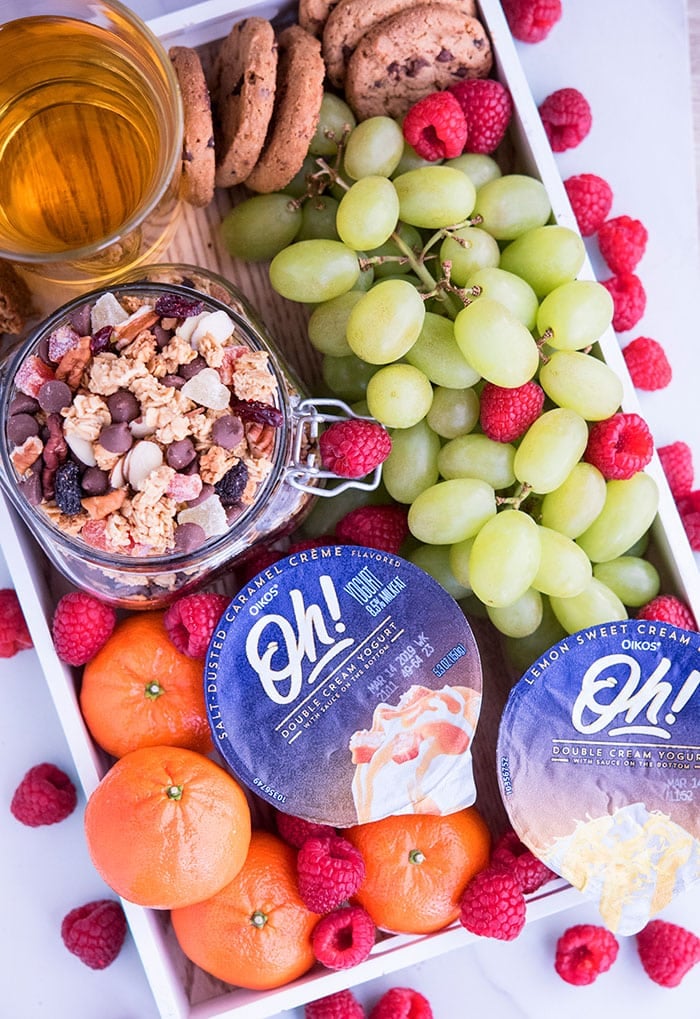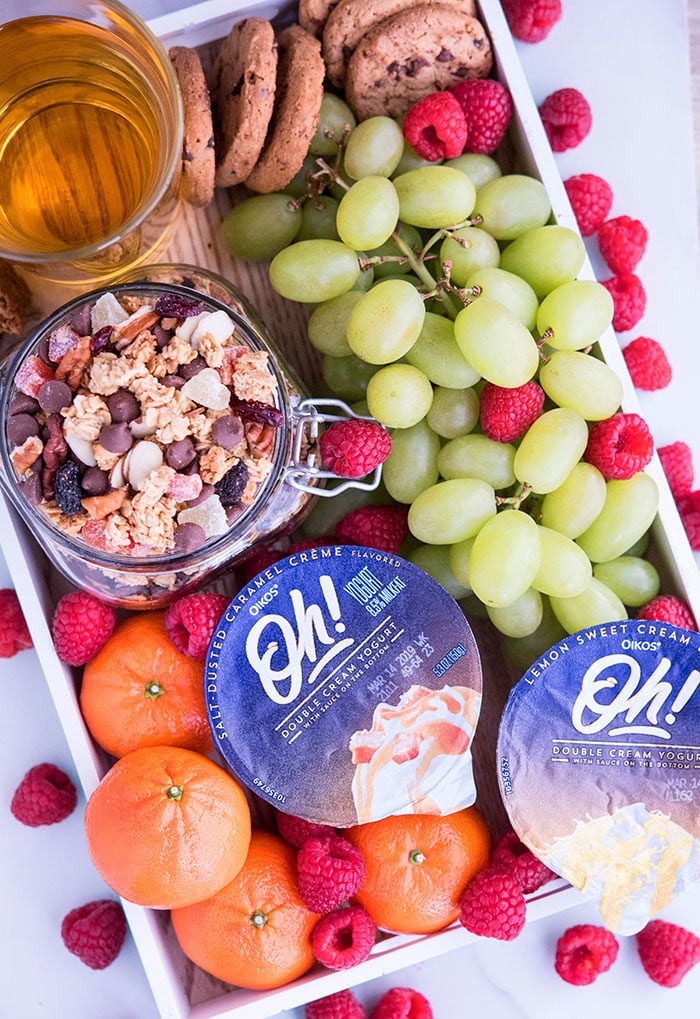 Other Yogurt Toppings
The possibilities are endless and you can adjust the recipe, based on your preference.

Chocolate chips- Use a combination of semisweet, dark, milk or white.
Nuts- Such as roughly chopped almonds, walnuts, pistachios, pecans, cashews, hazelnuts.
Fresh fruits- Berries are the most popular such as strawberries, raspberries, blackberries, blueberries. You can also try other fruits like kiwis, pineapples, oranges, bananas, peaches
Dried fruits- Such as dried pineapples, cranberries, raisins, papaya, cherries, dates.
Other unique toppers Chia seeds, flax seeds, shredded coconut.
Granola– Homemade or store-bought can be used.
Syrups– Honey, maple syrup or agave syrup or even chocolate syrup are all delicious.
Jams and preserves– There are so many flavors. Mix in 1-2 teaspoons of your favorite in the yogurt. You can even try this Lemon Curd because it's to die for!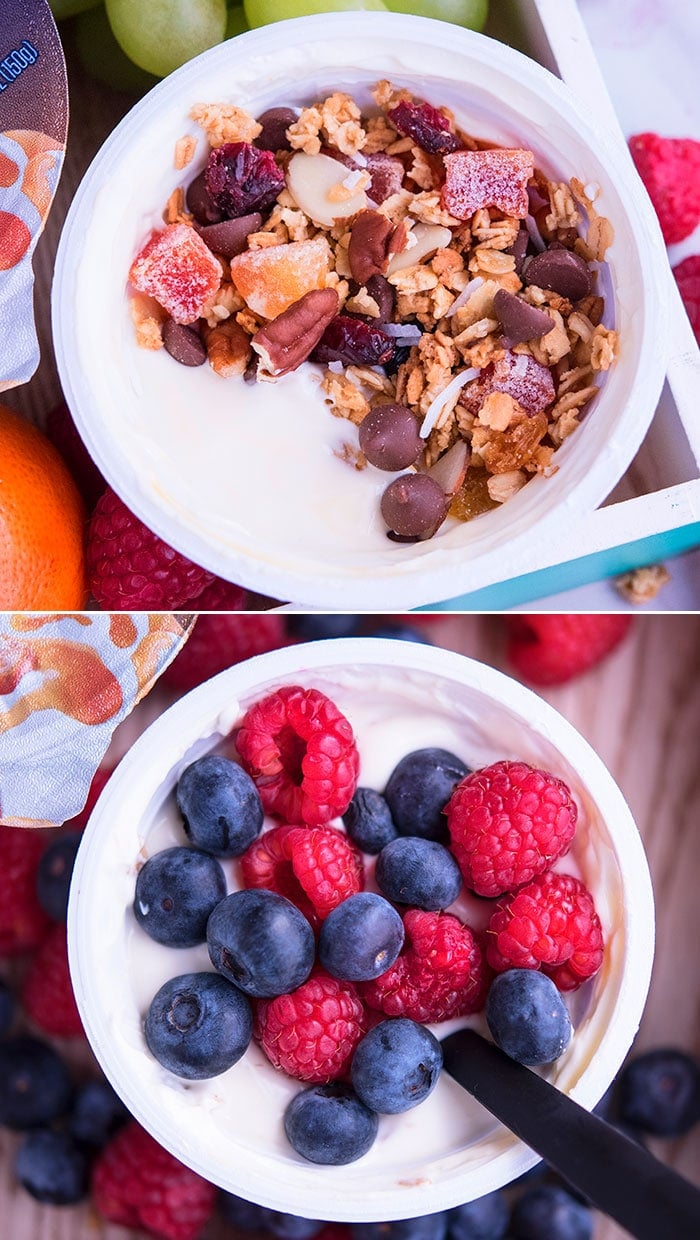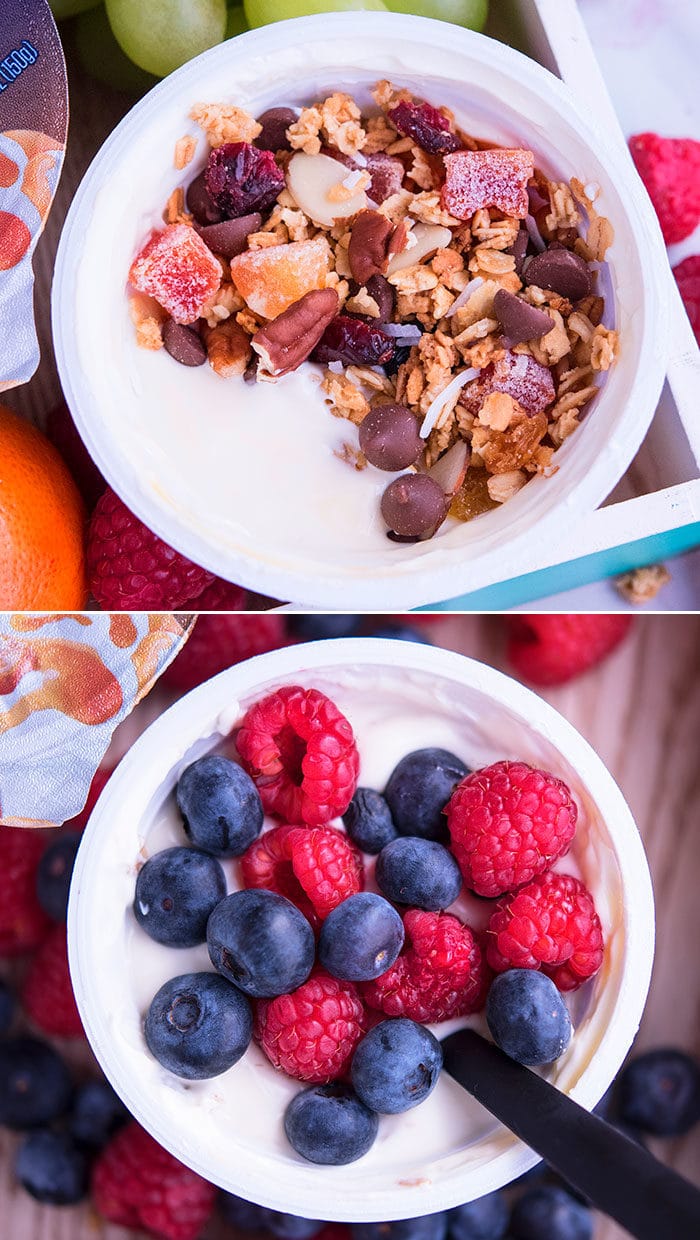 How to make granola?
Mix together maple syrup, coconut oil, vanilla.
Add oats, nuts, cinnamon.
Spread mixture in a tray.
Bake and cool.
Mix in chocolate and dried fruits and you are done.
How to serve granola?
There are many ways to enjoy this. Granola cereal is my fave. Eat it instead of cereal in a bowl of milk. Use it as a yogurt topping or in parfaits, which is my favorite way to eat it. Use it as a crunchy topping in fruit salads or even green salads. You can even eat it dry as a snack. Use it as a toppings for muffins. Toss it in your favorite trail mix. You can even it toss it on top of your smoothie bowls.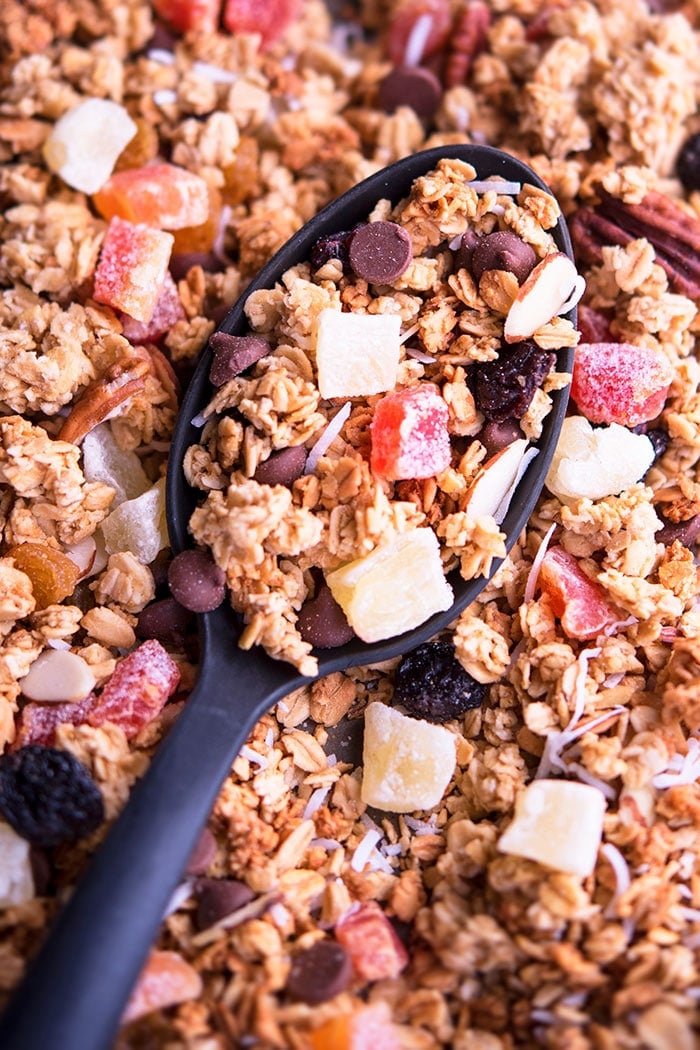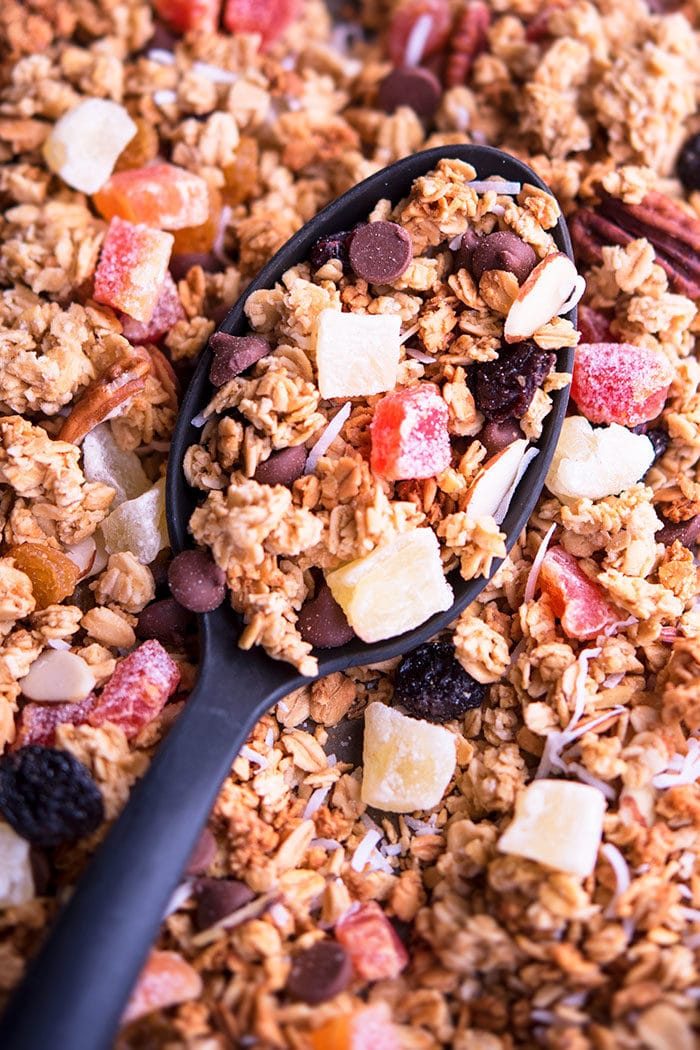 Tips and Techniques
What kinds of oats to use for granola? Old-fashioned oats OR ROLLED OATS are best. They are hearty and have a great crispy, chewy texture. Don't use quick-cooking oats because the results are just not the same.
Honey substitution- This is the glue that holds everything together. Agave nectar ands maple syrup work well too.
Coconut oil substitution- You can use canola or vegetable oil.
How long does homemade granola last? Allow it to cool down completely. Then, store it in a sealed air-tight container at room temperature or fridge for up to 1 month (this is what I personally recommend).
Get creative with spices and extracts– The sky is the limit here. Some popular choices are vanilla and cinnamon but you can also ass a little almond extract, fruit extracts, pumpkin pie spice, chai tea spices, espresso powder, cocoa powder or even lemon and orange zests.
Make it gluten-free– By using gluten-free oats.
Toss some add-ins at the end- lSome add-ins such as chocolate chips and dried fruit should be mixed in at the end when everything has cooled down to prevent burning and melting during baking.
Even baking is important- This can be accomplished by mixing everything together, halfway through baking AND spreading everything as evenly as possible in the baking tray, prior to baking, the oats out onto the prepared baking sheet. All of this allows everything to bake more evenly and prevents burning.
Why does granola feel wet? You will notice it feels a little moist when you remove it from the oven but it dries and becomes hard, as it cools.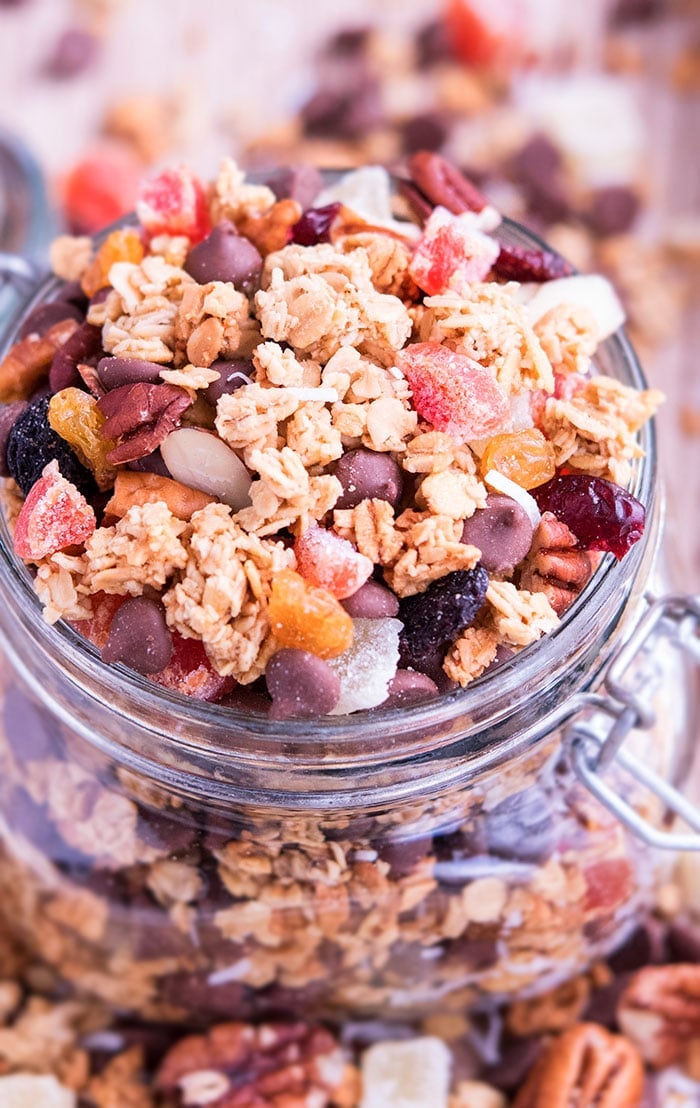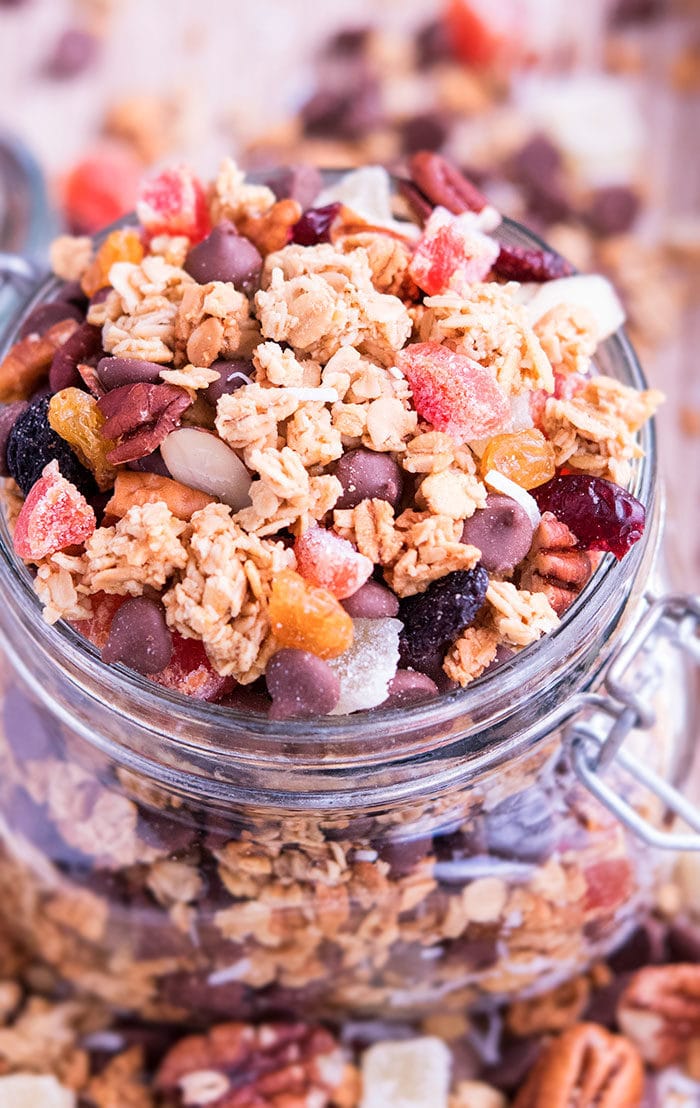 Other Breakfast Recipes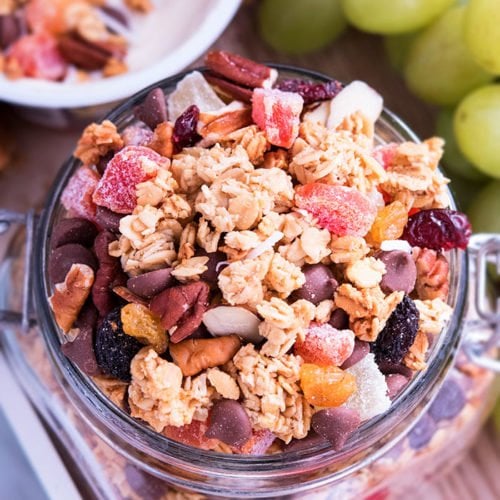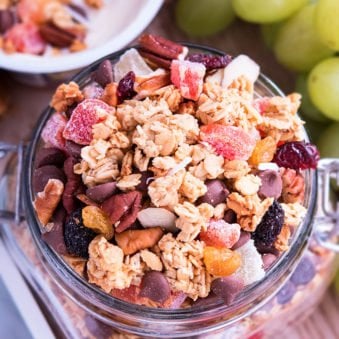 Easy Homemade Granola Recipe
Quick and easy homemade granola recipe with simple ingredients- Better than store-bought! Sweet and crunchy with nuts, dried fruits, chocolate, maple syrup.
Yield: cups
Ingredients
1/2 cup Maple syrup, Or honey
1/4 cup Coconut oil, Melted
1.5 tsp Vanilla extract
2.5 cups Old-fashioned oats, Also known as rolled oats
3/4 cup Nuts, E.g. Pecans, peanuts, almonds, cashews, pistachios e.t.c.
1/2 tsp Cinnamon powder
1/3 cup Chocolate chips
3/4 cup Dried fruits, E.g. Cranberries, raisins, dried pineapples, dried papaya, dried cherries e.t.c.
Instructions
Add oats, nuts of your choice, cinnamon powder and mix until combined and oats everything is sticky and moist.

Spread this mixture on a cookie tray, lined with foiled paper and greased.

Bake at 300 degrees F for about 45 minutes or until golden brown on top. Make sure toss and mix everything halfway through.

Allow granola to cool down completely and become dry and crunchy.

Mix in chocolate chips and dried fruits. Enjoy!
Notes
Read all my tips above.
Leftovers can be stored in sealed container in the fridge or room temperature for up to 1 month
Nutrition
Calories: 659kcal, Carbohydrates: 78g, Protein: 12g, Fat: 34g, Saturated Fat: 16g, Cholesterol: 2mg, Sodium: 20mg, Potassium: 435mg, Fiber: 8g, Sugar: 34g, Vitamin A: 35IU, Calcium: 110mg, Iron: 3.3mg
Until next time, tata my lovelies!