Use this step by step tutorial to make easy marshmallow kabobs for St.Patrick's Day or rainbow birthday parties. Fun for kids!
St.Patrick's day is about ten days away and I made these easy and fun marshmallow kabobs for you.
I always struggle with St.Patrick's day treats…
Aside from making everything green or adding alcohol to recipes, there's not much you can do.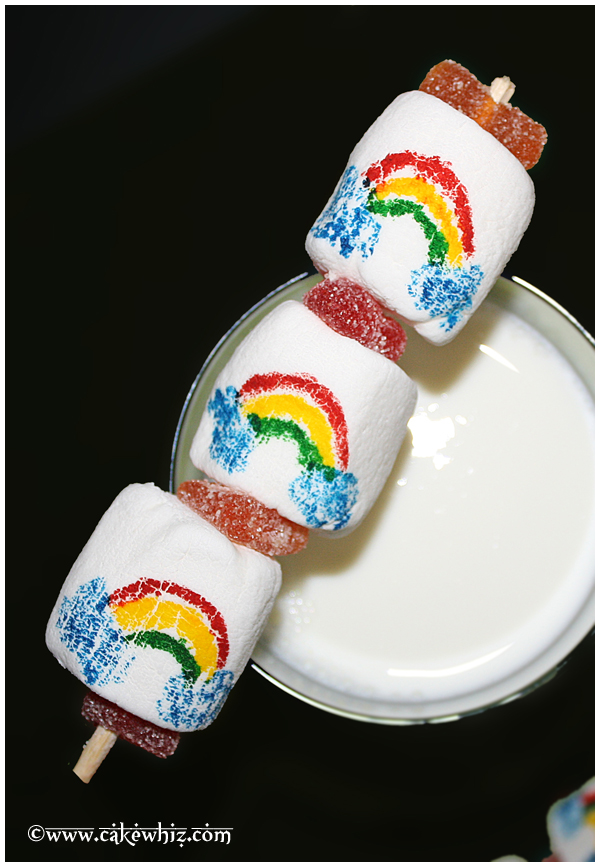 But anyways, let me share a story from my childhood that inspired today's treat…
GET 40 OF MY BEST COOKIE RECIPES TODAY!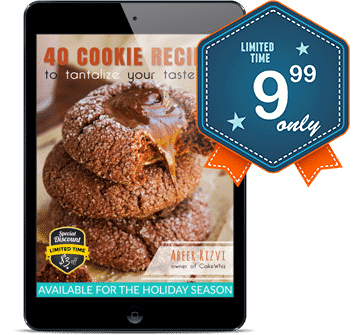 BUY NOW FOR $9.99
As a kid, there was this one time when my mom was making seekh kabobs with minced meat.

MY OTHER RECIPES
It looked very cool and she made it look easy.
So, I offered to help but my hands were too small and I wasn't able to make them properly… hehe.
Seeing me get frustrated, my lovely mom brought out a bag of jelly candies and marshmallows and showed me how to make marshmallow kabobs instead.
We had  those for dessert that night.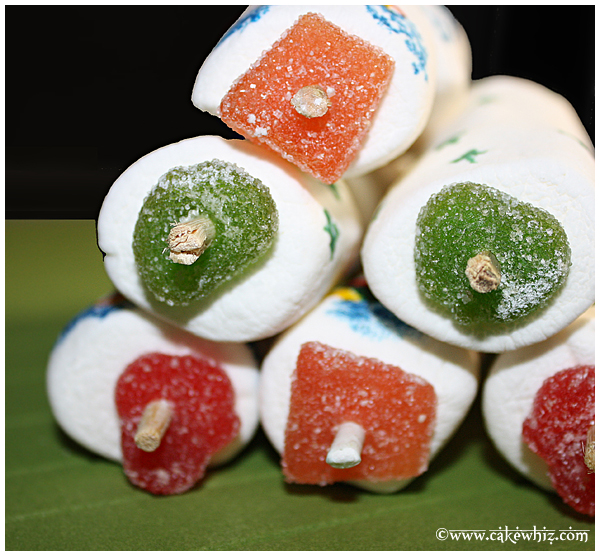 Edible markers didn't exist back then so I wasn't able to draw on my marshmallows.
But, thanks to my mom, I can now share a very cute St.Patty's day dessert or snack with all of you ….
MARSHMALLOW KABOBS with rainbow and shamrock drawings!!!!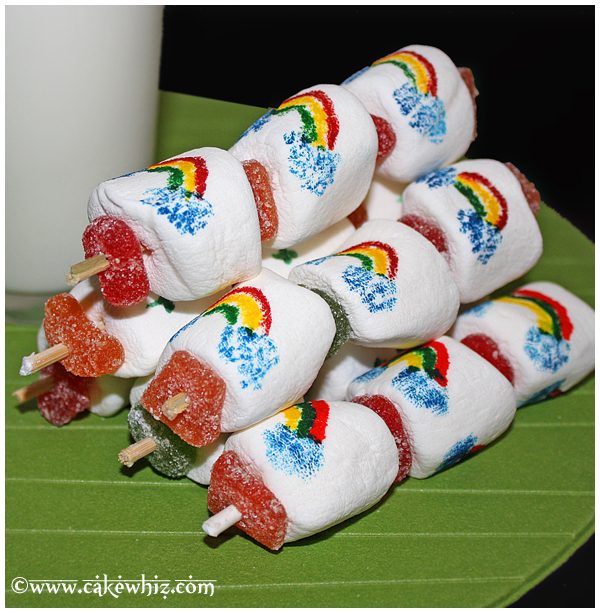 When my husband first saw these marshmallow kabobs, his exact words were:  "It looks like a child made them!"  Hahaha
So true but who cares?! lol.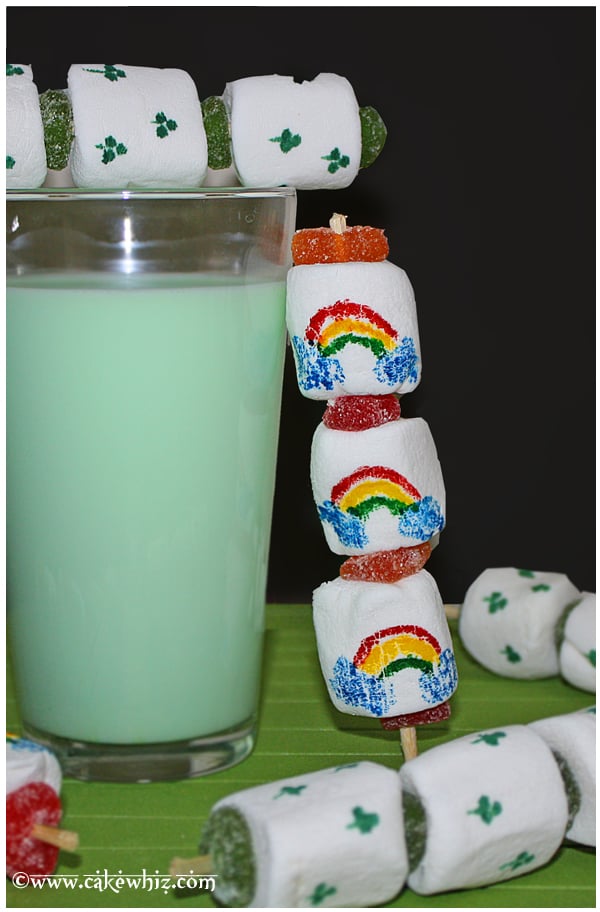 Anyways, halfway through taking random shots of these kabobs, I thought: "This is a St.Patrick's day posting… so, why don't we make the milk green?" 
With a few drops of green color, my milk changed color.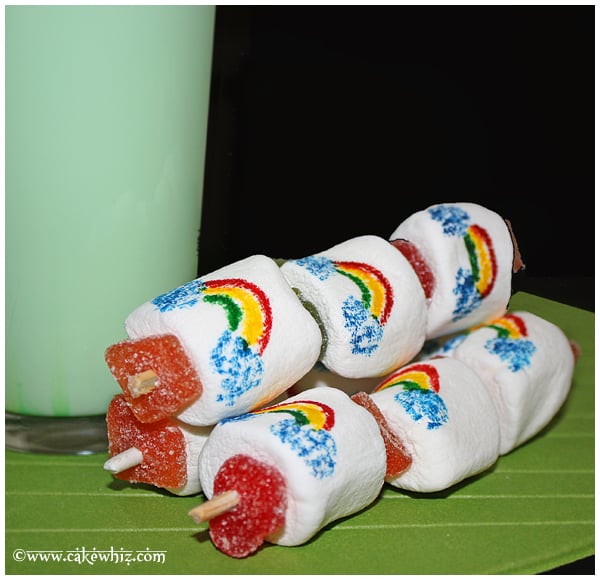 Preparing these kabobs is very simple and if you have kids, make these with them.
They are gonna have the time of their lives! 😀
To make these marshmallow kabobs, you will need the following ingredients and supplies:
Wooden skewers
Big marshmallows
Jelly candies in various colors
Edible markers 
And here are the steps:
Step 1:
Bring out your wooden skewers and break each in half.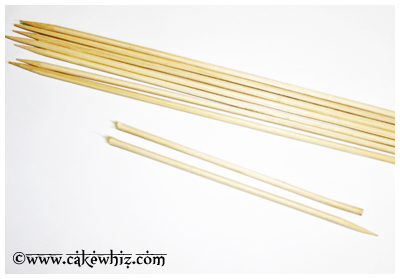 Step 2:
Insert jelly candies and big marshmallows on each stick, in an alternating sequence.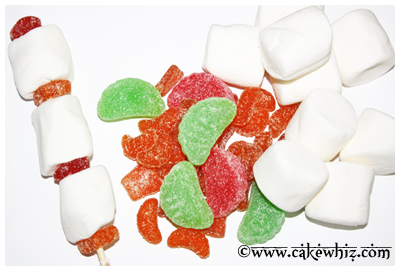 Step 3:
Using your red, yellow and green edible markers, draw a rainbow.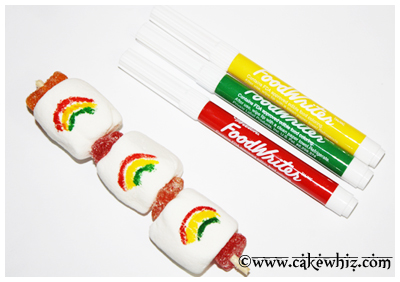 Step 4:
Using a blue marker, draw clouds on either side of the rainbow.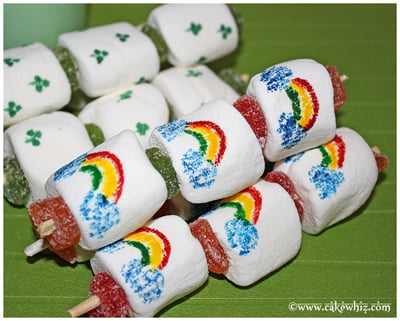 Step 5:
To make a shamrock leaf, use a green marker and draw three dots and a vertical line.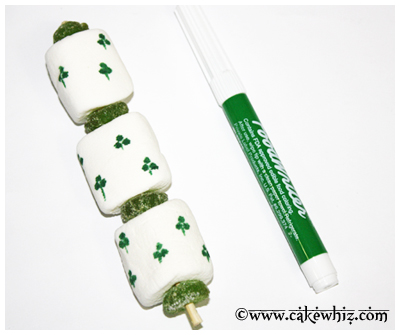 And that's it… you are done.
Told ya it was easy 🙂
Start dunking 'em away in warm green milk…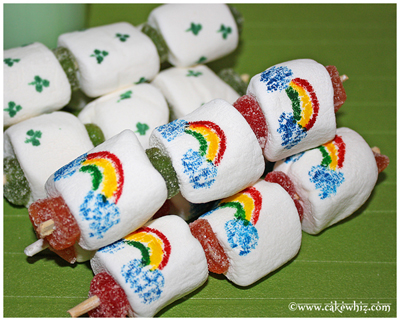 Well, that's it for now… I am off to think of more St.Patty's day ideas.
I
f you have any ideas, please feel free to share.