Leprechaun Cake Pops
Use this step by step tutorial to make cute and easy leprechaun cake pops for St.Patricks' Day. Fun activity to do with kids!
St.Patrick's day is incomplete without some leprechauns and that's why I made these adorable leprechaun cake pops!
I was thinking of making cupcakes with leprechaun toppers.
But then I thought: Since pops are all the rage these days, let's make some leprechaun cake pops instead!
I am so glad I did because they ended up looking ultra-cute.
Here's a close-up…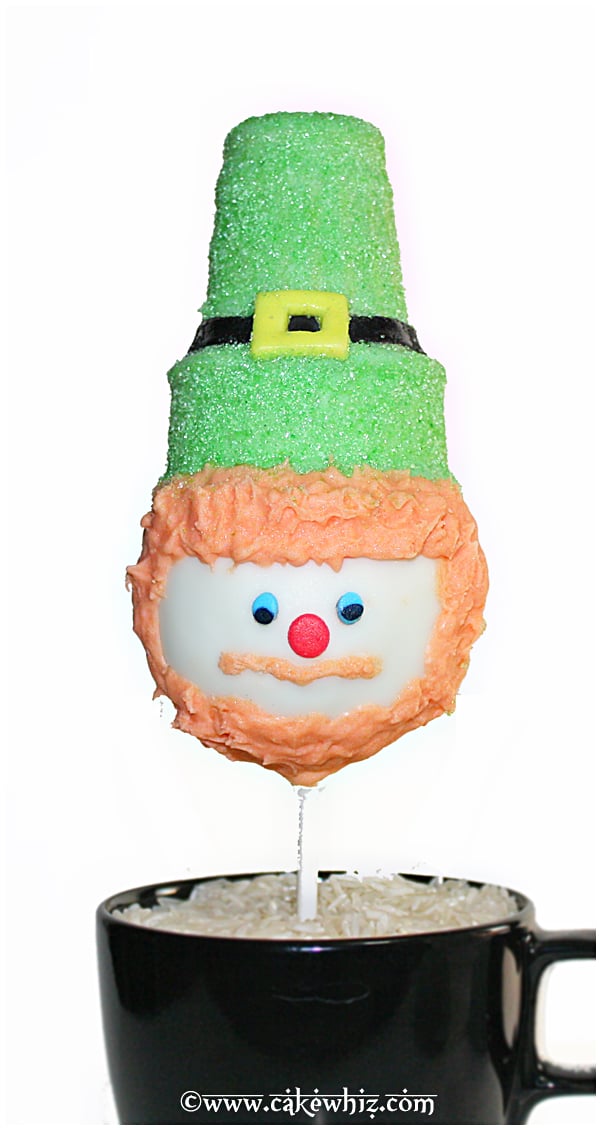 Keep in mind these leprechaun cake pops are heavy.
So push them into a heavy duty foam to prevent them from falling over.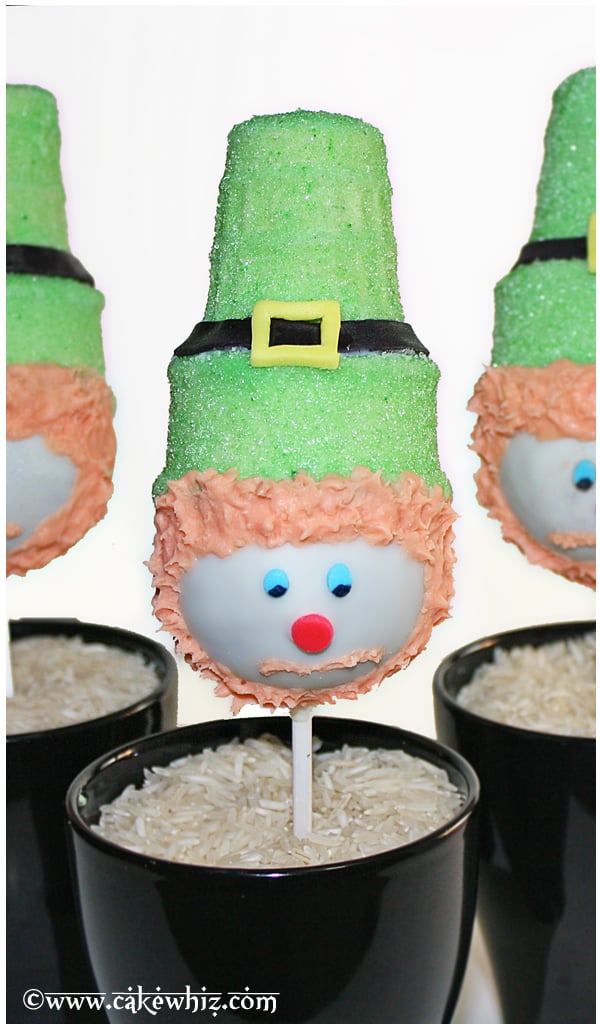 To make these leprechaun cake pops, you will need the following supplies:
Pound cake to make cake balls (I used leftover cake from my Irish trifle, which is why my cake balls are sorta colorful)
Lollipon sticks
Wax paper
Ice cream wafer cone
Green melted chocolate
Orange melted chocolate
White melted chocolate
Green colored sugar
Round and oval confetti sprinkles
Black edible marker
Black marshmallow fondant 
Yellow fondant
Squeeze bottles
And here are the steps:
Step 1:
Prepare your cake balls and place them on a tray lined with wax paper.
Check out my tutorial for making cake balls, if you have never made them before.
Melt white chocolate and dip the tip of your lollipop sticks in it.
Push the the sticks into cake balls. Based on my understanding, anything on a stick becomes a pop….so, these are now called cake pops!
Allow these pops to chill in the refrigerator.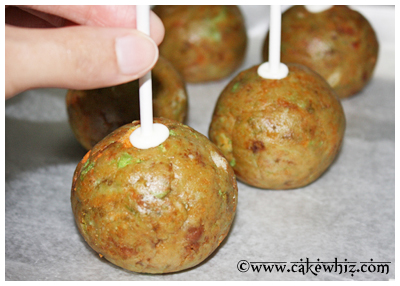 Step 2:
While the pops are cooling, melt some more white chocolate and color it green or use green candy melts.
I found the consistency to be quite thick so I added oil (a little at a time) until I had a very thin consistency as shown in this picture.
Using an ice cream scooper or a big spoon, pour melted green chocolate onto an ice cream cone.
Before the chocolate has a chance to harden, sprinkle green colored sugar all over it so that you have a sparkly green leprechaun hat.
Keep this hat aside and allow the chocolate to harden.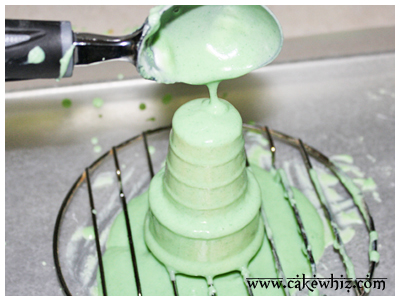 Step 3:
In the meantime, take out your cake pops from the refrigerator and pour white chocolate on each pop. 
I stuck them on a block of styrofoam and placed it in the refrigerator so that the chocolate can harden.
This will become the leprechaun's face.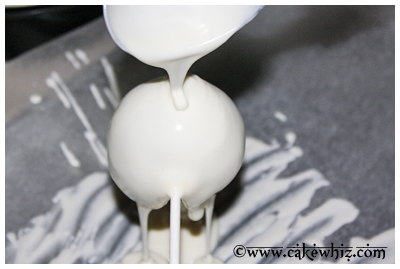 Step 4:
Now, time to put it all together.
Take out your pops and pour some white chocolate on the top.
Stick your green cone on top and hold it until it sticks in place.
This will become the leprechaun's hat.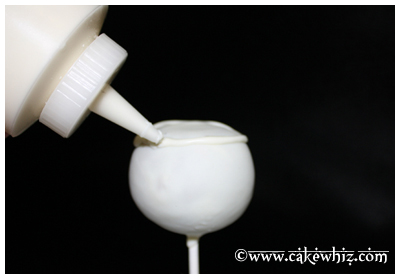 Step 5:
To complete the hat, cut out a black strip and yellow hollow square out of fondant and stick this around the rim of the cone using melted chocolate.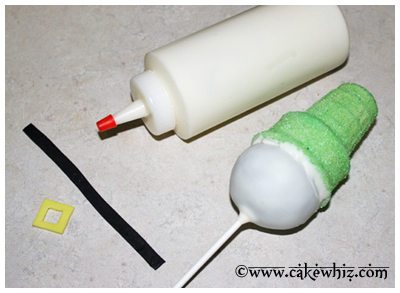 Step 6:
For the hair and the beard, squeeze out orange colored melted chocolate around the face.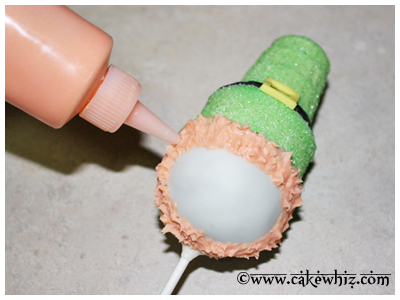 Step 7:
For the eyes, I used blue oval sprinkles and for the nose, I used red confetti sprinkles.
Draw a black dot with an edible marker to complete the eyes.
Use orange colored melted chocolate to make a moustache.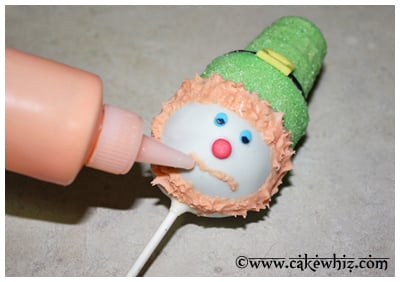 And you are done making your very own leprechaun cake pops! 
Cute… ain't he?!
Well, that's all for today. 
If you liked this post, you may like some of these other St.Patrick's day ideas too…
Sweet and salty candy cracker bites
Until next time, tata my lovelies!