How to Make Peacock Cake and Cupcakes
Use this cake decorating tutorial to learn how to make peacock cake and peacock feather cupcakes. Perfect wedding cake, anniversary cake, birthday cake.
Today, I am sharing a peacock cake that I made for my cousin last year.
You will find MANY peacock wedding cake ideas and peacock birthday cake ideas when you do a quick search on Pinterest or Google.
You can also buy many EDIBLE peacock cake decorations online too.
You can use my step by step tutorial to make an EASY peacock cake topper on a tiered cake. Just use this as the final top tier. You can also use the tutorial below to make a little fondant or gum paste peacock topper.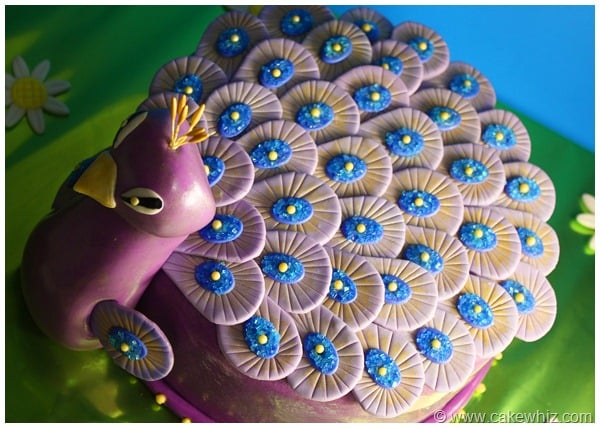 Want to know my favorite feature of this peacock cake????
All the gorgeous FEATHERS!!!
I thought they were the highlight of this cake and made it so special.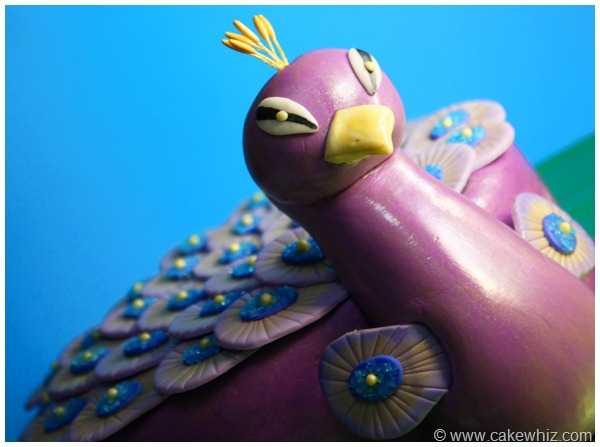 Since this was a birthday cake, I had to write "Happy Birthday."
However, I can't pipe letters to save myself! I SUCK at it! lol.
After many failed attempts, I decided to use letter shaped candy molds.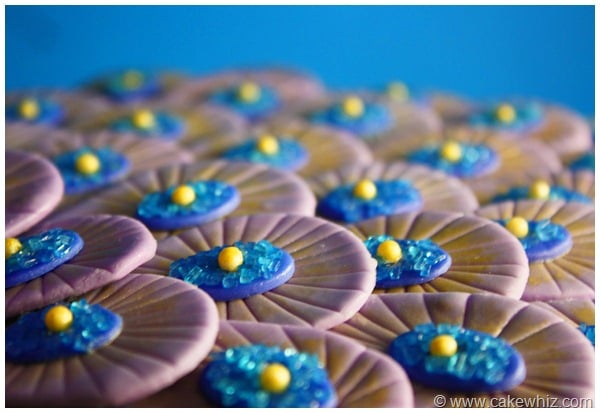 Other birthday cake ideas:
How to make a peacock cake?
Allow your baked cakes to cool and then level off the dome so it's flat from the top. Then, frost it in American buttercream frosting and cover it in purple marshmallow fondant.
Tip: Before applying fondant, it's alwaypes good to place your cake in the refrigerator so the icing is not as sticky and this makes applying fondant easier.
Roll out purple fondant and cut out hearts using a heart- shaped cookie cutter.
Use a knife to cut this heart in half.
Cut out the jagged ends with a knife and use the sides of the knife to smooth out the ends. These will be the feathers of your peacock.
Press the knife gently onto these feathers to create a pattern.
Use a knife to cut off the pointy ends of these feathers.
Now, mix some golden lustre dust with a few drops of vodka (or if you are like me and don't use any alcohol in cooking/ baking, mix it in some water). Use a paintbrush to paint only the centers of these feathers. Start painting in the center and then paint outwards…
Note: If you used water instead of vodka to paint, your painting will take almost a day to dry. If you used vodka, your painting will dry within a few minutes.
Use a small oval cutter to cut out blue fondant ovals and stick them in the center of the feathers. I used water to stick them. You can use corn syrup or royal icing to stick them too.
Brush some water on top of the blue ovals and sprinkle some blue sanding sugar. Once the sanding sugar sticks to the blue ovals, brush away all the excess sugar.
Making the face and body of the peacock was the hardest part for me. I used 50/50 (gum paste- fondant combination). There is no easy way to do this. You would have to mold it with your hands as if you are playing with play-doh.
Note: Next time, I am going to make the shape out of rice krispie treats and then cover it in fondant… that might be easier or so I think.
Stick two feathers on either sides to create wings.
Stick a cluster of golden stamens on top of the head (peacocks have this odd thing on their head but I don't know what it's called).
Mold some white fondant into a beak and stick it in position.
Paint the beak golden.
Allow this body to dry completely. It took for 4 –5 days for me.
Now, stick the feathers on top of the fondant-covered cake sing really watery royal icing.
Place the cake on a large cake board.
Stick the body on the side of the cake using royal icing.
Roll out a long purple "snake" and wrap it around the base of the cake to give it a nice, refined look.
Stick some golden edible pearls on the feathers and around the base of the cake.
Prepare some more golden paint and paint lightly along the sides of the cake as well as the body. This gives the entire cake a nice shine.
Stick some fondant daisies randomly on the cake board using melted chocolate.
You are finally done with this peacock cake! I hope you found this peacock cake tutorial helpful.
I had some LEFTOVER fondant feathers and didn't want to throw them out and made peacock cupcakes/ peacock feather cupcakes.
I made chocolate cherry cupcakes and I piped a rose design with colored white chocolate buttercream frosting and stuck 2 feathers on top of each cupcake.
You can also use these feathers as a DECORATION for peacock cake pops.
By the way, you can also rent a fancy cake stand that allows you to DISPLAY your peacock cake with cupcakes altogether.
Until next time…tata my lovelies!