Homemade Funnel Cake
Classic, quick, easy, homemade funnel cake recipe- The batter is made with simple ingredients in 30 minutes. No funnel required! No deep fryer needed! Top it with powdered sugar, strawberries, ice cream and chocolate syrup.
One of the best things about Summertime is going to county fairs and carnivals and enjoying all the food there. I even made these Cotton Candy Cookies, after getting inspired on one of my visits. Today's recipe is another classic. These cakes are perfectly crispy on the outside but soft on the inside.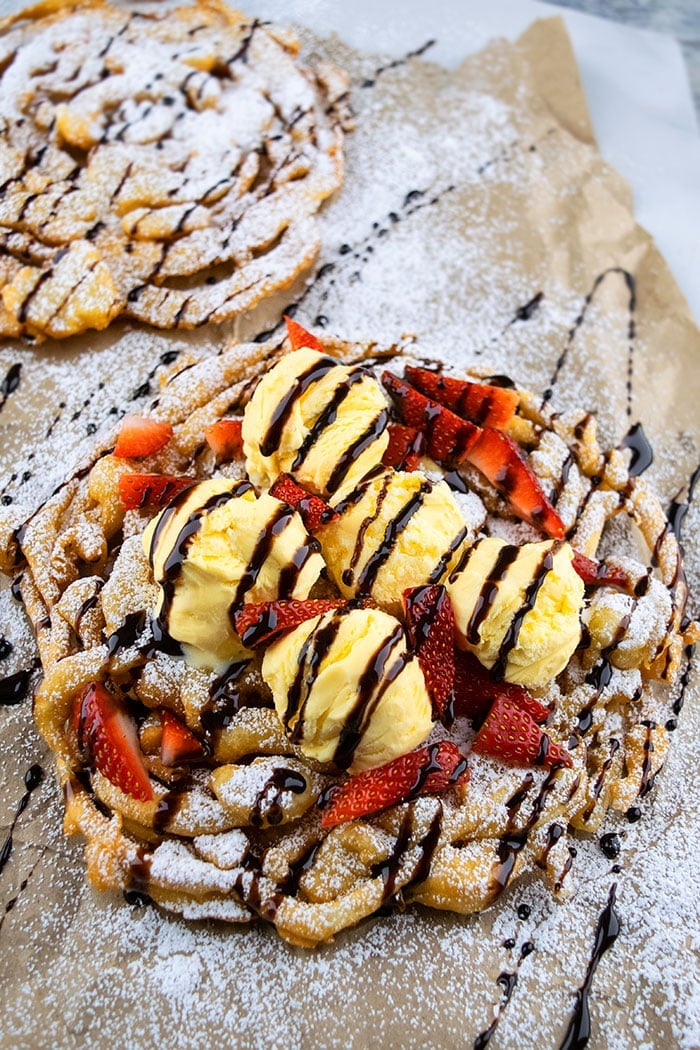 What is funnel cake? Is it a cake?
It is a type of street food that is very popular in North America. They are commonly served at carnivals and county fairs. They are made from a batter that is similar to pancake batter but thinner. It's deep fried in such a way that batter is poured out from a funnel while overlapping itself in the hot oil. Hence, the name! It doesn't have the texture or flavor of a cake and it's actually similar to a donut.
How to make funnel cake without funnel?
Mix wet ingredients– This includes eggs, milk, sugar, and vanilla extract.
Mix dry ingredients– In another mixing bowl, whisk together flour, baking powder, cinnamon powder and salt until fully combined.
Combine wet and dry ingredients– Until just combined.
Fry batter– Pour it in hot oil in a circular motion, ensuring it's overlapping itself.
Remove– When it's golden brown, remove from oil and place it on paper towels for a few minutes.
Add toppings– Such as ice cream, candies, chocolate chips, fruits e.t.c and enjoy!
What to serve with easy funnel cake recipe?
Powdered sugar– This is a classic topping choice. Just a light dusting of powdered sugar on top is delicious. You can also do a combination of cocoa powder and powdered sugar for a chocolate flavor.
Drizzles and sauces– ranging from chocolate fudge sauce, melted peanut butter, melted Nutella, Dulce de Leche or Homemade Caramel Sauce, and Nutella Syrup. Another great option is Lemon Curd.
Chopped nuts– Such as pecans, walnuts, peanuts, and almonds.
Dried fruits– Such as roughly chopped dried cranberries, cherries, raisins, pineapples, mangoes e.t.c.
Sprinkles– You can choose from a variety of shapes and colors.
Brownies– Cut them up into small cubes and toss them on top, along with whipped cream or ice cream. Try these Caramel Brownies (With Cake Mix) or Cheesecake Brownies (Cream Cheese Brownies).
Ice cream– Add a scoop of your favorite ice cream on top. For a Neapolitan twist, serve with chocolate, vanilla and strawberry ice creams.
Chocolate chips– You can use either dark, milk, semisweet, or white chocolate chips or a combination of various types.
Cookies– Such as roughly chopped Oreos, chocolate chip cookies, Biscoff cookies, vanilla wafers, or cinnamon graham crackers.
Whipped cream– This Homemade Whipped Cream is the best but store-bought version works well too.
Frostings– Such as Peanut Butter Frosting, Chocolate Ganache Frosting or Marshmallow Frosting.
Pie fillings– Such as Raspberry Pie Filling, Peach Pie Filling, Strawberry Pie Filling, Blueberry Pie Filling or Cherry Pie Filling.
Fresh fruits– Such as strawberries, blackberries, blueberries, bananas, raspberries, peaches, cherries, pineapples and any other fruits of your choice. Be sure to pat them dry with paper towels so it doesn't make a soggy mess.
Candies– Such as roughly chopped Reese's peanut butter cups, Kit Kat, Twix, M&M, toffee or any other candies you like.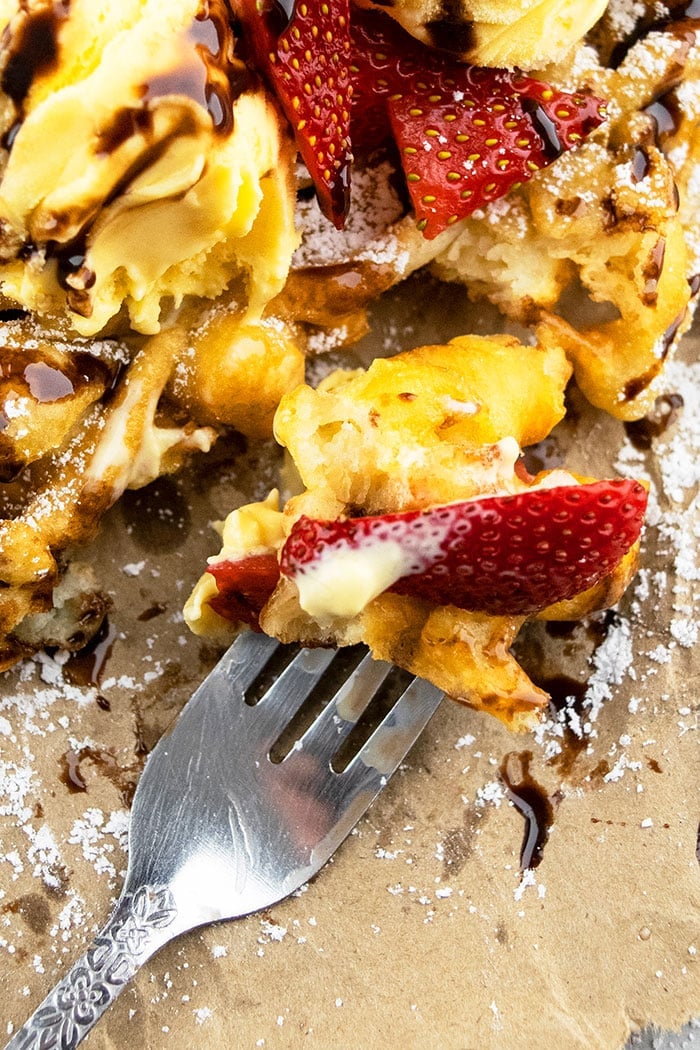 Variations
Make sticks/ fries– Squeeze out straight lines with batter into the oil to turn them into fries and serve them with chocolate ganache or Chocolate Fondue.
Use a pancake mix– This is supposed to be an easy shortcut. Prepare pancake batter, as per the boxed pancake mix instructions and thin it out slightly with milk or water. Then, deep fry the batter.
Make them bite sized– Make small versions by pouring a small amount of batter in the oil.
Red velvet flavor- Add a little cocoa powder and red food coloring.
Add spices in the batter– Such as cinnamon, nutmeg or pumpkin pie spice for a different flavor profile. You can also try other extracts.
Make layer cake– Stack multiple cakes on top of one another, sandwiches between ice cream and fruits and topped off with even more toppings of your choice.
Storage
Refrigerate- Tastes best when served immediately but can be refrigerated without any toppings for up to 1 day. Add toppings prior to serving. It still won't taste as good as when it's freshly made because it loses the crispy texture.
Freeze– They cannot be frozen and it's not recommended because they will become soggy and soft when they thaw.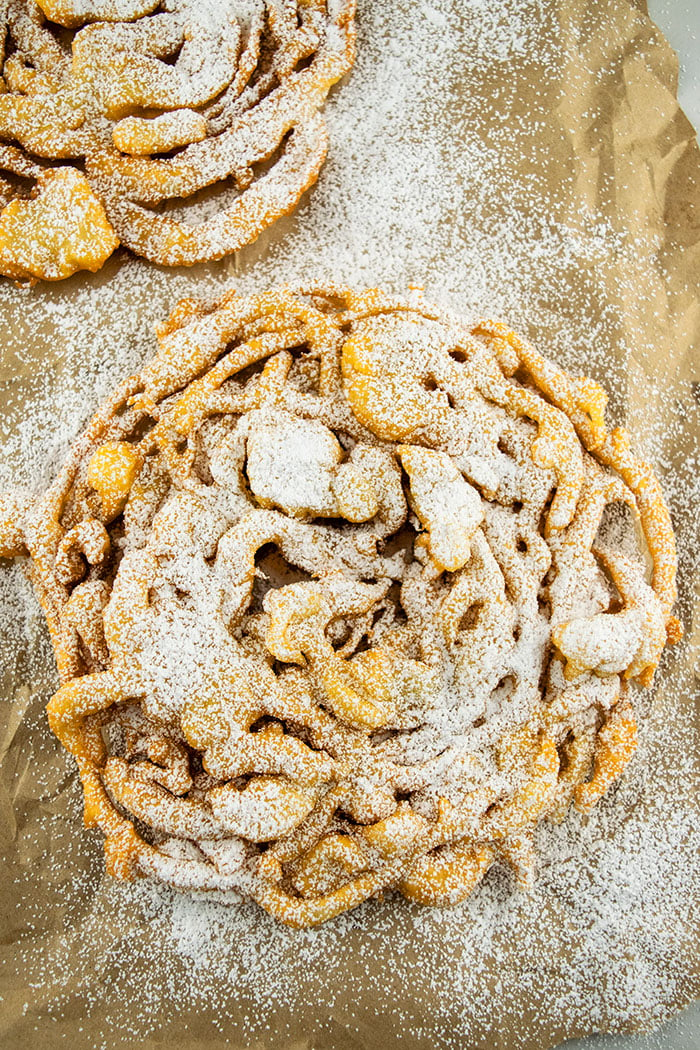 Tips and Techniques
What kind of oil to use for frying? Canola oil or vegetable oil work just fine.
What is the best temperature for frying? The temperature should be 350 degrees F. Use a thermometer to keep track of how hot the oil becomes. If it's too hot, the outside with brown and the inside will be raw.
Can you make them without a funnel? Yes, you can use a piping bag or a pitcher or a squeeze bottle.
Why are they falling apart? That's because the oil is too hot and the batter starts cooking before it gets a chance to overlap.
Why is my funnel cake soggy? One reason could be that ingredients were not measured properly and batter was not the right consistency. Another reason could be that the oil temperature was not correct. It may have too high and only the outside cooked and browed quickly, leaving the inside raw.
Absorb excess oil- Remove the fried batter onto a tray, lined with paper towels. This will absorb all the excess oil.
Deep fry only small portions at a time– Because this ensures each cake cooks evenly with a lot of space. If you try to make too many at once, they will start to overlap each other and neither of them will cook properly.
Don't over mix batter– Because that alters the overall texture and makes them chewy and denser.
Serve a crowd– Make a bigger batch by doubling all the ingredients.
More Summer Cake Recipes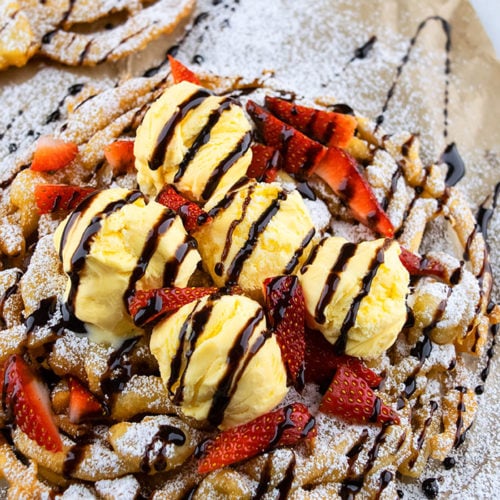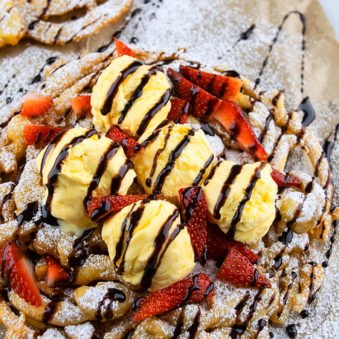 Easy Funnel Cake
Quick, easy, homemade funnel cake recipe, made with simple ingredients in 30 minutes. No funnel necessary! Crispy on the outside, soft on the inside.
Yield: Cakes
Instructions
In a large mixing bowl, whisk together eggs, milk, sugar, vanilla extract until smooth.

In another mixing bowl, whisk together flour, baking powder, cinnamon powder, and salt. Set aside.

Add this dry mixture to the wet mixture and mix until just combined.

Heat oil in a large skillet or fry pan over medium heat until it reaches a temperature of 350 degrees F.

While oil is heating, pour batter in a squeeze bottle.

When the oil becomes hot, pour batter in the oil in a circular motion overlapping itself.
Note: You will end up using about 1/4 cup – 1/3 cup batter per funnel cake, depending on how big or small you are making them. You can only fry 1 funnel cake at a time.

Let it cook until golden brown. Then, use tongs to gently flip them and cook the other side until golden brown too.

Remove from oil and place it on a baking tray, lined with paper towels.

Allow it to cool for 5 minutes.

Then, add toppings and serve immediately.

Follow steps 6-10 again for the remainder of the batter. Enjoy!
Notes
Read all my tips above.
Tastes best and crispy when served immediately but leftovers can be stored in a sealed container in the fridge for up to 2 days. They won't be as fresh nor would they be crispy though. 
Nutrition
Calories: 147kcal, Carbohydrates: 26g, Protein: 4g, Fat: 2g, Cholesterol: 36mg, Sodium: 87mg, Potassium: 162mg, Sugar: 6g, Vitamin A: 105IU, Calcium: 84mg, Iron: 1.4mg