Carrot Brownies
This easy carrot brownies recipe starts off with a box mix and requires simple ingredients. It's super fudgy and moist and packed with chocolate and shredded carrots.
I made these carrot brownies, using a bunch of leftover leftover shredded carrots because I am not fond of wasting food. 
Normally, I am a HUGE fan of my fudgy brownies with crackly tops recipe because everything about them is perfect!
These are not the same as carrot blondies or carrot cake bars because those do not have chocolate or cocoa powder.
These brownies are rich, fudgy and the addition of those carrots makes them a little chewy too, which is incredible!
I also added a little cinnamon because it compliments the chocolate flavor so well and reminds me of carrot cake.
No wonder these brownies were gone in a day and honestly,  my son couldn't even tell the difference.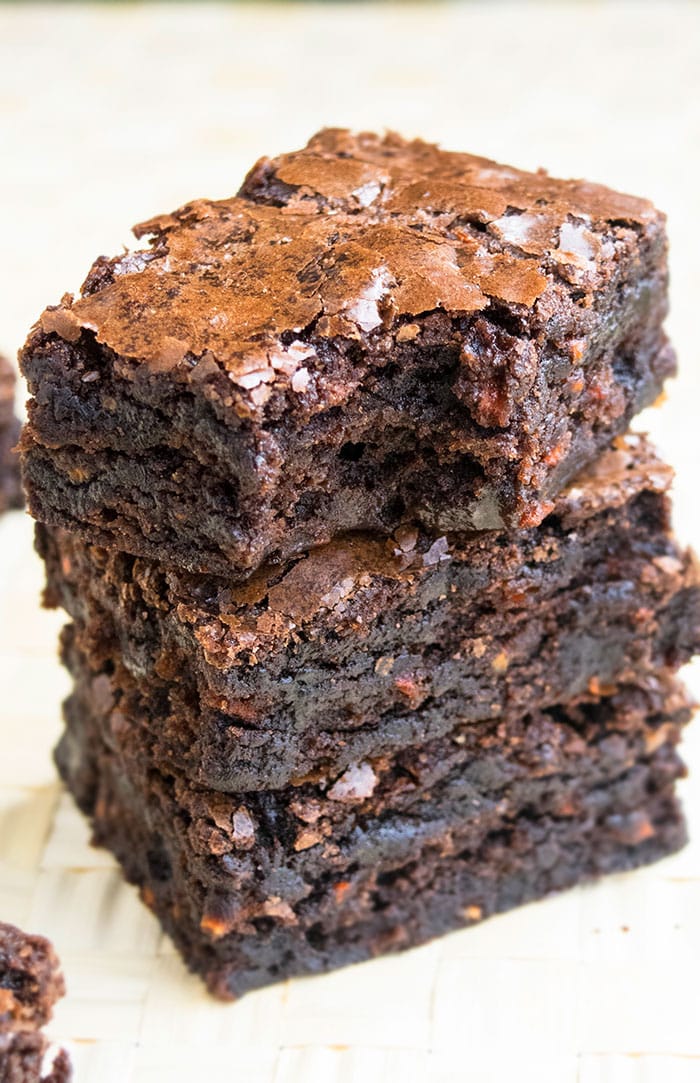 How to make carrot brownies?
Start off by mixing together eggs, water, oil, shredded carrots. Then, add the brownie mix, cinnamon, chocolate chips and mix everything until just combined. Pour batter in a square pan. Bake and enjoy.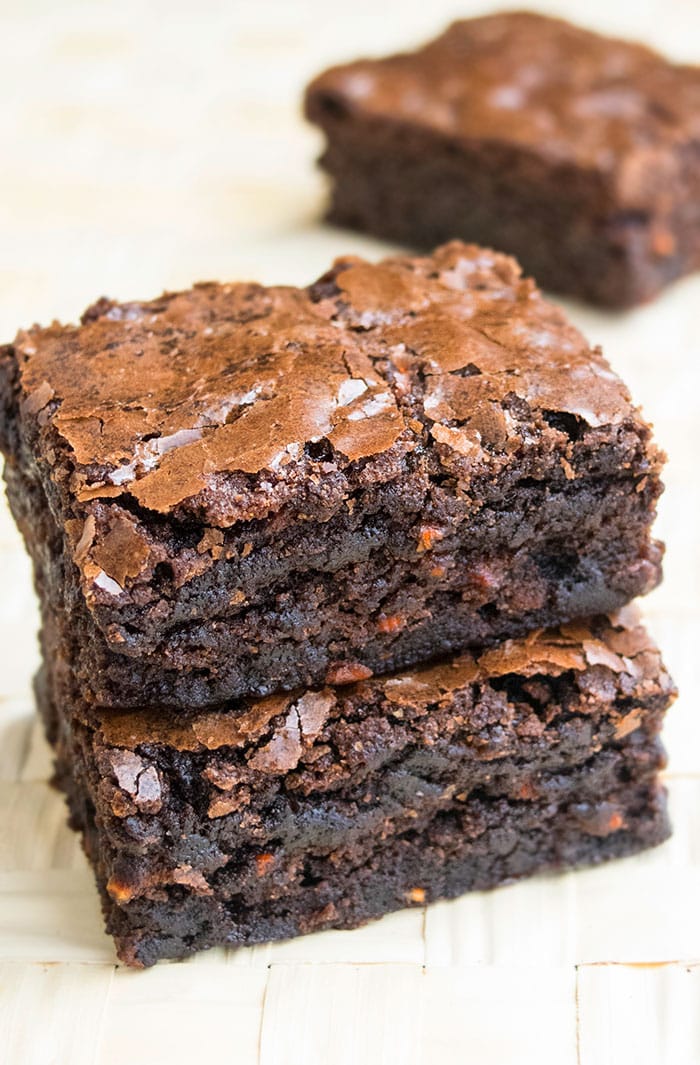 Here are some TIPS for making these chocolate carrot brownies:
To make CAKE LIKE brownies, add 1 extra egg and the rest of the ingredients will stay the same.
I didn't think it was necessary to frost these brownies because I like that crackly top but you can frost them in cream cheese frosting or chocolate buttercream frosting.
Make sure the carrots are FINELY GRATED so they blend together better with
To make gluten free carrot brownies, use a gluten free brownie mix.
You can also DECORATE a sheet pan of these brownies with frosting and orange chocolate dipped carrot strawberries and crushed Oreos to make carrot patch brownies. Kids would love that at Easter parties.
You must use a brownie mix and NOT a cake mix. Carrot cake brownies from cake mix don't have the same fudgy texture.
To get perfect EVEN slices, make sure to let the brownies cool down and then cut even slices.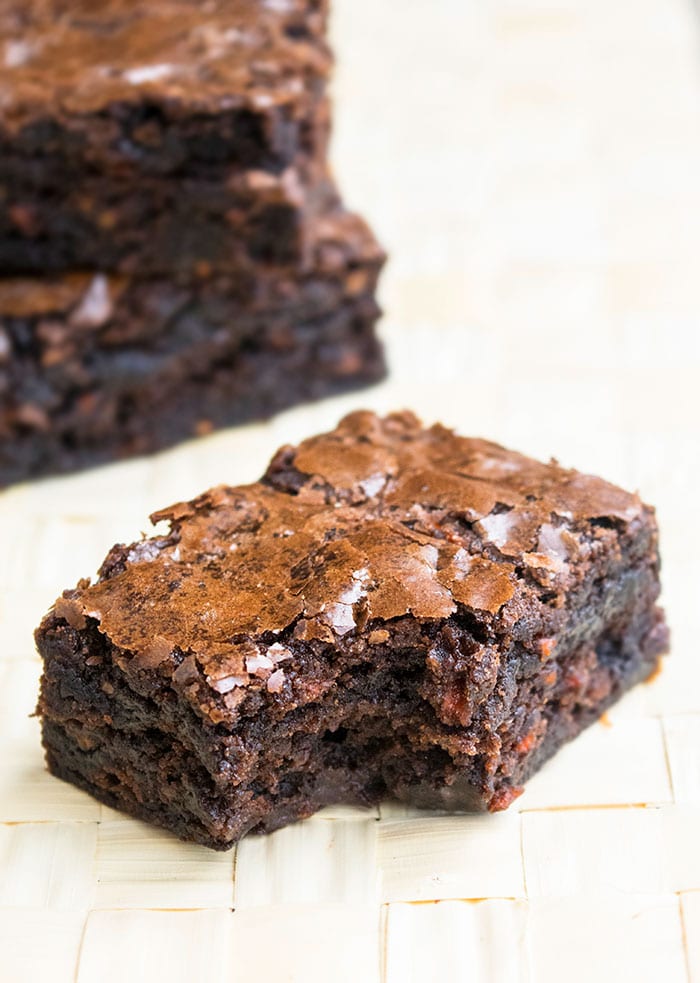 Well, that's all for today.
Next on my list is to make raw carrot brownies or secretly healthy carrot brownies that have the same flavor as these fudge carrot brownies. Looks like I have a big task ahead of me…hehe.
If you liked this carrot cake brownies recipe, you may like some of these other carrot recipes too:
Moist Carrot Cake with Cream Cheese Frosting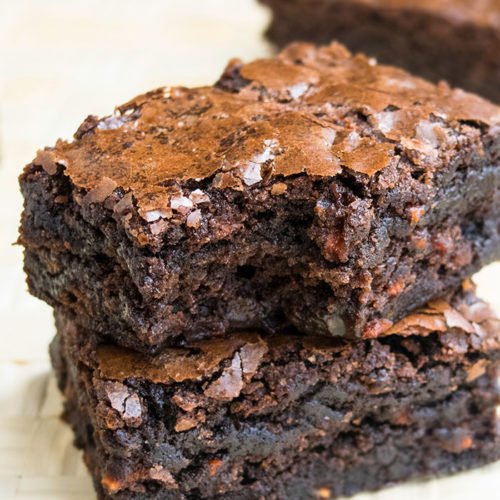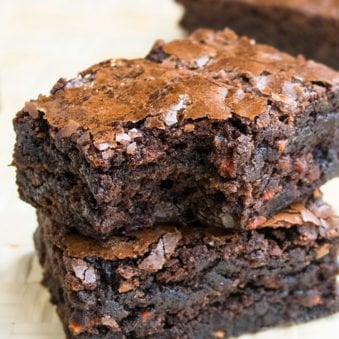 Carrot Brownies
This easy carrot brownies recipe starts off with a box mix and requires simple ingredients. It's super fudgy and moist and packed with chocolate and shredded carrots.

Yield: Slices
Ingredients
2 Eggs, Large
1/2 cup Oil
1/4 cup Water
1 cup Carrots, Shredded
1 box Brownie mix, Any brand is fine
1 tsp Cinnamon powder
1/2 cup Chocolate chips, Semisweet
Instructions
In a mixing bowl, add eggs, oil, water, shredded carrots and mix everything together until smooth.

Add brownie mix powder, cinnamon powder, chocolate chips and mix until just combined. Don't over-mix! The mixture will be thick.

Pour the batter into a square pan (Dimensions: 9x9), lined with aluminum foil and sprayed with oil. Spread batter with a spatula.

Bake at 350 degrees for 30-35 minutes or until an inserted toothpick comes out with a few sticky crumbs.

Let it cool down. Then, cut slices and enjoy!
Notes
Read all my tips above.
Leftovers can be stored in a sealed container in the fridge for up to 3 days. 
Nutrition
Calories: 331kcal, Carbohydrates: 44g, Protein: 3g, Fat: 16g, Saturated Fat: 3g, Cholesterol: 19mg, Sodium: 21mg, Potassium: 121mg, Fiber: 2g, Sugar: 30g, Vitamin A: 1240IU, Vitamin C: 0.4mg, Calcium: 27mg, Iron: 1.6mg
Until next time, tata my lovelies!