Carrot Cake Cookies
These easy carrot cake cookies are soft, moist and filled with cream cheese frosting and topped with white chocolate. Perfect for Easter parties.
When I was a kid, I remember absolutely HATING carrot cake cookies or anything associates with carrot cake, in general.
I COULDN'T understand why someone would take a perfectly good cake or cookie recipe and throw vegetables in it! lol
But now that I am older, I have given carrot cakes and carrot cookies a SECOND CHANCE and surprisingly, I am a big FAN of them now and find myself making them quite frequently!
However, I CAN'T stand carrot cake cookies with raisins and pineapples…YUCK!
I omit those in my recipe but if you like them, feel free to add them in this cookie batter.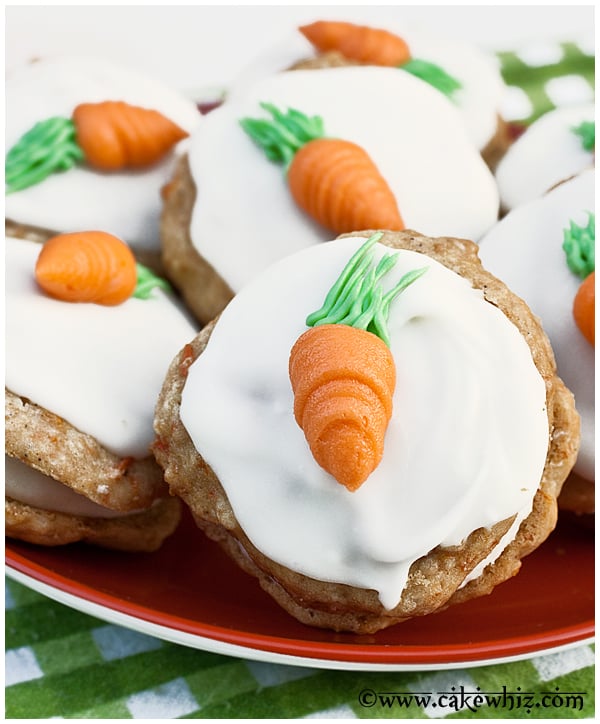 This recipe for carrot cake cookie sandwiches that I am sharing today comes from my dear Mommy. 
Even though I refused to eat these carrot cookies as a child, I am now able to finish off the entire batch in less than a day…hahaha.
These carrot cake cookie sandwiches are made from SCRATCH, filled with fluffy cream cheese frosting and topped off with melted white chocolate and little carrot designs that I made out of frosting.
You can also use royal icing or glace icing to pipe those little carrots.
Both these icings dry hard, which makes it easier to carry these cookies to a party or even ship them to family and friends.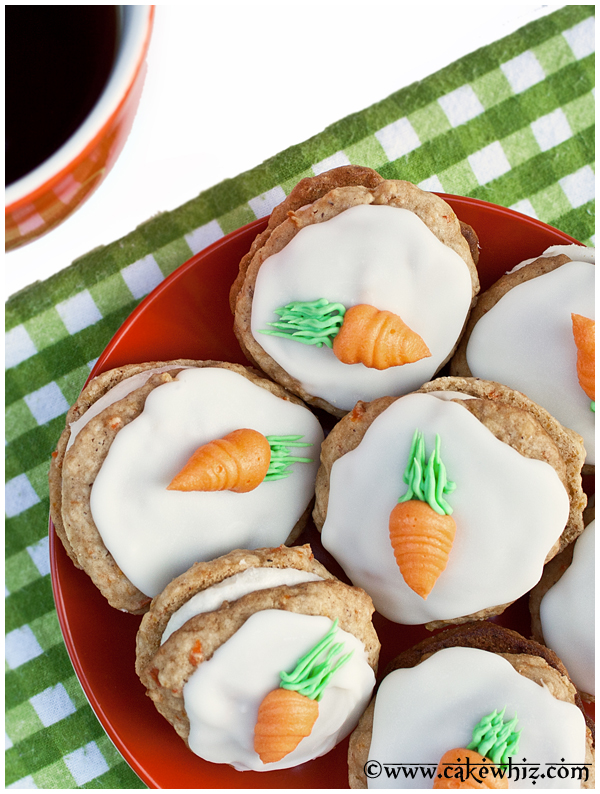 These cookies are AMAZING… they are soft, moist and flavorful.
They are filled with aromatic spices and have the texture of a carrot cake but in cookie form.
This easy carrot cake cookies recipe includes shredded carrots, pecans and crystallized ginger, which adds a SLIGHT chewiness but it's NOT over-whelming! 
They always end up being a HIT at parties and picnics and I think they would be a great addition at Easter parties or Easter brunch too.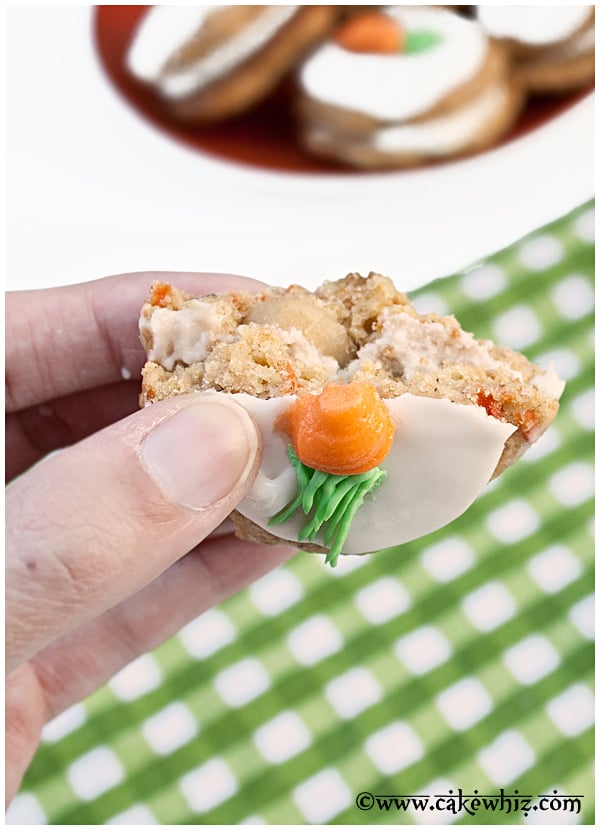 If you liked this Easter recipe, check out some of these other Easter desserts:
Chocolate coconut easter bird nests
Ideas for filling plastic Easter eggs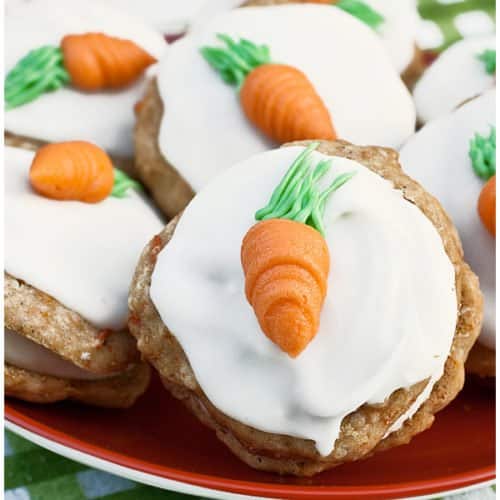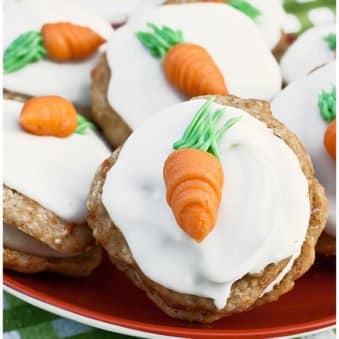 Carrot Cake Cookies
These easy carrot cake cookies are soft, moist and filled with cream cheese frosting and topped with white chocolate. Perfect for Easter parties.
Yield: cookies
Ingredients
Carrot cookies:
2 cups all-purpose flour
1¼ cups grated carrots
½ cup granulated sugar
¼ cup brown sugar
¼ cup unsalted butter
½ cup Shortening
¼ cup Ginger, Finely chopped crystallized
⅓ cup Pecans, Finely chopped preferably toasted
1 Egg, Large
1 tsp Vanilla extract
1½ tsp Baking powder
¼ tsp Salt
¼ tsp Nutmeg
¼ tsp Cinnamon powder
Filling and decoration:
Cream cheese frosting, White, orange and green color
½ cup White chocolate, Melted
Tip # 12, also called the round tip
Tip # 233, also called the grass tip
Piping bags
Instructions
In a

mixing bowl

, cream together butter, shortening, brown sugar and granulated sugar until light and fluffy.

Add flour, baking powder, salt, cinnamon powder, nutmeg powder and mix until everything is just combined. Do not over-mix!

Stir in the crystallized ginger, pecans and grated carrots.

Place spoonfuls of this batter on a cookie sheet lined with parchment paper. Bake at 350 degrees for 15- 18 minutes or until golden brown along the edges.
To decorate these cookies, here are the steps:
Once your cookies have cooled down completely, pour spoonfuls of melted white chocolate on top of half batch of your cookies and let it harden and set (usually takes about 5-10 minutes).

Fill your piping bag with green icing and attach

Tip # 233

. Position your green piping bag near the top of the cookie. Hold your piping bag at a 45 degree angle. Squeeze your bag and quickly pull away. And you will end up with "grassy" icing.

Fill another piping bag with orange icing and attach

Tip # 12

. Squeeze this piping bag until icing comes out and pull towards you. Wiggle your hand a little while you are pulling away so that you end up with a subtle texture on your "carrots."

Fill another piping bag with white icing and attach

Tip # 12

. Take another cookie and flip it over.

Squeeze some icing in the center of this cookie.

Now, just place the other decorated cookie on top of this cookie and press gently so that they both stick together. Enjoy!
Notes
- You can enjoy these cookies, as is…without filling them with frosting or even decorating them and they will still taste great. - Store leftovers in a sealed container in the fridge for up to 2 days.
Nutrition
Calories: 159kcal, Carbohydrates: 18g, Protein: 1g, Fat: 9g, Saturated Fat: 3g, Cholesterol: 13mg, Sodium: 33mg, Potassium: 71mg, Sugar: 8g, Vitamin A: 75IU, Vitamin C: 0.1mg, Calcium: 27mg, Iron: 0.6mg
Well, that's all for today.
Until next time, tata my lovelies!