Easter Bunny Cake
Use this cake decorating tutorial to make a quick and easy Easter bunny cake. All the details are made with candies and shredded coconut. No special tools or fondant needed!
I first saw this Easter BUNNY cake in a Country Living magazine years ago and ever since, I have been telling myself that I am going to make it some day.
Well, I finally made it…Yay!
This cake is surprisingly EASY to make and SIMPLE enough that even kids can help out.
This is also a GREAT cake for anyone who does not like fondant because all the details are made with coconut and jelly candies!
You DON'T even need a bunny cake template or Easter bunny cake pattern to for this cake, which is awesome.
I am sure you have seen many pictures of bunny rabbit cakes and rabbit cake decorating ideas but is it as CUTE as mine? heheh.
It's PERFECT for Easter parties!
How to make a 3D bunny cake?
That involves carving cake OR using a 3D bunny cake pan and it requires more time and more experience with cake decorating.
How to make a bunny cake with round cake pans?
There are 2 ways:
You can layer multiple round cakes with frosting on top of one another and then carve the cake into the shape of a bunny's face and add the details with fondant or frosting.
The simplest way is to frost a round cake and cover it in shredded coconut and all the details with candies.
How to make an Easter bunny cake?
Bake a round cake.
Frost it in icing.
Cover it in coconut.
Cut out 2 cardboard ears and frost them and cover them in coconut too.
Stick ears into the top of the cake.
Use jelly candies to add facial details.
Enjoy!

Here are some TIPS for making this easy bunny cake:
Make sure your cake has completely COOLED DOWN before frosting it or else the icing will melt and it will become very messy.
I used cardboard cut outs for the ears but you can make them out of melted white chocolate too.
You can either use shredded coconut or desiccated coconut. Desiccated coconut creates a more fur-like texture.
If you like working with fondant and want to make a bunny cake without coconut, you can DECORATE this cake with marshmallow fondant.
You can also follow the same steps on small cakes and make MINI bunny rabbit cakes for kids.
Since it's Easter, I used classic carrot cake and cream cheese frosting but you can use chocolate cake and chocolate frosting to make a delicious chocolate easter bunny cake.
I also did a tutorial for an Easter bunny cake topper that's made out of fondant, which you can check out HERE. It's just another spin on the bunny concept.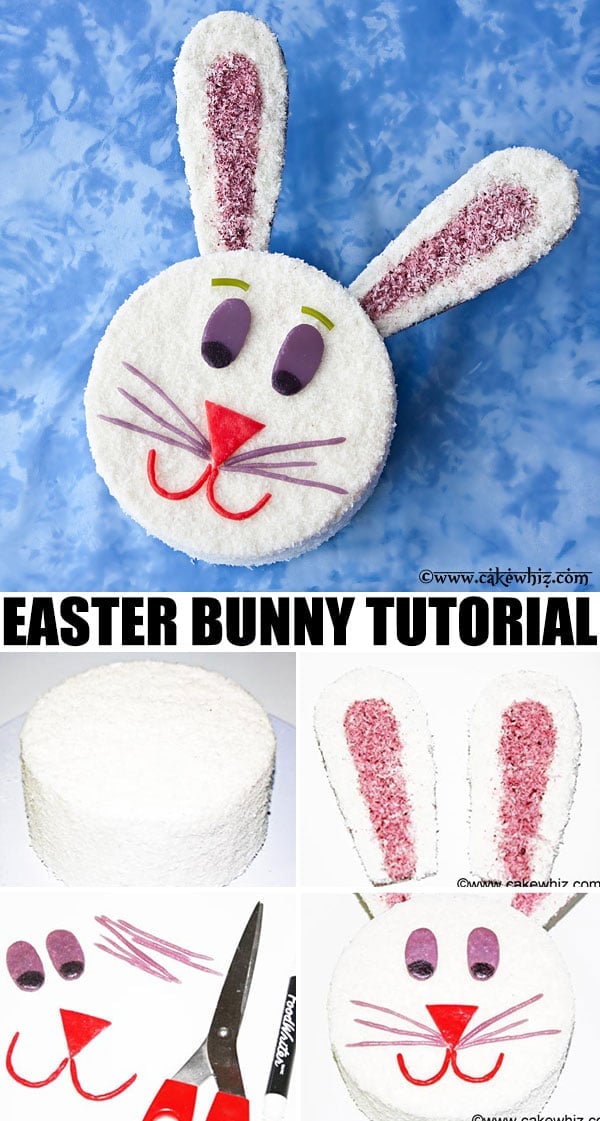 Well, that's all for today.
Do you have any bunny cake ideas you would like to share with me? Leave a comment and let me know.
If you liked these Easter bunny cake instructions, you may also like some of these other Easter desserts: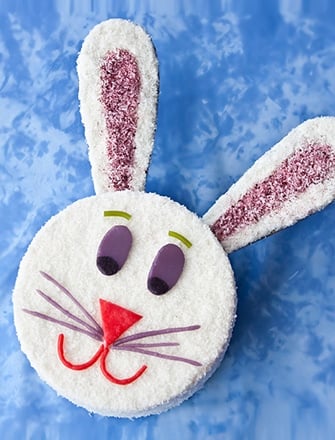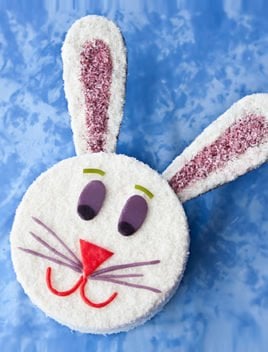 Easter Bunny Cake
Use this cake decorating tutorial to make a quick and easy Easter bunny cake. All the details are made with candies and shredded coconut. No special tools or fondant needed!
Yield: Slices
Instructions
Bake your cake and allow it to cool down to room temperature.

Fill and frost it in frosting.

Cover the cake fully with shredded coconut.

To make the ears: Cut out two ear shaped cardboard pieces and stick a popsicle stick behind each eat. The cardboard ears should be the same size. Spread a thin later of frosting on each ear. Cover the center of the ears with pink shredded coconut and cover the edges of the ears with regular white coconut.

Push these ears into the top sides of the cake.

Now, make the eyes, nose, whiskers and mouth with colorful jelly candies.
Tip: Jelly candies are really easy to cut with scissors and you can even flatten them with a rolling pin and you can also draw on them with edible markers.

Stick all these facial features on the bunny cake with some frosting and you are done with your cute Easter bunny cake!
Notes
Read all my tips above.
Leftovers can be stored in a sealed container in the fridge for up to 3 days. 
Nutrition
Calories: 858kcal, Carbohydrates: 129g, Protein: 3g, Fat: 39g, Saturated Fat: 17g, Cholesterol: 34mg, Sodium: 474mg, Potassium: 212mg, Fiber: 3g, Sugar: 111g, Vitamin A: 50IU, Vitamin C: 2.5mg, Calcium: 33mg, Iron: 2mg
Until next time, tata my lovelies!